What to wear on Safari in Uganda

Uganda Safari Clothing Guide
Uganda's unique elevation and biodiversity set it apart from other African countries. While it has savannahs, it also boasts rainforests, jungles, mountains, lakes, and rivers. Your clothing should suit the activities you engage in and be culturally respectful. On this page, we'll guide you on what to wear during a safari in Africa, with a special focus on Uganda. For more detailed information on what to bring, feel free to explore our comprehensive packing list for an African safari.
Key Points: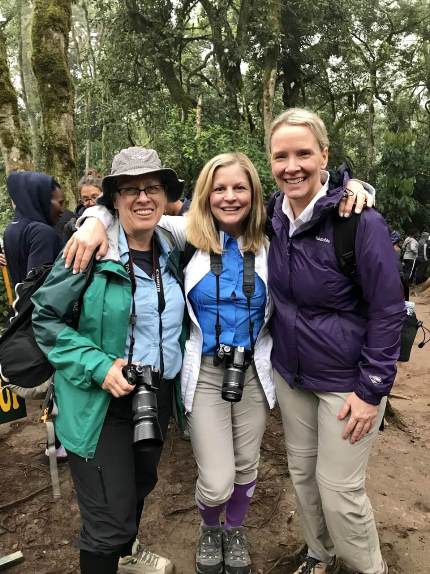 General Dress Code: Aim for comfort, simplicity, and practicality. Ugandans aren't overly conservative in dressing, but it's wise to be modest. Most locals mind their own business.
For Women: Refrain from showing thighs; choose skirts/dresses below the knee, capris, or long pants. Tops mainly require sun protection considerations, not modesty. Avoid long, thick skirts as they can be uncomfortably warm, and ensure long pants don't drag on the ground to prevent red dirt stains.
Footwear: Sturdy walking sandals, like Chacos, are ideal for everyday wear. For gorilla trekking in Bwindi's "impenetrable forest," use well-broken-in hiking boots.
Gorilla Trekking Gear: Wear long pants or trousers and tall socks tucked into them. Some trackers use protective sleeves from the knee to the shoe to fend off ants. Breathable long-sleeve shirts are ideal for this activity.
Dressing appropriately not only ensures cultural respect but also enhances the safari experience by being prepared for Uganda's diverse environments.
---
Safari Clothing Recommendations for Wildlife and Birding Adventures in Uganda:
Headgear: Opt for a wide-brimmed hat. It's invaluable in shielding you from the tropical sun, especially during walking safaris or horseback riding adventures.
Color Palette: Ditch the bright colors. Uganda boasts a rich variety of birds displaying every hue imaginable, complemented by vibrant flowers. Neutral shades such as tans, browns, and greens are ideal. Blue jeans are practical; they mask the African soil better than light khaki pants. Please steer clear of ostentatious 'Big Hunter' outfits.
Comfort is Key: Ensure your clothing is breathable and not restrictive.
Trousers: Light zip-off trousers are a boon. They easily convert into shorts and are simple to wash without adding much to your luggage weight. However, shorts are best reserved for lounging by the lodge pool rather than safari outings.
Shirts: Tan and other solid-colored long-sleeved shirts are preferable. They provide added protection against the elements and bugs. It's wise to avoid blues, as they attract tsetse flies.
Footwear: Invest in good walking shoes or lightweight hiking boots. If you're buying new ones, remember to break them in before your trip to avoid discomfort.
Evening Wear: The evenings can get chilly. A light jacket or even a sweater is advisable, depending on the region of Uganda you'll be visiting.
Dressing Right for Gorilla Trekking:
Gorilla trekking in Uganda requires specific clothing and gear for comfort and safety. An inappropriate outfit can shift your focus from the magnificent gorillas to personal discomfort. Here's what you should do:
Essential Gorilla  Trekking Gear
Daypack: A waterproof daypack is ideal. Use it as your carry-on when flying to Uganda, and keep all essentials inside.
Hiking Boots: Ensure they provide good ankle support and have excellent treads for muddy terrains. Pair them with merino wool socks.
Long Trousers: Protect yourself from nettles and thorns. Tucking them into your socks also guards against ants.
Long-Sleeved Shirt: Opt for neutral colors. This offers protection and comfort.
Rain Jacket/Poncho: An unpredictable rainforest climate means this should always be in your daypack.
Gardening Gloves: These shield your hands from nettles, thorns, and sharp branches.
Wide-brimmed Hat: Protects against sun rays.
Camera Equipment: Extra batteries and storage are crucial. Ziploc bags can keep them safe. Binoculars are optional unless birdwatching is on your agenda.
Refreshments: Bring along a packed lunch and two liters of bottled water.
Other Essentials: Use effective insect repellents like Australian RID and pack sunblock cream and sunglasses.
Porter and Walking Stick: These are invaluable on the trek. We provide both for our clients.
Nearly the same guidelines for Uganda Safari Clothing would apply to Chimpanzee Tracking.
It does not matter whether you have the latest Brand Names; what's crucial is functional clothing that will keep you comfortable on Safari. Remember to pack it light, as most of the recommended clothing is easy to wash and dry.
---
Here are some useful links that you may find helpful to check out:
---