Top Things to Do and See at Murchison Falls Park, Uganda
Experience the Best of Murchison Falls Park – Uganda's Best All-Around Wildlife Park
The Best Activities and Sights in and Near Murchison Falls Park 
---
Welcome to Murchison Falls Park
Murchison Falls National Park, Uganda's largest wildlife reserve, is a captivating destination teeming with activities and sights. As you explore the many things to do and see in Murchison Falls, you'll discover how nature and history intertwine in this magnificent park. Named after Sir Roderick Murchison by British explorer Sir Samuel White Baker, it's a place where the mighty Nile River dramatically bisects the landscape, creating a haven for adventurers and nature lovers alike.
Founded during British colonial rule in 1952, Murchison Falls has a storied past, including a name change in the 1970s by Ugandan dictator Idi Amin and challenges during the era of the Lord's Resistance Army. Since 2005, however, it has been a beacon of peace and safety, inviting visitors to experience its rich wildlife and cultural heritage.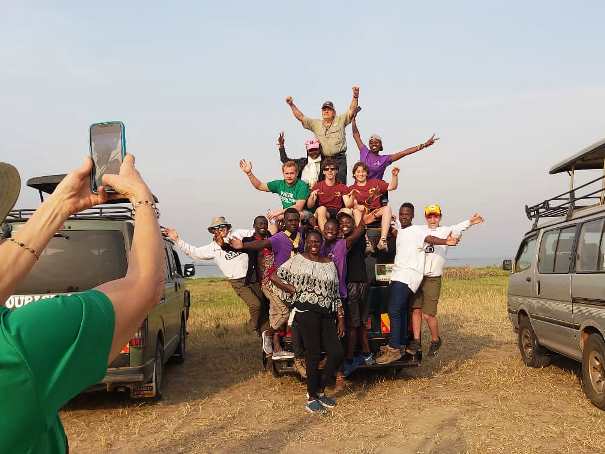 Wildlife and the Nile River
Home to the largest population of Rothschild Giraffes in Africa, Murchison Falls Park is a sanctuary for elephants, buffaloes, lions, and leopards. The park's unique feature is the Nile River, crossed via a safe ferry, leading to the breathtaking Murchison Falls, the world's most powerful waterfall.
A Park of Stories and Lasting Appeal
Murchison Falls National Park is not just a natural wonder but also a tapestry rich with stories and a legacy of attraction. Since Winston Churchill's visit in 1907, the park has enchanted numerous notable figures, including Theodore Roosevelt and Ernest Hemingway, and has even served as a stunning backdrop for the classic film "The African Queen." Celebrities and adventurers alike have been drawn to its allure. For over 70 years, this park has stood as a premier destination in Uganda, captivating visitors with its blend of breathtaking natural beauty, diverse wildlife, and a history that adds depth to every visit. This enduring appeal continues to make Murchison Falls a must-visit location for travelers from all corners of the globe.
---
What Makes Murchison Falls Park a Favorite?
The World's Most Powerful Waterfall: Murchison Falls is where the mighty Nile River squeezes through a narrow gorge, creating a breathtaking view. It's the world's most powerful waterfall and a big reason people visit.
Largest Wildlife Reserve in Uganda: Spanning 3,840 square kilometers, Murchison Falls National Park is Uganda's largest wildlife sanctuary. It's situated at the northern end of the Albertine Western Rift Valley, offering a diverse landscape from the Bunyoro escarpment to the savannah plains.
Diverse Wildlife and Safari Opportunities: The park is ideal for a short Wildlife Safari, offering more activities and sightings than other wildlife parks in Uganda. With over 76 species of mammals and 451 types of birds, the park provides a rich and varied wildlife experience.
Birdwatching Paradise: Declared one of the best birding locations in Africa, the park boasts 451 recorded species, including unique birds like the Shoebill Stork, the Goliath Heron, and the elegant Grey Crowned Cranes, Uganda's national bird.
Rich Aquatic Life: The River Nile within the park is home to enormous Nile Crocodiles and a vast number of Hippos, providing exceptional opportunities for photography and wildlife observation.
A Comprehensive African Experience: Murchison Falls offers an immersive experience of the African wild, including bush, forest, wildlife, birds, primates, and the iconic River Nile. This variety ensures that there's something for every visitor, from adventurous explorers to nature enthusiasts.
Recognition and Popularity: The park's appeal has been recognized internationally. It was included in Rough Guides' "Best Travel in 2020" list, underscoring its status as a top destination. In recent years, it has become one of Uganda's most visited National Parks.
Discover why Murchison Falls Park is so loved. Let's explore and see all its amazing things, promising a visit you'll always remember.
---
Top Things to Do and See at Murchison Falls National Park – Uganda
1. Wildlife Safari Drives in Murchison Falls Park

Embark on an exhilarating wildlife safari drive in Murchison Falls Park, a highlight for visitors seeking the thrill of the African wild. With the option of a knowledgeable Uganda Wildlife Authority Ranger, your journey becomes even more enriching. They bring expertise in locating animals and identifying various birds, enhancing your experience.
During these safari drives, which typically last 2½ to 3 hours, you'll encounter an abundance of wildlife. Witness large herds of buffaloes, elephants, and the endangered Rothschild Giraffes. Keep an eye out for the elusive leopard, the majestic lion, and a variety of antelopes like Jackson's hartebeest, Bushbucks, Uganda Kob, and Waterbucks. The park's reasonable drive distances make it an ideal destination, especially for family safaris with small children, offering flexibility in duration.
Murchison Falls Park offers a unique opportunity to explore the diverse wildlife of Uganda in a short time, making every safari drive a memorable adventure.
---
2. Nile River Boat Safari at Murchison Falls Park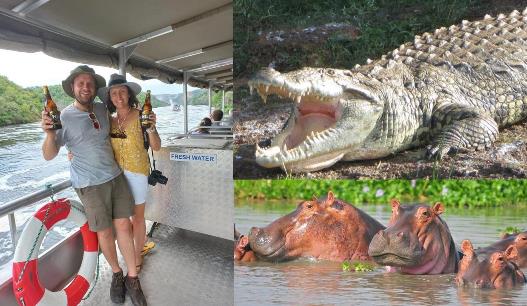 A Nile River boat safari journey is a mesmerizing highlight at Murchison Falls National Park. This 3-hour voyage, best enjoyed from a boat with a top deck, offers unparalleled wildlife viewing. As you glide along, expect to see countless hippos, giant Nile crocodiles sunning on the banks, and elephants in family groups along the shoreline. The boat trip provides a scenic view of buffaloes, various antelopes, and an abundance of water birds, possibly including the elusive shoebill stork.
The climax of this adventure is reaching the bottom of the falls, where the powerful sound of water cascading down is truly awe-inspiring. You have the option to disembark and hike up to the top of the falls for a different perspective. For a more exclusive experience, private boat cruises can be arranged, offering a personal journey up to the falls and back, immersing you in the breathtaking scenery of the Nile.
---
3. Hiking to the Top of Murchison Falls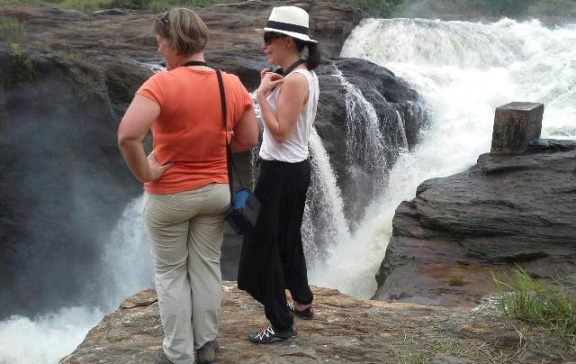 Embark on a breathtaking 45-minute hike to the summit of Murchison Falls, the world's most powerful waterfall. Your adventure begins with a scenic boat cruise along the Victoria Nile to the trailhead. As you ascend, experience the ground shaking beneath your feet, and be refreshed by the mist of the cascading waters.
The hike, part of the historic Baker Trail, is a manageable journey, unfolding the magnificence of the Nile squeezing through a narrow gorge. At the top, the view of the Nile plunging 43 meters through a 7-meter wide gap is a spectacular sight, often adorned with a persistent rainbow. Along the trail, you might spot wildlife like baboons and various bird species. Suitable clothing, sturdy shoes, and water are essential for this exhilarating experience.
---
4. Hot Air Balloon Wildlife Safari at Murchison Falls Park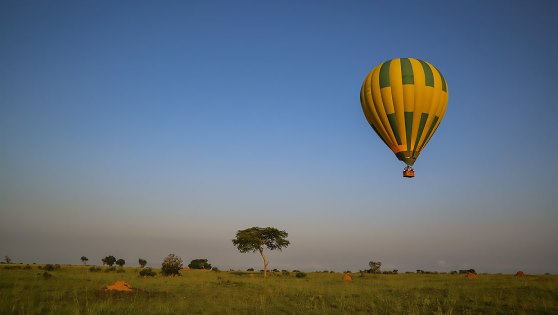 Murchison Falls Park offers the unique and thrilling experience of a hot air balloon wildlife safari, the only one of its kind in Uganda. These safaris organized by Dream Balloons Uganda provide a spectacular bird's-eye view of the park at dawn. Glide smoothly over the savannah, watching herds of buffaloes, elephants, giraffes, and antelopes below, and witness predators returning from their nocturnal hunts.
Options include sunrise or post-sunrise safaris, with or without a bush breakfast, and sunset safaris. The journey starts early from Paraa Safari Lodge, leading to a breathtaking 1 to 1½-hour flight, depending on the wind. This extraordinary experience, priced at $380, also includes a unique champagne Bush Breakfast prepared by Paraa Lodge chefs, making it an unforgettable part of your visit to Murchison Falls.
Please note that Pilots are not tour guides; they are professionally trained hot air balloon operators whose main concern is your safety, no different from airplanes.
---
5. Nile Delta Cruises – Excursions at Murchison Falls Park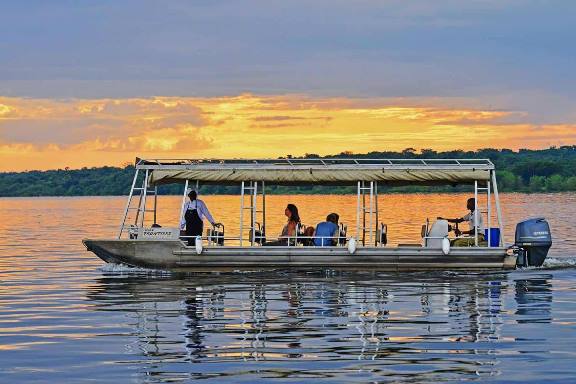 Explore the serene beauty of the Nile Delta, where the Nile River gracefully merges into Lake Albert, on a unique boat safari. This lesser-traveled 20 km journey downstream from the Paraa area offers an exceptional opportunity for birdwatchers and nature enthusiasts. Here, you can spot rare wetland birds, including the elusive shoebill stork, amidst a backdrop of hippos and crocodiles in their natural habitat.
Scheduled delta area cruises, including a delightful "breakfast on board" option, depart early in the morning from the Paraa jetty. This half-day activity, lasting 4-5 hours, allows you to experience the vibrant intersection of the River Nile and Lake Albert. With a minimum of four participants, private boat trips can also be arranged for a more personalized experience, making this excursion a must for those seeking to witness the unique avian life and serene waterways of Uganda.
---
6. Fishing for Nile Perch at Murchison Falls Park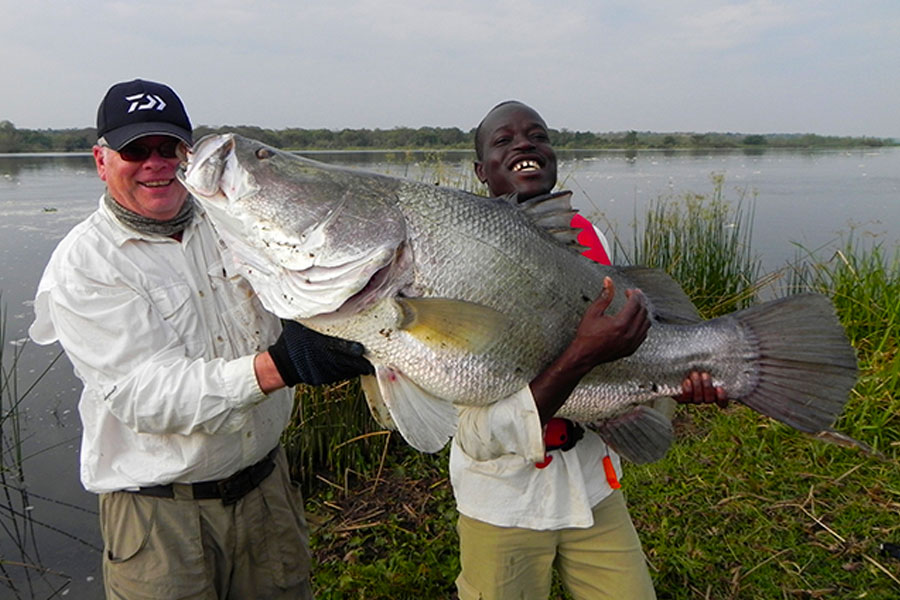 Experience the thrill of fishing for Africa's biggest freshwater fish, the Nile Perch, in the waters of Murchison Falls Park. Renowned among anglers, this activity attracts fishing enthusiasts globally, eager to battle with this formidable catch. The park even hosts a yearly fishing tournament highlighting the Nile Perch.
Whether from a boat or the riverbank, guided fishing in Murchison Falls offers a unique challenge. It's akin to reeling in a salmon in North America's northwest rivers. Catch-and-release is the norm here, ensuring the sustainability of this exciting sport. While personal fishing gear and a license are necessary, local concessions like Wildfrontiers provide expert guidance and equipment.
Interested in this once-in-a-lifetime experience? Book in advance, especially for regulated spots, and prepare for an unforgettable fishing and wildlife safari.
---
7. Hiking Adventures in Murchison Falls Park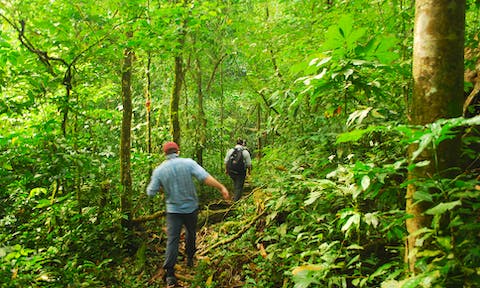 Murchison Falls National Park offers a variety of hiking and nature walk experiences across its diverse landscapes. Explore Rabongo Forest, a birdwatcher's haven, where you can encounter chimpanzees and other primates alongside your guide. Budongo Forest is another premier hiking destination within the park, known for its rich wildlife, monkeys, and bird species. Guided walks are also available in the Chobe area of the park.
Future plans for the Baker Trail, tracing the route of explorers Samuel and Florence Baker from South Sudan to Lake Albert, will further enhance the park's hiking offerings. Remember, for your safety, hiking in the park requires the accompaniment of a ranger. Before setting out, be sure to check out our hiking advice and tips for Africa.
---
8. Sunrise Breakfast and Sunset Sundowner Cruises on the Nile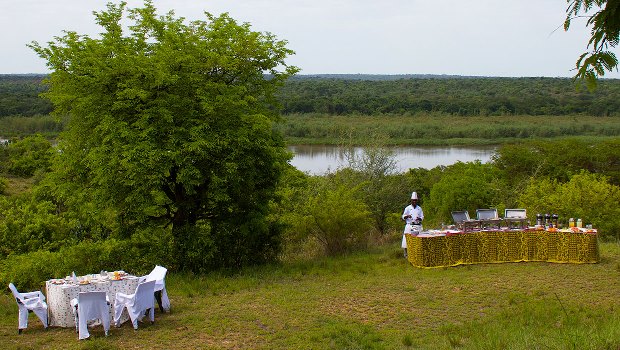 Start your day with a unique Sunrise Cruise along the Nile Delta at Murchison Falls National Park. Savor a freshly cooked breakfast and Ugandan Arabica Coffee onboard, as you witness river birds, hippos, and crocodiles along the Nile's banks. This 2-hour cruise offers a memorable experience, especially for families.
As the day draws to a close, embark on a Sunset Cruise. Glide past hippos and crocodiles near the Nyamsika sandbar, and watch the sun dip below the horizon over the Nile. Embrace the tradition of a colonial-era Sundowner, choosing from a range of beverages like Uganda Waragi with Krest Bitter Lemon, Nile Beer, or wine. These cruises, capturing the essence of the park's tranquil beauty, are moments of serenity and reflection amid nature's splendor.
---
9. Chimpanzee Trekking and Nature Adventures in Budongo Forest, Murchison Falls Park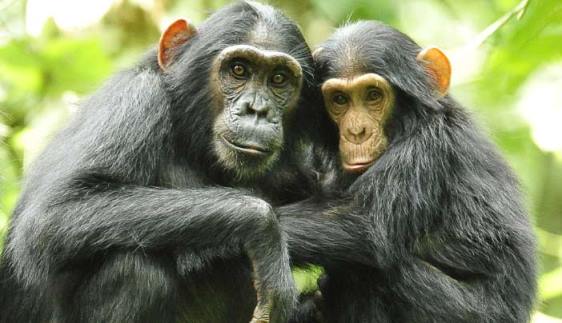 Budongo Forest, a part of Murchison Falls Park, is a haven for nature lovers, offering an array of activities, including chimpanzee trekking, birding, and hiking. Renowned for its Jane Goodall Chimpanzee Research Station, visitors can track chimpanzees and even participate in an all-day Chimpanzee Habituation experience during the off-season.
Besides chimpanzees, the forest's towering mahogany trees and diverse birdlife, including the Golden Mile, make it a top birding destination. You can embark on nature walks ranging from a few hours to full-day hikes. Adding a day to your Murchison Falls Safari for this experience is highly recommended.
The Budongo Eco Lodge provides comfortable lodging and meals, enhancing your visit. Interestingly, the forest has historical significance as a former World War II refugee camp for Poles, with the "Our Lady of Poland" Catholic Church and cemetery still present.
---
10. On-Foot Rhino Tracking at Ziwa Rhino Sanctuary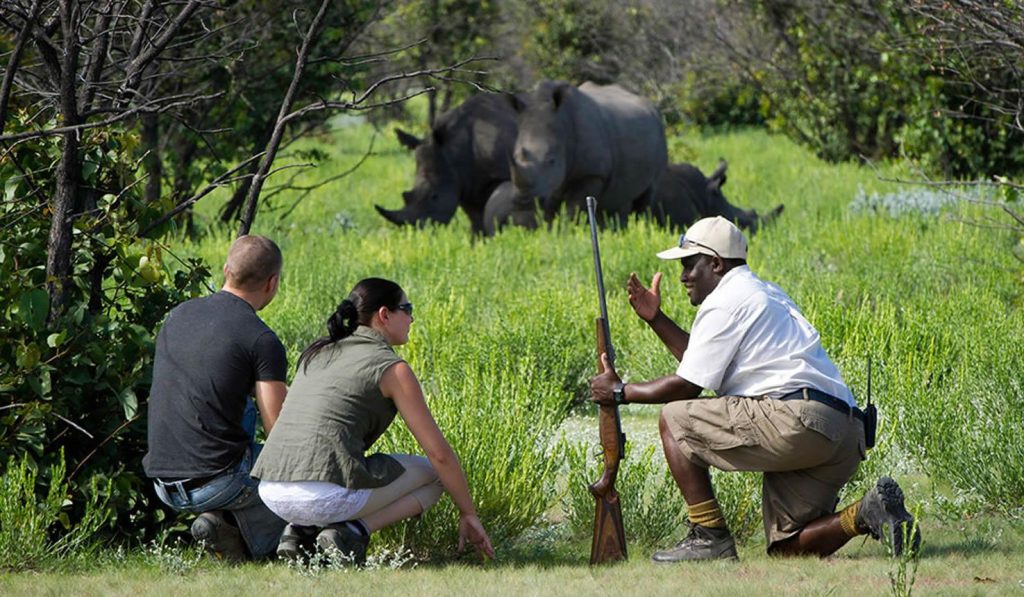 Ziwa Rhino Sanctuary, a 3-hour drive from Kampala and en route to Murchison Falls Park offers a unique opportunity to track southern white rhinos on foot. Home to 34 rhinos as of January 2024, the sanctuary also boasts a rich diversity of wildlife and birds, including leopards, monkeys, antelopes, hippos, crocodiles, and the rare Shoebill Stork.
Beyond rhino tracking, the sanctuary invites visitors to explore its vast wetlands through nature walks, hikes, and swamp boat rides, making it an ideal spot for birdwatching. While not part of Murchison Falls Park, Ziwa complements a visit to the park, enhancing the chance to see Uganda's Big Five.
Accommodations like the budget Ziwa Rhino Guesthouse or the upmarket Amuka Lodge offer comfortable stays, complete with amenities like a swimming pool and exceptional dining experiences.
---
11. Boomu Women's Group: A Cultural Experience Near Murchison Falls Park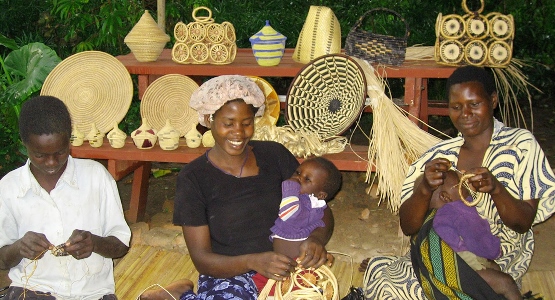 Discover the authentic African lifestyle at Boomu Village, located near Murchison Falls Park. This cultural experience offers a glimpse into rural Ugandan life through village tours, storytelling, and hands-on activities. Visitors can participate in daily activities, like gardening alongside local women, or learn traditional crafts such as weaving, jewelry-making, and basketry. Understand how natural dyes are made and used in cloth fabrication.
Founded in 1999 to combat poverty and support education, Boomu Women's Group has evolved into a community tourism project offering traditional accommodation, a restaurant, and unique guided tours. Ideal for families, especially children and teens, this visit provides a meaningful and interactive cultural experience, deepening the understanding of rural Ugandan life.
In conclusion, Murchison Falls Park is a treasure trove of experiences, offering something for every kind of traveler. From the thrilling wildlife safaris and the awe-inspiring views of the Nile to the cultural immersion at Boomu Women's Group and the serene boat cruises, each activity promises a unique and unforgettable adventure. Whether you're seeking wildlife encounters, breathtaking landscapes, or cultural insights, Murchison Falls Park is a destination that truly sums up the spirit of Uganda's natural and cultural richness.
---
Stay in Style: Accommodations for Every Taste at Murchison Falls Park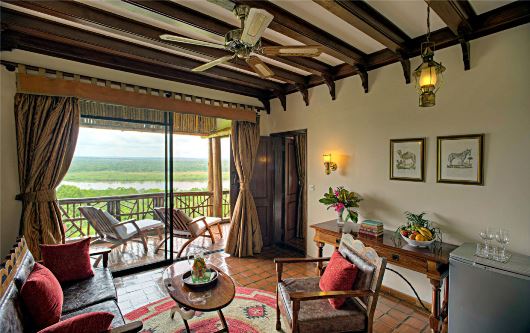 Murchison Falls Park caters to all preferences and budgets with its wide range of accommodations, from luxurious retreats to budget stays.
Luxury Accommodations: The Nile Safari Lodge, Paraa Safari Lodge, and Chobe Lodge offer unparalleled luxury for those seeking indulgence. With exquisite services and stunning settings, these lodges provide an unforgettable experience amidst the park's natural beauty.
Mid-Range Choices: Pakuba Safari Lodge,  Murchison River Lodge, Sambiya River Lodge, and Fort Murchison Lodge  strike the perfect balance between comfort and value. These options offer excellent amenities for a comfortable and enjoyable stay.
Budget-Friendly Options: The Red Chili Rest Camp, Hornbill Lodge, Fort Murchison Lodge Tents, and Heritage Lodge are ideal for travelers looking for affordable yet comfortable lodging. These lodges allow you to enjoy the park's wonders without breaking the bank.
We tailor your safari to include the lodging best suits your budget and preferences, ensuring a delightful experience in Murchison Falls Park.
---
Journey to Murchison Falls Park
Getting to Murchison Falls National Park is part of the fun, with different ways to travel that fit your plans.
By Air: Flying is fast and scenic. AeroLink Safari Airline flies from Entebbe International Airport to the park in just 60 minutes. This saves you a long drive. When you land, your guide will take you to your lodge. This flight is also great if you're visiting other places like Kibale Forest, Queen Elizabeth Park, or Bwindi Impenetrable Forest for gorilla trekking.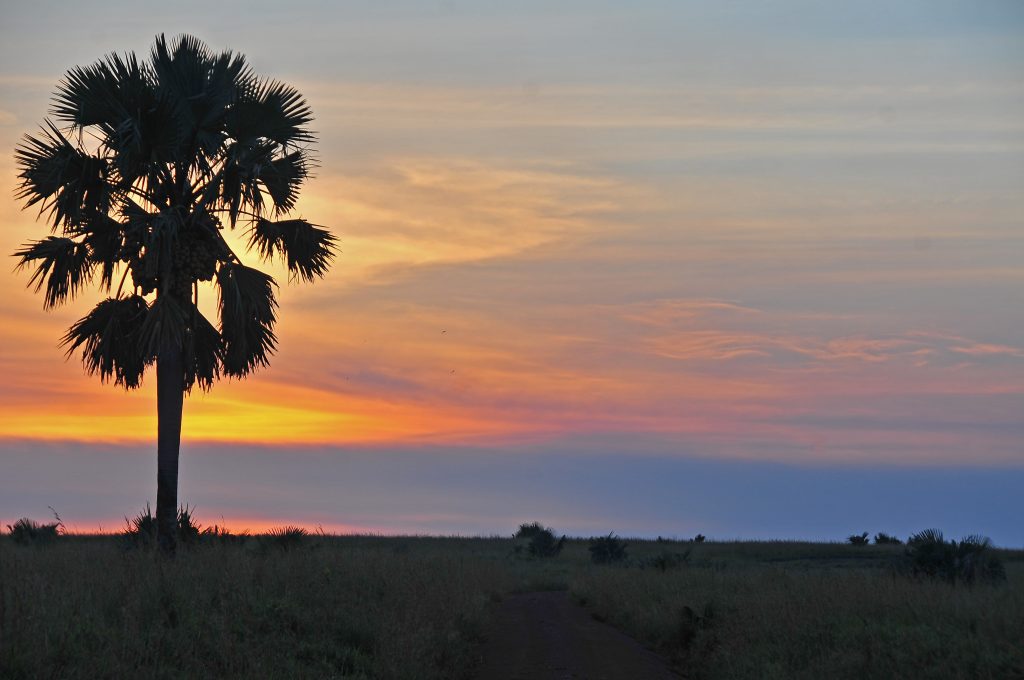 By Road: Driving from Entebbe or Kampala takes about six hours. Make it more exciting by stopping at Ziwa Rhino Sanctuary for lunch and to see rhinos. On the way back, you can stop for a chimpanzee trekking in Budongo Forest. Another cool stop is the Masindi Hotel from 1923, where famous people like Humphrey Bogart and Katharine Hepburn stayed.
Longer Safaris: If you're exploring more of Uganda, you can easily add Murchison Falls Park to your trip. It's a great way to see different parks and enjoy a variety of experiences. The park's beautiful scenery and wildlife and other places like Kidepo Valley Park make for an amazing adventure.
Whether flying or driving, each way of getting to Murchison Falls National Park has its own special experiences and stories. It adds excitement to your safari and lets you see more of Uganda's beauty and history.
---
Explore Murchison Park: Our Exclusive Safari Adventures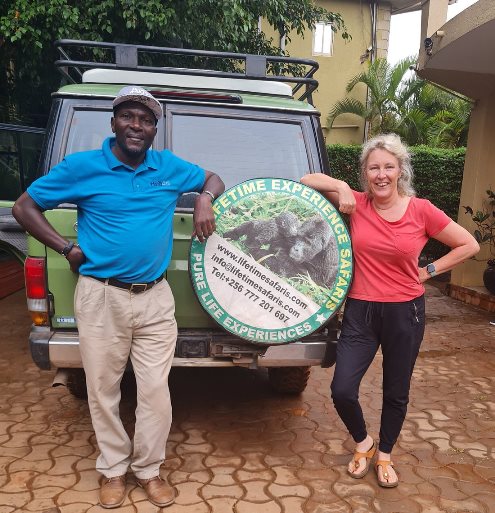 Murchison Falls is Uganda's most popular wildlife destination, and exploring the things to do and see within the park showcases why. Visitors can experience the grandeur of the world's most powerful waterfall, as well as the excitement of encountering the Big-5 on thrilling safaris. The Nile River's journey through diverse landscapes adds to the park's unique charm, making it an essential destination for every adventure and nature enthusiast.
Lifetime Experience Safaris invites you to delve deeper into the wonders of Murchison Falls Park. Our exclusive safari adventures, ranging from single nights to extended stays, are meticulously crafted to provide a comprehensive exploration of the park. These all-inclusive packages cover everything from full-board lodging to all activity fees and park entrance costs, ensuring a hassle-free experience. Ready for an unforgettable journey? Explore our Murchison Falls Park Safaris and embrace the adventure that awaits.
---
Here are some useful links that you may find helpful to check out: