Uganda Money Tips: Your Guide to Currency, Banks & ATMs

Your Guide to Money Matters: Currency, Banking, and Payments in Uganda for Tourists
---
Welcome to the Ultimate Guide for Uganda Money Tips!
Planning a journey to Uganda's stunning landscapes and vibrant culture? Our guide is here to ensure your financial dealings in the Pearl of Africa are straightforward and stress-free. From efficiently managing local currency to confidently using banks and ATMs, we've got you covered. These essential Uganda Money Tips are designed for both first-time visitors and seasoned travelers, ensuring your monetary transactions are as smooth as your travel experiences.
Uganda Money Information, Advice, and Tips for Travelers
Frequently Asked Questions About Money in Uganda: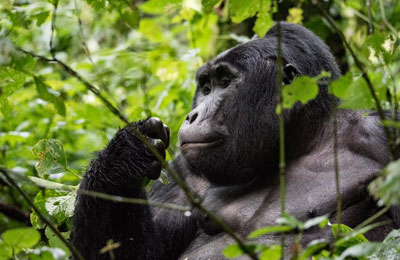 Best Currency to Bring: The US dollar is most practical, followed by Euros and UK Pounds.
Using US Dollars: Widely accepted, especially in tourist areas.
Card Acceptance: Visa and MasterCard are common; fewer places accept American Express and Discover.
ATM Withdrawals: It is best to withdraw during the daytime for safety.
Local Currency: The Ugandan Shilling (UGX) is used for everyday transactions.
Traveler's Cheques: Not widely accepted; ATMs are a better option.
Bank Services: Full banking services are available in major cities.
Tipping and Spending during your Safari: Usually in US dollars; tips are greatly appreciated.
Currency Usage in Uganda:
Cash-Based Society: Especially for taxis, local shopping, and smaller expenses.
Tourism Industry Preference: US dollars over local currency for convenience and stability.
Credit and Debit Card Usage:
Acceptance: In urban areas, major hotels, stores, and restaurants usually accept card payments.
Surcharges: The usual range for card transaction fees is between 3.5% to 5%.
Card Types: Visa is the most commonly used credit card, while MasterCard and American Express are also widely accepted.
ATM Guidelines:

Availability: ATMs are common in cities, less so in rural areas.
Fees: Check with your bank about international withdrawal fees.
Transaction Process: ATMs display fees and require confirmation before dispensing cash.
Paying for Wildlife Permits:
Currency Options: US dollars, Ugandan Shillings, Euros, or GBP accepted.
Best Currency: US dollars for better exchange rates.
Avoid Traveler Cheques: The payment method is not widely accepted and it takes a long time to cash.
Currency – US Dollars vs Ugandan Shillings:
Shilling Denominations: Available in various notes and coins.
Tourist Pricing: Mostly in US dollars for clarity and stability.
Exchange Rates: Favorable for US dollars, Euros, and UK Pounds.
Foreign Exchange Tips:
Bill Requirements: Bring newer US dollar bills (post-2009) for acceptance.
Exchange Rates: Better rates for $50 and $100 bills.
Exchanging Money: Simple in Kampala and Entebbe; Forex bureaus offer quick service.
Rate Information: Check The Monitor and New Vision for daily rates.
---
Banking Hours and Accessibility:
Weekday Operations: Most banks operate from 8:30 AM to 4:00 PM. Select banks in Kampala offer extended hours until 7:00 PM.
Saturday Banking: Available from 9:00 AM to 2:00 PM in most locations.
Rural Banking: Significant presence of banks like Stanbic, Absa, and Centenary in regional towns, easing forex complications.
Currency Exchange Services:
Exchange Facilities: Convert cash or traveler's cheques into US dollars, UK Pounds, and Euros at fair rates.
Banking Process: Exchanging currency at banks may take longer but generally offers reasonable rates.
Credit Card Services: Cash withdrawals are possible using credit cards, subject to processing time and fees.
Traveler's Cheque Conversion: Banks accept them with proof of purchase and a passport, but the exchange rate is typically lower.
Comparison with Forex Bureaus:
Rate Differences: Bank rates are typically lower compared to private forex bureaus in Kampala.
Regional Forex Bureaus: Many have closed due to competitive bank services, improving the rates offered by banks in regional areas.
Extensive Banking Networks:
Stanbic Bank: Broad reach, serving in major towns including Entebbe, Jinja, Mbale, Fort Portal, Kisoro, Mbarara, Hoima, and Masindi.
Absa Bank: Offers nearly the same widespread coverage as Stanbic.
Detailed Insights into Forex Bureaus in Uganda
Operating Times and Locations:
General Hours: Typically open earlier than banks and close at 5:00 PM. Grand Mall in Kampala is open until 8 pm every day.
Sunday Operations: Available at places like Garden City Mall, Grand Imperial Hotel, and Kampala Road, and a few banks and forex bureaus at Entebbe International Airport are also open.
Exchanging and Re-Exchanging Currency:
Efficient Conversion: Quick conversion of foreign currency to Ugandan Shillings and vice versa, with a minor loss on re-exchange.
Convenience at Airport: Services at Entebbe Airport cater to all incoming and outgoing flights.
Important Guidelines for US Dollar Transactions:
Bill Acceptance: Avoid bills printed before 2003 due to high forgery risks from that period.
Note/Bill Condition: Banks and Forex bureaus reject torn or damaged bills. Ensure the US dollar bills are clean, unmarked, not stamped, tear-free, and without blemishes, with $100 bills being from 2009 or later.
Denomination Impact: Lower exchange rates for bills smaller than $50, particularly $20 or less.
---
Using Travelers' Cheques in Uganda
Acceptance and Limitations:

Major international banks like Stanbic, Absa, and Standard Chartered accept American Express travelers' cheques, usually up to $500.
Thomas Cook cheques might be accepted, depending on the branch.


Necessary documentation includes a passport and proof of purchase.
Exchange Rates and Fees:
Rates for travelers' cheques are slightly lower than for cash.
Banks in Kampala offer the option to buy US dollar travelers' cheques for small fees.
Safety and Handling Tips:
Carry travelers' cheques and proof of purchase separately to minimize theft risk.
Standard Chartered Bank on Kampala Road might help in case of loss or theft, but the process is lengthy and uncertain.
Double-check the paperwork and cheque brand before exchanging.
Recommendation:
Prefer American Express cheques for easier exchange; others might be problematic.
Using ATMs in Uganda
ATM Accessibility and Card Types:
Most banks in larger cities have ATMs compatible with 4-digit PINs.

Visa ATM cards are widely accepted, offering good exchange rates.
Mastercard and American Express are also accepted at several ATMs, hotels, and tour operators.
Travel Tips and Precautions:
Inform your bank about your travel to Uganda to prevent card holds.
Use ATMs during bank hours for immediate assistance if needed.
Consider preloading your Visa card to avoid interest charges.
Avoid using ATMs in bars or public places to reduce theft risk.
Be prepared for potential ATM network failures or card rejections.
Recommendation:
Limit reliance on ATMs; network issues and card problems can delay tours.

Credit & Debit Card Usage in Uganda
Security Concerns:
The UK government advises against credit card use in Uganda due to information theft risks.
Credit card fraud has been reported even in high-end hotels.
Card Acceptance:

Visa is the most accepted credit card.
Mastercard, American Express, JCB, and Union Pay are also accepted in some places.
Hotels, restaurants, and shops add a 3.5% to 6% surcharge for credit card payments.
Financial Considerations:
Additional charges apply for credit card use, especially for safari payments and in hospitality establishments.
---