Nile River Whitewater Rafting & Bungee Jump in Uganda

The Nile River Whitewater Rafting & Bungee Trips, Prices, Advice and Tips
Experience the Thrill: River Nile Adventures in Uganda
Dive into the heart of the Nile River Adventure in Uganda with a rafting trip near Jinja, the renowned East African Adventure Capital. Here, tranquility meets thrill as you float along one of the world's most famous rivers, only to find yourself navigating through exhilarating class five rapids. In partnership with Raft Uganda, known for its top-notch rafting services, we offer expert training, quality equipment, and refreshing treats.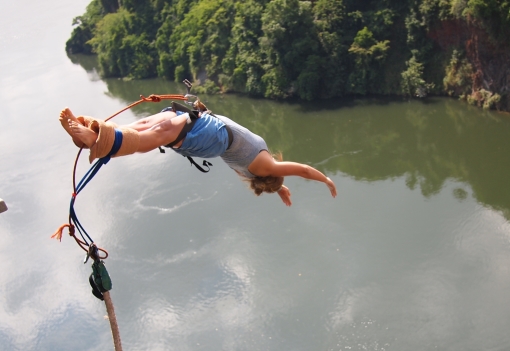 Your adventure starts with a comprehensive safety briefing, preparing you for a remarkable ride down the Nile. Enjoy a delightful lunch on a picturesque island midway, a serene pause in your adrenaline-charged journey. After mastering the rapids, celebrate with complimentary drinks and a smooth ride back to Kampala. This rafting experience is more than an activity; it's a highlight of the Nile River Adventure in Uganda. Our knowledgeable guides make your trip not only thrilling but also an unforgettable part of your Ugandan adventure. Plus, the video of your trip is a keepsake of your bold spirit.
Want to explore more? We can easily add a day or two of white-water rafting to your safari tour package. For a deeper dive into adventure, choose an overnight safari with Jinja sightseeing. Immerse yourself again in the rapids the next day or pick from various activities along the Nile in Jinja. Each moment is crafted to make your Nile River Adventure in Uganda genuinely unique and memorable.
---
Your Nile River Adventure Awaits: FAQs
Who Can Join the Rafting Fun?
Everyone is welcome! Our trips are designed for a wide age range, from 2 to 72 years old. We have an adventure that's just right for you, no matter your age.
When Can We Set Sail?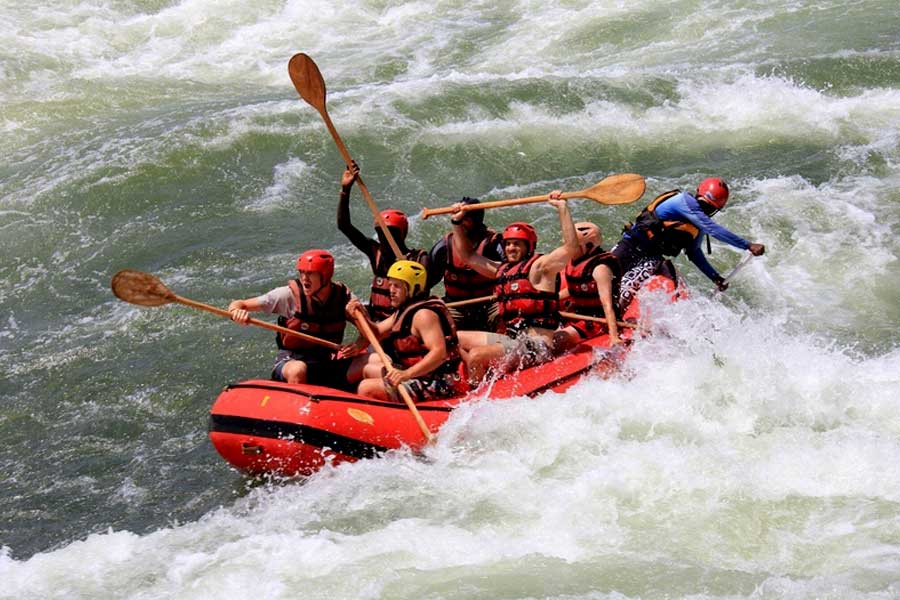 Rafting is an all-year-round adventure, available daily, with a minimum of 6 participants. Don't worry if you're solo; many join individually!
What to Wear for Rafting?
Stay comfortable under the sun! Bring along a T-shirt, swimwear, and board shorts. Don't forget waterproof sunscreen. The river is warm at 27°C (49°F) year-round. After your adventure, pack a towel, a change of clothes, and something warm.
Leave These at Home.
Keep your valuables, jewelry, cameras, and other precious items safe at home. It's best to travel light!
FREE Shuttle Service
We offer a complimentary daily shuttle from Kampala to Jinja and back, making your journey hassle-free.
Shuttle Pick-Up Points in Kampala
We offer Kampala Pick Ups (Min 4 Required) at Acacia Mall at 6.15 am / Sheraton at 6.20 am / Game, Lugugo Mall at 6.30 am From Jinja at 8.30 am (Min 2 Required) We can assist in Entebbe pickups from 6 am on Special Request, additional charges apply.

Full Day Whitewater Rafting trip on the Nile River
This is our most popular trip on the White Nile; our experienced crew is ready to give you the ride of a lifetime through 8 amazing rapids!
Trip includes
Free transport from either Kampala or Jinja
Experience the best class 5 rafting in Uganda – choose mild or wild.
Breakfast will be available for pick-up.
Drinking water during the journey
Lunch
All rafting equipment and instructions with some of the best river guides
Safety boats and kayakers on all our trips
Free professional photos of the rafting trip are available.
Participants aged 16 and up are welcome. Swimming skills are not required. Join us for an unforgettable experience on the Nile River! We promise to make it a memorable journey for you.
Whitewater Rafting, Bungee Jumping and Tubing  Rates 2024
Grade 5 Full-Day Rafting

$140 per person (23 kilometers) – grade 5

Grade 3 Full-Day Rafting

$140 per adult
$95 per child

Extreme Rafting

Bungee Combo's

$115 Bungee
$240 Raft / Bungee
$145 Cruise / Bungee

Flat Water Tubing

$25 per adult
$20 per child

Whitewater Tubing

$45 per adult
$35 per child

Family Float trip

$50 adults and $30 child
$20 per child
Children under 16 years
Prices are quoted in US Dollars.
Payment can be made in US Dollars, Euros, UK Pounds, AUD, CAD, and Ugandan Shillings.
Major credit and debit cards are accepted but subject to a surcharge of 3.5%
Only US$ notes from 2013 and above are accepted. Notes must be free from markings and in good condition.
---
Nile High Bungee Jump: An Exhilarating Leap

Take the plunge at one of the world's most breathtaking bungee jumping locations, right over the source of the Nile River. We're experts in creating unforgettable experiences, including tandem jumps, exhilarating water touches, and even full-moon jumps for the more adventurous souls.
Jump Anytime: Our flexible scheduling means you can make the leap almost anytime, even after dark, for a truly unique experience.
What Your Jump Includes:
Expert River Crew: Join the adventure with our award-winning team, the most seasoned experts on the continent.
State-of-the-Art Bungee Facility: Our purpose-built bungee jump adheres to the highest New Zealand safety standards, ensuring a safe yet thrilling experience.
Free Shuttles: We offer complimentary vehicle shuttles from both Kampala and Jinja for your convenience.
Nile High Bungee Jump Pricing
Experience the thrill of a lifetime with our Nile High Bungee Jump options, each offering its unique blend of excitement and adventure:
Solo Bungee Jump: $115 Embark on an exhilarating solo jump and feel the rush as you leap over the Nile.
Raft and Bungee Combos: Maximize your adventure with our combo packages, perfect for thrill-seekers looking to experience rafting and bungee jumping.

Full-Day Rafting Combo: $195
Half-Day Rafting Combo: $185 Enjoy a compact yet thrilling half-day rafting adventure, capped off with the excitement of bungee jumping.

Nile High Bungee: An Unforgettable Leap
Discover the Nile High Bungee

Imagine standing atop a bungee tower 44 meters above the Nile, ready to take the leap of a lifetime. The Nile High Bungee isn't just an adrenaline rush; it's a spectacle with breathtaking views. When not in use, a troop of Vervet monkeys often plays guardian to the tower. Below, the source of the world's longest river unfolds in all its glory, surrounded by forested islands and cheered on by spectators from the nearby bar. Unique to Nile High, you can even touch the water on your first bounce, making for an unforgettable splash in the Nile!
Your Jump, Your Way
Leap with a friend, or bring an unconventional companion like a bicycle or kayak. The most popular choice is the ankle tie, but for the thrill-seekers, a full-body harness allows for somersaults or any freestyle jump you dare. It's not just a jump; it's a chance to create stories and earn those bragging rights with spectacular photos.
Safety: Our Top Priority
For over 35 years, we've been committed to providing safe, fun, and rewarding adventures. Our operations adhere to stringent safety standards, including the rigorous Australia/New Zealand Standard™ for bungee jumping. Every piece of equipment is extensively tested and tracked for optimal safety, ensuring your experience is as secure as it is exhilarating.
The Cord: Support You Can Trust
The bungee cords, made of the highest quality pure white latex rubber, are the same material trusted by the world's best underwear brands. They stretch up to four times their resting length, ensuring a smooth and gentle descent.
To Touch or Not to Touch the Nile: The choice is yours: skim above the Nile or make a splash in its historic waters. Either way, it's a story worth telling.
---
Here are some useful links that you may find helpful to check out:
---