Top 13 Things to Do in Jinja on the Nile River, Uganda

Unleash Adventure: Experiences Along the Nile River in Jinja
---
Explore Jinja, Uganda: Your Nile Adventure Awaits
Experience the thrill of Jinja, Uganda's renowned adventure hub on the banks of the River Nile. Jinja, known as the 'Adventure Capital of East Africa,' blends adrenaline-pumping activities with the scenic beauty of the Nile and Lake Victoria. Whether you're after exciting water sports or cultural experiences, Jinja delivers a memorable safari experience.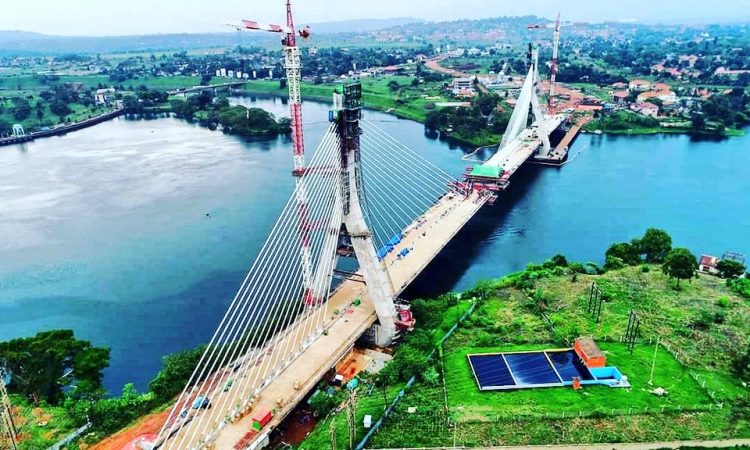 Make Jinja a key part of your Ugandan safari itinerary for the ultimate Nile adventure. This destination teems with diverse activities and attractions to suit every interest. From the rush of water sports to the tranquility of horseback riding, Jinja's stunning natural beauty and rich cultural heritage establish it as a top choice for an adventure-filled safari in Uganda."
Top Attractions and Activities
Discover the best of Jinja with a range of activities to suit all travelers. From white-water rafting to leisurely horseback rides, our town boasts a diverse array of experiences. Jinja's natural beauty and rich cultural heritage make it a must-visit destination for adventurers in Uganda.
Your Nile Adventure Begins Here
Join us for an expedition through Jinja's finest offerings. With comprehensive information, safety guidelines, and easy booking options, our safari agency ensures your journey along the Nile in Jinja is an extraordinary one. Include Jinja, the Nile Adventure Destination, in your Ugandan safari itinerary, and let the adventure begin.
---
Top 13 Things to Do in Jinja on the Nile River, Uganda
1. Wild White Water Rafting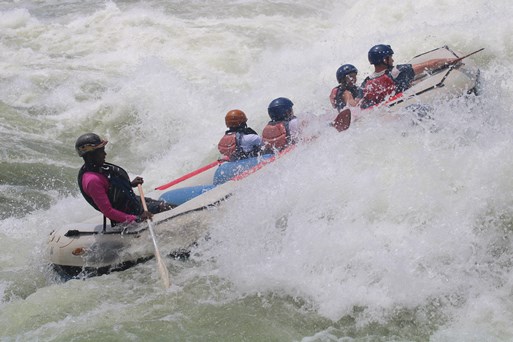 Prepare for an exhilarating white-water rafting journey in Jinja, where adrenaline-fueled water sports reign supreme. This must-try adventure promises a thrilling ride through the Nile's rapids, leaving you with an unforgettable sense of exhilaration.
From mild to wild, you can tailor your white-water rafting experience to your preferences, all under the vigilant care of experienced rafting staff. Safety is paramount, and stringent precautions ensure that your half-day or full-day white-water rafting adventure is safe and exhilarating. Whether you're a family with children or an adventure-seeking enthusiast, there are options available to suit your level of excitement.
You can easily incorporate white-water rafting on the Nile into most Uganda safaris. For families, we arrange gentler rafting experiences on the Nile's calmer sections. This ensures everyone can enjoy the river's thrill.
2. Source of the Nile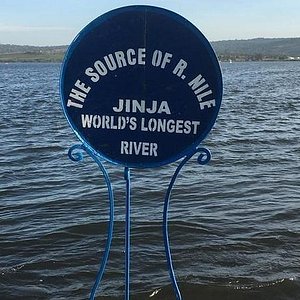 Jinja is known for being where the Nile River starts. Here, you can take a boat to see where the river flows out of Lake Victoria. It's a famous place for seeing Africa's natural beauty.
John Hanning Speke found this spot in 1858, though locals already knew about it. Now, it's a park visited by many. The gardens are calm and lovely, and you can see a statue of Mahatma Gandhi. Part of Gandhi's ashes were spread in the Nile.
Boat trips are available to see where the Nile starts and to explore Lake Victoria. The area is improving to become a top tourist spot, but it's already one of Uganda's most visited places.
Visiting the Nile's source in Jinja is a top activity in East Africa's Adventure Capital.
3. Kayaking on the Nile River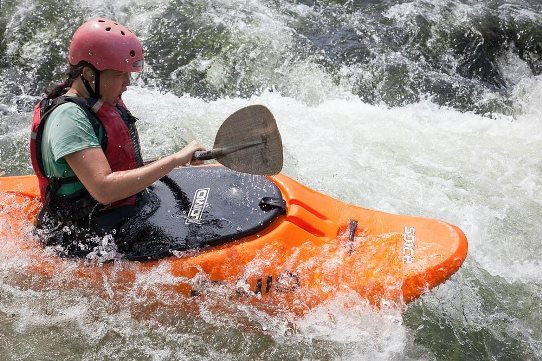 Kayaking in Jinja on the Nile River offers an exciting, personal experience. The Bujagali Falls area is particularly famous for its kayaking courses. When kayaking here, you travel through the Nile's white-water rapids at a leisurely pace. This activity lets you see the rich biodiversity and stunning scenery around the Nile.
Before starting, everyone gets lessons and learns basic kayaking skills for both calm and rough parts of the Nile. You can choose to paddle with an experienced kayaker or go alone, with someone watching from another kayak. You're provided with all necessary safety gear and instructions for a secure trip on the Nile. This is one of the top activities in East Africa's Adventure Capital – Jinja.
4. Bungee Jumping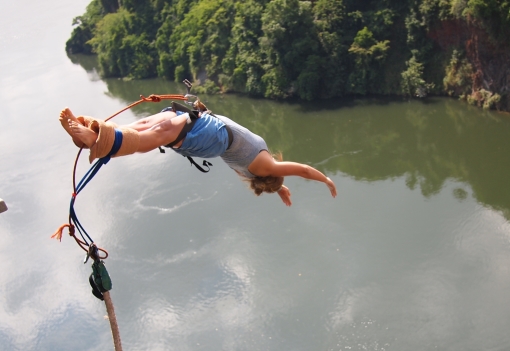 Jinja's bungee jumping is a thrilling adventure known as one of the best in Africa. You can jump from the Nile High Bungee, a platform that gives an intense experience with amazing views of the Nile.
This activity is for those who love excitement. Many people come to Jinja specifically for bungee jumping into the historic Nile River. Now, you can even bungee jump at night. Jumping into the world's longest river is a unique experience.
Bungee jumping in Jinja is often discovered by visitors who are there for other activities, like whitewater rafting or staying at the famous Wildwaters Lodge. It's a popular add-on to their safari adventures.
Moreover, your jump can be captured on video. You can buy this professional video to share on social media, showcasing your incredible experience to friends.
5. Quad Biking and ATV Adventures: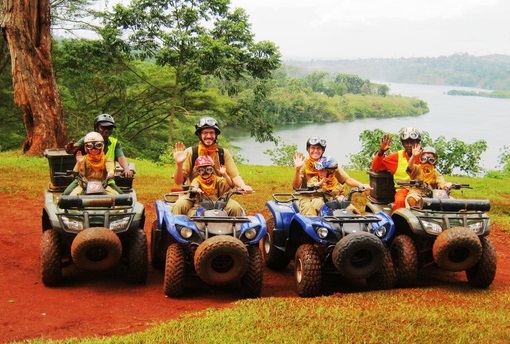 Quad biking excursions along the Nile's scenic trails are a popular and fun way to explore the area's landscape and appreciate the river's beauty. These ATV (All-Terrain Vehicle) adventures rank high in popularity after white-water rafting in Jinja.
These quad biking trips offer something for everyone in the family. You can spend several days in Jinja, engaging in various activities, with quad biking a highlight. These excursions range from a few hours to an all-day journey along the Nile, also providing a cultural experience as you visit local villages during your ride.
There are various routes to choose from, tailored to your interests and your group's preferences. If you're planning a safari in Uganda and Jinja, quad biking is an activity you can include in your itinerary. It's advisable to schedule this activity ahead of your arrival to ensure a smooth experience.
6. Sunset cruises on the Nile River: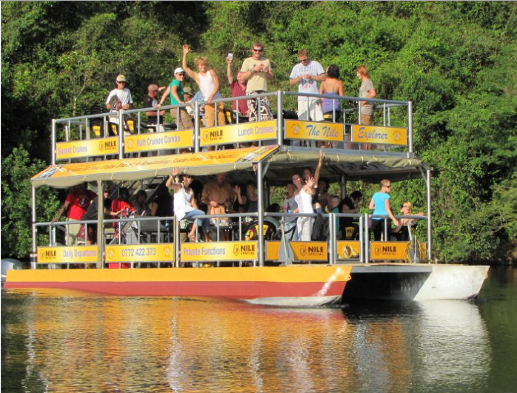 Sunset cruises on the Nile River in Jinja offer a romantic and peaceful way to witness the stunning African sunset. Complete with snacks and drinks, these cruises make for a delightful experience. You can enjoy the tranquility of the Nile while savoring a lovely dinner or BBQ snacks during your cruise.
There are various options for sunset cruises including private ones for you and your group. In Uganda, sunset usually occurs around 6:45 pm, with total darkness by about 7:10 pm. The cruises typically start around 6 pm and last for two hours.
These cruises don't navigate the whitewater sections of the Nile; instead, they take place in calmer areas, perfect for enjoying a serene sunset. This setting is incredibly captivating when you can witness a magnificent Nile sunset in all its glory.
7. Tubing the Nile Experience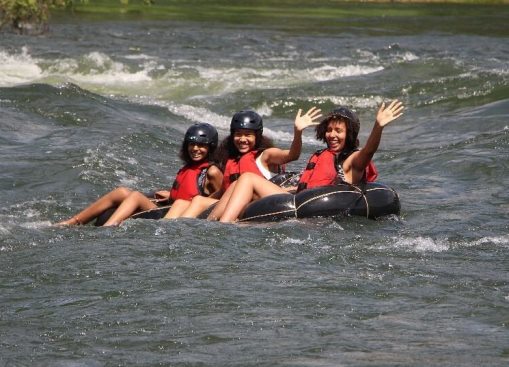 Tubing on the Nile River in Jinja is a laid-back, enjoyable activity perfect for those seeking a gentle adventure. It involves floating leisurely down the river on a large, inflated inner tube, offering a peaceful way to experience the Nile. This activity is all about relaxation and soaking up the scenic beauty of the river's surroundings, including lush greenery and local wildlife. It's an ideal way to enjoy the tranquility of the Nile, away from the more vigorous water sports.
Tubing is suitable for visitors of all ages, although an adult should accompany children under 16 years. It requires no special skills, making it a great family-friendly option. Safety is well taken care of, with life jackets provided and guides overseeing the activity. Many guests choose to combine tubing with other activities in Jinja, such as whitewater rafting or picnicking along the river, making it a versatile addition to a day out in the area. This leisurely pastime is a perfect complement to the more adventurous experiences Jinja has to offer.
8. Visit to Itanda Falls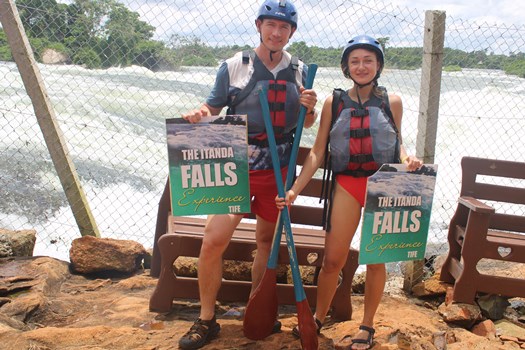 Itanda Falls, known as "The Bad Place," is a renowned whitewater adventure spot 27 kilometers from Jinja. This series of challenging rapids is a magnet for kayakers and adventure seekers. We provide guided visits to this exciting natural wonder, offering an immersive experience in the heart of the Nile's whitewater.
Itanda Falls is more than just whitewater; it's a place where the sights and sounds will captivate your senses, making you want to spend more time in Jinja. It's an ideal spot for sightseeing, especially for those looking to combine a visit to the Source of the Nile with the thrilling whitewater of Itanda Falls in a single day.
Many visitors choose to relax and enjoy the area, either as a standalone destination in Jinja or as a day trip from Kampala for a taste of the Nile. Itanda Falls is a must-visit spot on the Nile near Jinja and is the largest waterfall in the vicinity. While Bujagali Falls was once a popular spot, it has since been replaced by a lake due to the construction of the Bujagali Dam, which provides power to Kampala and other cities.
9. Take a Boat Trip to Jinja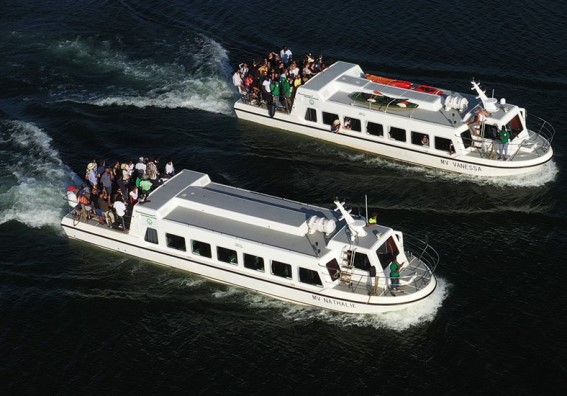 A boat cruise along the Nile, specifically on the MV Vanessa from Ggaba to Jinja, is a fantastic way to explore the region. This journey, available every Friday, offers a unique perspective of the Nile's scenic beauty, opportunities for wildlife spotting, and insights into the river's historical significance.
The MV Vanessa trip can be part of a luxurious 3-day experience, often recommended to include a stay at the Wildwaters Lodge. The journey back to Ggaba from Jinja typically occurs on Sunday. For groups, there's the option of arranging a special charter boat to travel to Jinja.
Overall, the boat cruise from Ggaba to Jinja is a relaxed and scenic way to reach and appreciate Jinja's unique beauty and ambiance.
10. Horseback riding along the Nile in Jinja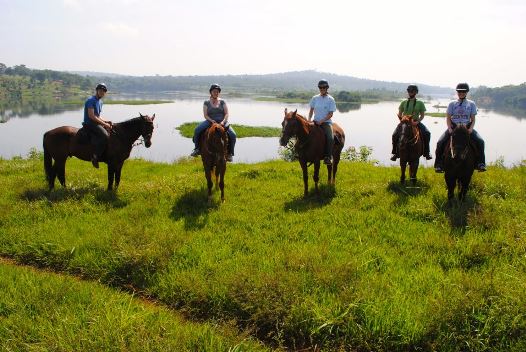 Horseback riding along the Nile in Jinja, Uganda, offers an exceptional way to explore the river, local villages, and the picturesque countryside. This activity caters to a range of preferences, from short rides lasting a few hours to all-day excursions and even unique two-day horseback riding safaris along the Nile. It's a versatile experience that can be easily combined with other Nile adventures in Jinja.
These horseback riding adventures are escorted and guided, ensuring a safe and secure experience for riders of all skill levels. These rides weave through diverse landscapes in the morning and afternoon, offering glimpses into local life and natural beauty. For those seeking an immersive experience, overnight horseback safaris, including options like a journey to the nearby Mabira Forest, Central Uganda's only rainforest, are available. These longer safaris provide lodging and meals, adding an extra layer of adventure to the experience.
11. Serene Relaxation by the Nile in Jinja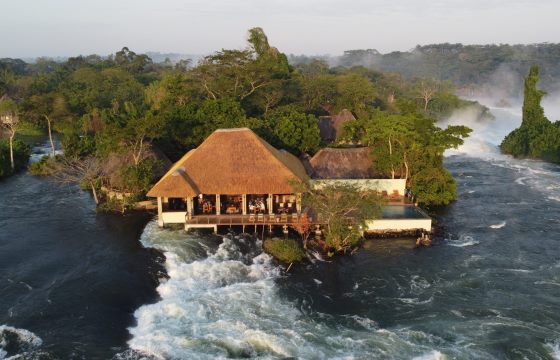 Jinja's Nile River offers a unique retreat at the luxurious Wildwaters Lodge, nestled on an island amid the river's whitewater section. This spot epitomizes relaxation in Uganda, where luxury meets the calming sounds of the river. The gentle roar of the Nile accompanies each morning and night, and private decks with bathtubs offer a personal oasis for unwinding. The exceptional quality of the lodge extends to its dining, with fantastic food enhancing the experience.
For those seeking more affordable options, Jinja is home to hotels and lodges like The Haven, known for its peaceful ambiance and value. Run by a German owner, The Haven, which translates to "Harbor," offers a tranquil harbor along the Nile. These places provide a perfect blend of comfort and serenity, suitable for ending a safari or just taking time to appreciate the Nile's soothing beauty.
This section of Jinja offers both luxury and affordable options for those looking to relax and immerse themselves in the tranquil environment of the Nile. Whether it's the high-end indulgence of Wild Waters Lodge or the cozy comfort of The Haven, visitors are sure to find their perfect spot for relaxation.
12. Exhilarating Jet Boat Adventures on the Nile in Jinja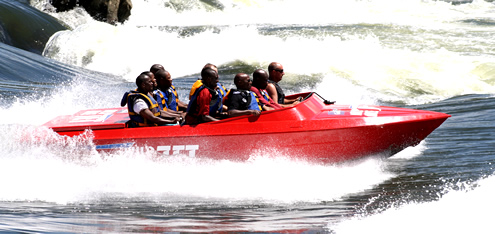 Jet boat rides up the rapids of the Nile in Jinja offer a thrilling, safe adventure, perfect for those who want a high-energy experience without spending the whole day on the river. Guided by a skilled pilot familiar with the river's currents and quirks, these rides are akin to a roller-coaster on the water – truly exhilarating. The excitement of speeding through the rapids and the stunning views along the Nile make jet boating a unique and memorable activity.
This activity needs to be booked in advance and can easily be added to your safari itinerary. It's ideal for those seeking a quick yet thrilling encounter with the Nile's rapids. Whether adding it to a broader exploration of Jinja or looking for a standalone adventure, jet boating on the Nile at Jinja is a must-try experience, offering excitement and enjoyment in equal measure.
13. Scenic Mountain Biking Along the Nile River – Jinja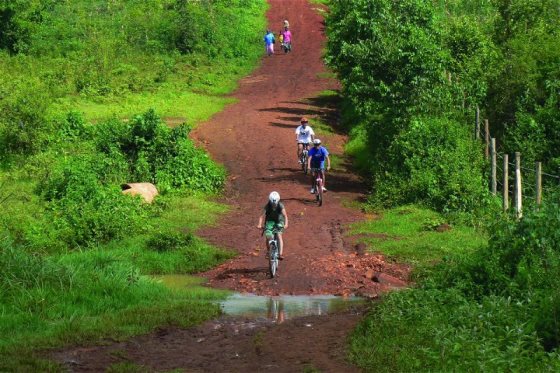 Mountain biking outings along the Nile in Jinja have become increasingly popular, attracting more visitors to the area. These biking trips are suitable for families and individuals of all ages. They offer a safe and enjoyable way to explore the surroundings. Whether biking along the Nile or venturing beyond, these outings provide a unique blend of adventure and tranquility.
These guided biking trips are enhanced by using high-quality, imported mountain bikes. These are designed to handle the diverse terrains of the Jinja area. Experienced guides accompany riders equipped with the skills to address any rare bike breakdowns. During the outings, participants can enjoy a picnic lunch or stop at a local restaurant, making the experience both culturally enriching and leisurely. The trips are well-supported, with plenty of bottled water provided, ensuring a comfortable and memorable biking adventure along the Nile.
Include Jinja and the Source of Nile in Your Safari
Incorporate any of these exhilarating activities into your safari with us in Uganda. Whether you're tackling the Nile's rapids or enjoying a tranquil sunset cruise, Jinja offers the perfect blend of adventure and relaxation. With moderate and luxury lodging options, you can customize your experience to your preferences. The opening of the iconic Source of the Nile Bridge has made getting to Jinja easier than ever. Don't miss the chance to spend time on the Nile in Jinja, the Experiential Adventure Capital of East Africa. Contact us today to book your adventurous activities in Jinja on the River Nile.
---
Here are some useful links that you may find helpful to check out:
---