Description
3-Day Adventure in Murchison Falls Park: From Wildlife Safaris to Chimpanzee Trekking

Embark on a thrilling wildlife safari, cruise along the majestic Nile River, marvel at the awe-inspiring summit of Murchison Falls, and encounter playful chimpanzees before returning to Kampala.
---
3-Day Adventure in Murchison Falls Park: From Wildlife Safaris to Chimpanzee Trekking
Day One: A Warm Welcome to Murchison Park and Your First Game Drive
Good morning! Your adventure kicks off bright and early as we depart from your hotel or guesthouse at 6:30 a.m. Today, we're headed to the enchanting Murchison Falls National Park, passing through the scenic Masindi town along the way. Get ready to cross the historic Nile River, a sight to behold!
Once we arrive at the lodge of your choice, you'll have a bit of time to unwind. Perhaps enjoy a lunch on a terrace overlooking the mighty Nile? The view is nothing short of breathtaking.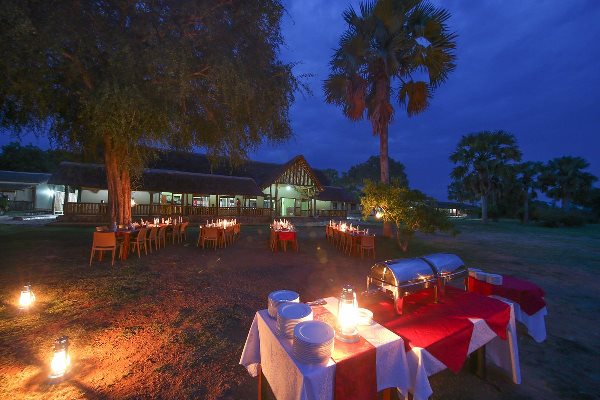 But that's not all. After a hearty lunch, we dive right into our first game drive. Together with an expert guide, we'll roam the wilderness in search of lions, elephants, giraffes, and much more. Feel free to shout "stop" anytime you spot something worth capturing on camera!
After a thrilling day, it's back to the lodge for a sumptuous four-course dinner. Unwind on the veranda and soak in the tranquil atmosphere of the wilderness. Drinks are on you tonight!
Lodging: Pakuba Lodge – All meals
Other lodging options: Budget Gipir & Labongo Safari Lodge, Upscale Paraa Safari Lodge and luxury  Nile Safari Lodge.
Day Two: Sunrise Safari, Nile Boat Ride of a Lifetime, and Top of the Falls Excursion/Hike
Rise and shine! Fuel up with a delicious breakfast before we embark on our second game drive. This time, an expert from the Uganda Wildlife Authority joins us to help spot elusive creatures like lions and leopards. Did you know that Uganda is home to over 1,000 species of birds? Keep your binoculars handy!
Next up, one of the trip's highlights—a boat safari on the world's mightiest river, the Nile. Brace yourself for an array of animals like hippos, crocodiles, and maybe even a lion if we're lucky.
Now, hold on tight as we head to the top of Murchison Falls- the world's most powerful waterfall. The sight of the river plunging into the gorge below is awe-inspiring, to say the least. This is nature at its finest!
Finally, we return to the lodge for another delightful dinner and well-earned rest. Tonight, sleep comes easy.
Lodging: Pakuba Lodge – All meals
Day Three: A Day with the Chimpanzees and Farewell to Murchison Park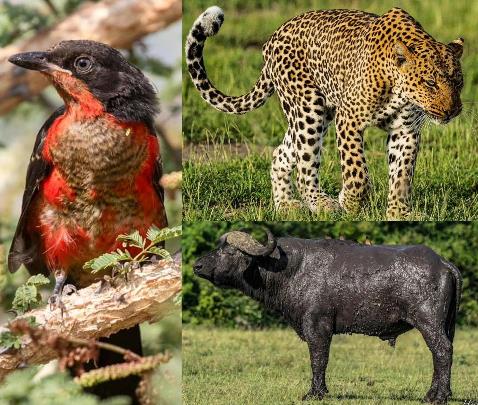 Today is special—we're going chimpanzee trekking in the Budongo Forest. This 3 to 4-hour small-group experience will bring us up close and personal
with these fascinating creatures. It's a unique encounter you won't want to miss.
After saying our goodbyes to our primate friends, we make our way back home. A lunch stop at the historic Masindi Hotel is on the itinerary, wrapping up an unforgettable journey.
Thank you for choosing to experience Uganda with us! We look forward to sharing more amazing adventures with you in the future.
---
Below are the things included in the offer:
The package includes transportation in a Safari Vehicle with a Driver guide, two game drives, a Wildlife Nile River Cruise to the Falls,  a Top of the Falls excursion, all meals, Chimpanzee Tracking, and lunch at the tracking facility in Budongo Forest, which the Jane Goodall Institute runs.
Drinks such as sodas and alcoholic beverages are not covered in the price. Although tipping is not mandatory in Uganda, it is generally expected and greatly appreciated. The only tip we request is at least $10 for the required Uganda Wildlife Authority guide on each of the two game drives.
Submit the form below to enquire this this 3-day Murchison Falls and Chimpanzee Safari.
---