Top Things to Do and See in Queen Elizabeth Park, Uganda Guide
Comprehensive Guide to Exploring Queen Elizabeth Park's Top Things to Do and See
---
Discover the Majesty of Queen Elizabeth National Park: A Pristine Wilderness Adventure
Explore the Wonders of Queen Elizabeth National Park: Uganda's Spectacular Wilderness
Queen Elizabeth National Park, covering a vast 1,978 square kilometers, stands as Uganda's second-largest national park. This World Biosphere Reserve and RAMSAR wetland site, often celebrated as the 'Pearl of Africa,' beautifully stretches across the equator in southwestern Uganda. It nestles between Lakes George and Edward and reaches up to the Democratic Republic of Congo's western border.

The Park's Commitment to Conservation

The park's journey in conservation started in 1925 with efforts to protect villages from elephant raids. This initiative expanded to include the protection of elephants and people within designated boundaries. Meanwhile, in neighboring Zaire (now the Democratic Republic of Congo), similar conservation measures took shape with the establishment of Parc National des Virunga. These collaborative efforts led to the formation of Lake George and Lake Edward game reserves in the late 1920s. These reserves later merged, forming the renowned Queen Elizabeth National Park in 1952.
A Breathtaking Landscape Teeming with Diverse Wildlife
Encompassing an area of 2,475 square kilometers along with Kyambura and Kigezi wildlife reserves, the park showcases a remarkable range of altitudes – from 910 meters above sea level near Lake Edward to 1,390 meters in the crater region. Visitors can enjoy temperate climates, typically ranging from 18°C to 28°C. The park experiences lush, rainy seasons from March to May and again from September to November, receiving annual rainfall between 750mm and 1250mm.
Discover the Enchantment of Queen Elizabeth Park in Uganda
Why do travelers flock to Queen Elizabeth Park?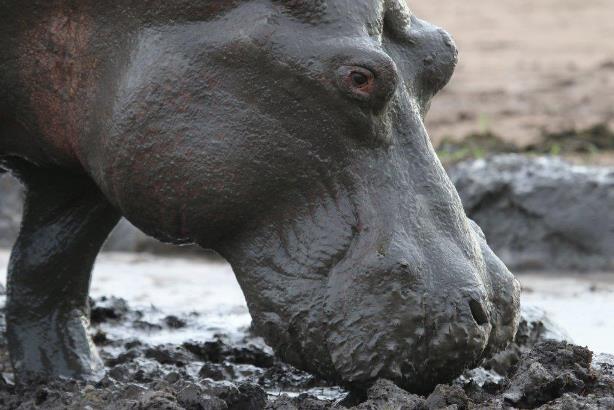 It's not just a park; it's an adventure waiting to unfold. Here's why it's a top pick for visitors to Uganda:
Ideal Location: Situated near the magical Bwindi Impenetrable Forest and lush Kibale Forest and close to the Semiliki Valley and the stunning Rwenzori Mountains, the park is perfectly placed for an unforgettable safari experience.
Unique Attractions: The park is famed for its:

Kazinga Channel Boat Cruise: A scenic cruise offering close encounters with diverse wildlife.
Tree-Climbing Lions of Ishasha: A rare chance to see these majestic animals lounging in trees.
After exploring the allure of Queen Elizabeth Park, with its strategic location and unique wildlife, let's dive into the heart of this incredible destination. Here's a glimpse of the top things to do and see at Queen Elizabeth Park, where each activity promises an unforgettable adventure and the chance to create lasting memories in one of Uganda's most prized natural landscapes.
---
Top Things to Do and See at Queen Elizabeth Park
1. Experience the Magic of Queen Elizabeth Park on a Wildlife Game Drive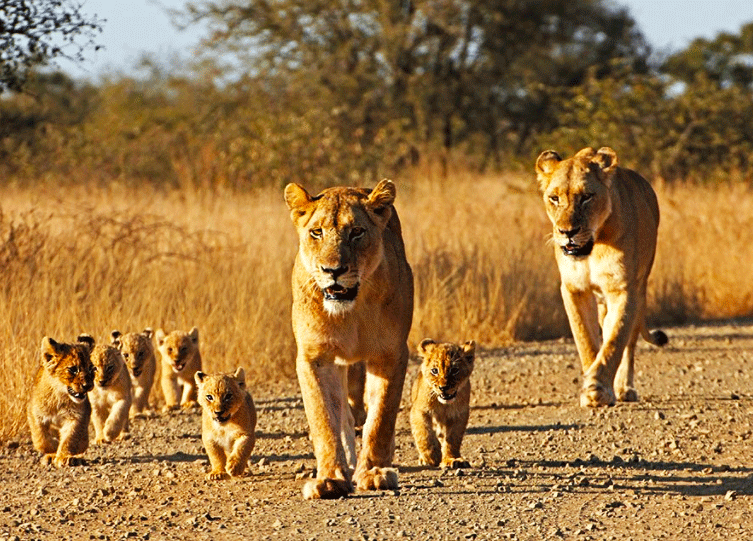 Queen Elizabeth Park, Uganda's wildlife sanctuary, offers game drives where you'll encounter over 3,000 elephants and 10,000 buffaloes. As you navigate the park, keep an eye out for warthogs, waterbucks, Uganda Kobs, Topi antelopes, and the unique Sitatunga with its webbed toes. The park is a treasure trove for cat lovers, with frequent sightings of leopards, civet cats, genets, servals, and the majestic lions. Guided by knowledgeable rangers, these early morning or late evening drives across 200km of diverse landscapes promise an immersive safari adventure. Explore the Northern crater, Kasenyi plains, and the Ishasha sector, each offering a distinctive wildlife experience in one of Uganda's most beloved national parks.
2. Set Sail on the Kazinga Channel with Queen Elizabeth Park's Premier Safari Cruise
Embark on a captivating 2-hour-plus boat safari along the Kazinga Channel, a highlight of Queen Elizabeth Park. Home to one of Africa's largest hippo populations, the channel is a haven for over 5,000 hippos. The safari offers close encounters with hippos and crocodiles, monitor lizards, herds of elephants, buffaloes, antelopes, and an array of water birds. This immersive journey is a must-do experience for anyone visiting this park. Discover the rich wildlife of Queen Elizabeth Park in a safari like no other, where nature's wonders unfold before your eyes.
3. Join the Exclusive Lion Research Tracking Adventure in Queen Elizabeth Park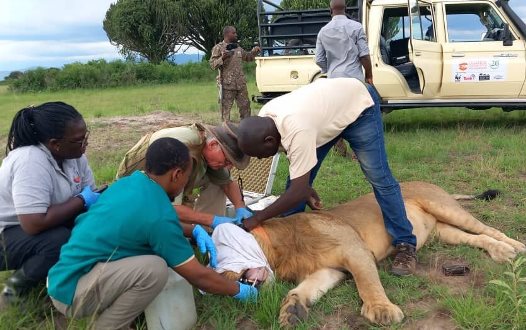 Dive into the heart of wildlife research with our unique Lion Tracking Experience in Queen Elizabeth Park. Available each morning or late afternoon, this one to three-hour journey offers a rare opportunity to track lions equipped with radio collars. Accompany researchers and delve into the fascinating habits of these majestic creatures in their natural habitat.
This exclusive experience is limited to a small number of participants, ensuring an intimate and educational encounter. Advance booking is essential to secure your spot in this extraordinary tracking adventure. It's more than just a game drive; it's an opportunity to join researchers in the field, gaining insights into lion behavior and conservation efforts. Let us know if you wish to include this remarkable experience in your safari itinerary. Remember, space is limited, so early booking is crucial. Read more
4. Explore the Fascinating World of Banded Mongoose in Queen Elizabeth Park
Join an exclusive three-hour guided journey into the world of the banded mongoose on the Mweya Peninsula of Queen Elizabeth Park. This unique tracking experience allows you to observe these fascinating creatures up close and learn about their habits and social dynamics. As you trek along the Kazinga Channel, the hike offers additional wildlife and birdwatching opportunities, enriching your safari experience. Incorporating the Mongoose Research Activity into your itinerary promises an engaging and educational adventure, revealing the lesser-known aspects of Queen Elizabeth Park's vibrant ecosystem.
5. Experience Chimpanzee Tracking in the Kyambura Gorge: A Journey into 'The Valley of the Apes
Explore the captivating Kyambura Gorge in Queen Elizabeth Park, famously dubbed "the Lost Valley" and "the Valley of the Apes" in a BBC documentary. This gorge, a dramatic gash in the savannah landscape, is renowned for its resident chimpanzees, making it a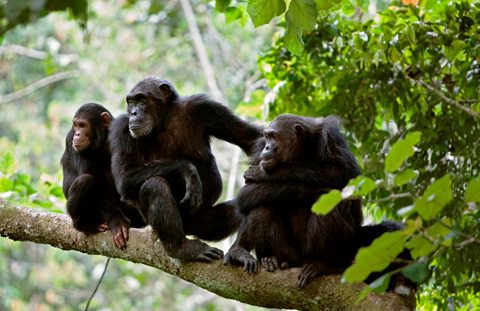 prime spot for primate enthusiasts. Among the ten primate species in the park, the chimpanzee stands out as the most popular, inviting visitors into a world where the wild reigns supreme.
Embarking on a trek through Kyambura Gorge is an experience filled with wonder. As you descend into the valley, the lush surroundings and the chorus of wildlife create an immersive natural spectacle. Please note that while the gorge offers a unique chimpanzee tracking opportunity, sightings have become less predictable over time. For those prioritizing chimpanzee encounters and not visiting Kibale Forest, Kalinzu Forest emerges as a highly recommended alternative. This trek is not just about chimpanzees; it's an adventure across rivers and through dense forests, revealing an array of wildlife, other primates, and birds in their natural habitat. Read more here
6. Discover the Katwe Explosion Craters Drive in Queen Elizabeth Park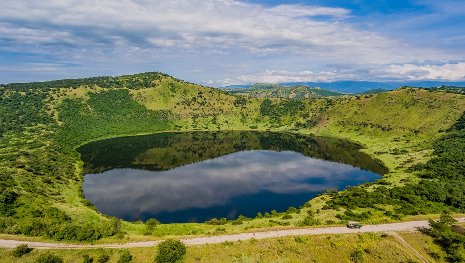 Journey through the heart of volcanic history on the Katwe Explosion Craters Drive. These vast basins, scattered along the equator, showcase the Albertine Rift's ancient volcanic activity, dating back to the time of the Egyptian pyramids. This 27km drive, a fascinating exploration for those interested in geological wonders, has captivated National Geographic with its unique landscape.
Traveling from the Kabatoro gate to the Queen's Pavilion, you'll witness breathtaking views of massive craters, serene circular lakes, the expansive Rift Valley escarpment, and the Kazinga channel. The drive offers panoramic vistas of Lakes George and Edward, set against the backdrop of the majestic Rwenzori Mountains, known as the 'Mountains of the Moon.' This scenic route is a window into the earth's turbulent past and a visual feast for nature lovers. Read more.
7. Experience Bird Watching in Queen Elizabeth National Park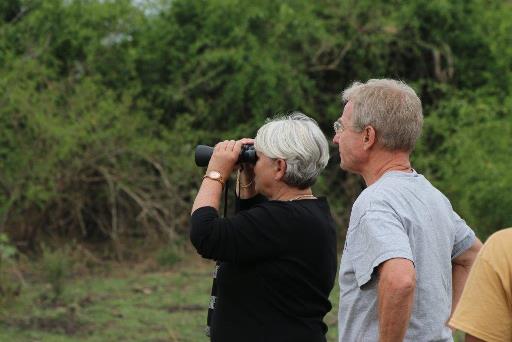 Queen Elizabeth National Park is a birdwatcher's paradise, boasting 619 bird species, making it one of Africa's premier birding destinations. Explore diverse habitats, from savannas to wetlands and lowland forests, each teeming with unique avian life. With the guidance of experienced birding guides, who know the best spots around swamps, lakes, and the Maramagambo Forest, you'll encounter an astonishing variety of birds. The park is home to water birds, woodland and forest dwellers, 54 raptor species, and various migratory birds. Key sightings include the Martial Eagle, African Skimmer, Chapin's Flycatcher, and the elusive Shoebill. Whether you're a seasoned birder or a curious enthusiast, birding in Queen Elizabeth National Park offers an unforgettable experience with nature's most colorful creatures.
8. Discover the Unique Tree-Climbing Lions of Ishasha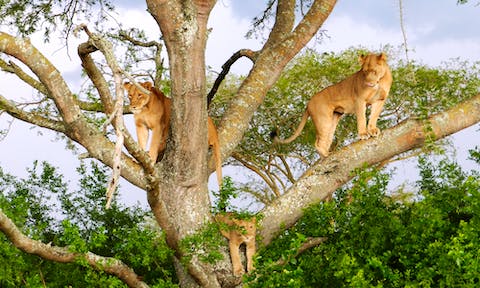 In the less-traveled southern region of Queen Elizabeth Park lies Ishasha, famous for its unique tree-climbing lions. These majestic lions are often spotted lounging in branches, keeping watch over the Uganda Kob herds below. Ishasha is not just about these arboreal felines; it's also a haven for buffaloes, elephants, and even the rare shoebill stork. This region serves as a gateway to Bwindi Impenetrable Forest, offering an ideal stop for a game drive to witness these rare lions in their unusual habitat. Enhance your experience by staying at the Ishasha Wilderness Camp, where you can immerse yourself in the wild beauty of southern Queen Elizabeth Park for a night or two. This visit promises a truly remarkable wildlife encounter.
9. Explore Queen Elizabeth Park on Foot: Nature Walks and Hikes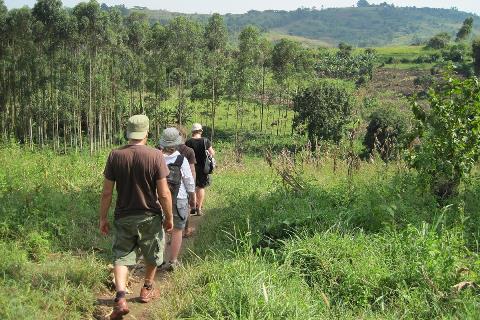 Queen Elizabeth Park in Uganda offers more than just game drives; it invites you to step out of the vehicle and explore its diverse landscapes on foot. Hiking here transcends the typical backpacker's activity, seamlessly blending into midrange and luxury safaris. The park is a treasure trove of trails, from the lush Maramagambo Forest and the dramatic Kyambura Gorge to the serene Mweya Peninsula and the vibrant Ishasha River area.
We're continually discovering and creating new trails, and we're excited to tailor your safari to include these immersive hiking experiences. Whether you're a seasoned hiker or someone who enjoys leisurely nature walks, Queen Elizabeth Park caters to all. Here, your safari transcends the confines of a vehicle, offering the freedom to intimately connect with nature along scenic trails. Discover the park's hidden gems on foot for an unforgettable adventure.
10. Discover the Enchantments of Maramagambo Forest
Maramagambo Forest, a haven of ironwood and fruit trees, teems with a rich array of wildlife. It's a vibrant ecosystem where primates like chimpanzees, baboons, and various monkey species thrive alongside a multitude of birds, including the rare Forest Flycatcher, White-naped Pigeon, and the colorful Rwenzori Turaco. The 'cormorant house is notable, a tree transformed by the birds roosting there. For birders and hikers, the Bat Cave Trail leads to a viewing area of a bat cave, home to resident pythons. This viewing spot, constructed by the American Center for Disease Control, ensures your safety while offering a unique glimpse into the forest's diverse inhabitants. Maramagambo is a must-visit for nature enthusiasts in Queen Elizabeth Park. Read more
11. Explore Kalinzu Forest: A Premier Chimpanzee Tracking Destination in Uganda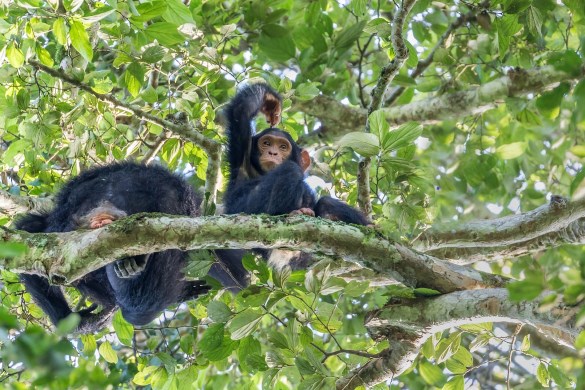 Kalinzu Forest, a renowned chimpanzee tracking location, is a perfect addition to any itinerary featuring Queen Elizabeth National Park. Managed separately from Uganda's National Parks, it offers a unique opportunity for visitors as young as 12 to track chimpanzees, unlike the usual age limit of 15 in other areas. Thanks to years of habituation by Japanese researchers, the chimpanzees in Kalinzu Forest are relatively easy to locate during treks with experienced guides.
Apart from chimpanzee tracking, the forest invites guests to enjoy nature walks and hikes, revealing an array of primates, birds, and other wildlife. Conveniently located just a 45-minute drive from most lodges in the Mweya area of Queen Elizabeth Park, Kalinzu Forest emerged in 2018 as Uganda's second-best location for chimpanzee tracking, offering a memorable experience in the heart of Uganda's natural beauty. Read more
12. Explore the Traditional Salt Mining at Lake Katwe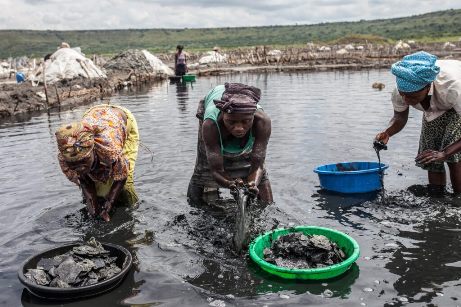 Discover Lake Katwe, a unique salt lake where villagers have harvested salt since the 16th Century. This saline lake, unsuitable for most wildlife, has been the lifeblood of Katwe, with locals braving the equatorial sun and saline waters that take a toll on their bodies. While salt once brought wealth, it's now a common commodity, changing the lake's significance. The Lake Katwe Salt Lake Tour offers a glimpse into this arduous yet fascinating salt mining process. Witness villagers at work, navigate mud walkways, and visit a traditional grass hut. Nearby, a bird sanctuary lake teems with thousands of birds, including flamingos in October, adding a touch of natural beauty to the visit.
13. Experience Authentic Cultural Encounters in Queen Elizabeth National Park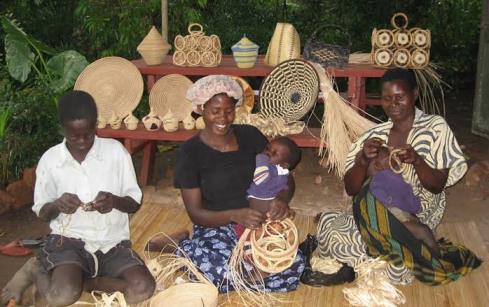 Immerse yourself in the local culture with various village visits and cultural encounters during your safari in Queen Elizabeth National Park. Whether it's learning traditional crafts at workshops where you can try your hand at basket and bowl weaving with natural fibers or transforming recycled magazines into vibrant paper beads for unique jewelry, these experiences connect you to the heart of Ugandan artistry. Participate in engaging activities like jewelry making, drumming, and dance, facilitated by some lodges like Kyambura Gorge Lodge that support women's self-help groups and coffee co-ops. These village visits offer a genuine glimpse into the vibrant and diverse cultures of Africa.
---
Your Journey to Queen Elizabeth Park: A Scenic Adventure
Driving to Queen Elizabeth Park Kampala or Entebbe
Including visits to both Bwindi Impenetrable Forest and Kibale Forest in your safari greatly enhances the journey. Traveling to Queen Elizabeth Park's northern section from Entebbe takes about 6-7 hours while reaching the southern part of the park requires nearly 8 hours of drive time. The journey to the park is an adventure filled with scenic beauty, offering various routes presenting unique landscapes and experiences. This approach leads you to the stunning Queen Elizabeth Park and some of Uganda's most spectacular natural wonders.
Flying to Queen Elizabeth Park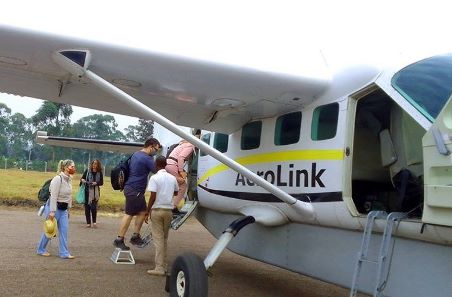 For a quicker route to Queen Elizabeth Park, charter flights offer a convenient solution. Aerolink – a Safari Airline provides flights from Entebbe International Airport to Kihihi. Upon arrival at Kihihi, our driver-guide will be ready to meet you and escort you to the Ishasha park region. Alternatively, you can fly with AeroLink to Kasese, where our driver will greet you and lead you to the Mweya region of Queen Elizabeth Park. These flight options significantly reduce travel time, allowing more time to explore and enjoy the park's wonders.
---
Here are some useful links that you may find helpful to check out: