Description
4-Day Bwindi Gorilla Trekking and Queen Elizabeth Park Wildlife Safari, Uganda
Embark on an unforgettable journey with our Bwindi Gorilla and Queen Elizabeth Safari. This 4-day adventure takes you through the heart of Uganda's wilderness, starting with the dense, mist-covered forests of Bwindi Impenetrable National Park, a haven for the critically endangered mountain gorillas. The safari then leads you to the diverse landscapes of Queen Elizabeth National Park, where tree-climbing lions, vast herds of elephants, and a rich tapestry of birdlife await your discovery. From thrilling gorilla treks to expansive savannah game drives, this safari offers a perfect blend of Uganda's most iconic wildlife experiences.

Discovering Bwindi's Gorillas and Queen Elizabeth's Diverse Wildlife
Bwindi Impenetrable Forest hosts about 500 of the world's critically endangered mountain gorillas. These gorillas have been protected since 1964. The park boasts 25 habituated gorilla families open for tourism. Bwindi's vegetation has existed for at least 25,000 years. The forest is home to a rich diversity of species, from butterflies and reptiles to diverse tree species.
Remarkably, Bwindi houses a variety of mammals, including 10 different primates like chimpanzees and baboons. Birdwatchers will find a haven here, with around 350 bird species, some of which are IUCN red-listed. Just 2.5 hours away is Queen Elizabeth National Park, featuring the African savannah, crater lakes, and the Kazinga Channel.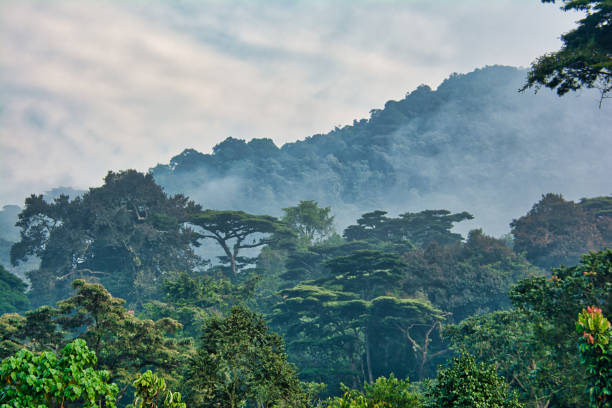 Visitors to Queen Elizabeth National Park can see tree-climbing lions in the Ishasha Plains and chimpanzees in the Kyambura Gorge. The park is a wildlife hotspot, boasting a wide array of animals, from elephants and lions to various species of antelopes. With over 600 bird species and bat caves to explore, there's something for every nature lover. The park even offers stunning views of the snow-capped Rwenzoris, Africa's tallest mountain range. Overall, Queen Elizabeth National Park promises an unforgettable experience.
---
Key Highlights of our Bwindi Gorilla and Queen Elizabeth Safari Adventure:
Trekking with mountain gorillas in Bwindi Impenetrable Forest.
Exploring a variety of mammals and birds, including 10 different primates in Bwindi.
Observing Tree-Climbing lions and Chimpanzees in Queen Elizabeth Park.
Wildlife spotting, including elephants, lions, and various antelopes in Queen Elizabeth Park.
Enjoying stunning views of the snow-capped Rwenzoris in Queen Elizabeth Park.
Local Safari Guide/Driver: Guidance from an experienced, professional driver for an authentic experience
---
Your 4-Day Mountain Gorilla & Savannah Wildlife Safari Itinerary
Day 1: Drive to Bwindi Gorilla Park
We will depart from Kampala early in the morning for your Bwindi Impenetrable Forest Mountain Gorilla Tracking adventure. After a quick lunch at the Lake View Hotel in Mbarara, we will continue our journey through some of Uganda's most beautiful countryside towards the Bwindi Forest, where we will finally get to see the world's critically endangered mountain gorillas up close.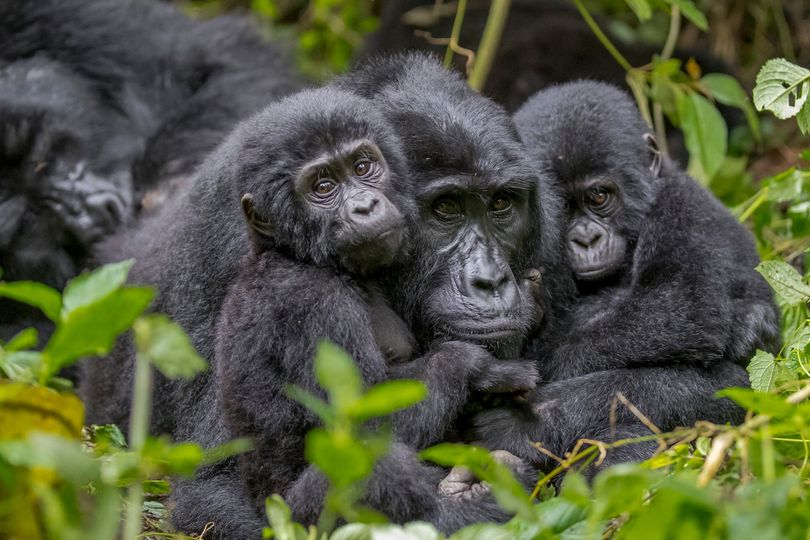 We arrive at our destination in the late afternoon, where you can rest and relax before having dinner at your chosen Bwindi Forest accommodation. Depending on your permits, you can choose to stay at either the budget-friendly Buhoma Community Camp or the mid-range Silverback Lodge, both located near the gorilla family you'll be visiting the next morning.
Tonight, you'll be sleeping in an African rainforest home to half of the world's mountain gorillas, so you can rest assured that you're in for an unforgettable experience. Get a good night's sleep and prepare yourself for a fantastic gorilla-trekking adventure the next day.
Day 2: Gorilla Trekking Bwindi Impenetrable Forest
Start your day with an early breakfast and reach Bwindi Impenetrable Forest National Park offices. Attend the orientation session and meet with guides and other trackers (if any). Small groups of no more than eight trackers per gorilla family will enter the forest for a day of mountain gorilla tracking. Carry a packed lunch, included in your room price and non-refundable once missed.
Next, embark on your own Gorillas in the Mist experience. The hike through the jungle is beautiful, with mist and clouds rolling in randomly. Encounter a variety of birds, noises, and a few monkeys. As you hike through this mysterious and magnificent forest, you will get to see a lot of other flora and fauna, other primates, mammals, birds, and butterflies, all of which will enhance your special day.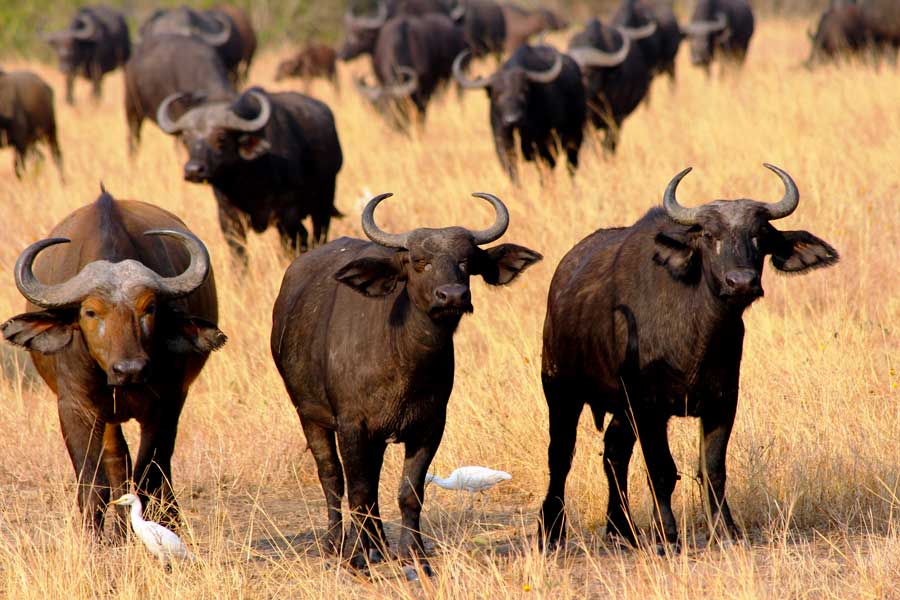 The time taken for the trek may vary depending on the terrain and movement of these gentle giants. Mountain gorillas never stay in one place twice; they move and build a new nest every day, so the treks may be different. However, meeting them face-to-face is incredibly rewarding.
Climbing and hiking may be rigorous, but it's all worth it, as you will be face-to-face with these powerful mountain gorillas, observing them from a few meters away. You will see groups mothers with their babies and watch them as they go about their daily routine. The mountain gorillas cannot be found in any zoo, but only in this small section of Africa, where the remaining mountain gorillas are found.
After the trek, take a village walk to see the traditional ways of brewing beer and remedies made from the forest. Enjoy
some dancing and entertainment as you observe the local people's ways. It is certainly worth your while.
Day 3: Drive to Queen Elizabeth Park – the famous Tree-Climbing Lions Ishasha Sector
Enjoy breakfast, then drive through stunning savannah grasslands to Queen Elizabeth Park. Explore the lesser-known
Ishasha sector, renowned for high game densities and large elephant herds. After arriving, choose between Bush Lodge for budget stays or Mweya Lodge for luxury, and enjoy a relaxing lunch.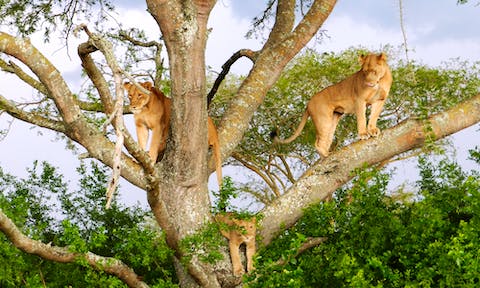 Set off on an afternoon boat safari along the Kazinga Channel, known for having Africa's highest concentration of hippos. Marvel at diverse bird species such as African spoonbills, Martial Eagles, and Pelicans. Look out for crocodiles, elephants, and water buffaloes along the shore. This 40-kilometer natural channel connects Lake Edward and Lake George and is a highlight of any visit to Queen Elizabeth Park.Wrap up your day with a delicious dinner at your lodge, then spend a tranquil evening under Africa's star-filled sky. Whether you're a wildlife enthusiast or simply looking to relax, this adventure immerses you in Uganda's incredible biodiversity.
Day 4 Early Morning Game Safari and Homeward Drive-Kampala
There's nothing quite like enjoying a safari breakfast, waking up to the tantalizing aroma of freshly cooked food. The morning game drive takes you through the vast wilderness, where you can spot some of the nocturnal animals settling in for the day. The sight of a herd of elephants crossing the track or a pair of lions in the distance is truly awe-inspiring. You can also see buffalos grazing, birds flying overhead, and maybe even a rock python or two. With excellent chances to view the animals up close, the game track rides last for about two and a half to three hours, but time flies by so quickly.
After the morning game drive, return to the lodge for a full breakfast. Following breakfast, drive to Kampala, which takes about five hours via Mubende. The route offers breathtaking scenery and delightful rolling plantations, some of the best in Uganda. Depending on the available time, you can tour Kampala's crafts and souvenir markets before checking in at your hotel or being transferred to the airport.
---
The 4-Day Primate Trekking & Savannah Safari include:
Gorilla Tracking Permit
Ground transportation in a 4×4 Safari Vehicle with Driver/guide
Park entry fees, including Vehicle
Lodging with all meals
All Safari drives with a UWA armed Wildlife Expert
Kazinga Channel Boat Safari
Complimentary Bottled Water for the journey
It does not include alcoholic beverages and drinks, laundry, or any other purchases you might make.
---
Interested in this 4-Day Gorillas and Wildlife Safari? Submit the form below for a custom itinerary, pricing, and more. Eager to hear.