Top 32 Things to Do and See in the Pearl of Africa – Uganda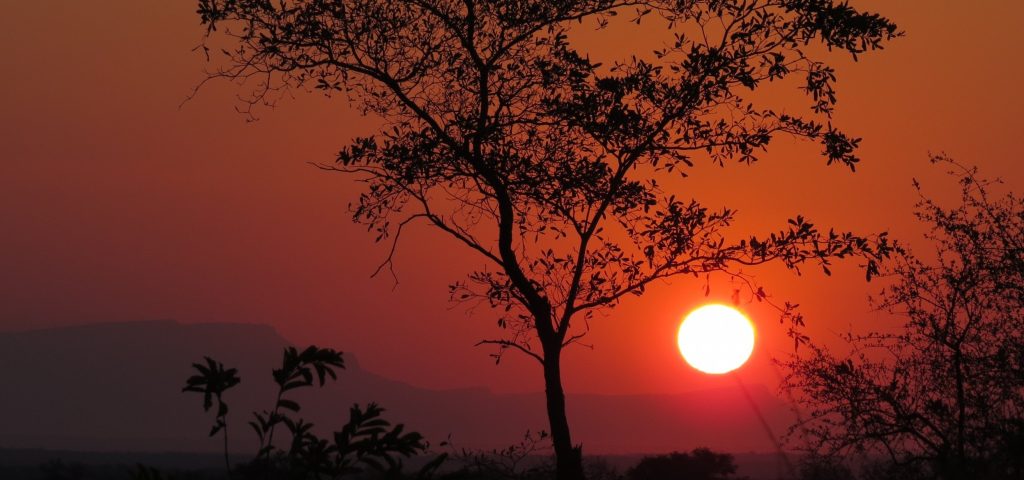 Exploring the Wonders of Uganda: A Guide to Things to Do and See
Discover the Pearl of Africa: Uganda's Unique Adventures
Uganda awaits tourists, visitors, and adventurers with a myriad of unique experiences! This vibrant nation offers a tapestry of contrasting landscapes and adventures. Imagine trekking through the snow-capped "Mountains of the Moon," basking in the peaceful beauty of the Kazinga Channel, feeling the power of Murchison Falls, and embracing the serene calm of Lake Bunyonyi, nestled in the 'Little Switzerland of Africa.' From lush rainforests to sweeping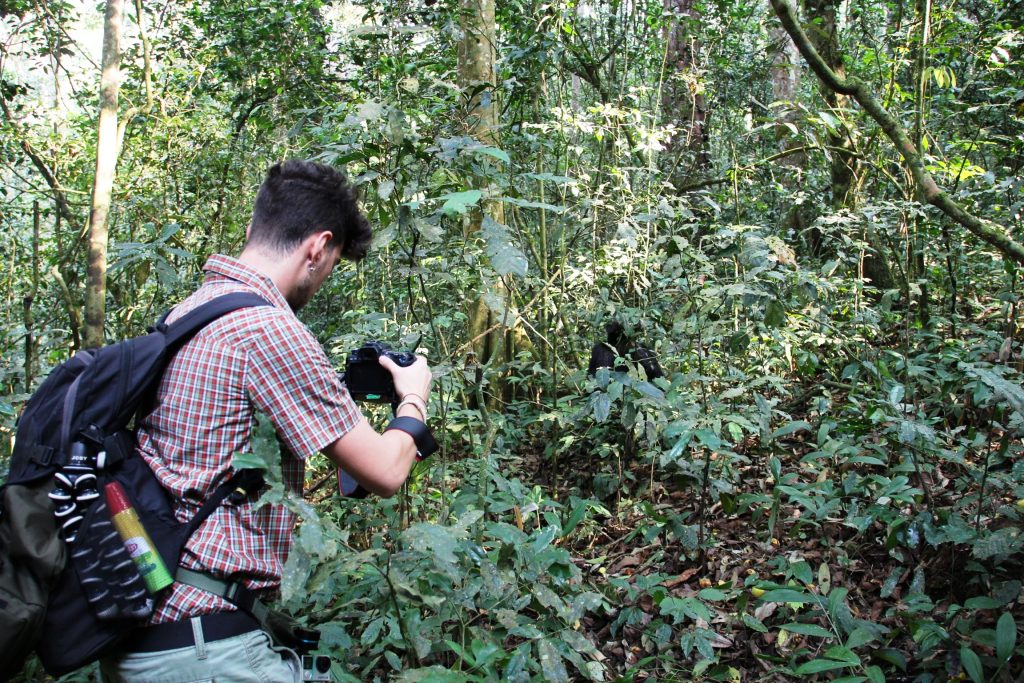 savannahs and towering mountains to tranquil lakesides, Uganda Uganda is a treasure trove of things to do and see.
While famous for its thrilling Gorilla Trekking, Uganda's charm extends far beyond. It's a treasure trove of African wonders, offering a glimpse of everything the continent is celebrated for. This richness and diversity are why Uganda is fondly known as the Pearl of Africa.
Beyond its natural beauty, Uganda teems with diverse wildlife, often surprising visitors with its vast array of species. Even the bustling capital, Kampala, adds to Uganda's allure, resembling an Asian city with electronic shops at every corner and the warmth of its incredibly friendly people. Come, explore Uganda, and experience the heart of Africa!
---
1. Gorilla Trekking and Habituation Encounters in Uganda
Experience the Thrill of Mountain Gorilla Trekking in Uganda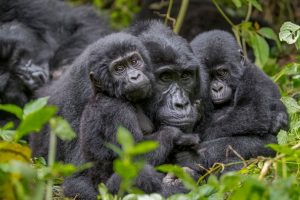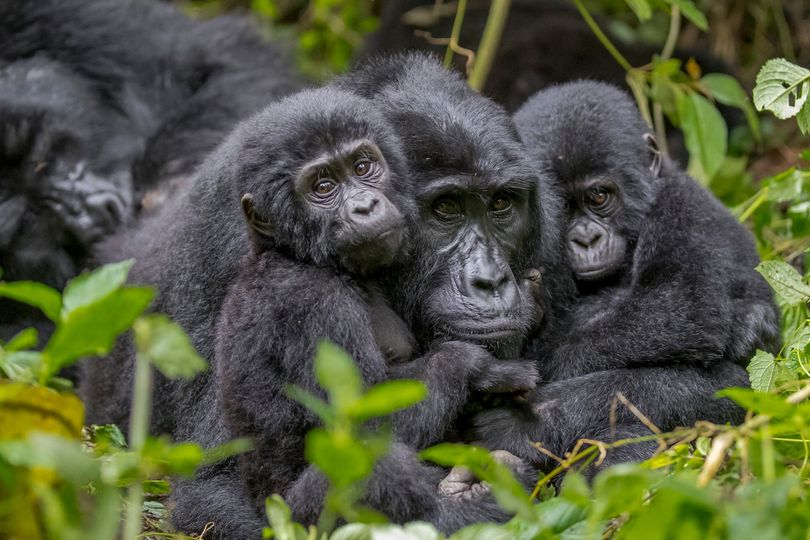 Trekking with mountain gorillas ranks high on the list of things to do and see in Uganda. Home to over half of the world's endangered mountain gorillas, Uganda's Bwindi Impenetrable National Park is a haven for these majestic creatures. The park, located in southwestern Uganda, boasts 459 gorillas and 21 habituated families, along with one family in nearby Mgahinga Gorilla Park. This experience is a highlight for many visitors to Uganda, drawing them to this extraordinary encounter.
While trekking to see the gorillas is a significant investment, it's a once-in-a-lifetime adventure. The journey through Bwindi's misty, dense jungle is an unforgettable experience in itself. But that's not all – the park also offers mountain biking, immersive cultural walks with the Batwa people, bird watching, and other activities, enriching your safari experience even further.
---
2. Encounters with Habituated Chimpanzees
Immersive Chimpanzee Safaris in Uganda's Primate Havens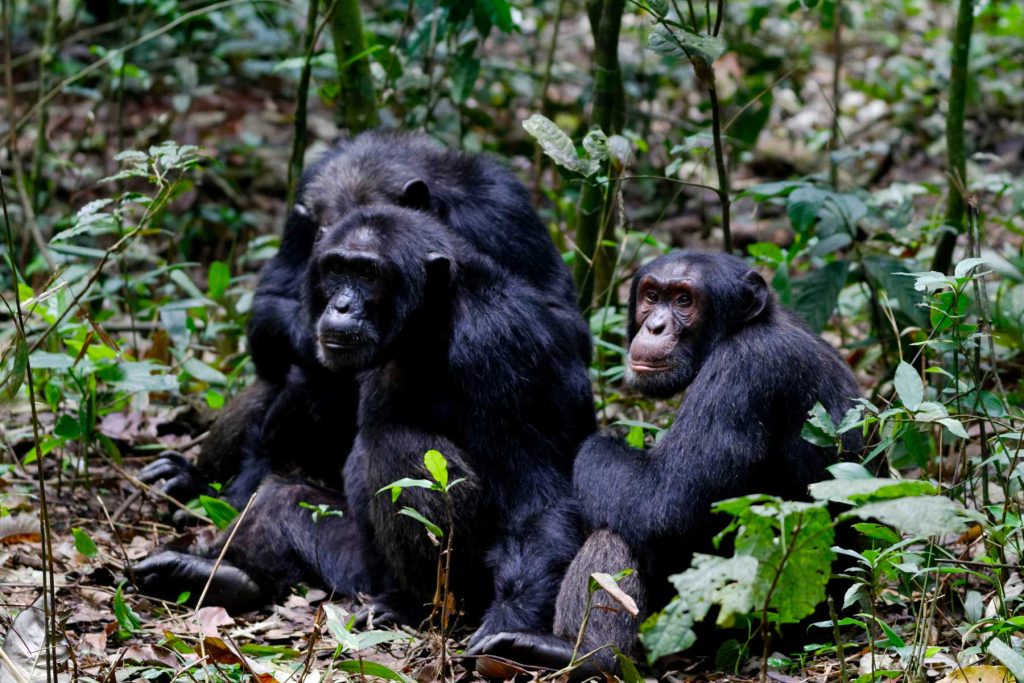 For primate enthusiasts, chimpanzee safaris are essential things to do and see in Uganda, and you can choose from a range of experiences, including a day trip to Ngamba Island or longer safaris near Murchison Falls Park, Kyambura Gorge at Queen Elizabeth Park, Kalinzu Forest, and especially in Kibale Rainforest National Park. Kibale Forest, renowned for the highest density of primates in Africa, covers 795 square kilometers and is a sanctuary for 13 primate species, including the rare red colobus and L'Hoest's monkey.
In Kibale, you can spend an enthralling hour with these intelligent creatures, observing their behaviors and social interactions up close. For a more in-depth experience, consider the all-day Chimpanzee Habituation Experience, where you're not just a spectator but a participant in their daily life. This extraordinary opportunity to see chimpanzees in the wild is not to be missed. For those seeking an overnight adventure, consider staying in a tree house nestled 6 meters above the ground in the Kibale Jungle, offering a unique perspective of the chimpanzees' natural habitat.
---
3. Marvel at Murchison Falls – The World's Most Powerful Waterfall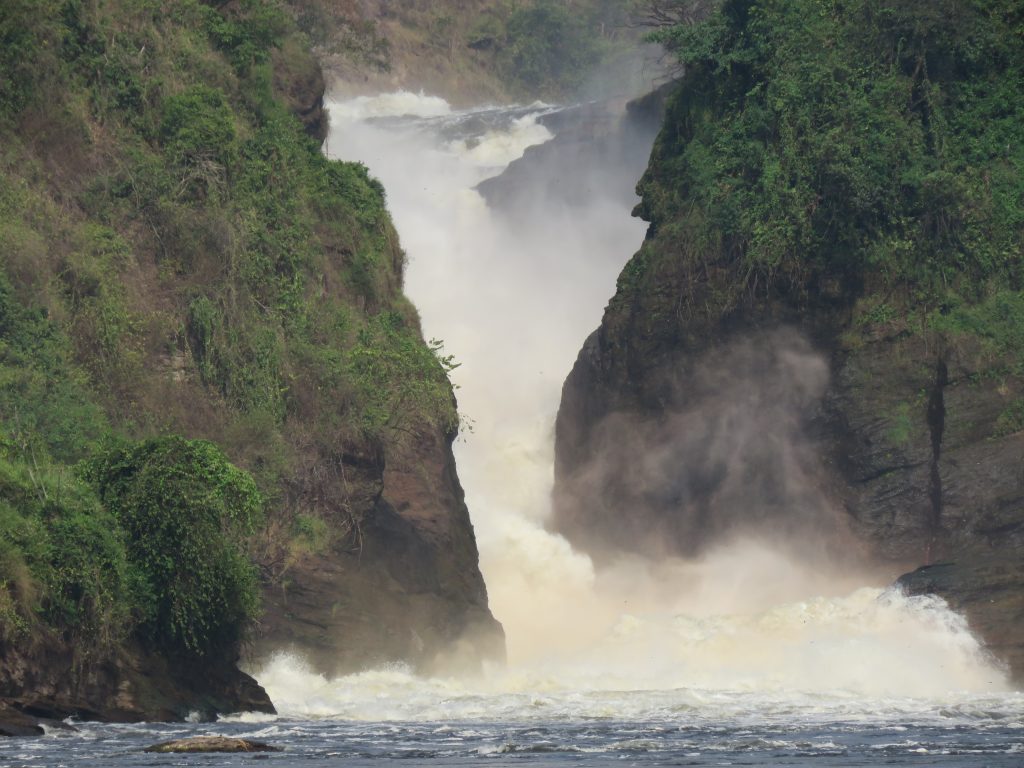 Discover the Mighty Murchison Falls in Uganda
In the heart of Murchison Falls National Park lies the world's most powerful waterfall, a unique spectacle only found in Uganda. Murchison Falls, where the mighty River Nile plunges 43 meters through a narrow six-meter gap, creates a breathtaking display of power and beauty. The force of the water cascading down creates a perpetual rainbow, adding to the allure of this natural wonder.
Visiting this magnificent waterfall is undoubtedly one of the top things to do and see in Uganda, combining natural splendor with rich biodiversity. The experience of witnessing the sheer power and splendor of Murchison Falls is a compelling reason why this park is a must-visit destination.
---
4. On-Foot Rhino Tracking at Ziwa Rhino Sanctuary: A Unique Ugandan Experience
Explore the Unique Rhino Trekking at Ziwa Rhino Sanctuary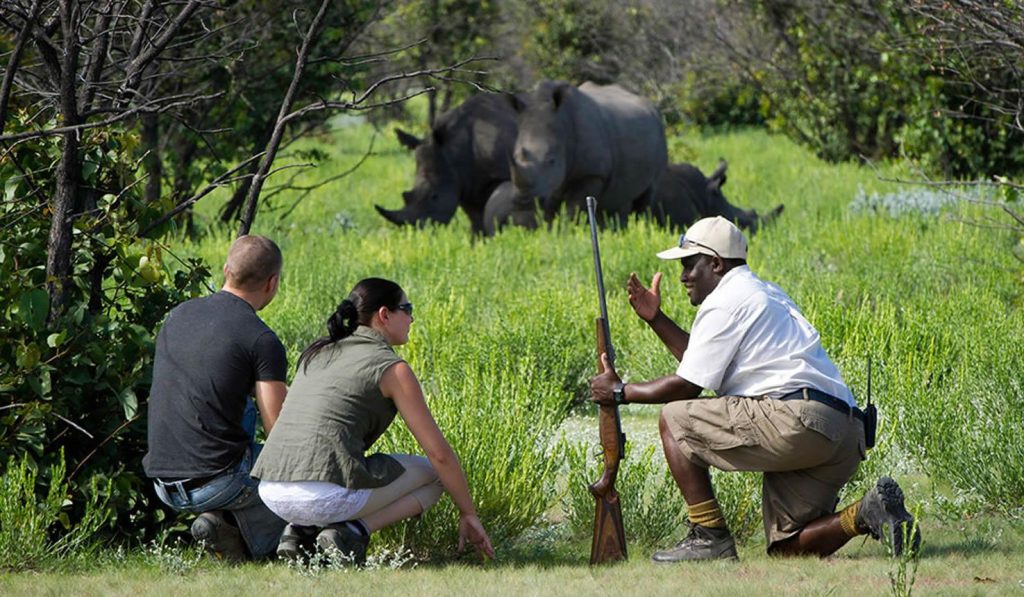 Discover the exclusive Rhino Trekking experience at Uganda's Ziwa Rhino Sanctuary, a must-do for wildlife enthusiasts. Located conveniently en route to Murchison Falls National Park, this expansive wildlife reserve offers a special opportunity to track rhinos on foot.
Guided by knowledgeable rangers, visitors have a rare chance to approach these majestic animals closely, perfect for memorable photography. The rangers share fascinating insights into the rhinos' daily lives, enriching your trekking adventure.
Ziwa Rhino Sanctuary is not just a wildlife haven; it's integral to conservation, aiming to reintroduce these rhinos to Murchison Falls National Park. This mission adds significant value to your visit.
Many safari goers heading to Murchison Falls Park include the Rhino Trek in their itinerary. It's also a great stopover for those traveling to Kidepo Valley Park. This conservation-focused experience is a highlight of the things to do and see in Uganda.
---
5. Nile Perch Fishing: An Exciting Ugandan Adventure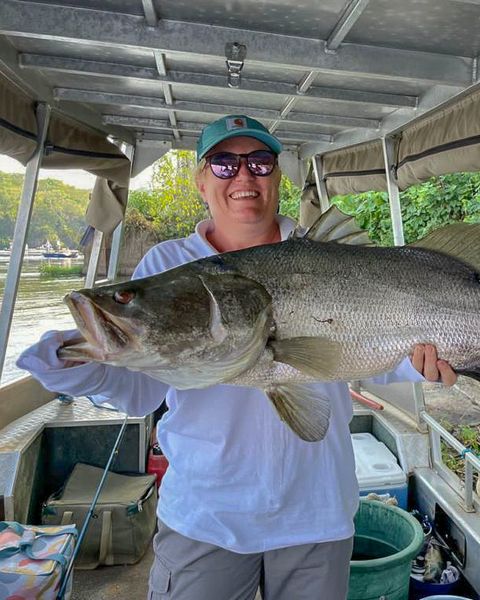 Uganda offers thrilling fishing experiences, particularly for those eager to catch the Nile Perch, Africa's largest freshwater fish. The country boasts two prime locations for this exciting activity: Murchison Falls National Park and Lake Victoria, especially around the Ssese Islands.
At Murchison Falls Park, anglers can fish for Nile Perch either from the banks of the River Nile or by boat. This park is renowned for record-sized catches of Nile Perch, both below and above the majestic falls. The fishing here is conducted on a catch-and-release basis, emphasizing conservation and sustainability. Expert fishing guides are available to assist both novice and experienced fishermen in making the most of their fishing excursion.
Lake Victoria offers another excellent spot for Nile Perch fishing, where the adventure takes place from a boat amidst the scenic backdrop of the Ssese Islands. Accompanied by skilled fishing guides, you have a great chance of reeling in a substantial Nile Perch. For those interested in different fishing experiences, Eastern Uganda's Sipi Falls region offers trout fishing, while Lake Mburo is a popular spot for catching Tilapia. Each location provides a unique fishing experience, making Uganda a top destination for anglers seeking both challenge and diversity.
---
6. Seeking the Mysterious Shoebill Stork in Uganda's Wild
Spotting the elusive Shoebill Stork in Uganda's marshlands adds a unique birdwatching experience to the list of things to do and see in Uganda. This unique bird, resembling a prehistoric dinosaur, is a fascinating sight for birdwatchers. It is often found quietly waiting for prey in tall grass, making it a captivating subject for wildlife enthusiasts.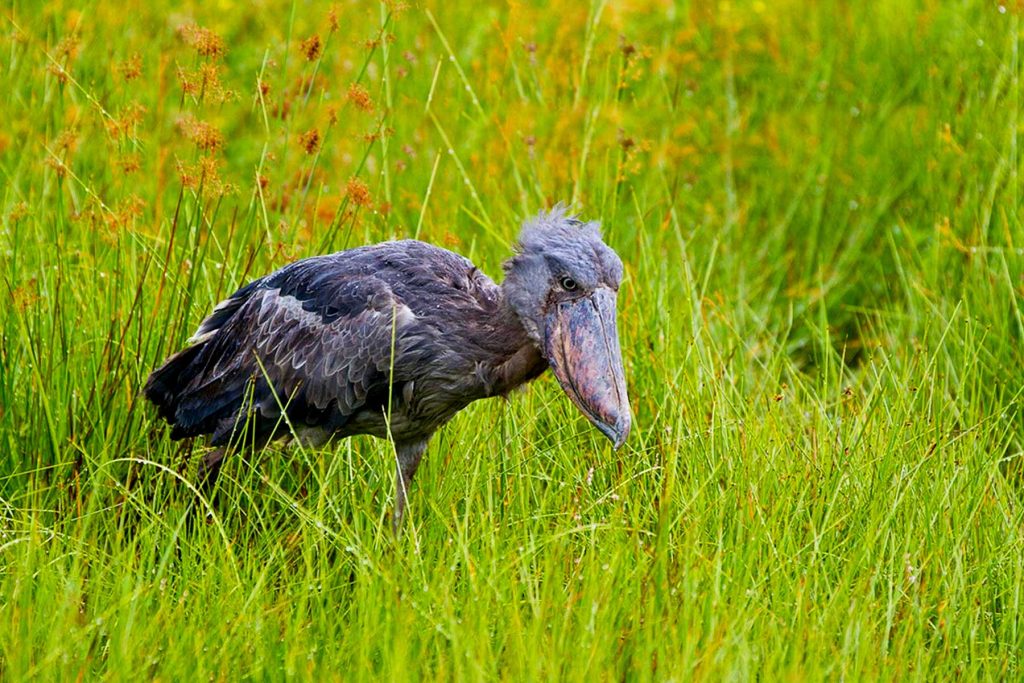 The Shoebill Stork, while impressive in stature, faces significant survival challenges. The IUCN Redlist estimates a global population of only 3,300 to 5,300 mature individuals, classifying it as endangered. Key threats to their existence include habitat loss from farming and environmental changes. Despite these challenges, Shoebills are resilient, often building nests in inaccessible areas to protect their young from predators.
Our safari tours in Uganda include visits to prime Shoebill habitats. These spots include Mabamba Swamp, Lugogo Swamp within Ziwa Rhino Sanctuary, the River Nile at Murchison Falls Park, Lake George near Queen Elizabeth Park, Bigodi Wetlands next to Kibale Park, and Semliki Wildlife Reserve. Our experienced guides, familiar with the Shoebill's habits and habitats, will enhance your chances of witnessing this incredible bird in its natural setting.
---
7. Exploring the Rwenzori Mountains – Africa's Tallest Mountain Range and Other Volcanoes
Hike the Rwenzori Mountains, Africa's tallest range and a highlight among the things to do and see in Uganda. Surpassing even the European Alps in height, the Rwenzoris offer an incredible adventure for both hikers and climbers in Uganda. Whether you're aiming for the peaks or prefer a gentler hike in the foothills, this mountain range provides a variety of experiences for all levels of adventurers.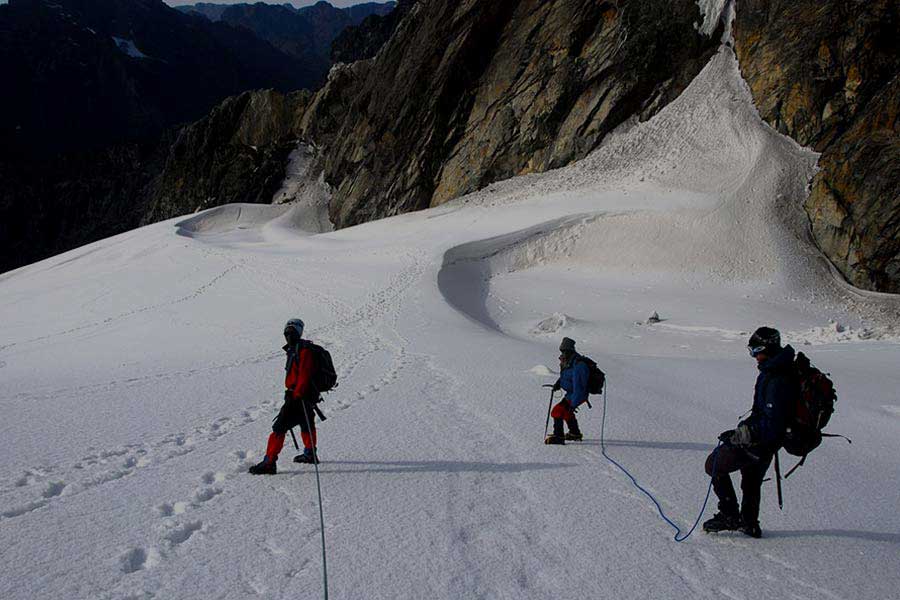 Embark on the Mahoma Trail, a three-day hike leading to the scenic Lake Mahome. Here, you can enjoy breathtaking, unobstructed views of the Rwenzoris and the Northern Bwamba Pass Trail. For those seeking a shorter excursion, the one-day mini-hike along the Northern Bwamba Pass offers some of the most spectacular vistas of the Rwenzori Mountains.
Mount Elgon Climbs and Virunga Volcano Adventures
Discover the accessible beauty of Mount Elgon for a fulfilling climbing and hiking experience. Ideal for those who prefer a less demanding adventure, Mount Elgon is conveniently located for a quick getaway from Kampala. Here, you can abseil down the picturesque Sipi Falls or enjoy a leisurely hike to the base of these stunning falls. The area offers a range of activities, including adventure, bird watching, caving, exploring waterfalls, touring hot springs, and viewing ancient rock paintings. Don't miss the chance to taste freshly ground coffee on a tour at Sipi Falls. Mount Elgon and Sipi Falls provide the perfect setting for a relaxing three to five-day safari.
---
8. Scaling the Virunga Volcanoes in Mgahinga Gorilla Park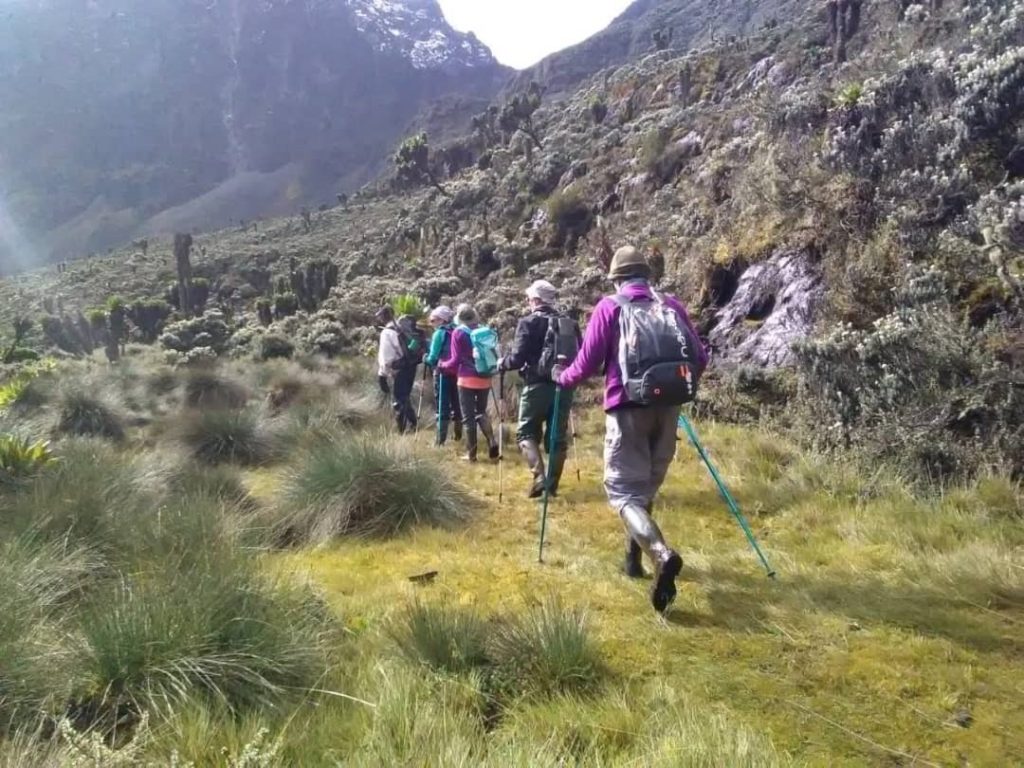 Embark on a thrilling journey to ascend the Virunga Volcanoes in Uganda's Mgahinga Gorilla Park, part of the eight-volcano Virunga chain. Locally known as the Mufumbiro mountains, meaning 'Mountains that cook', these volcanoes offer a unique trekking experience. Mgahinga Gorilla Park, home to three of these majestic peaks, is a haven for outdoor enthusiasts seeking a challenging yet rewarding adventure.
Popular among trekkers, the park's Mount Muhavura, Mount Gahinga, and Mount Sabinyo each provide a distinctive climbing experience. These treks, manageable within a day and led by experienced rangers, cater to adventurers of various skill levels. As you climb, anticipate the awe-inspiring scenic views that unfold at each peak, offering panoramic vistas across Uganda, Rwanda, and the Democratic Republic of the Congo.
Reaching the summits of these volcanoes is more than just a climb; it's an encounter with the raw beauty of East Africa's landscapes. The experience combines the thrill of mountaineering with breathtaking views, making it an unforgettable part of any visit to Mgahinga Gorilla Park and the Virunga Mountains.
---
9. Golden Monkey Encounters in Mgahinga Gorilla Park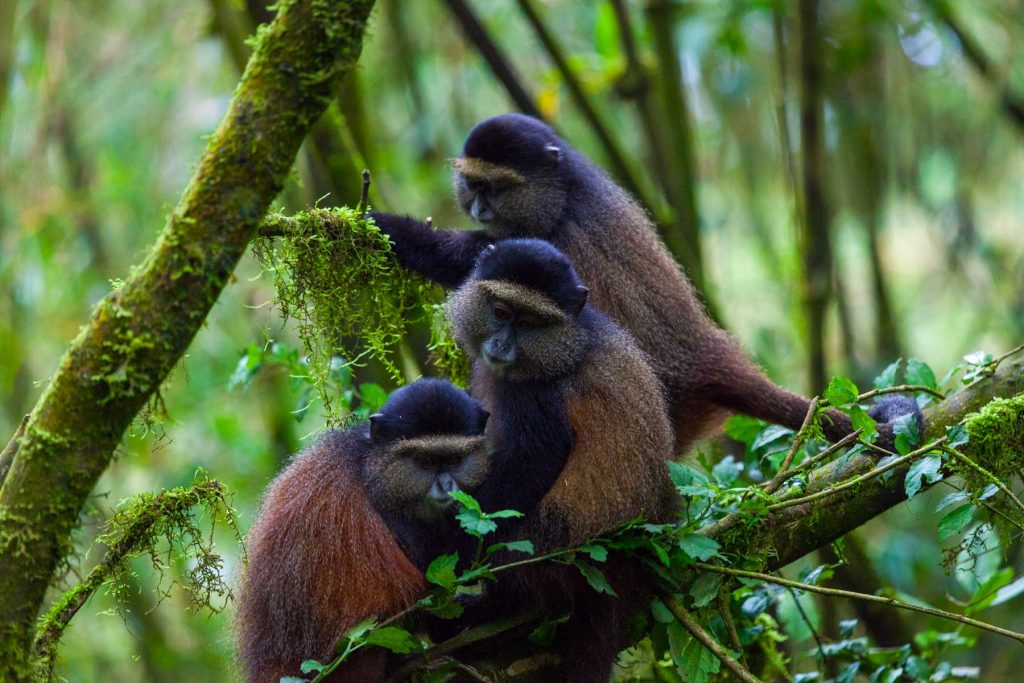 Experience the rare golden monkey encounters in Mgahinga Gorilla Park, a key attraction among things to do and see in Uganda. Smaller and more arboreal than gorillas, these primates offer an exciting experience as they agilely leap through the treetops. Visitors can choose between two experiences: the standard one-hour observation, similar to Rwanda's tours, or the unique, more immersive Golden Monkey Habituation Experience exclusive to Mgahinga.
Mgahinga's dense forest, teeming with diverse flora, provides the perfect setting for this adventure, regarded as one of the top Uganda Safari Adventures. The trek, a manageable 3km hike through varied terrain, including bamboo forests, is led by a skilled team who track the monkeys' early movements. Reaching these golden monkeys is not just a trek; it's an unforgettable highlight, offering a unique glimpse into their vibrant world right alongside Uganda's renowned gorilla trekking experiences.
---
10. Exploring the Source of the River Nile in Jinja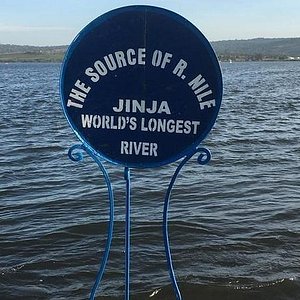 Visit Jinja, known as East Africa's adventure capital, to witness the historic source of the Nile River. Located in the Source of the Nile Park, this significant site offers a unique blend of natural beauty and historical significance. It's here that the English explorer John Hanning Speke identified the origins of this mighty river.
In addition to exploring the river's source, visitors can enjoy a poignant connection to history with a statue of Mahatma Gandhi, commemorating the scattering of a portion of his ashes at this meaningful location due to his ties with Africa. For a more immersive experience, take a boat ride to the exact point where the Nile flows from Lake Victoria. Enhancing your visit, nearby restaurants like the Jinja Sailing Club offer delightful dining options, allowing you to relax and enjoy the area's serene atmosphere after your explorations.
---
11. Thrilling Adventures on the Nile River in Jinja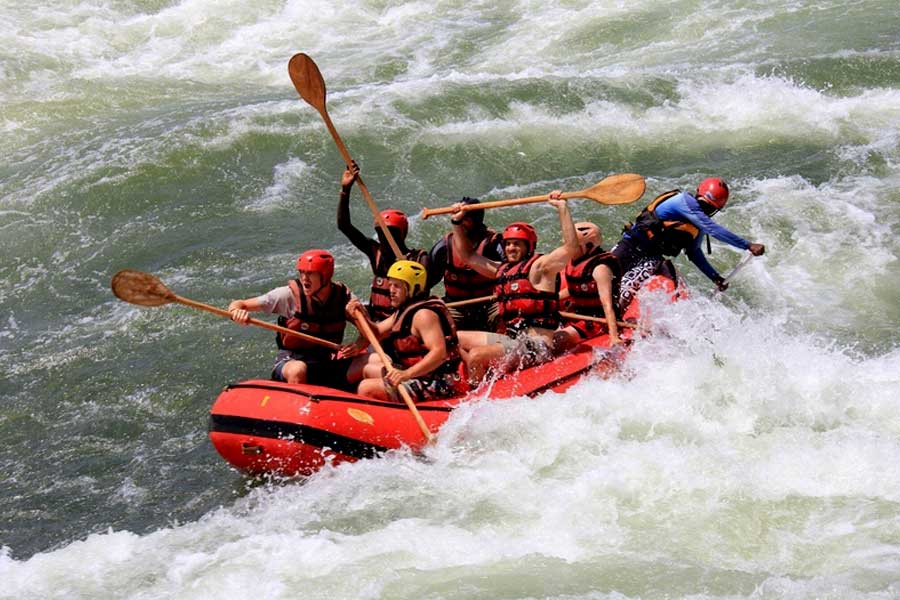 Experience the exhilaration of Whitewater rafting, Bungee jumping, and kayaking on the Nile River at Jinja, a world-renowned destination for these thrilling water sports. Recognized as one of the most spectacular rafting spots globally, the Nile in Jinja offers a range of experiences, from mild to wild, suitable for all adventure levels. Whether you opt for a half-day journey or a two-day expedition, you can navigate up to grade 5 rapids with the reassurance of a safety boat nearby.
Jinja, beyond being the source of the Nile, has earned its reputation as the adrenaline capital of East Africa. This vibrant town, rich in Indian-influenced architecture, offers more than just rafting. Visitors can indulge in jet boating, river surfing, bungee diving into the Nile, quad biking, fishing, birding, and horseback riding. Jinja's unique combination of natural beauty and adventure makes it a must-visit destination in Uganda. It's an ideal spot for a day trip or an overnight stay, especially for those seeking unforgettable adventures in Africa.
---
12. Encounter the Unique Tree Climbing Lions of Ishasha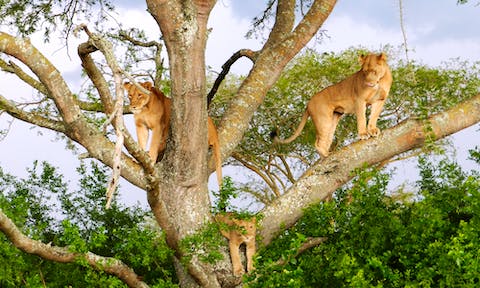 Venture into the Ishasha region, nestled in the southern part of Queen Elizabeth Park, to witness the unique spectacle of tree-climbing lions. This area is one of only two places in the world where lions are known to climb trees, a behavior seldom seen elsewhere. Ishasha is home to more than 50 lions across four prides, who often seek refuge from the heat by lounging on the sprawling branches of fig trees.
The optimal time to observe these majestic animals in their arboreal state is between 9 am and 6 pm when they spend much of their time resting in the trees. These lions, adapting to their environment, provide a rare and fascinating sight for visitors. A safari in Ishasha offers not just the chance to see these extraordinary lions but also to explore the diverse wildlife and scenic beauty of Queen Elizabeth Park. Witnessing the tree-climbing lions of Ishasha is a highlight of any Ugandan adventure, offering a glimpse into the unique adaptations of wildlife in this region.
---
13. Join the Lion Tracking Research in Queen Elizabeth Park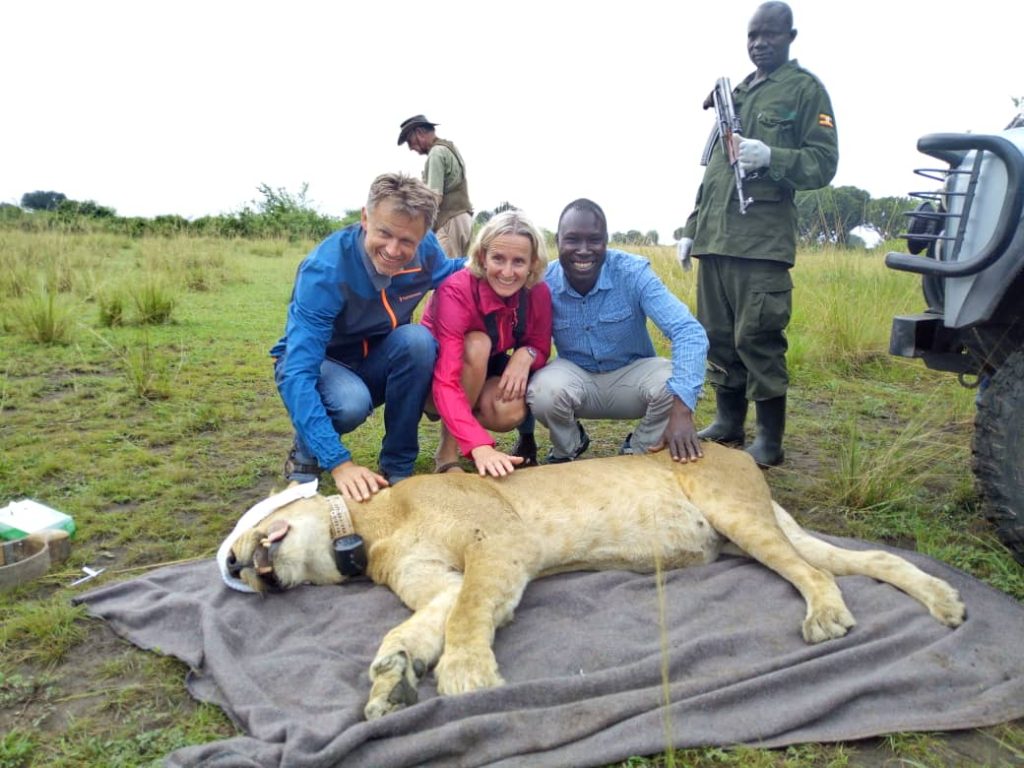 In Queen Elizabeth Park, embark on an exclusive and educational adventure by participating in the Lion Tracking Research. This unique activity allows you to accompany researchers from the Uganda Carnivore Project as they track collared lions and leopards in the Mweya area of the park. Led by experts in carnivore behavior, this is a rare opportunity to gain firsthand insight into the lives of these magnificent animals.
The Lion Tracking Research project, initiated by Dr. Siefert, a leading carnivore expert in Uganda, offers a fascinating perspective on wildlife conservation. This activity is conducted early in the morning or late in the afternoon and is limited to a small number of participants, ensuring a more intimate and impactful experience. Over time, it has grown to become one of the most sought-after activities in Queen Elizabeth Park. This highlights the diverse and exciting things to do and see in Uganda. Engaging in this research not only enhances your safari experience but also contributes to important conservation efforts in the region.
---
14. Serene Beauty of Lake Bunyonyi in Southwestern Uganda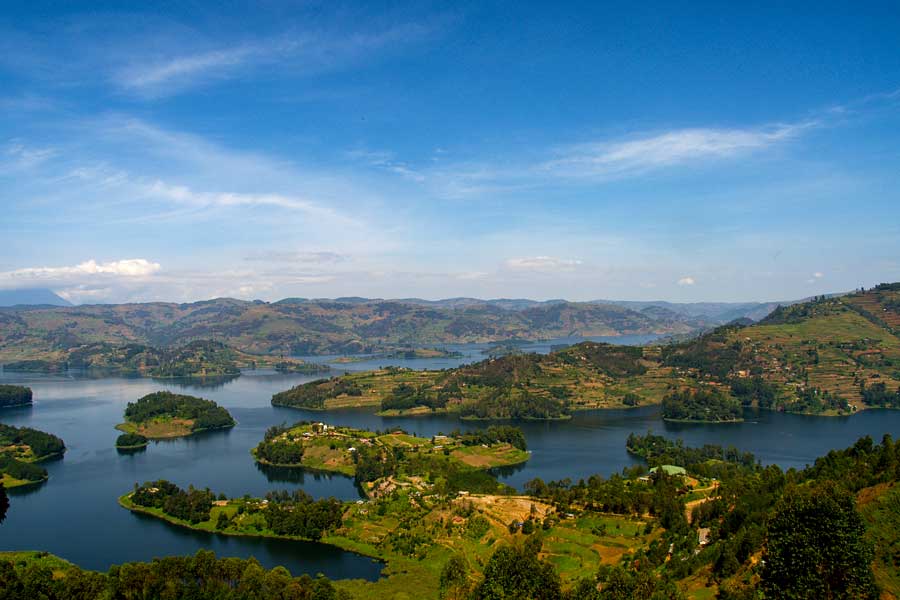 Lake Bunyonyi, nestled in southwestern Uganda, is a tranquil haven and one of the country's most exquisite natural marvels.
Renowned for its calmness and tranquility, this picturesque lake is encircled by rolling hills and dotted with numerous islands, each with its own unique story. The lake, surrounded by stunning views of mountains and volcanoes, is often likened to a scene from 'The Lord of the Rings' by Lonely Planet for its ethereal beauty.
Ideal for relaxation after adventurous activities like gorilla and chimpanzee tracking or hiking in the Rwenzori Mountains, Lake Bunyonyi is a welcoming retreat. Whether you have just a couple of hours or a few days in Kabale, a visit to this lake is a must. Explore its serene waters with a canoe tour, which is an excellent way to discover the lake's 29 islands. At 1,900 meters above sea level and free from bilharzia, Lake Bunyonyi is not only safe for swimming but is also believed to be one of the deepest lakes in Africa. Its incredible depth and breathtaking beauty make Lake Bunyonyi a truly remarkable destination in Uganda.
---
15. Explosion Crater Drive: A Scenic Journey in Uganda's Queen Elizabeth Park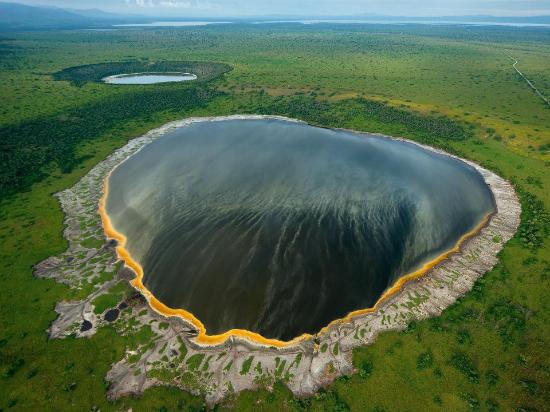 Venture through the breathtaking Explosion Crater Drive in Western Uganda's Queen Elizabeth Park, a highlight among the things to do and see in Uganda. This unique route, situated in Queen Elizabeth Park, allows you to explore a remarkable series of crater lakes, each offering its own unique allure. Along this scenic drive, you will encounter 12 distinct craters, some filled with water, while others are adorned with lush savannah grass or dense riparian forests.
This trail offers much more than just craters; it's a voyage through some of Uganda's most picturesque and awe-inspiring landscapes. The drive provides a mosaic of natural wonders, from tranquil lakes to vibrant ecosystems, making it a must-visit for anyone exploring the area. Close by, the Top of the World Hike near Kibale Forest leads you past three crater lakes, each presenting its own unique view and showcasing the area's rich geological beauty. For photographers, nature enthusiasts, or anyone who appreciates the grandeur of the natural world, the Explosion Crater Drive and the surrounding trails in Western Uganda promise unforgettable experiences.
---
16. Discover the Enchanting Bigodi Wetlands Jungle Swamp
Bigodi Wetlands Jungle Swamp stands out as a premier destination for Uganda Wildlife Tours, offering an experience you shouldn't miss. Known for its exceptional birdwatching opportunities, this swamp is home to a significant population of the striking Great Blue Turaco, among other bird species. It's a paradise for bird enthusiasts and nature lovers alike.
Operated by the local community and recognized by UNESCO for its sustainable tourism practices, Bigodi Wetlands draws thousands of visitors each year. Many come after chimpanzee tracking in the nearby Kibale Forest. In addition to its avian attractions, the swamp is safe for exploration, free from crocodiles and hippos. Visitors often spot chimpanzees, red-tailed monkeys, colobus monkeys, and the unique Sitatunga antelopes, adapted to swamp life with their webbed feet. A visit to Bigodi Wetlands offers a serene and enriching experience, showcasing the diverse fauna and sustainable conservation efforts within Uganda's vibrant ecosystems.
---
17 Discover the Serenity of Lake Mutanda in Western Uganda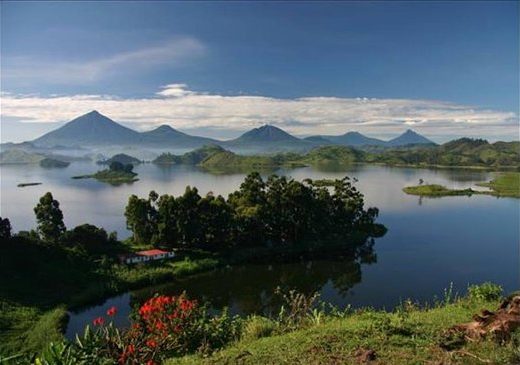 Nestled between Bwindi Impenetrable National Park and Mgahinga Gorilla
Park lies Lake Mutanda, one of Uganda's most picturesque lakes. Renowned for its stunning vistas of the Virunga Volcanoes, this lake offers a peaceful retreat in Western Uganda. The tranquility of the area is enhanced by the graceful flight of crested cranes and the calls of pied crows, set against a backdrop of unforgettable hilltop views.
Lake Mutanda is not just a visual treat; it offers a variety of activities for those seeking both adventure and relaxation. Hiking enthusiasts can explore the hills around the lake, with trails leading towards Bwindi Impenetrable Forest and the Nkuringo area. For those who love water activities, the lake provides opportunities for fishing, boating, and canoeing in traditional dugout canoes. It's a chance to paddle leisurely across the lake, enjoy the natural beauty, and observe local life in the surrounding villages. Additionally, the lake area offers unique experiences like coffee tours and roasting, where visitors can learn about local coffee production and even take home some freshly roasted beans. Whether you're seeking relaxation or adventure, Lake Mutanda is a must-visit destination, encapsulating the diverse offerings of things to do and see in Uganda.
---
18. Engaging with the Batwa Tribe – Guardians of the Forest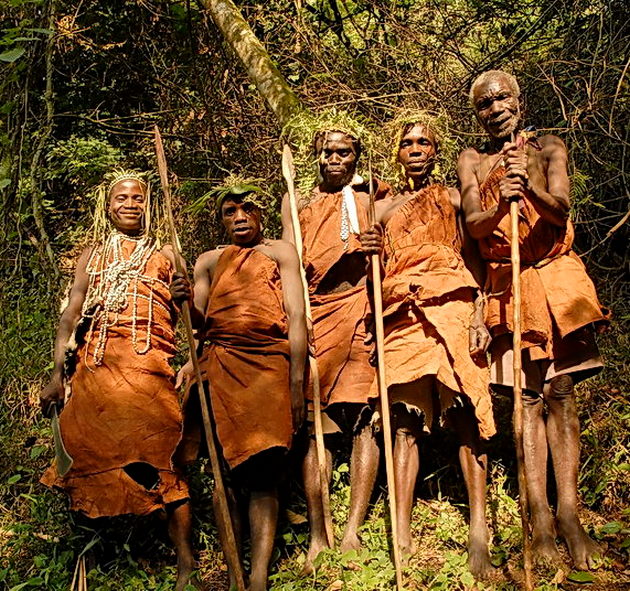 Discover the unique culture of the Batwa Pygmy tribe in Uganda's Bwindi Impenetrable and Mgahinga Parks. Known for their close relationship with the forest, the Batwa offer a unique cultural experience alongside the popular mountain gorilla sightings. Visitors can learn about their traditional hunter-gatherer lifestyle and support a community adapting to modern changes.
The Batwa, historically forest guardians, now share their heritage by guiding tourists through the forest, demonstrating their knowledge of medicinal plants and traditional practices. Key experiences include exploring the Buhoma region of Bwindi Forest, Buniga Forest, and Mgahinga Gorilla Park, where visitors can enjoy the Batwa's music in Garama Cave, enhancing their understanding of this unique culture.
---
19. Encounter Rothschild Giraffes in Murchison Falls National Park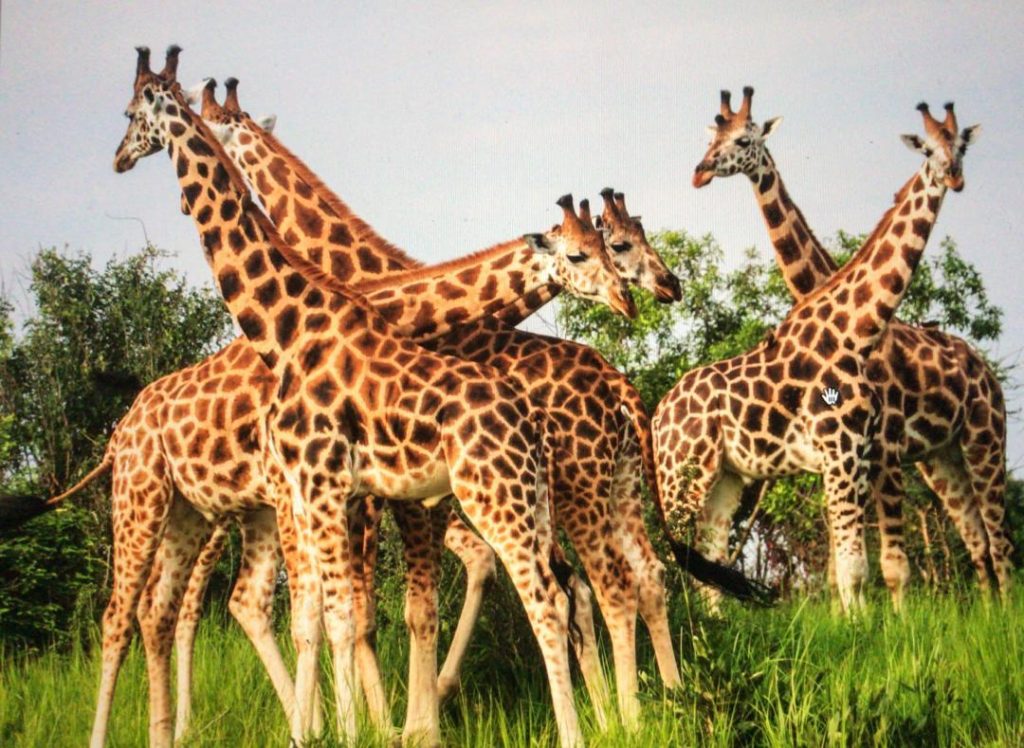 Murchison Falls National Park in Northern Uganda offers not only breathtaking landscapes and the majestic Murchison Falls but also a unique wildlife experience, especially with its significant population of Rothschild Giraffes. This endangered species, known for its height and elegance, is a significant highlight of the things to do and see in Uganda.
The park is renowned as the best place in Africa to observe these magnificent creatures in the wild. Visitors can often spot herds of over 50 Rothschild Giraffes roaming the savannah, a truly remarkable sight. With a population of around 1,500 in the park, along with smaller numbers in Kidepo Valley Park and Lake Mburo National Park, these giraffes offer an unparalleled wildlife viewing experience. Unique to Murchison Falls and absent in other East African parks, the Rothschild Giraffes add a special dimension to Uganda's diverse wildlife encounters.
---
20. Explore the Wilderness of Kidepo Valley Park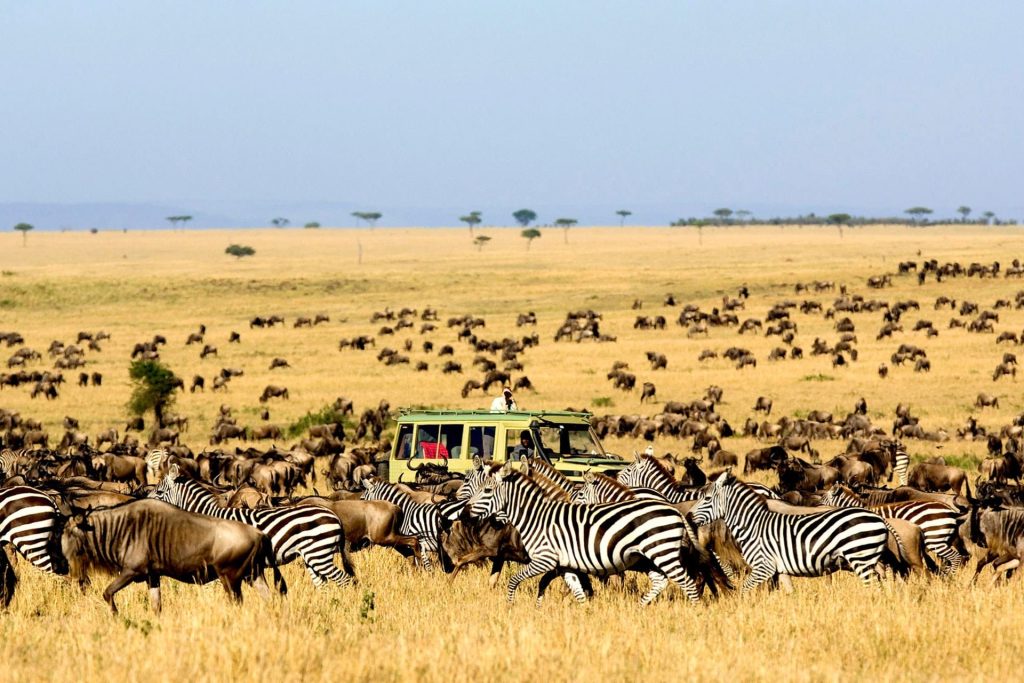 In the remote northeast of Uganda, along the Sudanese border, Kidepo Valley National Park stands as a testament to Africa's raw wilderness. A visit to this park is among the top things to do and see in Uganda, offering an authentic African safari adventure.
Spanning 1,442 square kilometers, Kidepo Valley is characterized by its rolling, short-grass savannah, encircled by mountains and crisscrossed with rocky ridges. The park's diverse savannah fauna is unmatched, featuring several species unique to the area. It's particularly known for its abundance of predators, including lions, leopards, cheetahs, and bat-eared foxes, alongside black-backed and side-striped jackals. Kidepo is also home to some of the largest buffalo herds and boasts twelve antelope species, such as Jackson's hartebeest, oribi, eland, Uganda kob, and klipspringer.
Celebrated by CNN as one of Africa's best parks, Kidepo Valley National Park offers a unique blend of breathtaking landscapes, rich wildlife, and cultural encounters with the Karamojong pastoralist communities, making it a must-visit destination for wildlife enthusiasts and nature lovers.
---
21. Visit the Indigenous Ik People on Mount Morungole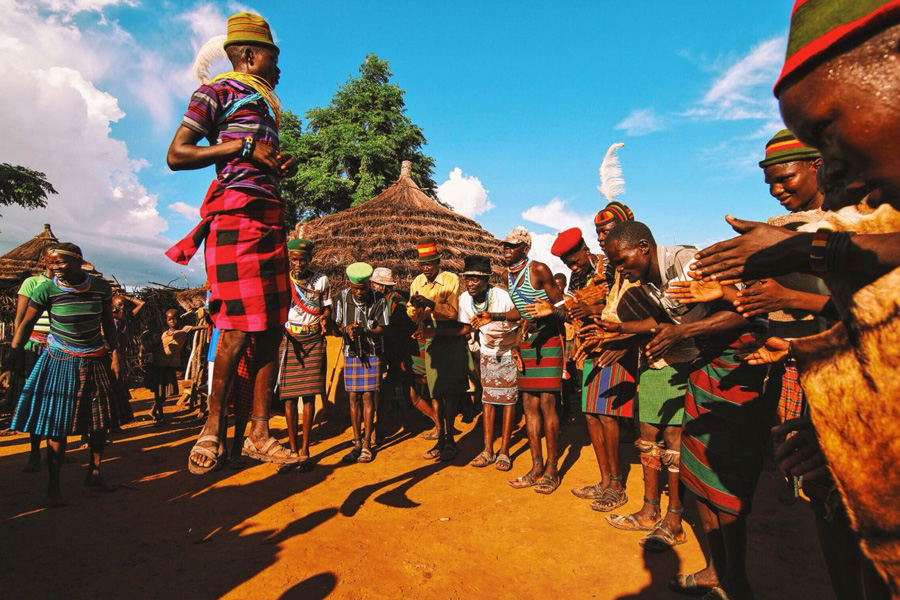 Exploring the remote and unvisited Karoja Region to visit the Ik People on Mount Morungole is a unique and enlightening experience exclusive to Uganda. About 11,000 Ik People reside on Mount Morungole, a community with deep historical roots in the northeastern part of the country. Originally inhabitants of the Kidepo Valley, they relocated to escape raids from the Karamojong warrior-nomads and the establishment of Kidepo Valley Park.
Today, the Ik live high up on Mount Morungole, accessible only through ancient footpaths. A visit to their community involves a day-long hike, offering an immersive cultural experience. For those wishing to extend their stay, there is now the option to spend the night in a tented camp on Mount Morungole. This visit is not just a cultural exploration but a journey into the heart of a community maintaining its heritage amidst modern challenges, making it a vital part of the diverse things to do and see in Uganda.
---
22. Discover the Karamojong Manyatta in Uganda's Karamoja Region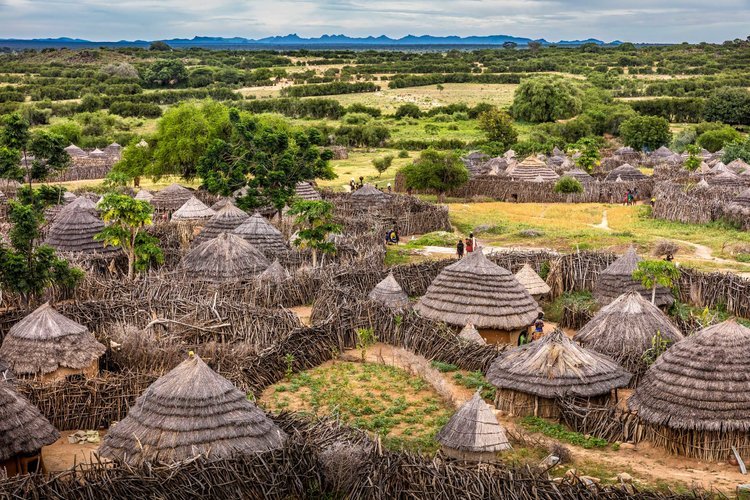 The Karamojong, renowned as proud warriors, nomads, and herders, share a historical connection with the Maasai of Kenya, with both tribes having migrated from Ethiopia centuries ago. The name 'Karamojong' derives from an event where the elders decided to settle after a long journey, marking the end of their migration.
Traditionally resistant to outside influence, the Karamojong have preserved their cultural identity, remaining largely unaffected by colonial and governmental interventions. Visiting a Karamojong Manyatta, their traditional village, is an incredible opportunity to witness and learn about their unique way of life. A trip to their villages offers insights into their customs, traditions, and resilience, making it a must-do activity for those seeking cultural encounters in Uganda.
---
23. Exploring Sipi Falls and Mount Elgon in Eastern Uganda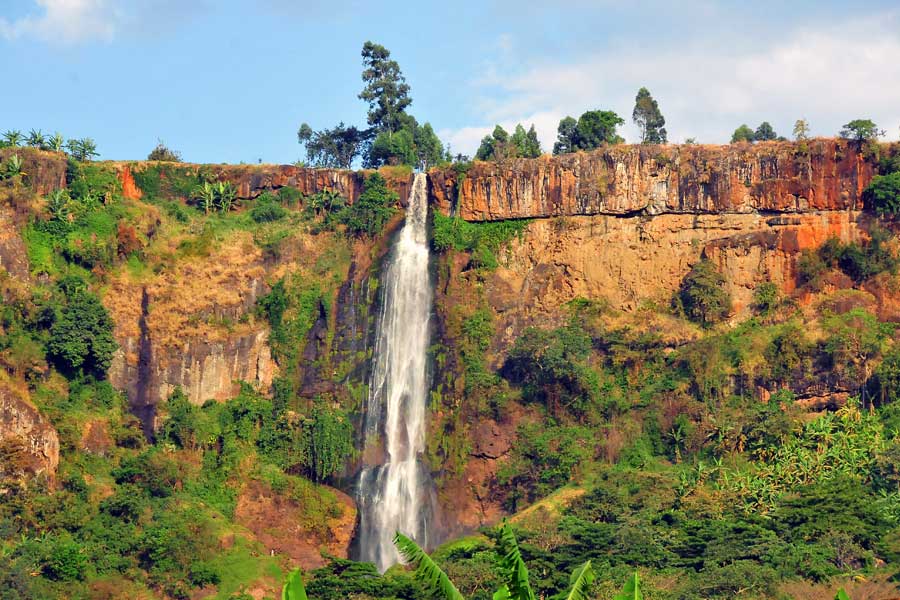 Eastern Uganda, bordering Kenya, is a treasure trove of adventure, especially around Sipi Falls and Mount Elgon. These destinations offer a variety of activities for outdoor enthusiasts, from hiking and mountain biking to climbing. Mount Elgon, once the tallest mountain in Africa, is now known for having one of the largest calderas on the continent, following a volcanic eruption that reduced its height. Today, it presents a range of hiking opportunities, from challenging three-day ascents to the summit to more accessible day hikes that still offer breathtaking scenery.
Sipi Falls, in particular, is an unforgettable destination. This series of three waterfalls is renowned for its stunning beauty and the variety of activities it offers. Visitors can enjoy more than just the picturesque views; adventures like climbing and trout fishing above the falls are also popular. Whether you're an avid hiker, a fisherman, or someone who appreciates natural beauty, Sipi Falls and Mount Elgon provide a memorable experience, making it a key part of the things to do and see in Uganda.
---
24. Experience the Equator Crossing in Uganda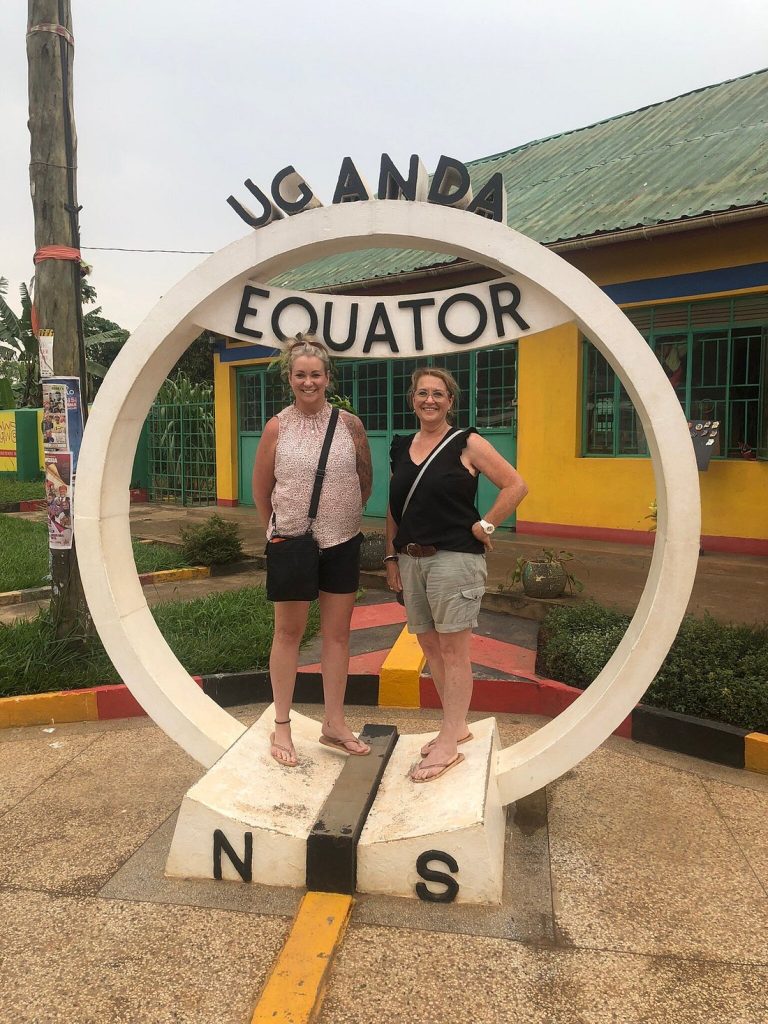 A visit to the Equator in Uganda is an essential experience for anyone on a safari in the Pearl of Africa. This unique geographical feature runs directly through the country, making Uganda one of the few places in the world where you can stand on the equator line. The best spot to explore this natural wonder is in Kayabwe, 2-hours' drive from Kampala, on the way to Western Uganda or while returning from key destinations like Bwindi Forest, Mgahinga Gorilla Park, Queen Elizabeth Park, and Lake Mburo Park.
At this special location, not only can you take memorable photos at the monument marking the center of the earth, but you also have the opportunity to straddle the equator, placing one foot in each hemisphere. It's a popular stop, perfect for lunch or a brief respite during your journey. Additionally, the site offers a fascinating demonstration by locals showing how water swirls in different directions on either side of the equator – a phenomenon that astounds many visitors. Nearby restaurants offer the unique experience of dining in the southern or northern hemisphere. This equator experience is an essential part of the things to do and see in Uganda, adding a unique touch to your safari adventure.
---
25. Birdwatching and Nature Walks: Exploring Uganda's Biodiversity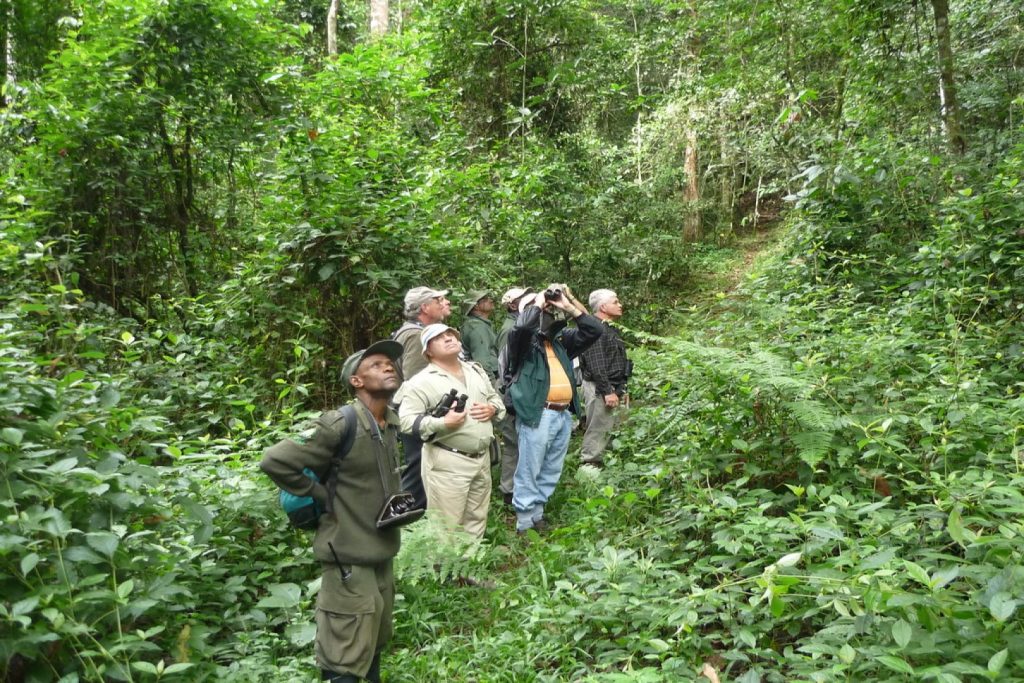 Uganda, with its ecological diversity, is a haven for birdwatching enthusiasts, hosting an impressive array of over 1008 bird species, including the rare Shoebill Stork. The country's rich array of habitats, from Afro-Montane regions and lush swamps to expansive rainforests and Acacia-studded savannahs, provides a perfect backdrop for birding. This variety makes Uganda a top destination for birdwatching in Africa, offering opportunities to see a wide range of species in their natural environments.
For a more immersive experience, guided nature walks are available across these diverse landscapes. While these walks are a less common choice among safari-goers, they offer an intimate way to explore Uganda's birdlife and natural beauty. Kalinzu Forest Reserve, spanning 147 square kilometers and conveniently located outside national park boundaries, is an accessible and affordable option for birdwatchers. Moreover, Mabamba Swamp near Entebbe is an ideal location for half-day safaris, especially for spotting the Shoebill Stork. Whether you're a dedicated birdwatcher or just love being in nature, Uganda's birding and nature walks are an enriching part of any visit, adding to the list of things to do and see in Uganda.
---
26 Explore the Wildlife Wonders of Lake Mburo National Park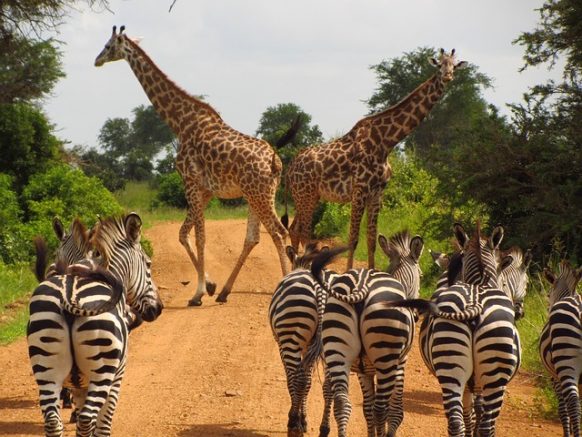 Lake Mburo National Park, a gem on the journey from Kampala or Entebbe to Bwindi, is a must-see for wildlife enthusiasts exploring things to do and see in Uganda. Though smaller compared to other national parks, it boasts an impressive array of wildlife. Here, visitors can spot herds of Cape Buffaloes, zebras, and a variety of antelopes like impalas and elands, as well as warthogs, all in their natural surroundings.
A standout activity in Lake Mburo is the boat safari on Lake Mburo itself, guided by rangers from the Uganda Wildlife Authority. These safaris offer a unique perspective on the park's aquatic life, with opportunities to see hippos, crocodiles, sea eagles, and a variety of other wildlife. The experience is particularly magical in the early morning, as the mist rises off the lake, creating a serene and mystical atmosphere.
For those wishing to extend their stay, overnight options are available. Lake Mburo's compact size contributes to its charm and accessibility, with the journey from Kampala taking approximately four hours. Along the way, visitors can stop at the Equator marker for a memorable photo opportunity. The park also offers night drives for spotting nocturnal animals like porcupines, genets, leopards, and hyenas. Other activities include horseback safaris, ATV quad biking, mountain biking, and fishing, all adding to the comprehensive and varied experiences Lake Mburo National Park has to offer.
---
27 Experience the Vibrant Nightlife of Kampala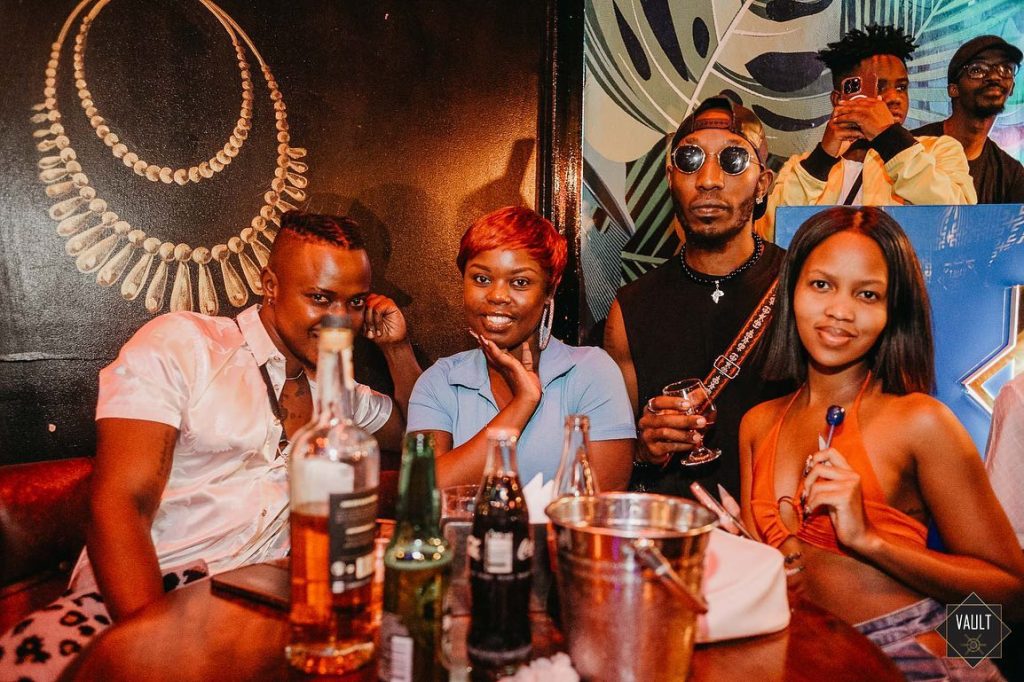 Kampala, Uganda's capital city, offers a lively contrast to the country's wildlife and natural attractions. Known for its bustling streets and vibrant atmosphere, Kampala is a city that never seems to slow down, especially when it comes to traffic. Visitors should be prepared for a slower pace of travel within the city, but the lively energy and vibrant culture make it worth the wait.
For those looking to experience the local culture beyond wildlife safaris, Kampala's nightlife is not to be missed. The city boasts some of the best nightlife in East Africa, with a wide array of venues that cater to all tastes. From cozy wine bars and expat-filled pubs to dynamic club-pub hybrids and Euro-style nightclubs, Kampala offers an exciting and diverse night scene. The city comes alive at night with music ranging from dancehall and East African rhythms to South African beats and popular international tunes. In Kampala, the party goes on as long as there are people to enjoy it, ensuring a memorable experience for visitors and locals alike.
---
28. Experience Uganda's Culture at the Ndere Cultural Centre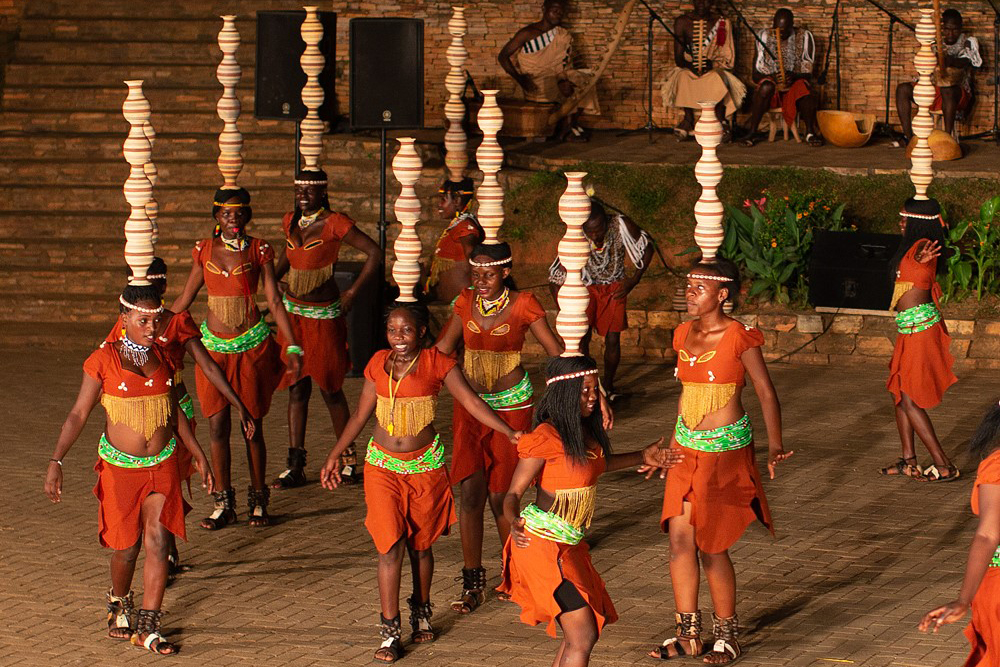 For a deep dive into Uganda's rich cultural heritage, the Ndere Cultural Centre in Ntinda is an essential visit. Here, you can enjoy the vibrant dinner-theatre performances by the renowned Ndere Troupe. This center has long been a stage for showcasing the diverse songs and dances from various Ugandan and Rwandan tribes. An evening at Ndere Centre offers a delightful experience as performers in traditional attire captivate audiences with their dance skills and mastery of musical instruments.
Visiting the Ndere Cultural Centre is a deep dive into Uganda's diverse cultural heritage. It's not just about watching performances; it's an interactive experience. With a 700-seat amphitheater, a welcoming restaurant-bar, and a guesthouse, the centre offers a holistic cultural journey. Performances are scheduled every Sunday from 6 pm to 9 pm, featuring vibrant shows that blend music, dance, and storytelling to narrate Uganda's history. Wednesdays offer storytelling sessions, while Fridays are for Afro-jazz enthusiasts. As part of the things to do and see in Uganda, enjoying a meal of traditional Ugandan dishes while soaking up the cultural ambiance at the Ndere Centre is an experience not to be missed. It's an enriching way to connect with the soul of Uganda and its people.
---
29. Exploring Uganda's Rich Cultural Heritage Sites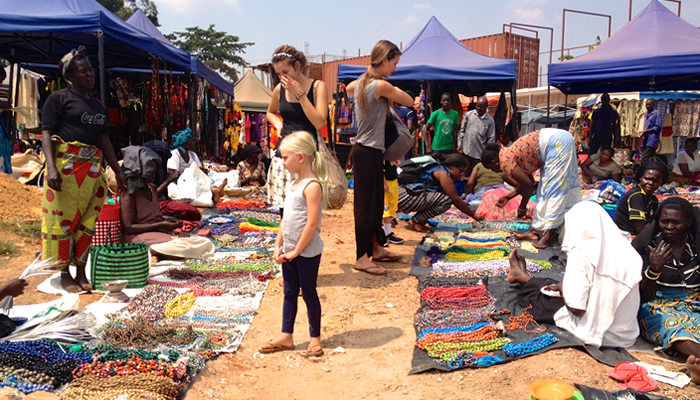 Shopping for souvenirs in Uganda offers a delightful way to bring home tangible memories of your safari adventure. Kampala, the nation's capital, boasts numerous arts and crafts shops filled with traditional Ugandan items. Here, you can find a wide array of souvenirs, from intricate carvings, colorful batiks, and bark cloth items to unique banana fiber gifts, beautifully crafted walking sticks, and themed T-shirts. These items not only serve as reminders of your journey but also support local artisans and their craftsmanship.
But Uganda's souvenirs extend beyond the conventional. Among the things to do and see in Uganda, discovering its rich flavors is a must. Local coffee and tea, renowned for their quality, make for a delightful takeaway. Vanilla enthusiasts can cherish the authentic taste of Ugandan vanilla beans or extract. And for a unique souvenir, Waragi, Uganda's gin, embodies the spirit of the land. Fashion finds like the vibrant Kitenge cloth and traditional dresses add an African flair to your wardrobe. These items are more than mere keepsakes; they're tangible memories of your journey through the Pearl of Africa.
---
31. Explore the Dynamic Capital City of Kampala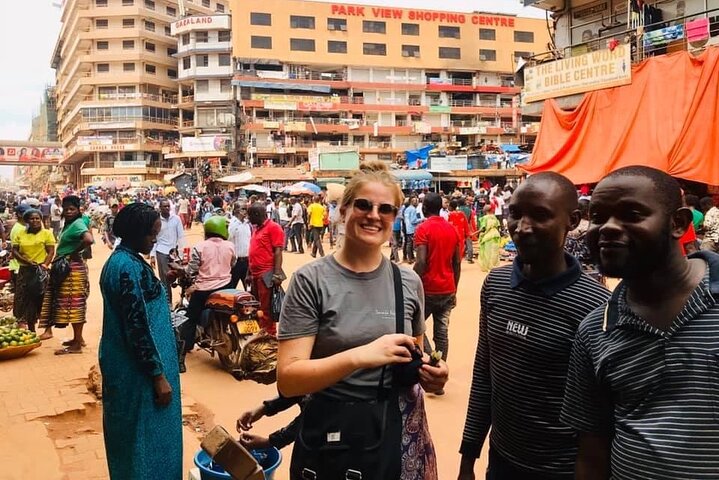 Kampala, the vibrant capital of Uganda, offers a rich tapestry of experiences for visitors. A walking tour is one of the best ways to immerse yourself in the heart of this bustling city. Such tours typically take you through the inner city, allowing you to discover key landmarks like Mengo Palace, the Buganda Parliament, the Uganda Parliament, and the Grand National Mosque. You'll also get to explore lively local markets, including Nakasero and Owino, where the colors, sounds, and smells create a truly authentic Ugandan experience.
These walking tours not only showcase Kampala's historical and cultural landmarks but also introduce you to the city's street food scene, offering a taste of Uganda's culinary delights. As you wander through Kampala, guides provide rich narratives about the sites, deepening your understanding of the city's history and culture. Beyond the central areas, there's more to explore, including the serene Namirembe and Lubaga Cathedrals, the peaceful Kabaka Lake, the historically significant Martyrs Shrine and Museum, and the Kasubi Tombs. The city also houses the unique Bahai Temple, among other attractions. Whether you're seeking historical insights, cultural experiences, or urban adventures, Kampala's diverse offerings make it an unmissable part of any Ugandan itinerary.
---
 32. Savor the Flavor of Uganda's Iconic Rolex
Here are some useful links that you may find helpful to check out: