Description
3-Day Murchison Falls Park Safari – Ultimate Uganda Adventure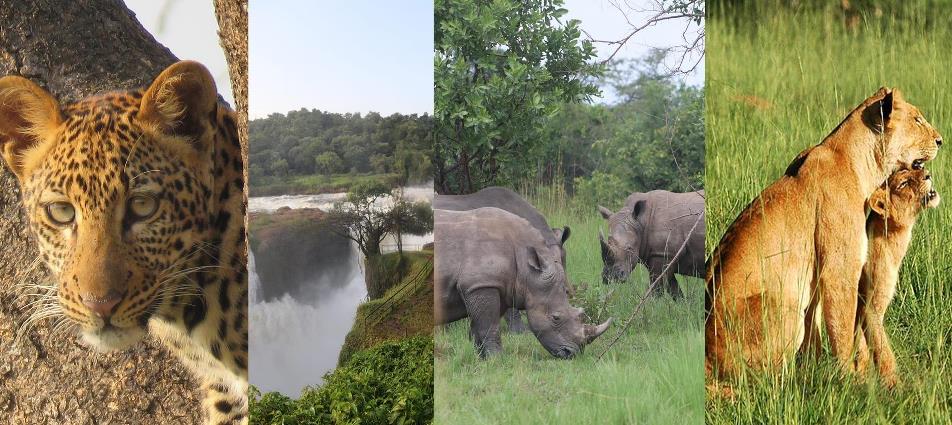 Murchison Falls National Park is one of Uganda's best destinations for a short wildlife safari experience. It's particularly popular among business travelers, cabin crew members, mission teams, visiting families, and student teams seeking intense wildlife expeditions. Embark on 3-Day Murchison Falls Park Safari for thrilling wildlife exploration in this magnificent park with our moderately priced safari package.
---
Discover the Unique Appeal of Murchison Falls Park for a Compact Safari.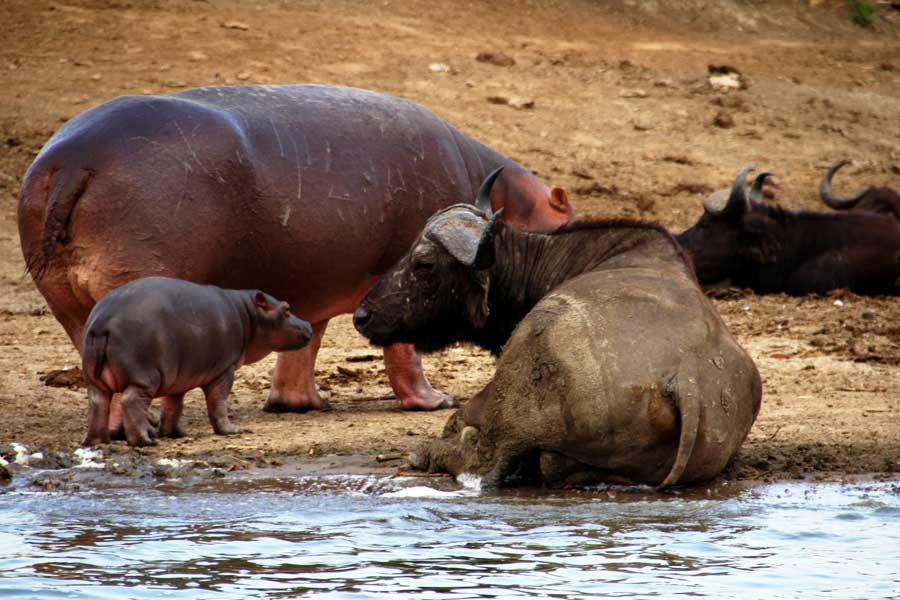 If you're looking for a comprehensive yet concise 3-Day Ugandan Safari Experience in Uganda, Murchison Falls Park stands unrivaled. This park is renowned for offering visitors an opportunity to see the iconic Big Five, making it an essential stop for those pressed for time.
Here, you'll find an impressive array of wildlife, including four of the Big Five – Buffalos, Elephants, Lions, and Leopards, predominantly in the northern region (above the Nile). The park's history is tinged with the tragic loss of Rhinos due to poaching, leading to their extinction by 1983. However, thanks to the efforts of the Rhino Fund Uganda in 2005, white rhinos are making a  massive comeback. They are thriving in the Ziwa Rhino Sanctuary, located 70 km south of the park. The sanctuary's goal is to carefully reintroduce rhinos into the wild while maintaining a core breeding population within its confines.
One of the park's crowning jewels is the world's most powerful waterfall, majestically cascading down the Western Rift Escarpment, carved by the River Nile that meanders through the park. Engage in diverse activities, such as fishing at the waterfall's base, embarking on a boat safari along the Nile, hiking the Baker Trail, or sweeping across the savannah on game drives, surrounded by Borassus Palm Trees and a plethora of wildlife.

For those seeking an extra dash of adventure, consider the Chimpanzee Trekking in Budongo Forest. If cultural immersion is on your list, a village visit or stay adds depth to your Murchison Falls Park safari experience.
For first-time visitors to Uganda, our three-day moderately-priced Murchison Falls Park Safari offers a splendid introduction to African wildlife, birds, and scenic experience.
In essence, Murchison Falls Park, with its vast wildlife reserve cradled by the River Nile and crowned by the world's most powerful waterfall, is the ideal choice for travelers keen on experiencing the vibrant heart of African wilderness in a limited timeframe.
---
Key Highlights of our 3-Day Moderately Price Murchison Falls Park Wildlife Safari
Two main Game Drives: Spot Elephants, Giraffes, Lions, and more. It's a wild ride!
Wildlife Boat Safari on the Nile: Jump on East Africa's top wildlife cruise. Watch the river come alive!
Rhino Tracking on Foot: Accompanied by expert Rangers, track rhinos with our expert Rangers
Top of the Falls Hike: Engage in a 45-minute – 1-hour exhilarating hike to reach the peak.
Private Safari in a 4×4 Vehicle: Journey in comfort with a vehicle reserved just for you, equipped with bottled water.
Stay at Pakuba Lodge: Spend two memorable nights at this premier wildlife location. The lodge boasts air conditioning and a refreshing swimming pool.
Guidance from an Experienced, Professional Driver: For an authentic experience, it's always recommended to safari with a local.
---
Immersive Wildlife Expeditions in Uganda's Famed Park.
Day 1: Travel to Murchison Falls Park – Stop by the Ziwa Rhino Sanctuary – Afternoon Game Drive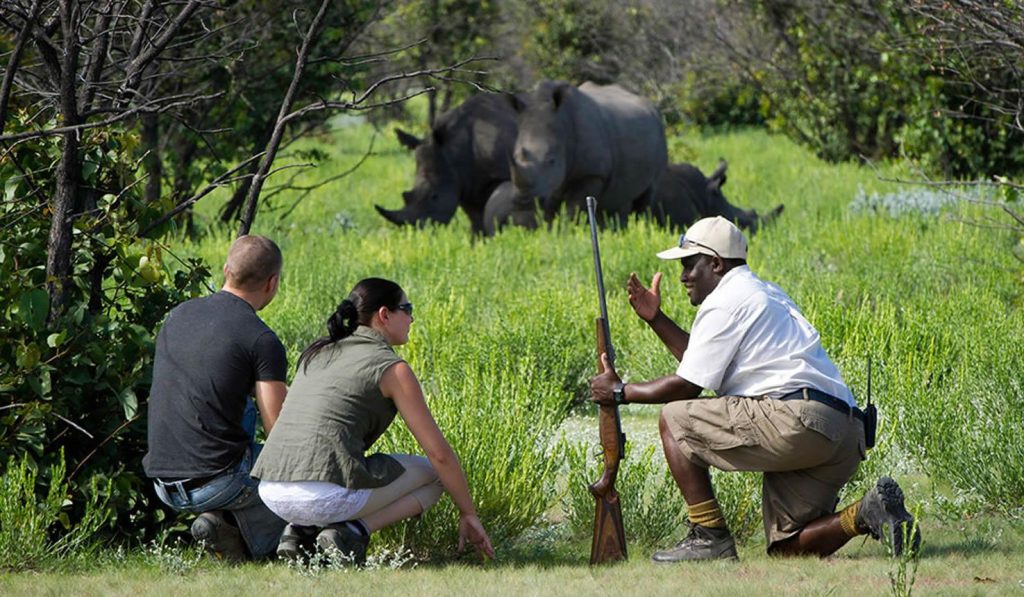 Our Murchison Falls Park Safari kicks off from Kampala at 6:30 a.m., setting your sights on Murchison Falls Park, Uganda's grandest National Park. The 6-hour journey, while lengthy, is a visual delight, weaving through vibrant towns like Luweero and Masindi. As you venture north, soak in the ever-changing scenes: lush landscapes, bustling villages, quaint hamlets, and spirited roadside vendors offering fresh produce.
Our first stop is the Ziwa Rhino Sanctuary, a 3-hour drive from our starting location. At the sanctuary, an experienced and knowledgeable ranger will join us for an on-foot rhino-tracking adventure that lasts about an hour. This heavily guarded and fenced sanctuary is home to approximately 42 rhinos (as of January 2024) and various other wildlife. The main highlight of this visit is the unique opportunity to track rhinos, an experience exclusively offered here.
After this incredible experience, we continue with our journey to Murchison Falls Park, formerly known as Kabarega Falls. We'll have a lunch break before crossing over to the northern bank of the Nile River.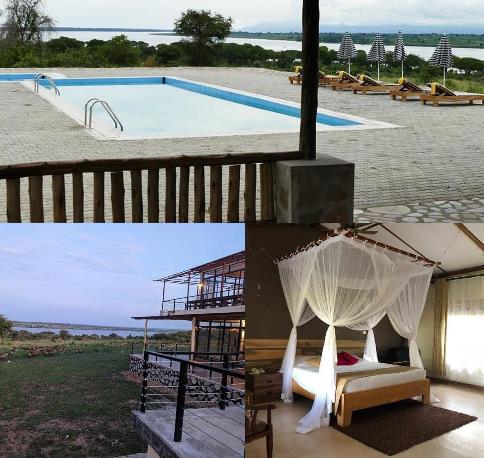 Check into your lodge.
We checked into the Pakuba Safari Lodge at Murchison Falls Park after crossing the Nile River to the Eastern Bank of the Albert Nile. This Lodge boasts a strategic location in the heart of the Murchison National Park. All rooms are air-conditioned and clean, with lovely hot showers. The rooms also have turn-down service at night, and mosquito nets are provided on the beds.
The restaurant offers a lovely buffet, and the staff is amiable and attentive. There's a beautiful spot out the front of the Lodge where you can relax on hammocks and a cozy fire pit area to watch the waterbucks and other wildlife come in to settle for the night. Night security is watchful and friendly, making it an excellent mid-range facility where you get great value for money.
Other Lodging options inside the Park include Murchison River Lodge and Upscale Paraa Safari Lodge.
Murchison Falls Park – Afternoon Game Drive.
In the late afternoon, we will embark on our first game drive, where you can witness various wildlife. You can spot lions, elephants, giraffes, antelopes of all types, warthogs, buffaloes, and many species of Savanna Birds.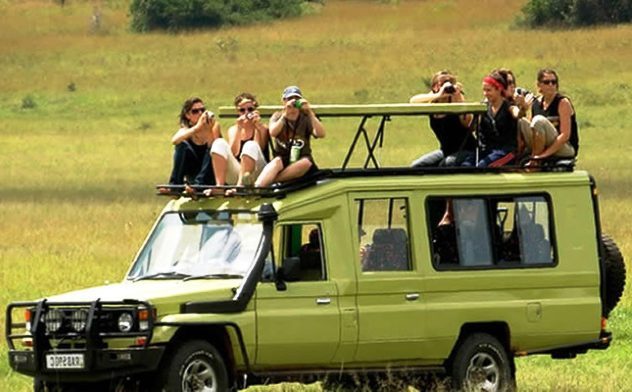 The vehicle provided for the drive features a pop-up roof, allowing you to stand and take better pictures. The windows can be fully opened so that you can enjoy a clear view of the animals. We only offer private safaris, which means that the number of people on the tour depends on the size of your group.
Your Driver-Guide and a Uganda Wildlife Ranger will be with you throughout the drive, pointing out animals you might otherwise miss. After the game drive, we'll continue to your lodging for a late check-in and dinner.
Lodging: Pakuba Safari Lodge – All meals.
Day 2: Morning Game drive and afternoon Nile River Boat Safari
Grab a quick breakfast or just a cup of coffee before heading out. Dawn breaks around 6:30 a.m., with the sun making its appearance by 6:45 a.m. This is when the predators, fresh from their nighttime hunts, begin to wind down. As the savannah stirs to life, you'll witness its morning rituals. The early hours also offer a splendid showcase of birds, so keep an eye out.
Always have your camera at the ready for those unexpected, perfect shots. For those aiming to capture a steady shot, especially of elusive creatures like lions or leopards, a bean bag can be a great support for your camera.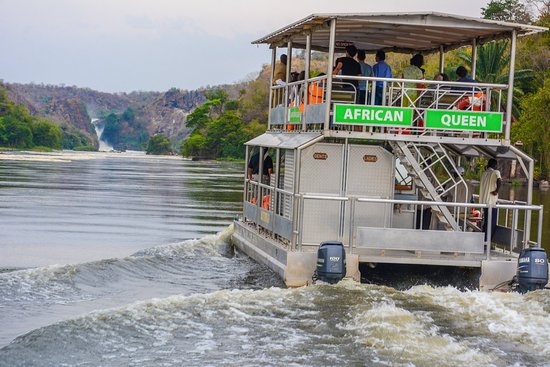 After your morning exploration, which lasts about three hours, we recommend some relaxation at the lodge. Dive into the pool, catch up online with family and friends, or mingle with fellow travelers to exchange safari stories. After a rejuvenating lunch, gear up for the Wildlife boat cruise on the Nile.
The afternoon Nile Boat Safari
This is a serene boat safari up the Nile River. Glide along the riverbank, spotting crocodiles, hippos, elephants, buffaloes, antelopes, and a myriad of birds, including fish-eagles and storks. As the boat proceeds, you'll see animals in their natural habitat: elephants cooling off, playful hippos, and sunbathing crocodiles.
Soon, the magnificent Murchison Falls comes into view, showcasing its raw power as the world's most powerful waterfall. Here, the vast 50-meter-wide River Nile funnels through a narrow 6-meter gorge, plunging 43 meters down. This dramatic display of nature is both awe-inspiring and humbling.
Nearby, observe a riverbank teeming with Nile crocodiles sunning themselves. A little further, you'll spot groups of hippos enjoying the Nile's waters. With thousands of hippos and countless birds, it's a treat for wildlife enthusiasts.
Return to Pakuba Lodge for dinner and our second night here.
Day 3: World's Most Powerful Waterfall Excursion/Hike and Return to Kampala/Entebbe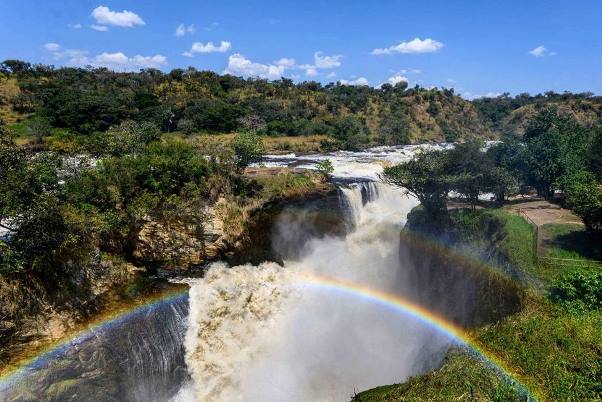 After breakfast, we will check out our lodge and begin our journey back to Kampala. Before leaving the park, we will take a one-hour detour to visit the World's Most Powerful Waterfall. You will feel the ground tremble beneath you from the sheer power of the falls, and you may be able to spot a rainbow formed by the mist. There is a trail leading down for those interested in a closer experience of the cascade. The moment by the falls will surely leave a lasting impression on you. Once you complete your hike, your driver-guide will be waiting for you.
Next, we will head to Masindi and stop at the Kabalega Diners for lunch. After lunch, we will continue our journey to Kampala and arrive there around 5 p.m. Our 3-Day Murchison Falls Park Safari ends here.
Meal Plan: Breakfast – Lunch
Option: You can add Chimpanzee Tracking in Budongo Forest to your 3-day Murchison Safari include
---
Our 3-Day Murchison Falls Park Safari covers the following:
Two nights of lodging and all meals
Transportation and a 4WD Safari Vehicle with a Pop-up roof
Park entrance fees, including the vehicles
2 Safari drives with a UWA armed Wildlife Expert
Top of Falls excursion/hike
the Nile River Boat Safari
Complimentary Bottled Water for the journey
It does not include Tips, alcoholic beverages and sodas, laundry, or any other purchases you might make.
---
Thank you for being so interested in our 3-day Murchison Falls Park Wildlife Safari. Please submit the form below for details regarding pricing, further customization, and any other related questions. We're here to serve you and eagerly await your response.