Kyambura Gorge Safari – Explore Queen Elizabeth Park, Uganda.
Kyambura Gorge: The Valley of Apes, Queen Elizabeth Park
Explore the Mystical Depths of Kyambura Gorge in Uganda's Queen Elizabeth Park
Nestled within the expansive Savannah of Queen Elizabeth Park in Uganda lies the hidden marvel of Kyambura Gorge. This stunning geological formation, stretching 11 kilometers long and plunging 100 meters deep, is a haven for adventurers and nature enthusiasts alike.
Formed by the tectonic activities of the Albertine Rift, a segment of the grand East African Rift Valley, the gorge boasts a unique ecosystem, often referred to as the "Valley of the Apes" or the "Lost Valley" by the BBC. Here, the dense tropical forest contrasts sharply with the surrounding grasslands, creating a diverse habitat that supports a rich array of wildlife, including various primates, birds, and unique plant species. Kyambura Gorge is not just a spectacular natural sight; it's a vibrant, living testament to the wonders of nature, offering an array of immersive experiences from chimpanzee trekking to bird watching and nature walks. This lesser-known destination promises an unforgettable adventure into the heart of Uganda's natural beauty.
A world of adventure awaits on your Kyambura Gorge Safari in this captivating natural wonderland.
Kyambura Gorge captivates with its lush landscapes and rich history. It's more than scenic views; it's an adventure hub. Activities here cater to adventurers, nature lovers, and wildlife enthusiasts. Thrilling chimpanzee treks and serene bird-watching are just the start. Nature walks through Kyambura Gorge reveal a tapestry of experiences.
Each trail and viewpoint in this vibrant ecosystem tells a unique story. They offer chances to connect with Uganda's wild heart. Now, let's explore the activities that make Kyambura Gorge a top destination. This place is perfect for those eager to dive into nature's wonders.

Experience Immersive Activities on Your Kyambura Gorge Safari.
Chimpanzee Trekking in Kyambura Gorge
Chimpanzee trekking is the primary attraction that draws visitors to Kyambura Gorge. Notably, the cost for trekking permits here is considerably lower than at Kibale Forest. While the likelihood of spotting chimpanzees is around 60%, the journey into the gorge remains a captivating experience.
This slightly lower sighting probability is attributed to the smaller chimpanzee community in the gorge, numbering less than 30. This group is isolated, and separated from neighboring forests such as Kalinzu and Maramagambo. To enhance genetic diversity, conservation efforts are being made to introduce female chimpanzees from other regions of Uganda to this troop. Additionally, establishing a buffer zone by Kyambura Lodge has positively impacted the return of wildlife, including various primates and birds.
Despite the chances, the chimpanzee trek in Kyambura Gorge is highly rewarding. Visitors often spot, hear, and observe these primates in their natural habitat. The trek also offers opportunities to encounter other species like black and white colobus, blue monkeys, red-tailed monkeys, baboons, and vervet monkeys.
It's important to note that we aim to provide honest insights rather than a sales pitch. If chimpanzee sightings are not successful in the gorge, an alternative is to trek in the nearby Kalinzu Forest, which is just a short drive away.
As for the trek's difficulty level, a moderate level of fitness is required. The trek, lasting approximately three hours, traverses challenging terrain, making it suitable for those in reasonable physical condition.
Nature and Wildlife Exploration:
The gorge, transforming into a lush oasis in the dry seasons, is a refuge for diverse wildlife. This includes various primates, birds, butterflies, and mammals. Nature walks through the gorge offers visitors a chance to see these animals in their natural habitat and appreciate the unique ecosystem of this sunken forest.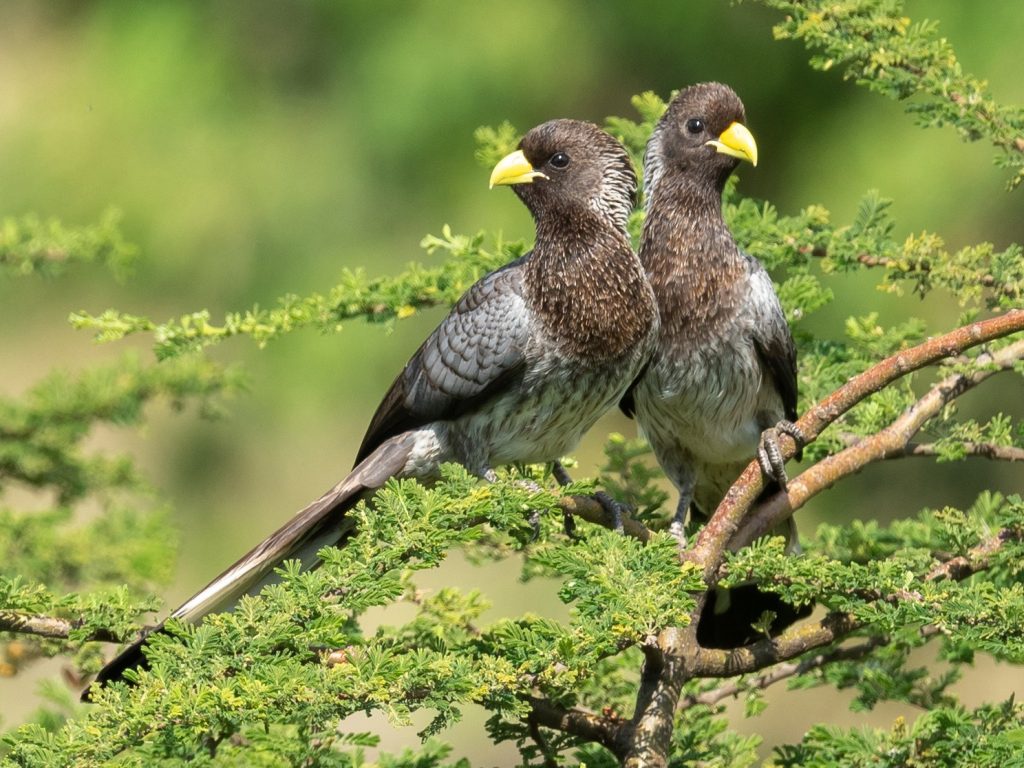 Photography and Bird Watching in Kyambura Gorge: A Visual and Avian Spectacle
Kyambura Gorge, nestled in the heart of Uganda's Savannah, is a breathtaking natural wonder, offering a unique and dramatic setting for photography. Its landscape, a striking contrast of a deep gash amidst the vast plains, is a scene worthy of National Geographic. The gorge promises a 'Wow Moment of Discovery' for amateur and professional photographers, providing a canvas to capture the essence of African wildlife and nature.
In this photographer's paradise, you are the modern-day explorer, swapping out the guns of the past for cameras to capture images of primates, wildlife, and stunning vistas. From the panoramic views atop the gorge to the mystical depths of the lost valley, every shot taken here is a lasting memento of your Ugandan safari experience. For professional photographers looking to capture these moments, it's important to note that permits are required, which we can help facilitate.
Additionally, Kyambura Gorge is a haven for birdwatching enthusiasts. Home to over 300 species of birds, attracted by its 13 diverse habitats, the gorge offers an exceptional birding experience. From forest dwellers to species that feed in the nearby Savannah and wetlands along the Kazinga Channel, birdwatchers can expect to encounter an array of birds, including falcons, the blue-headed bee-eater, and the black and white kingfisher, among others. With over 332 species to identify, each birdwatching walk in Kyambura Gorge is an adventure, adding another layer of excitement to the safari experience.
Hiking Adventures in Kyambura Gorge
Exploring the Trails of Kyambura Gorge
Hiking enthusiasts and nature lovers will find the trails in Kyambura Gorge a delightful experience. Traversing the terrain down and up the gorge, these trails wind along the Kyambura River, known locally as "the river of the blind," and extend through a vast underground forest spanning 157 square kilometers.
The Kyambura River, which snakes its way across the valley floor towards the Kazinga Channel, carries with it a fascinating local legend. Oral tradition recounts a catastrophic flash flood that occurred many seasons ago, washing away everything in its path. Those who sought their lost belongings in the aftermath returned empty-handed, leading to the river being named 'Kyambura,' meaning "I cannot see it – the river of the blind" in the local language.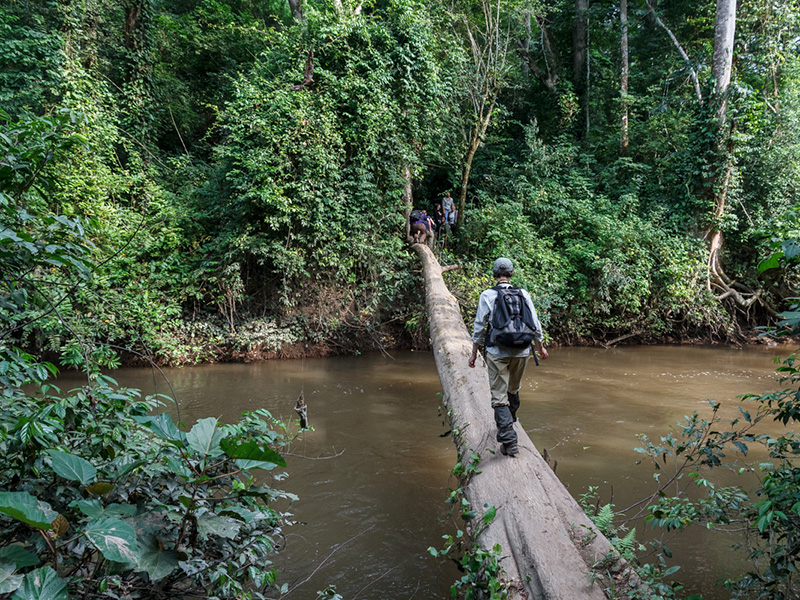 A Rich Biodiversity and Unique Hiking Experience
As hikers navigate across the Kyambura on the provided logs, they're encouraged to observe the surrounding natural beauty with a keen eye. The hike down the gorge is more than a physical challenge; it's an exploration of a world teeming with biodiversity. Along the way, hikers can encounter unique vegetation, towering tropical trees, and a host of wildlife, including hippos, forest elephants, giant forest hogs, various species of antelopes, and smaller primates.
The nature walks in Kyambura Gorge offer a journey into an environment vastly different from the surrounding Savannah. The cooler climate of the underground forest, with its majestic tree canopies and diverse fauna, provides a refreshing contrast. Knowledgeable guides enhance these walks with insights into the valley's history, wildlife, and avian species. Organized in morning and afternoon sessions, these treks cater to different fitness levels, with a moderate level recommended for the three-hour journey. Crossing the river on logs requires a good sense of balance, adding to the adventure of immersing oneself in the unique natural wonders of Kyambura Gorge.
Cultural and Historical Insights:
The local lore and stories associated with Kyambura Gorge, such as the legend of the Kyambura River, add a cultural dimension to the visit. Learning about these tales and the gorge's history can enrich the experience, offering a deeper understanding of the region and its significance.
Lodging Highlight: Kyambura Gorge Lodge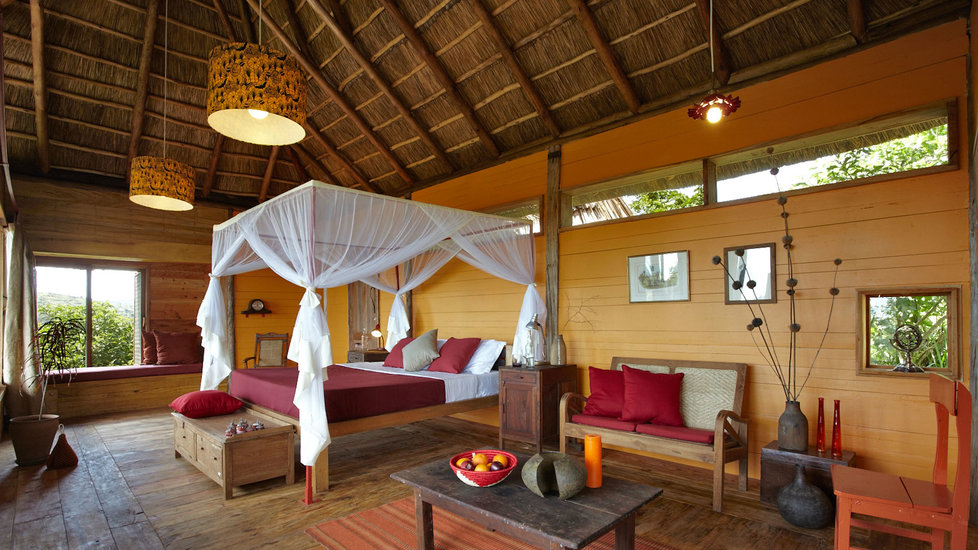 Kyambura Gorge Lodge emerges as the top accommodation choice for visitors to Kyambura Gorge and Queen Elizabeth Park. Its exclusive setting and direct access to the gorge earn its recognition as one of Uganda's finest lodgings. The lodge is an ideal starting point for exploring the Gorge's natural wonders and the broader attractions of Queen Elizabeth Park.
Conservation enthusiasts will find Kyambura Gorge Lodge particularly attractive. Volcano Safari Lodges manage it, actively engaging in ecological conservation by maintaining a substantial buffer zone between the Gorge and nearby villages. This zone is crucial to a restoration project aimed at reviving the land's original state. The lodge invites guests to join in these efforts, with tree planting and other activities enhancing the area's ecological health.
At Kyambura Gorge Lodge, the amenities go beyond the ordinary, offering luxury infused with authentic African hospitality. Guests enjoy comfortable accommodations, birding, and nature walks that reveal the region's diverse flora and fauna. Staying at this lodge isn't just about finding a place to rest; it's an opportunity to immerse oneself in a blend of comfort, nature, and active conservation.
The Geography and Accessibility of the Gorge
Positioned on the park's northeastern side, Kyambura Gorge extends significantly, connecting closely with the Kazinga Channel. The visitor's center, located at the scenic Fig Tree Camp, sits atop the gorge's rim, offering spectacular views. The journey there might be tough, but a 4WD vehicle makes it navigable and adds an element of adventure to the experience.
Kyambura Gorge Safari offers an unparalleled experience, blending the thrill of wildlife encounters with the serene beauty of Uganda's natural landscapes. From the awe-inspiring views for photographers to the rich biodiversity for birdwatchers, Kyambura Gorge is a must-visit destination for those seeking an immersive safari adventure. If you're eager to explore this hidden gem and witness its wonders firsthand, contact Lifetime Experience Safari. Our team is ready to help you include Kyambura Gorge in your itinerary, ensuring a memorable and enriching journey through one of Africa's most captivating landscapes.
---
Here are some useful links that you may find helpful to check out: