Description
10-Day Big-7 African Experience in Uganda Safari –  Featuring Gorillas – Chimpanzee Trekking along with Wildlife in the Pearl of Africa.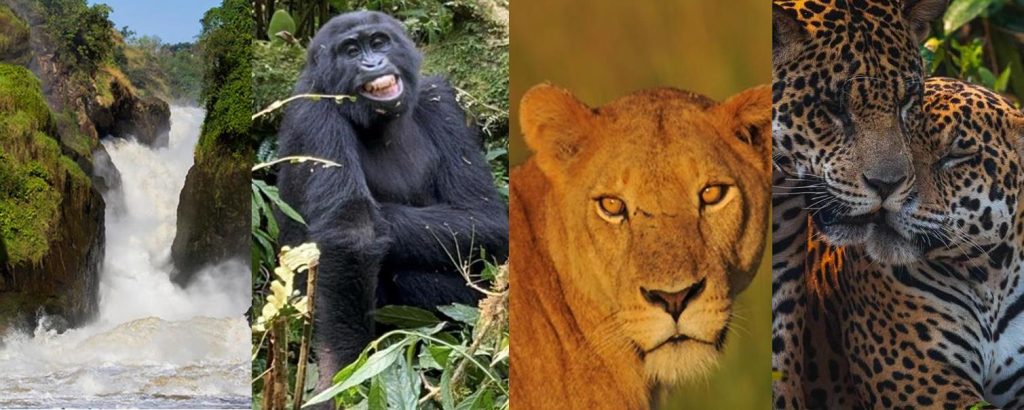 Set out on a 10-day safari through Uganda, traversing its Big-7 wildlife, which combines the classic Big 5 with Gorillas and Chimpanzees. The adventure takes you across five unique parks, including Murchison Falls for the heavily protected Rhinos and Kibale Forest for Chimpanzees. Witness tree-climbing lions in Queen Elizabeth Park, encounter mountain gorillas in Bwindi, relax and explore at Lake Bunyonyi, then top it off with Lake Mburo Park. Ideal for those seeking a comprehensive wildlife experience in the "Pearl of Africa."
Go with Lifetime Experience Safaris and discover the best of Uganda – When it comes to Safari Travel, we know you have a lot of choices.
---
Arrival Day in Uganda – A Warm Welcome to East Africa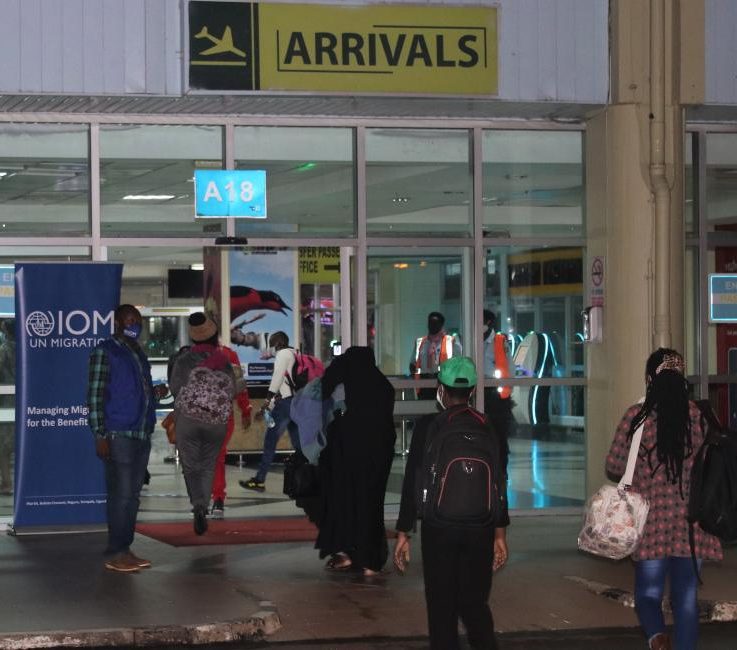 Upon landing at Entebbe International Airport, your friendly driver will be ready to receive you with a warm greeting. After swiftly completing immigration and customs procedures, head to the arrivals area, where our driver or your hotel's representative will await your arrival. Rest assured, entering Uganda is a smooth process facilitated by helpful officials. Typically, the airport formalities take approximately 45 minutes to an hour.
Most lodges and guesthouses in the Entebbe vicinity offer complimentary airport transfers, or we can arrange transportation to your chosen accommodation if necessary. Ensure you have your Uganda Tourist Visa and Yellow Fever Certificate ready. We are based in Kampala, an hour away. We can arrange your arrival and the final night upon your request. As you arrive in Entebbe, please note that you will need to purchase a standard Tourist Visa for $50 beforehand, with a Yellow Fever Certificate being a mandatory requirement. Exceptions may apply in specific cases, such as pregnancy.
---
Day 1: Ziwa Rhino Sanctuary and Murchison Park -Afternoon Game Drive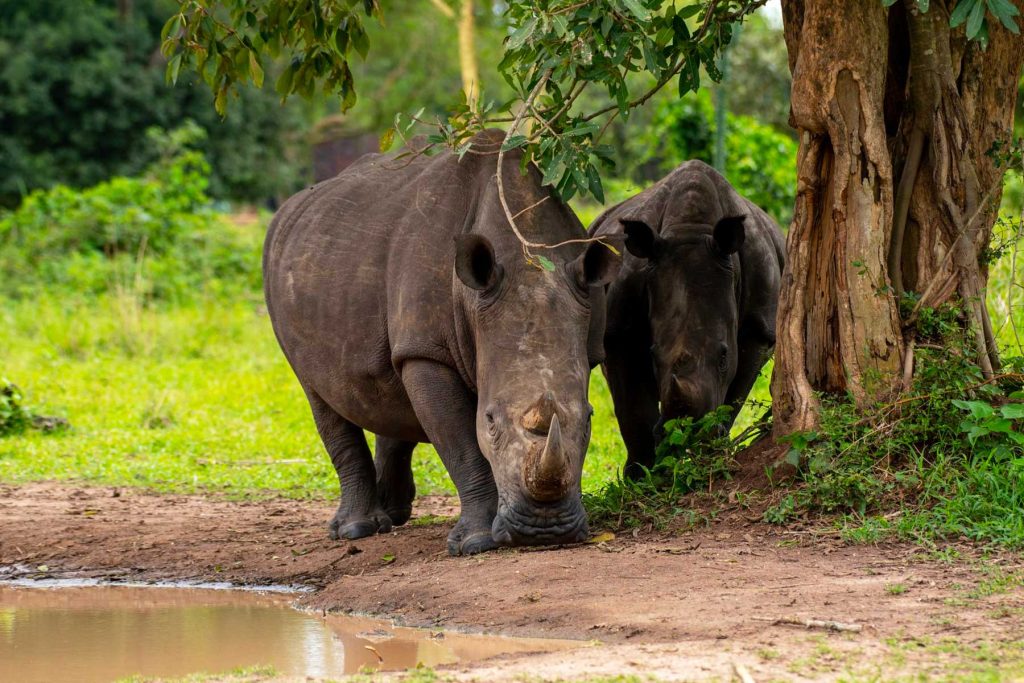 We kickstart your African Adventure Safari by picking you up from your chosen accommodation in Kampala after a delicious breakfast. Our journey begins with an early morning four-hour drive to the Uganda Ziwa Rhino Sanctuary. To make the most of your day and avoid the hustle and bustle of Kampala's morning traffic, we recommend hitting the road no later than 6:30 a.m. as we need to find the rhino active.  During the drive, we'll keep you refreshed with bottled water.
Ziwa Rhino Sanctuary is a remarkable place dedicated to the revival of rhinos, which were sadly pushed to the brink of extinction due to poaching during Uganda's troubled past. These creatures are hunted for their valuable horns, which can fetch an astonishing $50,000 or more per pound. The sanctuary takes their protection seriously, with round-the-clock security and a solar-powered electric fence ensuring their safety.
When you arrive at the sanctuary, our knowledgeable ranger will give you an informative introduction to the facility and share fascinating insights about the resident rhinos. Depending on the rhinos' whereabouts, we'll drive you as close as possible and then proceed on foot for a once-in-a-lifetime opportunity to observe these magnificent creatures in their natural habitat. Rest assured, your safety is our priority, making this a truly extraordinary 1½ hour African adventure. For those looking to extend their stay, there is a comfortable and clean mid-range Amuka Lodge with a restaurant serving delicious meals and beverages. Ziwa Rhino Sanctuary Guesthouse is the budget alternative.
Murchison Park – Afternoon Game Drive
After this incredible experience, we continue with our journey to Murchison Falls Park, formerly known as Kabarega Falls. Upon arrival at the park, you can choose from a range of accommodations to suit your preferences.
Lunch
Following your meal, prepare for an exhilarating game drive where you'll have the opportunity to spot a wide array of wildlife, including lions, elephants, giraffes, antelopes, warthogs, and buffaloes. Your journey through Murchison Falls National Park will be guided by an expert who knows where to find these elusive creatures, ensuring a relaxed and informative experience.
Day 2: Morning Safari drive, Afternoon Nile boat Safari, and Top of the Falls Hike/ Excursion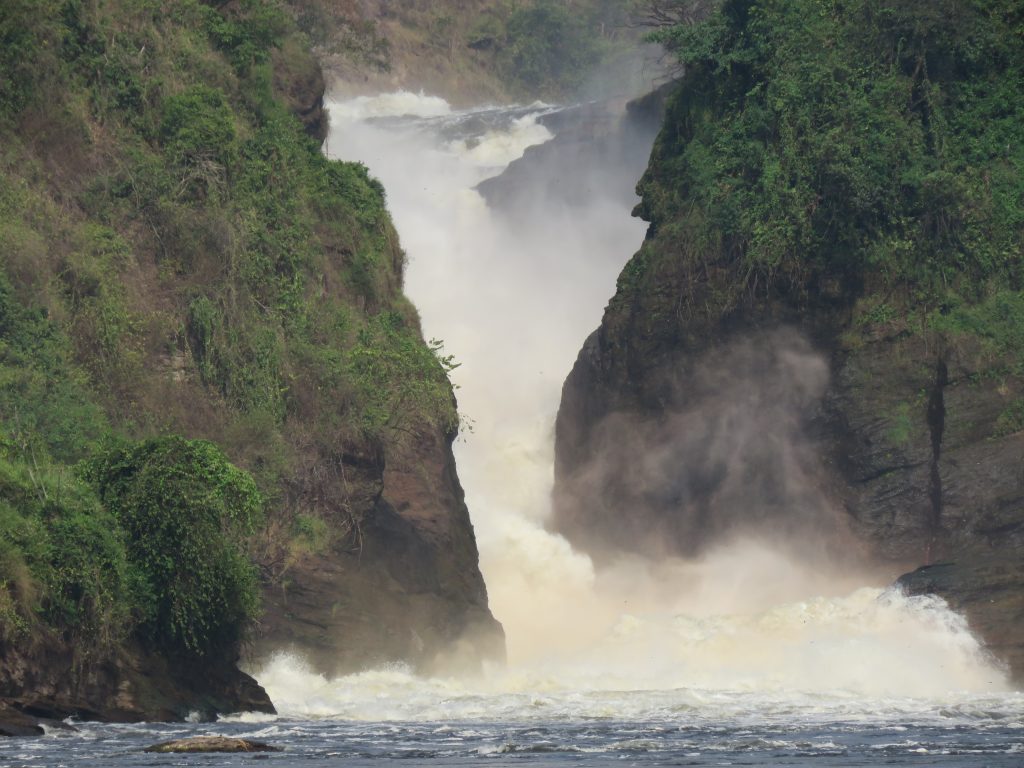 Enjoy an early morning breakfast before heading out for a thrilling game drive. As you travel along Lake Albert and through the savannah, you will spot various new animals and birds. You will feel satisfied that you came here and won't desire to return to the lodging facility for rest and lunch.
After lunch, prepare for one of the major highlights of Murchison Falls National Park – a motorized boat ride on the Nile to view crocodiles, hippos along the bank and in the river, birds, monkeys, buffaloes, elephants, and much more. This three-hour trip will take you to the bottom of the World's Most Powerful Waterfall, where you can witness the fall's beauty. Upon reaching the bottom of the waterfall, we will disembark to begin a guided hike to the top. Wear a hat and apply lots of sunscreen. Also, use insect repellent to avoid being bitten by Tsetse flies.
The experience will be quite exhilarating as the ground trembles from the power of the waterfall, and the refreshing mist from the falls cools us down. Once we reach the top, your driver-guide will meet you, and we will cross the Nile, then return to the Lodge for dinner and a calm evening on our second night in the African Wilderness, complete with its unique sounds.
Day 3: Drive to Fort Portal – Kibale Chimpanzee Forest Park
Breakfast early, and we move on to Kibale Forest, driving to some beautiful countryside, which is a bonus along the way. Lunch along the journey, and of course, we provide drinking Water while in the vehicle as we travel.
This is a 6½ – 7-hour drive, and we break the journey when we reach Fort Portal town, where we'll have lunch before proceeding to our lodge in or near Kibale Park. We check in, have dinner, and rest for the night after a long day of travel.
Lodging at Isunga Lodge
Day 4: Kibale Forest Chimpanzee Tracking & afternoon Bigodi Wetland Sanctuary Walk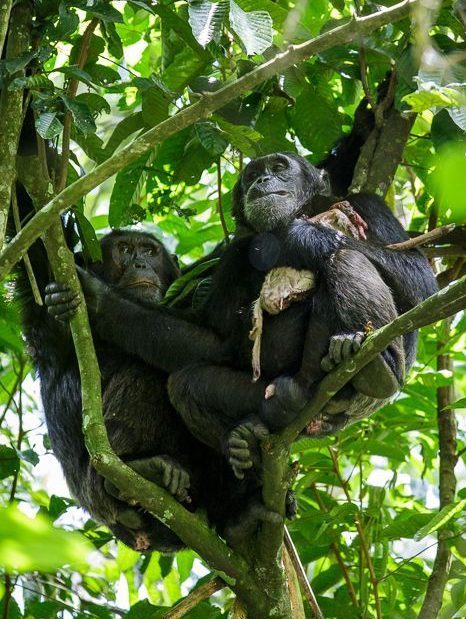 Start your day with a hearty breakfast, then head to Kibale Forest Park offices for an exhilarating Chimpanzee Tracking adventure. This guided trek will introduce you to the park's diverse primate population, typically showcasing at least 5 or 6 different primate species.
The trek isn't just about chimpanzees; it's an opportunity to explore the forest's rugged beauty and its vibrant ecosystem. Kibale Forest teems with colorful butterflies and exotic birds, providing an immersive experience beyond chimpanzee tracking.
The chimpanzees you'll encounter are habituated to human presence, making for an engaging and safe encounter. The Chimpanzee Trek lasts about 3½ hours, with a minimum age requirement of 15 years. If you're traveling with children, we offer an alternative activity with Rangers.
For a unique experience, consider the full-day Chimpanzee Habituation Experience.
Afternoon Bigodi Swamp Wetlands Hike
After a fulfilling morning, treat yourself to a delicious lunch. Later, embark on a hike in the captivating Bigodi Swamp Wetlands, which are situated next to Kibale Forest. Here, you might have another opportunity to catch a glimpse of chimpanzees, and the wetlands are a haven for bird enthusiasts, with the striking "Great Blue Turaco" being a highlight.
Bigodi Wetlands Sanctuary is a well-executed community initiative, with entrance and guide fees going directly towards supporting the local community. The sanctuary's lush vegetation alone is worth the trip, creating a fascinating environment filled with life. While hippos and crocodiles may be absent, it's still a captivating jungle experience.
Bigodi Wetlands Sanctuary effectively extends the vast Central African Jungle into East Africa, providing a unique opportunity to immerse oneself in this pristine ecosystem fully.
Day 5: Move to Queen Elizabeth Park, Late morning Explosion Crater Drive and Afternoon Safari Drive
We start our day with breakfast and a scenic 2½ hour drive to Queen Elizabeth Park. Upon arrival at the Lodge, we take a captivating journey along the Katwe Explosion Crater drive, which spans twenty-seven kilometers of breathtaking scenery. This route leads us to the highest point within Queen Elizabeth Park, offering splendid vistas of the Rwenzori Mountains of the Moon, the Western Rift Escarpment, the vast Savannah below, and the interconnected Lake George and Lake Edwards, being joined by the natural Kazinga Channel. This area is renowned for its approximately 12 explosion craters recently featured in National Geographic.
Upon arrival, we check in at your lodge and prepare for an exciting afternoon game drive. Our vehicle has a pop-up roof, allowing you to stand and capture better pictures as we explore the euphoric tree-studded savannah. During this game drive, you'll have the opportunity to observe lions, leopards, bush pigs, giant forest hogs, elephant herds, buffaloes, various antelope species, an array of savannah birds, hyenas, monitor lizards, and occasionally even a rock python, among other fascinating wildlife.
Day 6: Morning Safari drive and afternoon Kazinga Channel Launch Cruise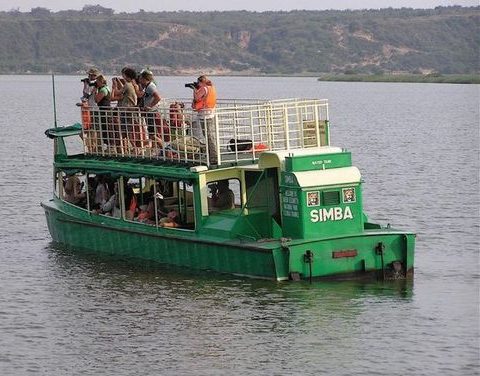 Imagine waking up to the smell of a delicious breakfast while on Safari and then heading out on a morning game drive to catch glimpses of nocturnal animals before they call it a night. As you drive through the savannah, you might spot a herd of Elephants crossing the track ahead of you, a pair of lions in the distance, buffaloes grazing in the early morning hour, or even a rock python here or there. With birds flying overhead, the 2½ to 3-hour game drive will pass by in the blink of an eye.
Returning to your accommodations at Queen Elizabeth, you can enjoy some unscheduled time before lunch. After lunch, you'll embark on a boat safari along the Kazinga Channel, where you'll find hippos – lots and lots of hippos. It's home to the highest concentration of hippos in Africa. At one time, there were too many hippos, and they denuded the surrounding grasslands. Before independence, the wildlife authorities culled them, and locals ate the meat. After Idi Amin came to power, poachers and soldiers hunted them, and again at the fall of Idi Amin, many hippos were shot by locals, rebels, and soldiers.
The boat ride offers stunning views of hundreds of birds of all kinds, some crocodiles, elephants, and buffaloes. With any luck, you'll capture a great shot of an open-mouthed hippo. It's sure to be one of the many highlights of your safari to Queen Elizabeth National Park. After dinner, take in the African star-filled sky as you sit outside quietly and soak up the atmosphere.
Day 7: Head south toward Bwindi Gorilla Park Via Queen Elizabeth Park – Ishasha Region famous for its Tree-climbing lions.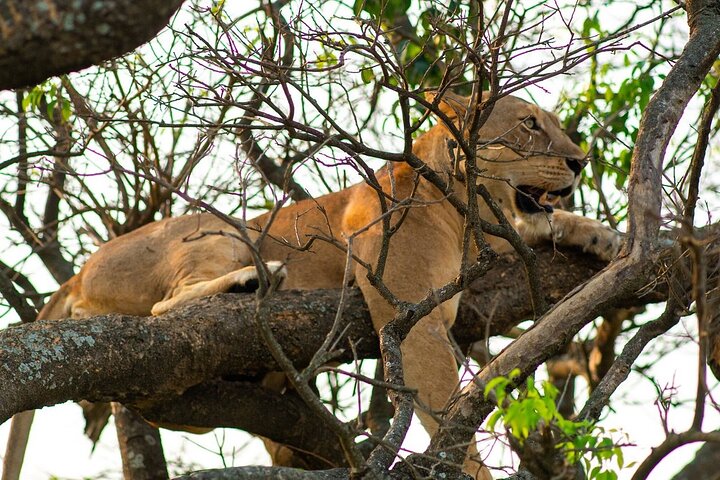 After a late breakfast, we will drive towards the south through beautiful savannah grasslands, heading towards the thrilling adventures of Bwindi Impenetrable Forest National Park. This area is fabulous for spotting lions draped from the trees, and nowhere in Africa do you stand a better chance of seeing this than in the large, low-limbed fig trees of Ishasha. Here, we will embark on a 2½ hour game drive guided by a UWA expert, followed by lunch at the Savannah Resort Hotel.
In the afternoon, we will proceed to Bwindi Gorilla Park. However, this plan is highly situational as it entirely depends on the weather season during your visit. Accessing this part of the park during the rainy season can be challenging, and it's advisable not to take any chances. It doesn't matter what kind of 4×4 vehicle you are using.
Alternatively, we will travel through cultivated expanses on our way up to Bwindi Park, and there will be no game drive. The location of lodging will depend on where your permits are for inside the park. Bwindi, Mgahinga, Upon arrival at Bwindi Impenetrable Forest Park, we will check into the lodging of your choice. In the afternoon, we will take a forest walk and have plenty of opportunities to see mammals and birds, guided by a Uganda Wildlife Authority Ranger. We will return to the lodging facility for a break, dinner, and a good night's sleep.
Lodging: Bakiga Lodge – All meals
Day 8: Mountain Gorilla Trekking – Bwindi Impenetrable Forest Park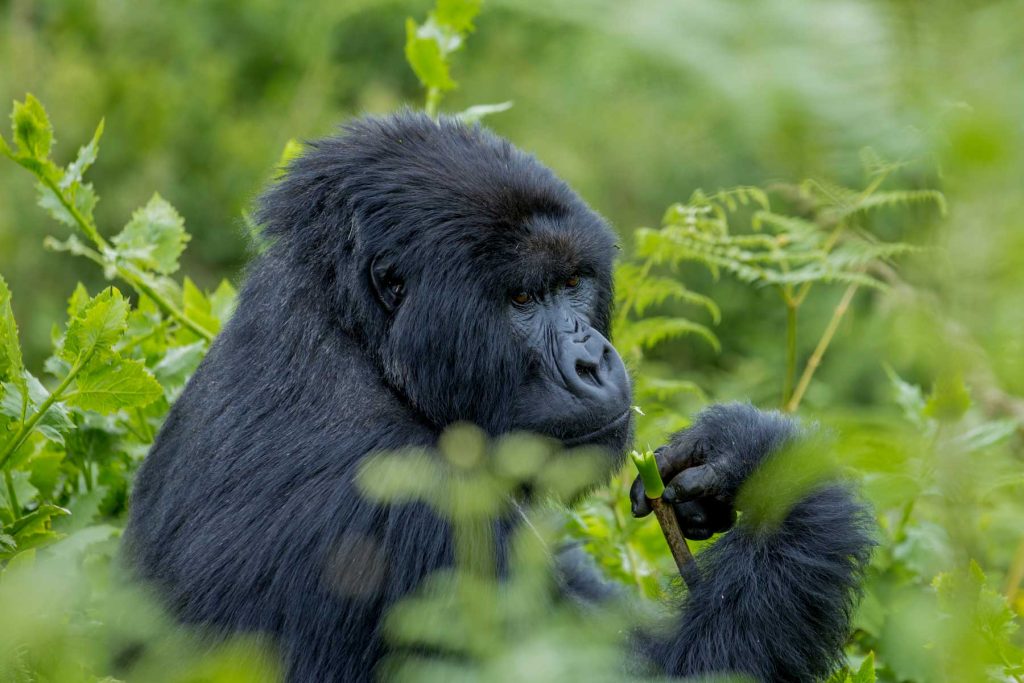 Begin your day with breakfast and head to the registration and pre-track briefing point. Accompanied by a Uganda Wildlife Authority guide and other trackers, we will trek through the rainforest and bamboo-covered slopes to search for a mountain gorilla family. Bring a daypack, 2 liters of water, jeans, a long-sleeved shirt, a hat, and sunglasses for your Gorilla Trek adventure. You'll need tough gardening gloves made of cotton to help you pull yourself up on branches and vines. It's also best to bring a light rain jacket and hiking boots. Here is a detailed list of essential gear for gorilla trekking.
If you wish, you can buy a walking stick and hire a porter to carry your things, but these are optional and not included in the safari price. During the Gorilla Trekking Briefing and Orientation session in the morning, pre-trackers will locate the gorilla family that you've been assigned to. The Gorilla Trek can take five-plus hours, depending on which group you are tracking, as gorillas move daily.
After the trekking experience, we can return to our accommodations or move to Lake Bunyonyi for exploration and relaxation. If time permits, we can visit a pygmy village in the afternoon and gain cultural insights into the local Batwa culture. For further information about Bwindi Impenetrable Forest National Park, kindly inquire.
Lodging Lake Bunyonyi Eco-Resort
Day 9 – Move to Lake Mburo: It is early breakfast and off to Lake Mburo National Park.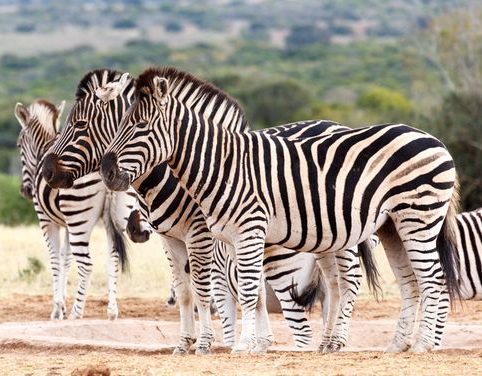 Breakfast, and head to Lake Mburo Park, another beautiful Park. Check out the lovely Kigezi highlands, the scenery is simply soothing to the eye in the evergreen state of Africa. You can stay at one of the classy up-market tented camps that are eco-friendly and simply one of the most excellent places you have ever stayed.
Arrive for lunch at your choice of lodging at Lake Mburo.
After enjoying your lunch, you can go for an exciting afternoon game drive in Uganda, where you will get to see a variety of wildlife in addition to the famous mountain gorillas in Bwindi. Some of the animals you can spot include zebras, warthogs, buffaloes, klipspringers, elands, orbits, and waterbucks. Lake Mburo National Park is especially renowned for its impalas, which are small antelopes that graze on herbs. Interestingly, the capital city of Kampala derives its name from the impala. If you are feeling adventurous, you can also opt for a horseback or ATV quad safari. The choice is entirely yours.
Day 10 – The 10-Day Big-7 African Experience Steadily coming to an with a Walking Safari and Journey to Entebbe Airport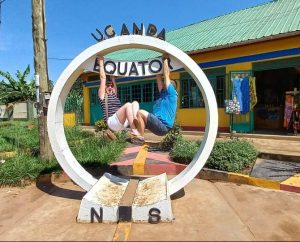 Breakfast and checkout. We pick up a UWA-armed guide for a 1½ nature walk before embarking on our journey to Entebbe/Kampala.
We used to arrange an afternoon boat safari at this location. However, in most cases, we are required to meet the minimum number of participants or make the whole payment required to run a one-hour boat trip. Since we have already been on more exciting boat safaris earlier this trip, we believe replacing it with a walking safari would be more thrilling and enjoyable.
As we continue our journey, we will stop at Masaka for lunch. Afterward, we will make our way back towards Kampala and take a break at Nabusanke Trading Center. Here, you will have the chance to stand on the equator, snap photos, and purchase souvenirs and crafts. We'll continue with our journey reaching Entebbe in the late afternoon, thus concluding our 10-Day Big-7 African Experience Uganda Safari.
Here is what we offer in our 10-Day Big-7 Gorillas-Chimpanzees Private Safari:
Bwindi Gorilla Trekking Permit
Chimpanzee Tracking Permit
Rhinos Tracking
Private Safari Vehicle and Driver-guide
Round trip Fuel
Bottled Water for the journey
Entrance to Parks, including Vehicle
4X4 Wildlife Game drives with Wildlife Expert
Nile River/Murchison Falls, Kazinga Channel & Lake Mburo Boat Safaris
Full Board lodging except for drinks
Lunch on the way up and back to Kampala
Not included: Fizzy and alcoholic drinks, laundry, phone calls, tips to lodge staff.
---
Submit the form below for more details about this 10-Day Big-7 African Experience Uganda Safari itinerary, and let us customise your journey. Email us or call +256777201697 to explore Uganda.