Bigodi Wetlands Sanctuary – Safari Near Kibale Forest
Discover Bigodi Wetlands Sanctuary: A Jungle Swamp Near Uganda's Kibale Forest Park
Experience an Unforgettable Safari in the Bigodi Wetlands Sanctuary: A Jewel in Uganda's Crown.
African wetlands – full of mosquitoes and awful smells, right? Wrong! Many travelers do not look forward to this part of their safari trip around Uganda – others just expect something nice – but a couple of hours spent at Bigodi Wetlands Sanctuary can be a real highlight of your holiday.
Bigodi Wetlands Sanctuary – a Jungle Swamp is an award-winning community sustainable Tourism project where visitors have the opportunity to see a Jungle Swamp. Bigodi Wetlands Sanctuary is unknown to most visitors to Uganda. Those who know Uganda know Kibale Forest and its neighbor Bigodi Wetlands Sanctuary realize that it is one of Uganda's Must-Visit Places.
Bigodi Wetlands Sanctuary is rich in Biodiversity; its Flora and fauna make it worth visiting. Wild Palms, Polita Fig Trees, and the ever-dominant Papyrus, among the many other plants, flowers, and trees, await you. It is almost the perfect setting for an adventure tale from the past. You see an expansive variety of animals, too – birds, mammals, fish, reptiles, and many invertebrates.
---

The Journey to the Bigodi Wetlands
A trip to Kibale National Park is mainly for Chimpanzee Tracking. During Chimpanzee tracking, the focus is solely on tracking the chimps. No attempt is made to pause, track, or identify other inhabitants of the forest. If you go on a leisurely Bigodi Swamp walk, you will get the chance to spot other mammals, insects, and plenty of birds. This is a long, scenic tour where you can learn a lot about the wildlife and the local community. It is an excellent sanctuary for bird lovers, primate enthusiasts, entomologists, and plant enthusiasts alike.
Best Time to Explore Bigodi Wetlands Sanctuary During your Safari.
The walk around the wetlands is approximately 4½ – 5km long and can be completed in about 3 hours due to the abundance of sights to see. The path takes you through various terrain, including swamps and farmland, and is mostly flat. Wooden walkways over the wetter areas make it easy to navigate. This area is near Kibale, where you can experience chimpanzees, so it is definitely worth doing if you are in the vicinity. The best times to visit are early morning at 7:30 am, which is excellent for birdwatchers, or in the afternoon at 2 pm or 3 pm, after chimpanzee tracking in Kanyanchu – Kibale. During these times, you can catch primates as they are busy stocking up on food or filling their stomachs. Walking around is highly productive, so you can combine this with a morning forest walk on the same day.
Conservation and Community: The Heart of Bigodi
At the core of the Bigodi Wetlands Sanctuary experience is a profound commitment to conservation and community. The sanctuary is managed by local communities, ensuring that your visit contributes to preserving this unique ecosystem and supporting local livelihoods. This commitment to sustainable tourism, recognized by UNESCO, makes the Bigodi Wetlands Sanctuary Safari not just a journey but a contribution to a greater cause.
Flexible Safari Adventures
Tailoring to the needs of every visitor, the Bigodi Wetlands Sanctuary offers flexible safari walks. Whether you're an early bird or prefer an afternoon stroll, these guided walks are designed to enhance your experience. Led by knowledgeable locals from KAFRED, each safari is an opportunity to delve deeper into the wonders of Bigodi, making it a highlight of your Ugandan adventure.
Rates for the Safari Adventures
All activities at the Bigodi Wetlands Sanctuary range between 25 – 15 USD (January 2024)
---
Top Things to Do and See on a Bigodi Wetlands Sanctuary Safari
1. Bigodi Wetlands Sanctuary Nature Walk and Wildlife Encounters During Your Safari

Visit the stunning Bigodi Wetlands Sanctuary, a hotspot for biodiversity and scenic beauty. Embark on a 4.5km walk, taking about 3 hours, through the key wildlife corridor of Kibale Forest.
This sanctuary, known as the "Home of the Great Blue Turaco," is a paradise for bird watchers. It hosts over 200 bird species, including Hornbills, Turacos, Parrots, Cranes, Kingfishers, and many swamp-special birds. Plus, it's home to 8 primate species like the Black and White Colobus, Red Colobus, Red Tailed Monkey, and others. You'll also find mammals like sitatungas, bushbucks, and otters.
Enjoy a guided tour with local experts through lush vegetation, forest pathways, boardwalks, and a high tree house for an exceptional wildlife view.
A trained Sanctuary guide must accompany visitors. The office is open daily from 7:30 AM to 5:00 PM. The best walking times are 7:30-9 AM or 3 PM, although you can start your walk any time. The tour, lasting up to 3 hours, winds through the wetlands, often on boardwalks above water.
2. Unveiling the Cultural Heart of Bigodi Village

Embark on a captivating cultural journey in Bigodi, a complementary experience to the Bigodi Wetlands Sanctuary nature walks offered by KAFRED. Led by our expert English-speaking field guides, you'll delve into the rich traditions of Bigodi village. Spanning 3 to 4 hours, the pace of this walk is tailored to your group, allowing you to immerse in the experience fully.
Your adventure begins with a visit to a local traditional healer. Here, in an atmosphere filled with mystery and wisdom, you'll learn about the spiritual beliefs, medicinal herbs, and ancient practices that have shaped the community's way of life. This encounter provides a unique window into traditional Ugandan medicine and spirituality. As the walk progresses, you'll step into the homes of the village elders. These storytellers and custodians of history will share fascinating tales about the customs surrounding birth, marriage, and traditional ceremonies. Their narratives vividly portray the village's past and present, shedding light on the challenges and transformations within this rural Ugandan community.
The journey through Bigodi also weaves through the everyday life of the villagers. You'll gain insights into the Ugandan school system, visit a local church, and explore the bustling trading center, the heartbeat of rural activity. You experience how coffee and banana juice are made. Don't miss the Banana Man on beer; gin making and tasting is entertaining. You learn a lot without any theatrical aspect experience.
Throughout this enlightening walk, your field guide will be ready to answer questions, offering a deeper understanding of the cultural fabric of Bigodi. This experience is more than just a walk; it's an invitation to connect with the heart and soul of rural Uganda, leaving you with lasting memories and a profound appreciation of this vibrant community.
3. Bigodi Women's Group Handicrafts Demonstration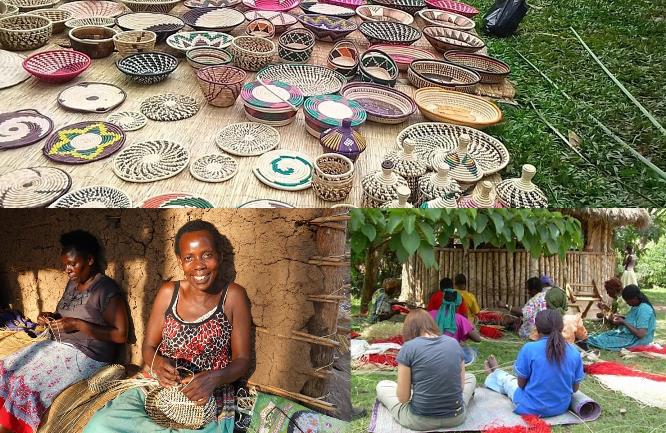 The Bigodi Women's Group, consists of 40 voting members and 150 skilled weavers. For over 15 years, they have honed their craft and expanded their market globally. You can find their beautiful baskets, mats, bags, jewelry, and other crafts at the KAFRED office in Bigodi, at the Kanyanchu Visitor Centre in Kibale Forest National Park, and internationally through exports.
These artisans use local materials like millet straw, banana fibers, raffia, and Phoenix palm leaves, along with natural plant-based dyes grown at their homes.
Purchasing these crafts supports local artistry and contributes to community development. 10% of all sales go towards local initiatives, including funding the Bigodi Pre-Primary School and supporting orphans, widows, disabled, and other underprivileged community members. The group also promotes conservation through educational field trips for school children and by creating songs and plays with conservation themes.
Handicrafts are available for purchase on-site, with prices varying based on size, materials, shape, dyes, and other factors.
Remember to Tip Your Guide:
The guides put in tremendous effort to ensure you have a memorable and enriching experience. If you appreciate their dedication and knowledge, consider showing your gratitude with a tip. It's a great way to thank them for their exceptional service and hard work.
Conclusion: A Safari Not To Be Missed
Explore Uganda's natural splendor with the immersive Bigodi Wetlands Sanctuary safari. This destination is more than just a place to visit; it's an experience that takes you on a journey into the heart of the country's diverse wildlife, culture, and stunning scenery. If you're venturing into Kibale Forest, be sure to add this safari to your itinerary. With its commitment to conservation and breathtaking landscapes, it's an essential part of any Uganda safari experience. Discover for yourself why the Bigodi Wetlands Sanctuary is a crown jewel of Uganda's natural attractions. To make the most of your adventure, be sure to follow your Chimpanzee tracking experience with the Bigodi Swamp walk – an authentic, necessary, and enjoyable way to spend your afternoon.
---
Below are some links that you may find useful to explore:
---