Description
7-Day Gorilla – Chimpanzee Trekking, Queen Elizabeth and Lake Mburo Park Wildlife Uganda Mini-Loop Safari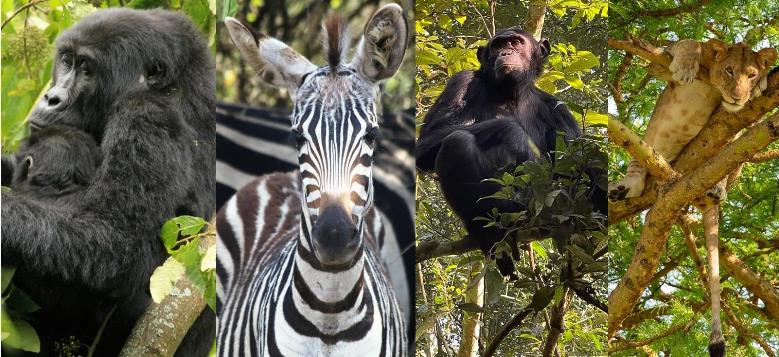 Experience 4 Ugandan Parks in 7 Days: Track mountain gorillas in Bwindi Impenetrable Forest, explore wildlife in Queen Elizabeth and Lake Mburo Parks, and immerse yourself in Kibale Forest Park for either a Chimpanzee Trekking or Habituation Experience, visit Bigodi Wetlands Sanctuary's jungle swamp. This 7-day gorilla and wildlife safari in Uganda offers a quintessential Ugandan experience, all condensed into one action-packed week. It's a preferred safari tour in Uganda, the Pearl of Africa, where you'll enjoy unique activities unavailable in any other East African nation. Experience a concentrated taste of Africa in the small yet incredibly diverse country of Uganda.
---

The Uganda Mini-Loop Safari Highlights
Gorilla Trekking – Ruhija Area – Bwindi Impenetrable Forest
Chimpanzee Trekking – Kibale Forest Park
Kazinga Channel Wildlife-Reptile-Bird Boat Ride
Game Drives, including the famous Ishasha 
Explosion Crater Drive in Queen Elizabeth Park
Bigodi Wetlands – Jungle Swamp Hike
Visit Lake Bunyonyi
Lake Mburo National Park Game drive
Local Driver/Guide who is friendly and knowledgeable.
---
Entebbe International Airport Arrival information
Upon arriving at Entebbe International Airport, your friendly team will be ready to receive you warmly. After completing immigration and customs, step into the arrivals area, where our driver or the hotel's representative will be waiting to greet you. Your entry into Uganda is hassle-free, with officials known for their assistance. The airport process typically takes around 45 minutes to an hour. Most lodges and guesthouses in the Entebbe area often offer complimentary airport transfers, while we can transport you to your chosen lodging if needed. Remember to have your Uganda Tourist Visa for $50 beforehand with a Yellow Fever Certificate being a mandatory requirement. Exceptions may apply in specific cases, such as pregnancy.  If you plan to venture into Rwanda or Kenya, we recommend the East Africa Tourist Visa. We're based in Kampala, an hour away, and can arrange your arrival and last night upon request.
Day 1: Pick up and head west to the Kibale Forest Chimpanzee Park
Our 7-day gorilla and wildlife safari begins after breakfast at your preferred Kampala or Entebbe lodging, followed by a Westward 5-6 hour drive to the Kibale Chimpanzee Park. Your English-speaking driver and our 4-wheel drive vehicle will ensure that you have a pleasant journey through the Ugandan countryside. As you travel, you'll appreciate Uganda's nickname, the Pearl of Africa, because of its scenic views. Depending on the schedule, we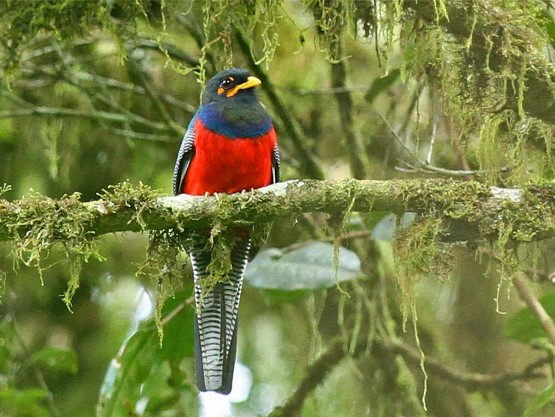 may stop at Fort Portal town for lunch or continue to your preferred Kibale Forest National Park lodging. Fort Portal town is named after Sir Gerald Portal, a British Special Commissioner for Uganda, whose statue graces the main road of the town.
Lunch
At 3 p.m., we go for a guided nature walk in Bigodi Wetlands Sanctuary. Our expert guide will accompany you through this fascinating jungle swamp, where you'll walk on planks above the swamp and discover the sanctuary's diverse flora and fauna.
Birdwatchers can discover over 200 bird species at Bigodi Wetlands Sanctuary, making it a haven for birding enthusiasts. The sanctuary is home to a variety of birds, including the Large Blue Turaco, Brown Parrots, White-spotted Flufftail, Yellow-spotted Barbet, Hairy-breasted Barbet, Yellow-billed Barbet, Western Nicator, Grey-winged Robin-chat, White-tailed Ant-thrush, Brown-backed Scrub-robin, Black-and-white Shrike-flycatcher, Brown-throated Wattle-eye, Superb Sunbird, Brown-crowned Tchagra, Bocage's Bush-Shrike, Black Bishop, White-breasted Negrofinch, and Black-crowned Waxbill.
Bigodi Wetlands Sanctuary is also home to various primates, including Chimpanzees, red colobus monkeys, baboons, black & white colobus monkeys, blue monkey grey-cheeked, mangabey, vervet monkeys, red-tailed monkeys, and the L'Hoest monkey. Mammals such as Sitatunga semi-aquatic Antelopes, mongooses, bush pigs, otters, and bushbucks can also be spotted.
Lodging included: Isunga Lodge – All meals.
Other options in the area: Moderately priced Turaco Treetops Lodge, Upscale Papaya Lake Lodge
Day 2: Chimpanzee Tracking – Kibale Forest – Journey to Queen Elizabeth Park – Explosion Crater Drive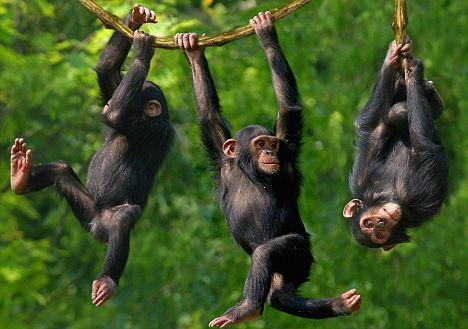 Rise early for breakfast and drive to Kanyanchu Park headquarters. Here, a forest guide will brief you on chimpanzee tracking. Kanyanchu, in central Kibale, serves as the starting point for famous forest walks, including the Primate Walk.
During the three-hour chimp tracking, you have a 98% chance of spotting these endangered relatives. You'll listen for their pant-hooting calls to locate them, then spend an hour observing and photographing them up close. These habituated chimps continue their activities, unperturbed by your presence.
Beyond chimpanzees, you'll likely encounter other primates such as Black and White Colobus Monkeys, Red-Tailed Monkeys, and Olive Baboons. The forest also boasts an impressive array of birdlife, including the Great Blue Turaco.
For the trek, wear long trousers, preferably jeans, long-sleeved shirts, light hiking boots, and a wide-brimmed hat. In your daypack, include a liter of bottled water and a light rain jacket.
Perched at 3,300 feet, Kibale Forest extends the vast rainforests of central Africa. It houses three large chimp communities, each featuring over 100 individuals with complex social structures. Dominant adult males protect the territory, while females usually roam in small family groups.
Option:  Instead of Chimpanzee trekking, where you are with a group of Chimpanzees for one hour, you can be on an all-day Chimpanzee Habituation Experience.
After tracking, we can have lunch at the lodge or on the way to Queen Elizabeth Park.
Transition to Queen Elizabeth Park and Explosion Crater Drive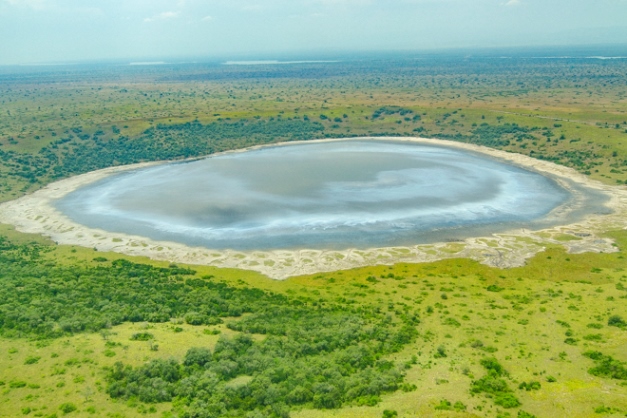 After the trek, we'll continue our journey to Queen Elizabeth Park in a 2½ – 3 hour drive. Before we check in at the Lodge, we take the most scenic Katwe Explosion Crater drive, which is 27 kilometers of scenic wonders.
It is the highest point of Queen Elizabeth Park, with splendid views of the Rwenzori Mountains of the Moon, the Western Rift Escarpment with the vast Savannah below, Lake George, and Lake Edwards connected by the natural Kazinga Channel. There are about 12 explosion craters, made famous recently by a picture in National Geographic.
Lodging: Bush Lodge – All meals.
Other options: Moderately priced Enganzi Game Lodge, Upscale Kasenyi Safari Camp, Mweya Safari Lodge, and luxury Kyambura Gorge Lodge.
Day 3:  Queen Elizabeth National Park; Safari/Game Drive and Kazinga Channel Boat Safari
Start your day with an early breakfast and drive to Queen Elizabeth National Park, which takes about 2½ – 3 hours. As you drive through Fort Portal town, you will enter the park on a game drive. The park is surrounded by the snow-capped 16,000-foot Rwenzori Mountains and, in the north, the "Mountains of the Moon." It is a conservation area that covers 767 square miles and is bordered on the North East by Lake George and Lake Edward on the South West. The park's western border adjoins the Zaire Parc Du Virunga. While you are on your game drive, keep an eye out for teeming herds of impala-like Uganda Kob, as well as topi, elephant, lion, giant forest hog, and Cape buffalo. There are also several soda lakes filling ancient volcanic calderas where flamingos reside seasonally. Once you arrive at your chosen lodging, check-in, have lunch, and relax.
At 3:00 PM, you will enjoy a leisurely boat safari along the Kazinga Channel. This safari provides a unique opportunity to see a variety of wildlife up close, including hippos, crocodiles, hundreds of bird species, elephants, and buffaloes. The slow boat ride is a memorable experience often considered one of the highlights of a Queen Elizabeth National Park safari. After the boat ride, you will return to the lodge for a delicious dinner and a well-deserved rest.
Day 4: Ishasha Region – Tree Climbing Lions and Bwindi Impenetrable Forest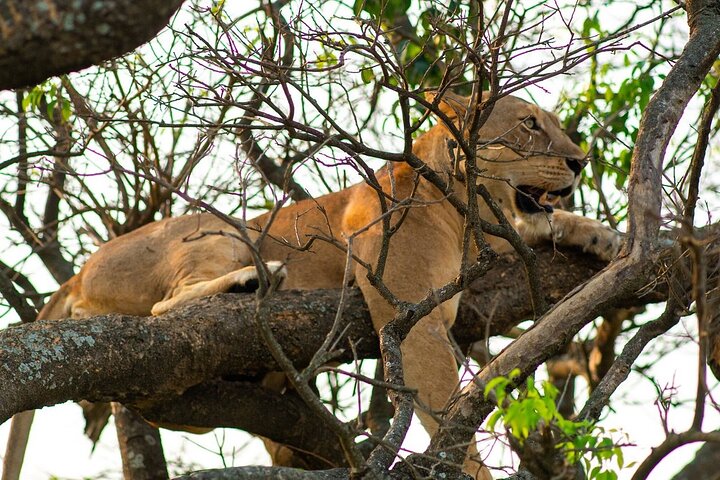 We started our day with an early breakfast and continued our safari by driving to the Ishasha region. This is where the famous tree-climbing lions can be found, making it the best place in Africa to see them. Ishasha is the unexplored section of Queen Elizabeth Park, but it's rich in wildlife, including vast herds of buffaloes, elephants, various antelopes (like topi antelopes), and, of course, lots of birds. One of the highlights of Ishasha is the shoebill, a bird species frequently seen in the lake swamps.
Lunch at Savannah Resort
Proceed to Bwindi Impenetrable Forest – Ruhija Region in 3 hours.
Lodging: Bakiga Lodge, Ruhija. A cozy haven that preludes our gorilla adventure!
Other options: Moderately priced Haven Lodge – Buhoma, Upscale and Luxury: Mahogany Springs, Buhoma Lodge, Bwindi Lodge, and Gorilla Forest Camp.
Day 5: Mountain Gorilla Trekking – Bwindi Impenetrable Forest
Ready for an adventure of a lifetime? The big day is here! Start your day bright and early with a hearty breakfast.
Remember to grab your packed lunch from the Lodge.
Your daypack essentials: Preferably a waterproof daypack, you can use it as a carry-on flying to Uganda. Pack all essentials inside of the daypack. A yummy lunch, 2 litres of water, a rain Jacket, or a Poncho: Pack into your daypack.
What to Wear for Gorilla Trekking in Uganda
Choosing the right attire for Gorilla Trekking is crucial. Unfortunately, many trekkers come unprepared, leading
to discomfort that distracts from the awe-inspiring experience. Dressing appropriately isn't just about comfort; it's about ensuring your safety and protection. Here's what you should consider wearing:
Long-Sleeved Shirts: Protects against scratches, insect bites, and the sun. Neutral colors are recommended.
Breathable Trousers: Opt for long pants that are durable and can protect your legs from thorns and nettles. Tuck them into your socks for added protection from ants.
Sturdy, Waterproof Hiking Boots: Essential for the often muddy and uneven terrain. Ensure they are broken in to avoid blisters.
Garden Gloves: These are helpful when holding onto branches or moving through dense vegetation.
A Hat: Protects your head from the sun and keeps it dry in case of rain.
Waterproof Jacket or Poncho: Even if the weather seems clear, rain can be unpredictable in the forests. You are in an Afro-montane Rainforest.
Thick Socks: These can be tucked into trousers to prevent insect bites.
Other items
Sunnies
Camera equipment: Pack extra batteries and storage devices in Ziploc bags. Binoculars are only necessary for birders.
Insect Repellant: We recommend using effective Australian RID Insect Repellent, as well as sunscreen and sunglasses.
You will need a Porter and Walking Stick: The services of a porter free you on the often-difficult trail, and a local walking stick helps you and steadies you on the often-challenging path. We supply our clients with both.
Optional walking sticks and porters for $20 can help lighten the load, but they're not included in the package price. Check out our list of what to wear on safari.
Remember, it's all about ensuring a comfortable and memorable experience with the Gorillas while staying protected.
Lodging: Lake Bunyonyi Eco-Resort – All meals
Other options: BirdNest Resort
Day 6: We move to Lake Mburo National Park:
We head to Lake Mburo National Park early in the morning, an ideal stopover location in Uganda. You can choose to stay at one of the eco-friendly tented
camps, some of the nicest places you have ever stayed in, or opt for the budget facilities.
Upon arrival, check-in and settle down, and enjoy lunch together, then, embark on a leisurely tour of the lake. There, you'll encounter an array of wildlife, including hippos, crocodiles, buffaloes, zebras, antelopes, and a variety of birds. Furthermore, the tour will also introduce you to other lakes in the area,
such as Kazuma and Lake Bwa.
Lodging:  Moderately priced Rwakobo Rock Lodge – All meals
Other options: Budget Eagles Nest Lodge or upscale Mihingo Lodge and Kigambira Safari Lodge.
Day 7: Morning Game Drive & Return to Kampala
Waking up on the last day of our 7-day Uganda Mini-Loop adventure, the serenity of Lake Mburo National Park surrounds us. This safari has offered unforgettable moments, and today, we'll add a few more to our collection.
After relishing breakfast at the lodge, lace up your boots for a different kind of safari – a walking safari. Unlike our previous game drives, today's safari on foot immerses us deeper into the wilderness, feeling the pulse of the wild.
Walking safaris are a distinctive feature of Lake Mburo National Park and offer a different perspective on wildlife. As you quietly stroll, watch for zebras, elands, impalas, buffaloes, and antelopes in their natural habitat. This intimate and immersive experience lets you notice smaller details of the park – footprints, droppings, insects, and diverse plants – that you might miss on a vehicle safari.
The nature walk lasts about 2-3 hours, depending on the pace and interests of the group.
Around late morning, as we start our journey back to Kampala or Entebbe, we'll pass through the equator line. This is a great photo opportunity! There's an informative talk about the equator phenomenon, and you can even witness a simple yet fascinating water demonstration.
We'll stop for lunch, arriving at Entebbe by the late afternoon. This marks the conclusion of your 7-day Uganda expedition. It's been an incredible journey filled with unforgettable memories and new friendships. We hope Uganda's diverse and mesmerizing beauty stays with you forever!
---
Here is what we offer in this Private 7 Day Uganda Mini-Loop Safari:
Gorilla Permit – Bwindi Park
Chimpanzee Tracking Permit
Lodging with all meals except for drinks
Ground Transportation in a 4×4 Private Safari Vehicle with a pop-up roof
The Bigodi Wetlands Sanctuary walk
Entrance to Parks, including Vehicle
Game drives (safaris)
2 Boat Safaris
Drinking Water on all drives
Equator Visit
Relevant Government Taxes
Not included in Safari price: Air Travel to and from Uganda, Uganda Visa Costs, Laundry, Tips, Drinks, except those included in lodging meal price
---
Contact us anytime for inquiries about our Uganda safari. We're here to help with any questions about our 7-day Chimpanzee-Gorilla Trek, Queen Elizabeth, and Lake Mburo Park Mini-Loop Safari.