Description
5-Day Primate-Focused Uganda Safari: Kibale Chimpanzee & Bwindi Gorilla Trekking Adventure
---

---
Welcome to our 5-Day Gorilla-Chimpanzee Trekking Safari in Uganda that seamlessly merges East Africa's finest primate encounters. Begin this adventure with gorilla and chimpanzee trekking, exploring the world-renowned Bwindi Impenetrable Forest and the diverse Kibale Forest. In 2019, CNN crowned Bwindi as the world's most stunning gorilla trekking destination, and you're about to find out why.
Kibale Forest, East Africa's leading primate sanctuary, houses an incredible diversity of 13 primate species, promising memorable Chimpanzee Trekking.
Your safari begins in Entebbe or Kampala and concludes at your starting point. Alternatively, end your journey in Kigali, Rwanda, saving the long return trip to Entebbe. The drive from Southern Bwindi Forest to Kigali is a quick four hours, while the return trip takes 9 to 10 hours.
For a leisurely return, relax at Lake Mburo National Park, midway between Bwindi and Entebbe/Kampala. Opt for the unique Gorilla Habituation Experience, spending four enriching hours with a Gorilla Family on a full-day trek in Rushaga, Bwindi Impenetrable Forest. It is an unforgettable adventure, bringing you closer to these magnificent creatures.
---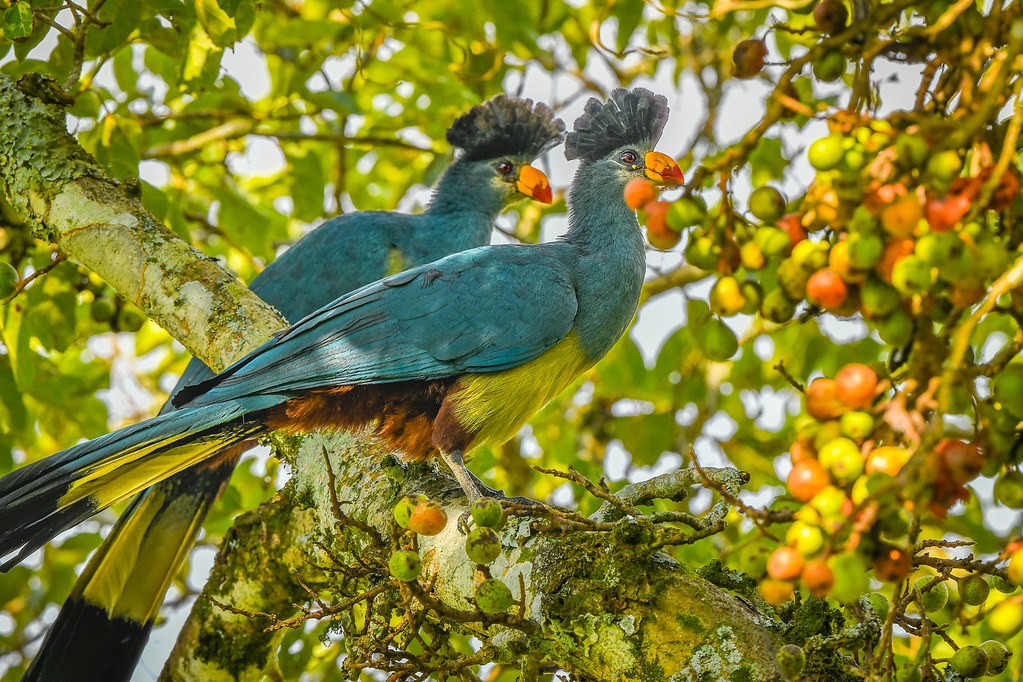 ---
Arrival Day in Uganda – A Warm Welcome to East Africa
Upon landing at Entebbe International Airport, your friendly driver will be ready to receive you with a warm greeting. After swiftly completing immigration and customs procedures, head to the arrivals area, where either our driver or your hotel's representative will be awaiting your arrival. Rest assured, entering Uganda is a smooth process facilitated by helpful officials. Typically, the airport formalities take approximately 45 minutes to an hour.
Most lodges and guesthouses in the Entebbe vicinity offer complimentary airport transfers, or we can arrange transportation to your chosen accommodation if we need to. Ensure you have your Uganda Tourist Visa and Yellow Fever Certificate ready. We are based in Kampala, an hour away. We can arrange your arrival and the final night upon your request. As you arrive in Entebbe, please note that you will need to purchase a standard Tourist Visa for $50 beforehand, with a Yellow Fever Certificate being a mandatory requirement. Exceptions may apply in specific cases, such as pregnancy.
---
Day 1: Departure from Kampala/Entebbe to Kibale National Park
The 5-Day Gorilla-Chimpanzee Trekking Safari starts early in the morning. You will depart from your hotel in Kampala at 7:15 a.m. and head towards Kibale Forest. The drive from Kampala will take around 4 hours plus, while it will take approximately 5 hours from Entebbe.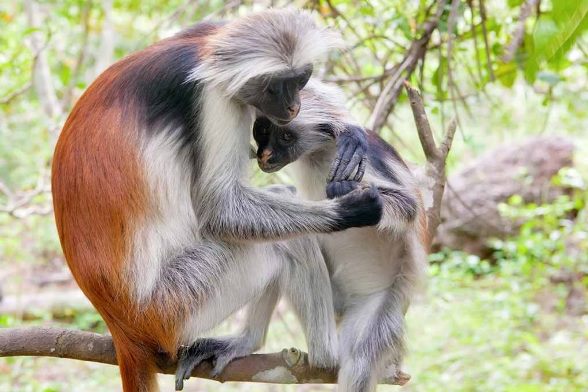 We will be driving towards the Western region of Uganda, specifically Fort Portal and the famous Explosion Crater Lakes area. Kibale Forest is one of the few places in Uganda where the jungles of West and Central Africa meet with East Africa.
Kibale Arrival & Afternoon Adventure:
Join a guided 3-hour hike through the Bigodi Wetlands Sanctuary in the afternoon. The hike takes you through a jungle swamp, with much of it on planks that act as a boardwalk above the swamp. Your experienced guide is from the local community that has maintained the wetlands for many years, with thousands of visitors each year.
During the hike, you might spot Chimpanzees, Colobus Monkeys, and Baboons. The area is well-known for birds, with the Blue Turaco being the chief attraction. You can also see mammals such as otters, bush pigs, mongoose, and the rare Sitatunga Antelope, to name a few.
Lodging: Isunga Lodge  – all meals
Other lodging options:
Day 2: Immerse Yourself in the World of Chimpanzees
Start your day with an early breakfast and proceed to Kanyankyu River Camp for an exhilarating chimpanzee tracking experience with an orientation at 8:00 a.m. which prepares you for the forest journey led by expert guides. Professional guides will lead you to a chimpanzee group that trackers have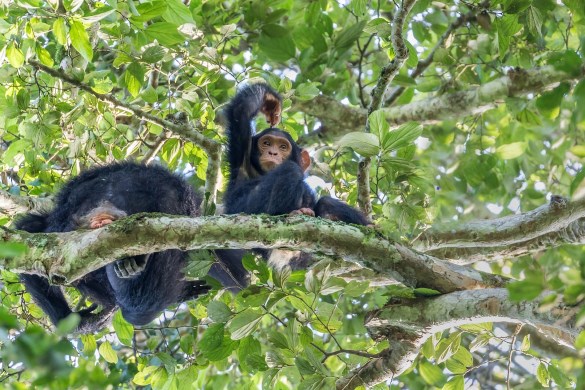 located at dawn. You are on a forest walk, which can last up to three hours and offer a 98% chance of spotting these incredible creatures. Kibale Forest is home to almost 1,500 chimpanzees, who primarily forage for fruits and also use tools to eat ants. They even form hunting parties to prey on red-tailed monkeys, which impacts the primate demographic of the forest.
Chimpanzee Society: Expect to hear the chimps' distinctive hooting before you see them. Once you find them, you'll spend an enlightening hour observing their complex social dynamics, which can include over 100 community members. Alpha males defend the territory, while females.
What to Bring:
Dress in long trousers (jeans are ideal), long-sleeved shirts, and light hiking boots. Don a wide-brimmed hat for added protection. In your daypack, include a liter of bottled water and a lightweight rain jacket.
Optional: Chimpanzee Habituation Experience (CHEX):
If you're looking for a deeper dive, the Chimpanzee Habituation Experience option allows you four additional hours observing the chimpanzees. This full-day experience begins early and extends until late afternoon. Note that this option isn't for everyone, as the chimps are often on the move in search of food.
You can go for an optional Top of the World Hike in the late afternoon.
Lodging: Isunga Lodge – all meals
Day 3: Transition to Bwindi Impenetrable Forest
Driving Options:
Post-breakfast set off for Bwindi Impenetrable Forest National Park. Depending on weather and road conditions, your route may include the tree-climbing lions' habitat in Ishasha, located south of Queen Elizabeth National Park. A game drive here would cost an extra $75/person.
Lodging: Bakiga Lodge – all meals
Other lodging options:
Day 4: Encounter Mountain Gorillas in Bwindi Forest
Morning Briefing: Start with an early breakfast and head to the park office by 8:00 a.m. for a pre-trek rundown. You'll then begin your gorilla trek, lasting from a few hours to a full day. The highlight? An unforgettable hour observing a gorilla family up close.
Trek Gear: Today, you'll need a packed lunch, a light backpack, a rain jacket, hiking boots, long-sleeved shirts, a hat, long trousers, and gardening gloves to navigate branches.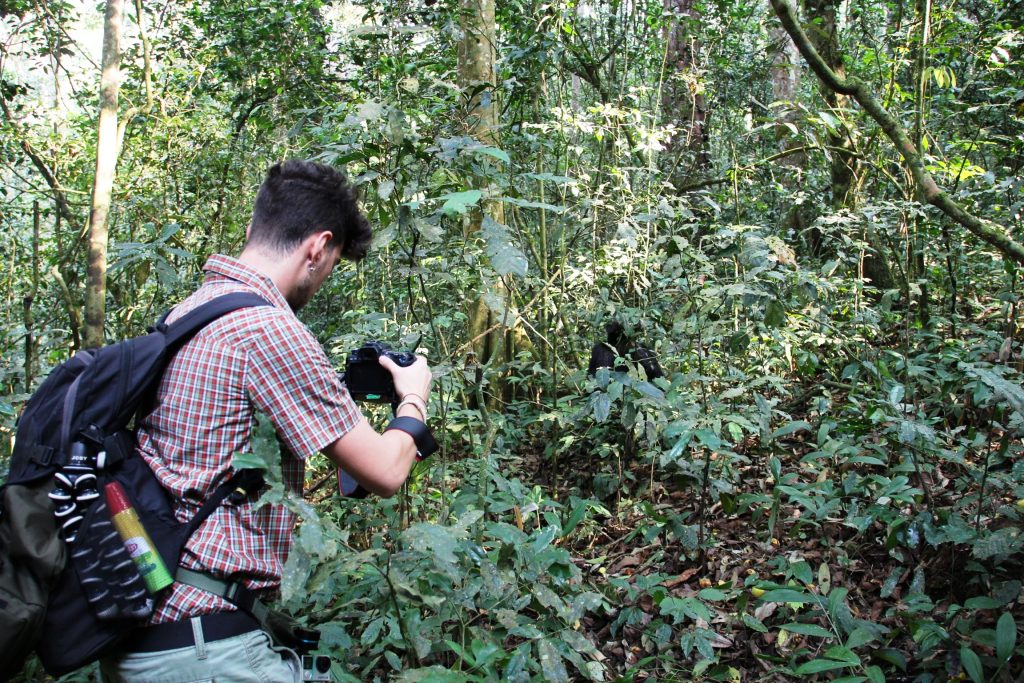 Thinking of making your trek a tad more comfortable? Consider purchasing a walking stick or hiring a porter to carry your gear – though these come with an extra cost of 20 USD and aren't included in your safari price. Plus, you're directly contributing to the local community; porters earn a decent income through their services, enabling them to support their families and sustain tourism in the area.
The Gorilla Trekking Experience: Is gorilla trekking worth it? You'll know it is when you spend an hour with the mountain gorillas in Bwindi's ancient forest. The gorillas you'll see are habituated, meaning they're used to humans.
Post-Trek: Return to Lodge for rest and reflection, or opt for a community walk to meet locals and learn about Batwa pygmy culture.
Lodging: Lake Bunyonyi Eco Resort – all meals
Day 5: Return Journey to Kampala or Entebbe
Homeward Bound:
On the last day, embark on a return trip to Kampala, stopping at Mpigi village—famed for its Royal Drum Makers—and the Ugandan Equator for photo opportunities and souvenirs. A lunch break will be included, and you should expect to arrive in Kampala by the end of the day.
---
Inclusions in our 5-Day Private Gorilla-Chimpanzee Trekking Safari Uganda:
Gorilla Trekking Permit – Bwindi
Chimpanzee Permits – Kibale Forest Park
Lodging, including all meals except drinks
Private 4×4 transportation
The Bigodi Wetlands Sanctuary walk
Entrance to Parks, including Vehicle
Equator Visit
Relevant Government Taxes
Complimentary Bottled Water for the journey
It does not include alcoholic beverages and drinks, laundry, or any other purchases you might make.
---
Submit the form below to tailor your 5-Day Gorilla and Chimpanzee Trekking Uganda Safari experience even further. We're eager to address any inquiries you might have. Contact us at +256777201697 via call or WhatsApp, or send us an email today. We're excited to connect with you!