Description
11-Day Uganda Adventure: 4-Day Rwenzori Mini-Hike, Savanna Wildlife & Primate Encounters
Embark on an unparalleled journey with our 11-Day Uganda Safari Trekking Rwenzori and Primates and the Savanna Wildlife experience. Dive deep into the heart of Uganda, trekking the majestic slopes of the Rwenzori Mountains and connecting with our closest relatives, the primates. This adventure offers a unique blend of thrilling mountain escapades and intimate wildlife encounters, setting the stage for a truly unforgettable safari.
---
These are some of the  Highlights of our 11-day Uganda Adventure.
Rwenzori Mini-Hike: Traverse Rwenzori's landscapes in a 4-day trek, exploring montane forests without summiting.
Gorilla Tracking in Bwindi: Encounter mountain gorillas in their natural habitat – a unique experience.
Chimpanzee Trekking: Trek Kibale's trails, seeking playful wild chimpanzees among 13 primate species.
Savanna Safari: Venture into Queen Elizabeth and Lake Mburo Parks, spotting elephants, lions, antelopes, and more amidst stunning vistas.
Boat Cruises & Birding: Cruise the Kazinga Channel, observing hippos, crocodiles, and diverse birdlife.
Cultural Immersion: Connect with locals, delving into their traditions, dances, and stories.
Scenic Beauty: Marvel at Uganda's vast savannas, dense forests, and awe-inspiring sunsets.
---
Here is the 11-Day Uganda Adventure Trek itinerary in detail:
Arrival Day in Uganda – A Warm Welcome to East Africa and the Pearl of Africa!
Before we delve into the details, let me give you a quick overview of what to expect upon arrival at Entebbe International Airport. Upon landing and Entebbe, your friendly driver will be ready to receive you with a warm greeting. After swiftly completing immigration and customs procedures, head to the arrivals area, where our driver or your hotel's representative will await your arrival. Rest assured, entering Uganda is a smooth process facilitated by helpful officials. Typically, the airport formalities take approximately 45 minutes to an hour.
Most lodges and guesthouses in the Entebbe vicinity offer complimentary airport transfers, or we can arrange transportation to your chosen accommodation if necessary. Ensure you have your Uganda Tourist Visa and Yellow Fever Certificate ready. We are based in Kampala, an hour away. We can arrange your arrival and the final night upon your request. As you arrive in Entebbe, please note that you must purchase a standard Tourist Visa for $50 beforehand, with a Yellow Fever Certificate being a mandatory requirement. Exceptions may apply in specific cases, such as pregnancy. If you plan to venture into Rwanda or Kenya, we recommend the East Africa Tourist Visa.
---
Day 1: Drive to Kibale Forest Park and Afternoon Bigodi Wetlands Walk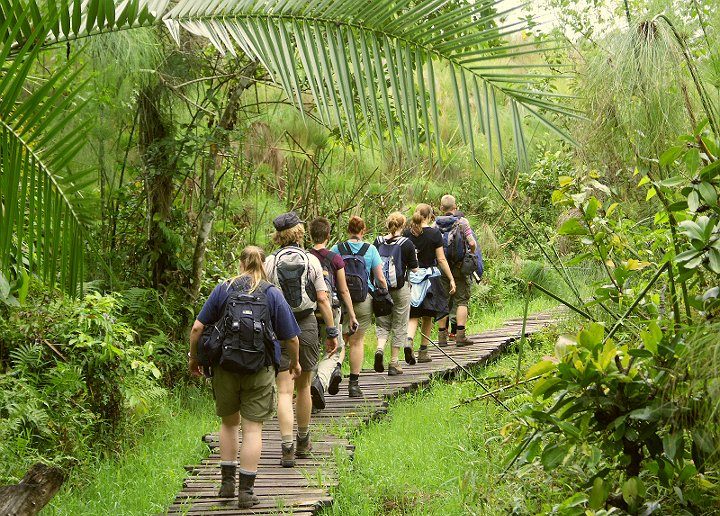 We kick off our 11-day Uganda Adventure Trek with a pick-up from your hotel in either Kampala or Entebbe at 7:15 a.m. We will then head toward Kibale Forest Park. This is where the West African Jungle meets East Africa in Uganda. The drive from Kampala to Kibale Forest usually takes around five hours,
but it is a shorter drive from Entebbe if your hotel is in Kampala.
After reaching Kibale Forest, you will check into the Lodge that you have chosen. You can find moderate to upmarket lodging options near the park, whereas several exclusive luxury lodges are located 45 minutes from the forest.
Lunch
At 3 p.m., we're off for a captivating nature walk in Bigodi Wetlands Sanctuary. This enchanting jungle swamp lets you tread on elevated planks above the water, ensuring an adventurous experience. With our expert guide leading the way, you'll discover the sanctuary's wonders and secrets.
Bird enthusiasts will marvel at the diverse avian life, including the majestic Large Blue Turaco, Brown Parrots, White-spotted Flufftail, and the vibrant Yellow-billed Barbet, among over 200 other species. Beyond the birds, the sanctuary teems with primates like Chimpanzees, red colobus, and blue monkeys. You might also spot mammals like the elusive Sitatunga semi-aquatic Antelopes, nimble mongooses, and playful otters. Every corner of Bigodi Wetlands offers a discovery, making it a biodiversity hotspot.
Lodging included: Isunga Lodge – All meals.
Other options in the area: Moderately priced Turaco Treetops Lodge, Upscale Papaya Lake Lodge
Day 2: Chimpanzee Trekking –Kibale Forest & Transition to Kasese at the Base of the Rwenzori Mountains
Begin your day with breakfast at the Lodge, then set out for the Kibale Forest Headquarters to embark on a Chimpanzee Tracking adventure. Guided by experts, this trek promises rich wildlife encounters. With 13 primate species in the park, spotting at least 5 or 6 distinct primates is common.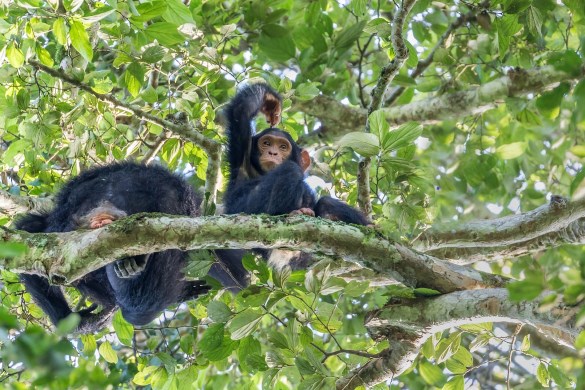 Beyond the thrill of tracking chimpanzees, the forest unveils its own rugged charm. The park bursts with vibrant butterflies and exotic birds, showcasing nature's finest spectacles. The surrounding natural setting is a sanctuary for diverse wildlife, plants, and trees. The chimpanzees you'll meet are habituated, meaning they're accustomed to human presence. The trek spans approximately 3½ hours. Instead of the standard trek, consider the all-day Chimpanzee Habituation Experience for an immersive encounter. After the morning's adventures, unwind with lunch.
Transfer to the Kasese area, at the base of the Rwenzori mountains, for pre-trek orientation, dinner, and overnight stay.
Lodging: Equator Snow Lodge
Day 3: Trekking from Nyakalengija (1615m asl.) to Nyabitamba Camp (2651m asl.)
Kick off your Rwenzori hiking adventure with breakfast, then meet park offices in Nyakalengija. We suggest you show up early in the morning, giving you plenty of time to gear up and get acquainted with your excellent guides and helpful porters. Our journey begins with a stroll through charming farmlands until we reach the park boundary. We'll meander through a lush forest alongside the Mubuku River from here. We'll cross the scenic Mahoma River and gear up for a thrilling ascent onto a breathtaking ridge to the welcoming Nyabitaba hut. Keep your eyes and ears open! The forest echoes with the playful sounds of chimpanzees, and you might just spot a graceful black and white colobus, a cheeky blue monkey, or even the dazzling Rwenzori turaco.
Brace yourself for a fulfilling trek that lasts around 6-7 hours. Let's make some memories!
Day 4: Journey from Nyabitamba to John Matte Camp (3505m asl.)
Rise and shine at Nyabitaba! Today, we'll meander through the captivating forest, going to the picturesque Kurt Shafer Bridge, where the Mubuku and Bujuku rivers embrace. We'll wander through a peaceful bamboo forest, but here comes the fun part: a thrilling trek across moss-draped rocks. Watch your steps, they can be a bit slippery! At the Nyamuleju rock shelter, take a breather and drink in the views of the magnificent Mount Stanley and Mount Speke. Our path will then lead us among the towering giant heather, lobelia, and groundsel. The day's highlight? Reaching John Matte Hut after an adventurous journey through the bog. Let's recharge with a delicious dinner and cozy up for the night in the hut.
Ready for a day packed with around 7-8 hours of unforgettable trekking? Let's do this.
Day 5: Trek and Revel in Nature from John Matte Camp to Bujuku Camp and Back
Kicking off at John Matte Hut, you'll descend and gracefully cross the Bujuku River, entering the enchanting Lower Bigo Bog, where giant lobelias stand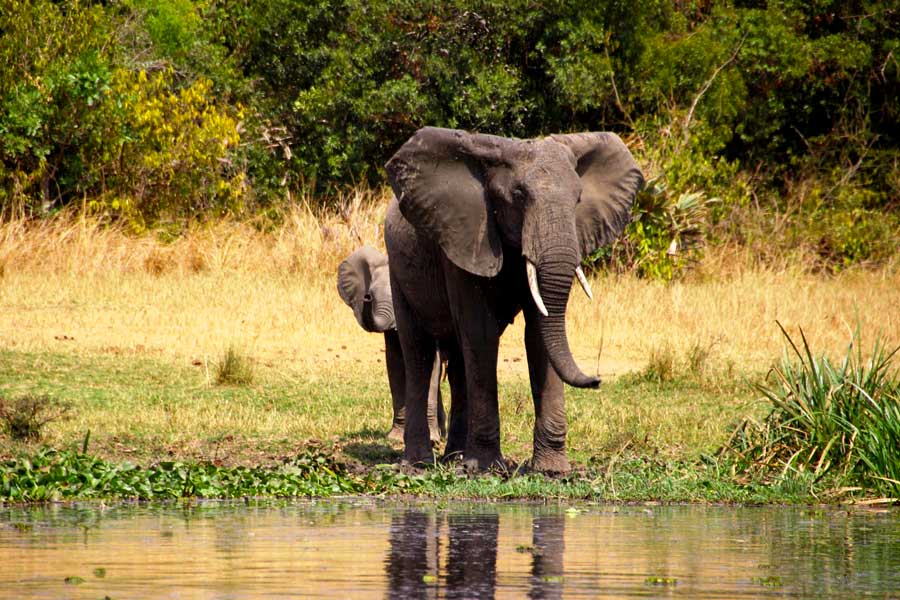 tall and proud. Traverse this unique landscape, hopping from tussock to tussock – and yes, you might just get a playful splash of chilly mire on your feet! As you breeze past the Upper Bigo Bog, the serene beauty of Bujuku Lake greets you, with the grandeur of Mt Baker to the south and Mt Stanley waving from the west. Bujuku Hut awaits, nestled cozily in a picturesque valley beneath the watchful eyes of Mount Baker and Mount Speke. It's the perfect pit
stop for those looking to acclimatize or simply soak in the views. And to wrap up your adventurous day? A hearty dinner and a good night's rest at Bujuku Hut.
The hike typically lasts between 4 to 5 hours.
Day 6: From John Matte to  the Majestic Queen Elizabeth Park
Embrace the morning sun at John Matte and set your spirit free as you venture down the familiar path leading to Nyabitaba Camp. As your feet rhythmically touch the earth, anticipate reaching Nyabitaba in about 5 to 6 hours. There, nature rewards you with a moment to relax and savor a delectable lunch.
Feeling refueled, embark on the next leg of your descent to Nyakalengija. This invigorating trek will span approximately 3 to 4 hours. And then, as the horizon changes, let your heart race with excitement as you proceed to the enchanting Queen Elizabeth Park. Here, the welcoming arms of the Bush Lodge await to cradle you in comfort.
Lodging: Bush Lodge – All meals.
Other options: Moderately priced Enganzi Game Lodge, Upscale Kasenyi Safari Camp, Mweya Safari Lodge, and luxury Kyambura Gorge Lodge.
Day 7: Queen Elizabeth National Park; Safari/game drive, the Kazinga Channel Boat Cruise, and Explosion Crater Drive or Game Drive.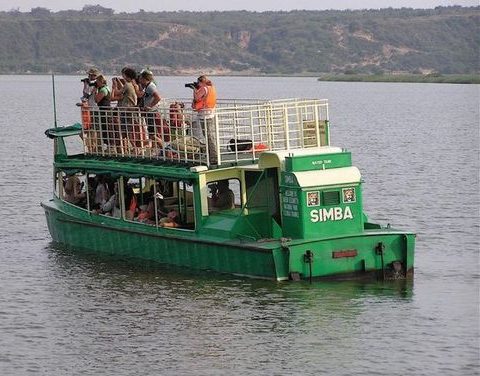 Rise and shine! After a hearty breakfast, we'll set out on a game drive along the Kasenyi Track in the park's northern part. We are set on spotting majestic lions, towering elephants, and elusive solitary buffaloes. Thanks to the significant population of Uganda Kobs, this area offers the best chance to see these magnificent felines in their natural habitat. Prepare for close encounters and unforgettable moments with the park's diverse wildlife.
At 3 p.m., gear up for a Boat Safari on the Kazinga Channel, home to one of Africa's densest populations of hippos. This ride is a must-visit when in Queen Elizabeth Park. As we glide along the waters, keep your cameras ready for elephants, antelopes, and crocodiles, and monitor lizards sunning on the shores. And, if luck is on our side, we might just capture the perfect shot of a hippo with its massive jaws agape.
But the day isn't over! Post our boat safari, we'll embark on the picturesque Katwe Explosion Crater drive, spanning a scenic 27 kilometers. As we reach the park's highest point, prepare to be awed by panoramic views. It's a visual treat from the majestic Rwenzori Mountains, the sprawling savannah below, to the interconnected Lake George and Lake Edwards through the Kazinga Channel. We'll traverse by around 12 explosion craters, one of which was recently showcased in National Geographic. Another day packed with nature's marvels awaits!
Lodging: Bush Lodge – All meals.
Day 8: Transition to Bwindi Impenetrable Forest via Ishasha's Tree-Climbing Lions: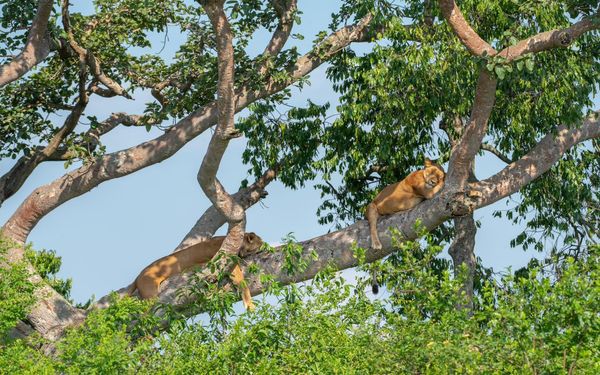 Kickstart your day with a delicious breakfast as we head towards the mesmerizing Bwindi Impenetrable Forest, explicitly targeting the Buhoma area. Our journey south takes us around 2½ hours before we detour into the lesser-traveled Ishasha region of Queen Elizabeth Park. Here, we'll embark on a unique game drive, where our eyes will be set on spotting the fascinating tree-climbing lions of Ishasha, a spectacle found in only a few places in Africa.
But Ishasha is not just about lions! The region offers a plethora of wildlife experiences. Be ready to encounter vast herds of elephants, graceful topi antelopes, formidable buffalo herds, and elusive leopards, often seen solitarily stalking the region.
Having feasted our eyes on the wonders of Ishasha, we'll head to Savannah Resort for a replenishing lunch. Once refueled, our journey continues to the Buhoma Area of Bwindi Impenetrable Forest. Here, we'll settle into the welcoming embrace of the Haven Lodge. This mid-range lodge promises comfort and relaxation, making it the perfect base as we gear up for the upcoming Gorilla Trek.
Lodging: Bakiga Lodge, Ruhija. A cozy haven that preludes our gorilla adventure!
Other options: Moderately priced Haven Lodge – Buhoma, Upscale and Luxury: Mahogany Springs, Buhoma Lodge, Bwindi Lodge, and Gorilla Forest Camp.
Day 9: Gorilla Trekking – Bwindi Impenetrable Forest – and Move to Lake Bunyonyi
Start your day bright and early with a hearty breakfast. Remember to grab your packed lunch from Bakiga Lodge. For the trek, ensure you've packed your daypack with essentials: 2 liters of water, jeans, a long-sleeved shirt for protection, sunglasses, and a sturdy hat. Cotton gardening gloves will be invaluable, offering grip and protection as you navigate using branches and vines. While a hat protects from the sun, a light rain jacket protects against unexpected showers. Nothing beats a pair of reliable hiking boots for traversing the forest terrain.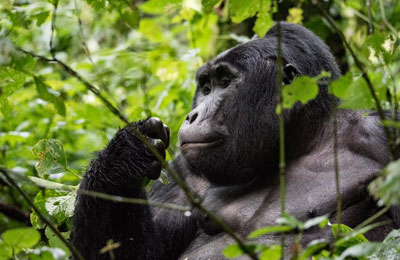 Thinking of making your trek a tad more comfortable? Consider purchasing a walking stick or hiring a porter to carry your gear – though these come with an extra cost of 20 USD and aren't included in your safari price.
Your gorilla trekking adventure varies in length, potentially spanning over five hours, depending on the movement of the gorilla family you're tracking. Keep in mind these magnificent creatures are constantly on the move. Even before your journey begins, pre-trackers set out early to pinpoint the location of your assigned gorilla family, ensuring a smoother trekking experience for you.
After an exhilarating day with the gorillas, return and indulge in a sumptuous dinner.
Lodging: Lake Bunyonyi Eco-Resort – All meals
Other options: BirdNest Resort
Day 10 – Discovering Lake Mburo National Park:
After our incredible gorilla trekking adventure, it's time to change scenery as we journey to the enchanting Lake Mburo National Park. We'll kick off the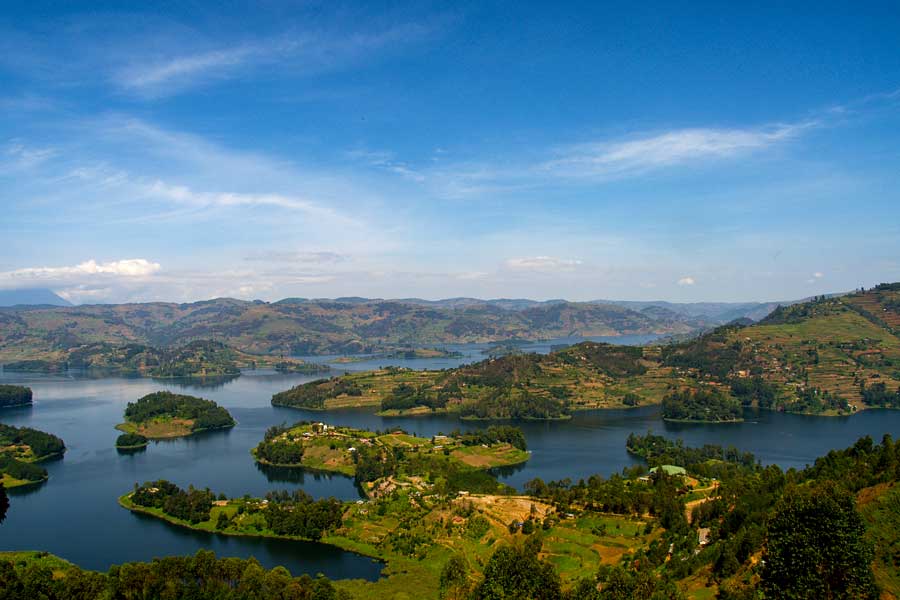 day with an early breakfast to ensure a head start on our travels. Given that it's a 5-hour drive, it's ideal for us to hit the road by 7 a.m.
Lake Mburo serves as an idyllic pit stop, breaking up our journey and introducing us to another gem of Uganda's natural beauty. By lunchtime, we'll reach our destination and settle into the charming Rwakobo Rock Lodge, perched gracefully on a ridge that offers panoramic views of Lake Mburo Park. Here, delightful cottages await alongside a refreshing swimming pool, perfect for a midday dip.
Following a replenishing lunch, we'll embark on an afternoon boat ride over Lake Mburo's placid waters. Expect to be mesmerized by the aquatic wildlife — hippos, crocodiles, and playful otters. The lake also beckons a myriad of water birds and thirsty mammals. Our boat safari is an intimate experience conducted in a compact motorboat, allowing for closer encounters over a serene 1.5 hours.
Lodging: Rwakobo Rock – All meals
Other options: Budget Eagles Nest Lodge upscale Mihingo Lodge and Kigambira Safari Lodge.
Day 11 – From Savannah Sunrise to City Sunset: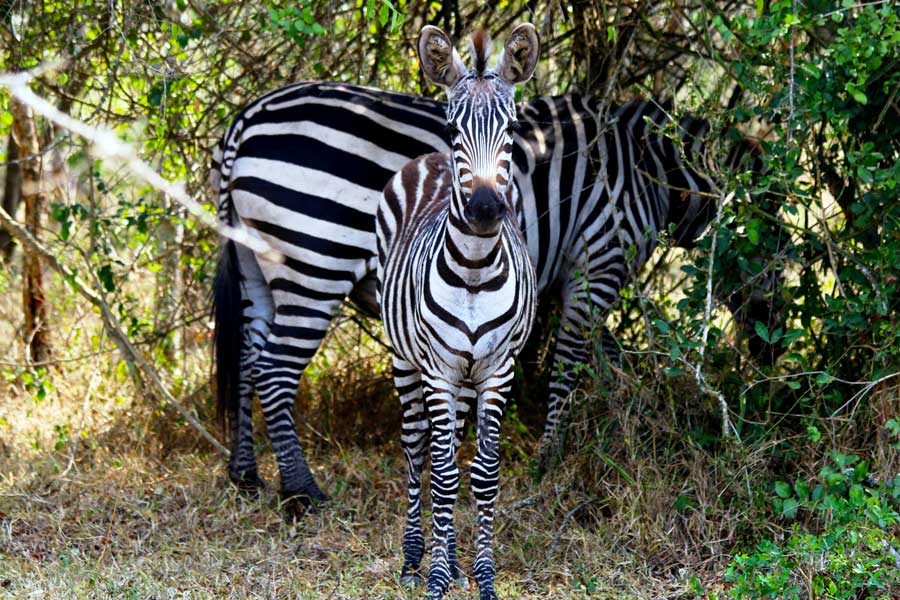 We'll start our day with a delightful breakfast, fueling up for a refreshing morning game drive across Lake Mburo's captivating savannah hills. Here, nature puts on a show as we catch glimpses of majestic elands, swift antelopes, towering giraffes, and playful Burchell zebras. We might even spot the elusive leopard stealthily navigating its territory if lucky.
With our morning adventures wrapped up, it's time to set our sights on Kampala and Entebbe, marking the next phase of our journey. But before that, we'll relish a hearty lunch to keep our spirits high.
Our journey offers exciting pit stops: First, we'll pause at the iconic Equator line, an unmissable photo opportunity! Then, we'll take a cultural detour to Mpambire, where we'll meet the Royal Drum Makers. This community holds the torch for a centuries-old drum-making tradition, offering a rhythmic and cultural immersion.
By late afternoon, the urban landscapes of Kampala or Entebbe will greet us, signaling the conclusion of our 10-day Ugandan wilderness odyssey. The memories, however, will remain vivid and evergreen in our hearts. Safe travels!
 4-day Central Circuit trek in the Rwenzori Mountains.
Gorilla Permit
Chimpanzee Trekking Permit
Lodging with all meals,
4 Wheel Drive Safari Vehicle Transportation  with an English Speaking Driver
Park Entrance fees,
Game Drives, and
Kazinga Channel and Lake Mburo Boat Safaris
Complimentary bottled Water on all Drives
Not included in Safari: Air Travel to and from Uganda, Uganda Visa Costs, Laundry, Tips, and Drinks, except those included in the lodging meal price.
---
For more details about this 11-Day Uganda – Rwenzori Trekking and Primate Adventure itinerary, kindly fill out the form below and let us customise your journey. You can also email us or call +256777201697 to explore Uganda.