Ultimate Guide to Securing Your Uganda Gorilla Permit

Obtaining Your Gorilla Permit in Uganda – The Simplified Process
Are you ready for a once-in-a-lifetime experience with the mountain gorillas of Uganda? A gorilla permit is your gateway to an unforgettable hour in the presence of these magnificent creatures in their natural habitat. Issued by the Uganda Wildlife Authority (UWA), these permits grant you access to one of the 25 habituated gorilla families in the lush Bwindi Impenetrable Forest or the solitary family in Mgahinga Gorilla Park.
Discover the Wilderness of Uganda: Gorilla Permit Details
Availability: Limited to about 200 permits daily, ensuring an intimate and responsible wildlife encounter.
Tracking Regions: Explore different sectors of Bwindi, such as Buhoma, Ruhija, Rushaga, and Nkuringo, or visit the Nyakagezi Gorilla Family in Mgahinga's Ntebeko region.
Minimum Age: Participants must be at least 15 years old.
Securing Your Uganda Gorilla Permit Today
Unlock the adventure of gorilla trekking in Uganda with this comprehensive guide on securing your permit. The most effective way to obtain these permits is through an accredited Uganda Tour Operator licensed by the Uganda Tourism Board (UTB) and the Association of Uganda Tour Operators (AUTO) member. These operators receive the majority of the permits from the Uganda Wildlife Authority, making your process smoother.
Navigating High-Demand Seasons
In peak seasons, gorilla permits are highly coveted, with regular trekking permits being slightly easier to obtain than the exclusive Gorilla Habituation Experience Permits, which are limited to four per day. Uganda, renowned as the top mountain gorilla trekking destination, offers a more affordable experience compared to Rwanda, heightening demand during key months like July, August, September, December, January, and February.
Join us in Uganda for an unforgettable journey into the world of the mountain gorillas. Secure your permit and be part of a life-changing trek that brings you closer to nature and contributes to the conservation of these incredible animals.
Steps to Getting  Your Gorilla Permit in Uganda
Choose an Accredited Tour Operator: Engaging an AUTO member for your permit is the most efficient method. Direct attempts to secure permits from the Uganda Wildlife Authority often prove frustrating due to limited direct sales to the public and challenging communication.
Understand the Value of Your Permit: Your Ugandan Gorilla Permit, a legal document from the Uganda Wildlife Authority, grants you an hour with a gorilla family in either Bwindi Impenetrable Forest or Mgahinga Gorilla Park, specifying the tracking region rather than a specific group.
Plan Ahead: Start planning your gorilla trekking safari six months or more in advance, prioritizing it in your African travel itinerary.
Be Date Flexible: Having flexible trekking dates increases the chances of securing your gorilla permit, especially when your preferred date is fully booked.
Consider Off-Peak Seasons: Gorilla permits are more readily available during the off-peak seasons, including the rainy times of the year, offering a quieter and unique trekking experience.
Make Timely Decisions: Quick decision-making is crucial as permit availability can change rapidly.
---
Why Uganda for Gorilla Trekking?
As the premier destination for gorilla trekking, Uganda offers the most affordable permits in Africa. Its commitment to safe and accessible encounters sets it apart from other countries. Beware of "cheap" permit offers. The standard $700 cost (January 2024) for this one-hour activity reflects the exclusivity and significance of this conservation effort. Learn more about the reasons why Uganda is a great destination for this thrilling adventure.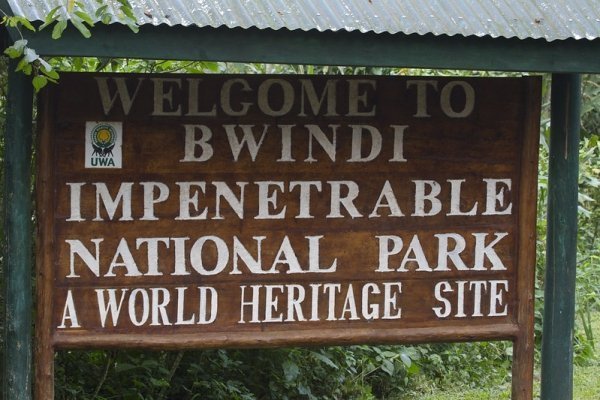 ---
It is worth noting that in 2017 Rwanda increased the price of its gorilla permit from $700 USD to $1500 USD. However, in Uganda, the permit price for Gorilla Trekking is still lower at $700 USD (until July 1, 2020, it was $600 for the last couple of years). There are no longer off-season promotional Gorilla Permits or discounted gorilla permits.
It is important to mention that the all-day Gorilla Habituation Experience Permit, which allows you to spend more time observing the gorillas, is only available in Bwindi and costs $1500 USD.
---
Important Information for Your Uganda Gorilla Trekking Experience
Virunga National Park Advisory
While Virunga National Park in the DRC offers the lowest-priced Mountain Gorilla Permits, we prioritize your safety and security above all. Due to ongoing travel advisories from countries like the US, UK, Australia, and Canada, we do not organize trips to this park. For those interested in visiting Virunga National Park, we recommend direct contact with the park for arrangements.
---
Guide to Securing Your Gorilla Permits with Lifetime Experience Safaris
Embarking on a gorilla trekking adventure is a profound experience, and Lifetime Experience Safaris is here to guide you through the permit payment process seamlessly.
1. Deposit for Gorilla Permits:

Initial Step: Upon finalizing your gorilla permits or the entire safari trip, we will request a deposit. This primarily covers the permit costs, but you're welcome to pay more if it's convenient for you.
2. Payment Methods for Your Permit:

Bank Transfers: Most travelers opt for bank transfers, either through standard bank-to-bank wire transfers (average processing time: 2 days) or via Wise (processing time: a few minutes to a day or two). Bank transfer details for our USD account in Uganda, the UK, Germany, and Australia accounts are available on our payments advisory page.
PesaPal: You also have the option to make payments online through our website using your Credit or Debit Card via PesaPal. Please note this method includes an additional service charge of 3.5%.
3. Selecting Your Trekking Dates:
Flexibility: Provide your preferred dates for gorilla tracking. It's wise to suggest alternative dates in case your first choice is unavailable.
4. Passport Details Required:
Essential Information: We need your name, passport number, date of birth, and country of residence. A scanned copy of your passport is helpful but not mandatory.
Identification at Briefing: Remember, you'll need to present your passport or another form of ID at the pre-trek briefing.
5. Confirmation and Collection of Permits:
Receiving Your Permit: Once we confirm your reservation, we will send you a scanned copy of your gorilla tracking permit, typically within a few days to a few weeks.
Permit Collection: If you're traveling with us, your tour driver-guide will provide the original permit upon your arrival. Independent travelers can collect their permits from the UWA office.
Lifetime Experience Safaris guarantees a smooth and hassle-free preparation for your gorilla trekking adventure. We are dedicated to assisting you at every step, ensuring you can fully immerse yourself in the incredible journey that awaits in the heart of Uganda.
---
Here are some useful links that you may find helpful to check out:
---