Kalinzu Forest Chimpanzee Trekking, Birdwatching & Forest Hikes
Top Things to Do and See in Kalinzu Forest
Another Premier Chimpanzee Tracking  and A Must-Visit Destination for Nature Lovers
---
Discover Kalinzu Forest – Uganda's Hidden Gem for Chimpanzee Trekking and Wildlife Exploration
Discover the wonders of Kalinzu Forest Chimpanzee Trekking – Uganda's hidden gem for wildlife exploration and primate encounters. Nestled in the heart of Uganda, Kalinzu Forest is a treasure trove for wildlife enthusiasts and bird watchers. Renowned for its unique chimpanzee trekking experiences, this verdant forest offers a closer look at habituated chimpanzee communities, making it an ideal destination for those seeking an unforgettable journey into the world of these fascinating primates."
Overview of Kalinzu Central Forest Reserve
Kalinzu Forest, located in the Bushenyi District of southwestern Uganda, covers an expansive 416 square kilometers. Just 25 kilometers from Queen Elizabeth National Park, it's a hotspot for diverse wildlife, including a variety of primates and over 261 bird species.

Chimpanzee Trekking: The Main Attraction
The forest is home to over 320 chimpanzees, with around 50 habituated to human presence. This habituation, facilitated by dedicated primatologists, mainly from Japan, allows for guided tours where visitors can observe these primates in their natural habitat.
Affordability and High Success Rate
What sets Kalinzu Forest apart in the realm of chimpanzee trekking is its affordability and high chance of successful sightings. Trekking permits are priced at just $50 per person (Jan 2024), significantly lower than the $200 rate at Kibale Forest. This cost-effectiveness, combined with an impressive sighting success rate of about 85% or higher, makes Kalinzu Forest an attractive choice for tourists.
Best Time to Visit
From June to September, the dry season is ideal for chimpanzee trekking in Kalinzu Forest. During this period, the chimpanzees are more active and easier to locate, enhancing the trekking experience. Treks usually start early in the morning and last about three to four hours, offering sufficient time for observation and interaction.
---
Why Kalinzu Forest is a Top Choice
Kalinzu Forest's appeal lies in its unique combination of factors:
High Chimpanzee Population: With a large number of chimpanzees, the forest offers rich opportunities for observation.
Diverse Wildlife: Beyond chimpanzees, the forest is home to other primates and bird species, providing a well-rounded wildlife experience.
Affordable Trekking Permits: The low cost of permits makes it an accessible option for a wider range of visitors.
High Success Rate of Sightings: The likelihood of encountering chimpanzees here is very high.
Embarking on a Kalinzu Forest Adventure
Kalinzu Forest stands out as a remarkable and accessible destination for chimpanzee trekking in Uganda. It offers an enriching encounter with nature, making it a must-visit for wildlife enthusiasts looking for an affordable yet fulfilling experience.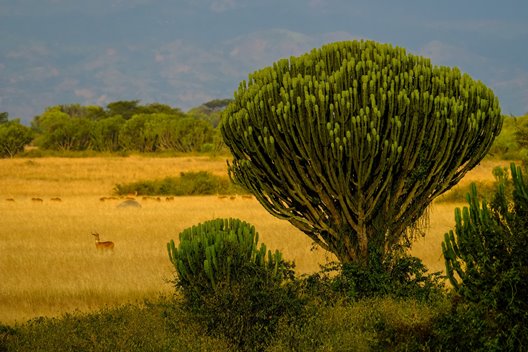 ---
Chimpanzee Trekking in Kalinzu Forest, Uganda: A Comprehensive Guide
Embark on a thrilling adventure in the heart of Uganda's Kalinzu Forest, where you can witness the fascinating world of chimpanzees in their natural habitat. Here's everything you need to know for a successful and enjoyable chimpanzee trekking experience.
Best Time for Trekking in Kalinzu Forest
Season: The ideal time for chimpanzee trekking is during the dry season, from June to September.
Activity: Chimpanzees are more active and easier to track during this period.
Duration: Treks typically start early in the morning and last about 3-4 hours.
Essential Tips and Preparation
Accommodation: While there are no accommodations inside Kalinzu Forest, it's conveniently located a short drive from Queen Elizabeth Park. Your chimpanzee trekking permits will be arranged as part of your itinerary.
Daypack Essentials:

Sturdy daypack with at least one liter of water and snacks.
Separate Ziploc bag for deet-based insect repellent to prevent leakage.
Space for extra camera equipment.

Footwear and Clothing:

Hiking boots for protection and ankle support.
Merino wool socks recommended for comfort during trekking.
Long pants and long-sleeved shirts to protect against scratches and bites.
Light rain jacket or poncho, and a hat for protection from the elements.

Insect Repellent: Apply liberally.
Water and Energy Snacks: Carry at least one liter of water and energy-boosting snacks like dried fruit and peanuts. Please  check out our dedicated pages for safari wear and safari packing lists, respectively.
The Trekking Experience
Briefing Meeting: Attend a mandatory briefing for insights on the trekking process, safety guidelines, and assignment of an experienced ranger guide.
Trekking Details:

Hike with a ranger guide to locate and observe the chimpanzees.
Trek length and difficulty vary based on chimpanzee location.
Average trekking time is 3-4 hours, starting upon arrival at the forest.

Chimpanzee Encounter:

Observation time is typically limited to one hour to minimize disturbance.
Maintain a distance of at least 7 meters from the chimpanzees.
Flash photography is not allowed.
Observe chimpanzees engaging in daily activities like grooming and foraging.

Additional Wildlife: Opportunity to see other wildlife, including primates, birds, and butterflies.
Safety: Adhere to safety guidelines, follow the guide's instructions, maintain a safe distance from animals, and avoid loud noises or sudden movements.
---
Why Choose Chimpanzee Trekking in Kalinzu Forest?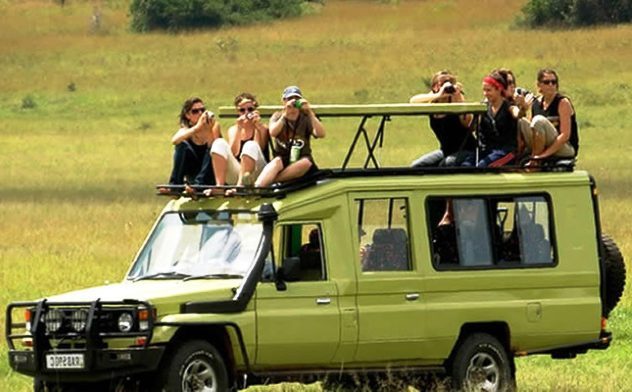 Chimpanzee trekking in Kalinzu Forest is an increasingly popular choice for many visitors to Uganda, and for good reasons. Here are some of the key advantages that make Kalinzu Forest an ideal destination for this unique experience:
Prime Chimpanzee Tracking Location:

Second-Best in Uganda: Kalinzu Forest is recognized as the second-best location for chimpanzee trekking in Uganda, only next to the renowned Kibale Forest. This status is a testament to the rich chimpanzee population and the quality of the trekking experience offered here.

Affordability of Trekking Permits:

Significant Savings: With permits priced at $50, trekking in Kalinzu Forest is much more affordable compared to the $200 permits required for Kibale Forest. This price difference allows travelers to save substantially while still enjoying a remarkable wildlife experience.

Convenient Combinations with Other Treks:

Close to Gorilla Trekking: Kalinzu Forest's proximity to Bwindi Impenetrable Forest, a prime location for gorilla trekking, makes it an excellent option for those looking to experience both gorilla and chimpanzee trekking.
Easy Combination with Queen Elizabeth Park: Additionally, the forest's location near Queen Elizabeth Park enables visitors to easily combine their chimpanzee trekking adventure with a visit to one of Uganda's most famous national parks.

Comparatively Easier Than Gorilla Trekking:

While the terrain in Kalinzu Forest may be more challenging than that in Kibale Forest, chimpanzee tracking here is generally less strenuous than mountain gorilla trekking. This makes Kalinzu a more accessible option for many visitors.
Considerations

Terrain Challenge: It's important to note that the terrain in Kalinzu Forest can be more challenging than in Kibale Forest. However, for many, this added challenge does not detract from the overall experience and can even enhance the sense of adventure.
Chimpanzee trekking in Kalinzu Forest represents a perfect blend of accessibility, affordability, and adventure. It offers a unique opportunity to observe these fascinating primates in their natural habitat, while also providing the flexibility to combine the experience with gorilla trekking or a visit to Queen Elizabeth Park. Despite the slightly more challenging terrain, Kalinzu Forest remains a top choice for many travelers seeking an authentic wildlife experience in Uganda.
---
Exploring the Wonders of Kalinzu Forest Reserve: Beyond Chimpanzee Trekking.
 Bird Watching in Kalinzu Forest: A Birdwatcher's Paradise
Kalinzu Forest in Uganda is a haven for bird lovers, offering an extraordinary opportunity to observe a diverse array of bird species in their natural habitat. Here's a guide to making the most of your bird-watching experience in this rich and vibrant ecosystem.
A Treasure Trove of Bird Species
With over 378 species recorded, Kalinzu Forest is a must-visit destination for bird enthusiasts. Some of the notable bird species you can encounter include:
Great Blue Turaco, Black and White Casqued Hornbill, African Emerald Cuckoo, Black-billed Turaco, Eastern Green Tinkerbird, Red-tailed Weaver Bird, African Paradise Flycatcher, Little Greenbul, White-spotted Flufftail,
Best Bird-Watching Conditions
Best Season: Bird watching in Kalinzu Forest is most fruitful during the dry seasons, from June to September and from September to March. These periods see increased bird activity and visibility.
Tour Duration: Birding tours typically last between three to four hours and are best started early in the morning when birds are most active.
Maximizing Your Bird Watching Experience
Early Start: Begin your tour at dawn to catch the forest's avian inhabitants at their most active.
Guided Tours: Opt for a guided tour to help identify and locate a variety of species, leveraging the expertise of local guides.
Appropriate Gear: Bring along binoculars for a closer look and a field guide to help identify different species.
Quiet and Observant: Maintain a low profile and minimize noise to avoid startling the birds.
---
Guided Forest Walks
The Forest Trails: There are four forest trails that you can hike. A moderate level of fitness is advised since this is hilly terrain. The length of the trails vary, and there is one right for you.
The Valley Trail – This 3½ km circular trail takes about 2 hours and offers spectacular views over the valley. Visitors will trek along a ridge and past several exciting forest features. A forest favorite is the 'Mutragyne rubrostipuleta' or 'viagra' tree.
The Waterfall Trail 
Length: 11 km (loop), takes 4 to 5 hours, the terrain is hilly and occasionally wet. Highlights: It leads to the breathtaking 'kilyantama' waterfall, locally known as 'the sheep eater.' Along this trail, you'll discover trees that even baboons can't climb and barkcloth figs, a vital resource in local crafts.
The River Trail
Length: 2½ km (circular) and approximately 1 hour.
Features: The trail follows the River Kajojo, known as the 'elephant river' due to its history as a bathing spot for elephants. It showcases specimens like the "Parinari excelsa," the forest's climax tree, and a colossal strangler fig. It's also a good spot to see chimpanzees and other primates.
The Palm Trail
Length: 5 km (circular), about 2 hours and relatively flat. This trail introduces visitors to rare and fascinating trees like the Fame tree, with its red, tulip-like flowers believed to enhance sexual desire in women. It also features "Raphia Palms" used for local mat-making and the impressive "Dragon tree."
---
Conclusion
Kalinzu Forest offers a full day of activities including Chimpanzee Trekking, hiking, bird watching, and butterfly spotting. Enjoy a picnic lunch amidst the forest's natural beauty, and then head back to your accommodation near Queen Elizabeth Park by late afternoon.
Accommodation Options: Choose any lodge in the northern region of Queen Elizabeth Park for convenience. These lodges are just a brief drive away from the lush landscapes of Kalinzu Forest.
---
Below are some links that you may find useful to explore: