Description
2-Day of Chimpanzee Trekking – Kibale Forest Safari
If you're passionate about primates and especially enchanted by chimpanzees, our 2-Day Chimpanzee Trekking Safari in Kibale Forest, Uganda, is your dream adventure. Imagine a sanctuary teeming with nearly 1,500 chimpanzees and 12 other primate species—Kibale Forest transforms that dream into reality.
Choose your own adventure: opt for either a Chimpanzee Trek or immerse yourself in the All-Day Chimpanzee Habituation Experience. Either way, you're practically guaranteed an unforgettable encounter with these incredible animals.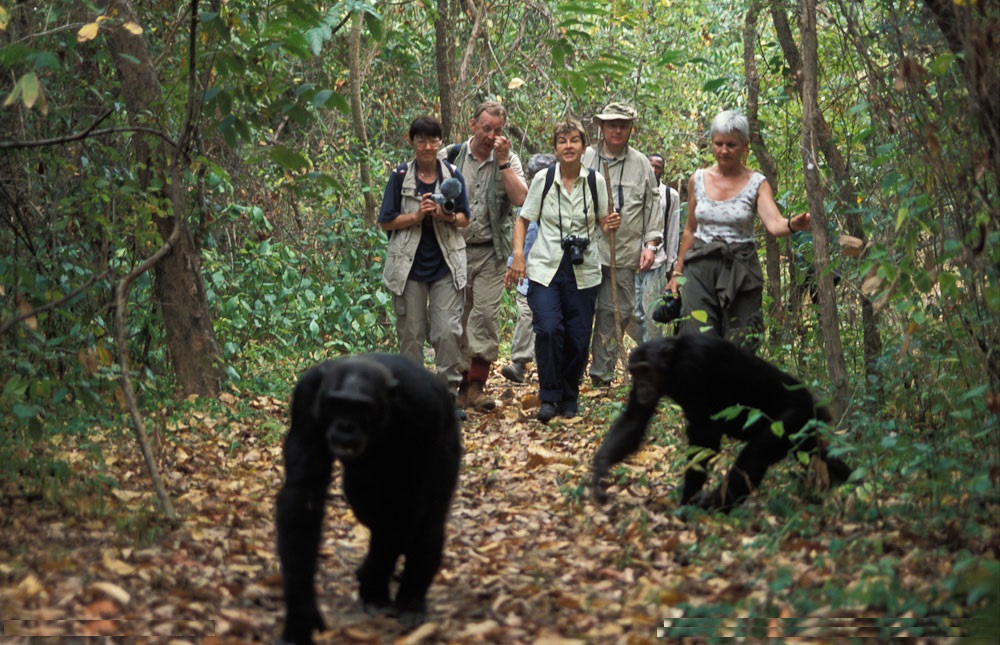 But the wonder doesn't stop there. Traverse the vibrant Kibale Rainforest, explore the biodiverse Bigodi Wetlands, and marvel at an array of wildlife and bird species. Embark on this two-day safari and experience the magic where the Central African Jungle melds seamlessly with the wonders of East Africa. Join us for an enriching blend of excitement, education, and conservation in the heart of Uganda's wildlife.

---
Key Highlights of the Chimpanzee Safari Adventure
Chimpanzee Encounters in Kibale
Kibale Forest: A Primate's Paradise
Birdwatching at Bigodi Wetlands
Your lodging: Comfort in the Wild
Scenic Beauty: Uganda's Countryside
Your friendly Local Safari Driver/Guide
Detailed Itinerary: Your Chimpanzee Trekking Journey
Day 1: Kampala or Entebbe to Kibale Chimpanzee Forest Park Drive
Depart from your lodging in Kampala or Entebbe at 6 or 6:30 a.m. to kickstart your exhilarating Chimpanzee Tracking and Bigodi Wetlands Sanctuary Safari in Kibale Forest National Park. Your English-speaking driver will skillfully navigate our 4-wheel drive
vehicle through the Ugandan countryside, making sure you relish the scenic journey that underscores why Uganda is known as the Pearl of Africa.
Arrive in Fort Portal and proceed to Kibale Forest, a premier African rainforest research reserve renowned for its diverse primates and abundant birdlife. Check into the Kibale Forest lodging that best suits your budget—be it the luxurious Kyaninga Lodge, the amazing mid-range Chimps' Nest Lodge, or the excellent budget options like Chimpanzee Forest Guesthouse or Kibale Forest Camp. All choices offer fantastic experiences tailored too your financial comfort.
Lunch and afternoon Bigodi Wetlands Sanctuary walk.
Set out on a guided swamp walk in Bigodi Wetlands Sanctuary that brings you up close with primates—mainly monkeys—as well as birds and butterflies. Your knowledgeable guides are incredibly patient and will enrich your experience. A birder's paradise, the wetland boasts around 138 bird species and is famous for hosting the Great Blue Turaco.
Spanning 2½ to 3 hours, this walk is a must-do for bird enthusiasts and rivals the popularity of the Kibale Forest Walk. Be sure to wear sturdy walking shoes, as some portions of the trek can get muddy. Keep your eyes peeled for the elusive Sitatunga antelope and the Shoebill Stork, among other wildlife.
You might even encounter chimpanzees here, along with other primate species like the black-and-white colobus, grey-cheeked mangabey, red-tailed, l'Hoest's and blue monkeys, and olive baboons. You'll also spot bushbucks, mongooses, and an array of butterflies. Located outside the park in Magombe Swamp, the Bigodi Sanctuary offers an experience you won't want to miss.

Check into your chosen accommodation, and in our case, it is Isunga Lodge.
Other options in the area: Moderately priced Turaco Treetops Lodge, Upscale Papaya Lake Lodge
Day 2: Chimpanzee Trekking, 12 Primates, and Afternoon Drive to Kampala or Entebbe
Enjoy breakfast in the jungle before setting out for your Chimpanzee Trek. in Kibale Forest National Park. In addition to the captivating chimpanzees, the lush rainforest itself steals the show—with other primates, diverse trees, vibrant flowers, a plethora of birds, and butterflies fluttering through the air. You'll leave knowing your visit for Chimpanzee Tracking was worth it.
Optionally, you can join the Chimpanzee Habituation Experience to spend a full day with the primates, accompanied by dedicated researchers, trackers, and guides. This time you will need to be done by 2 pm and then embark on the journey back to Kampala or Entebbe.
For the trek, pack long trousers and socks to tuck them into, long-sleeved shirts, light hiking boots, and a day pack with a liter of bottled water: Don a wide-brimmed hat and a light rain jacket. Keep an eye out for fire ants; although rare, they can disrupt your experience if you're unprepared. They're easily noticeable and can be avoided by jumping over their trails. Ensure you're not standing near an anthill or ant trail when your group pauses.
---
Below are the things we offer in this Kibale Forest Chimpanzee Trekking:
Chimpanzee Tracking permit each at $200
Transportation in a private 4WD vehicle and driver/guide
Overnight Lodging, including meals except drinks
Bigodi swamp guided walk
Lunch on the way back
Complimentary bottled water for the journey Contact us to learn more
---
Experience our thrilling safari adventure. Contact us to book your spot today. Fill out the form below and our team will get back to you promptly.
---