Description
3-Day Private Adventure in Kibale's Primate Paradise.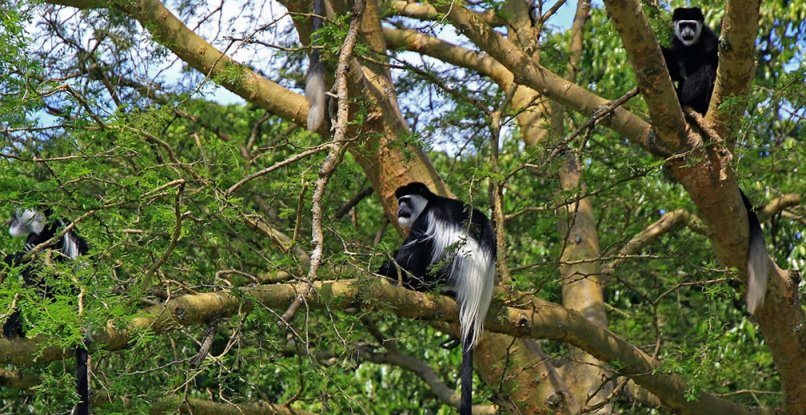 Dive into a transformative 3-day private chimpanzee trekking adventure in Kibale Forest. Engage with the wild, bond with nature, and create lasting memories alongside these engaging primates. Expect ensuite accommodations, comprehensive meal plans, and a dedicated 4×4 vehicle with a seasoned driver-guide. Dive deep into Uganda's diverse primates, rich wildlife, and awe-inspiring landscapes during this Primate Exploration Trip through the Pearl of Africa.
Highlights of the 3-Day Kibale Jungle Journey.
Chimpanzee Trekking: Connect with a troop of Kibale Forest's iconic chimpanzees.
Bigodi Wetlands Adventure: Delve into the Bigodi Jungle Swamp with a 3-hour guided hike.
Stay at Isunga Lodge: Settle in for two nights of comfort and serenity at Isunga Lodge.
---
Detailed Itinerary for the 3-Day Kibale Primate Expedition.
Spot 12 Unique Primates and embark on a Bigodi Wetland Walk for Birdwatching. Kibale Forest offers the opportunity for both a two or three-day Primate Kingdom in Kibale trip. Additionally, consider extending your journey by adding Kibale Forest to a safari to Queen Elizabeth Park.
Day 1: Journey from Kampala or Entebbe to Kibale Forest Park and afternoon Bigodi Wetland Walk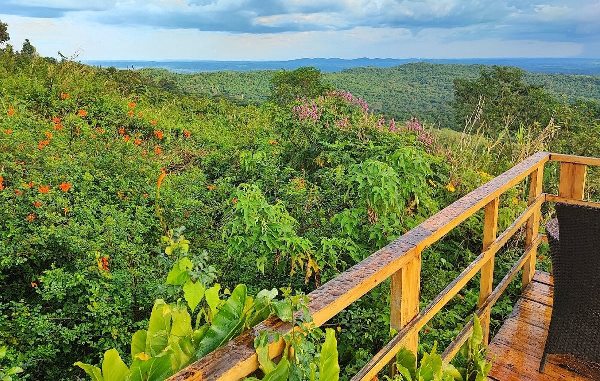 Begin your Ape Safari Journey from Kampala or Entebbe at 7:15 a.m. for an unforgettable adventure in Kibale Forest National Park, renowned for its rich variety of primates and vibrant birdlife. Journey through Uganda's scenic countryside in a 4-wheel drive vehicle, accompanied by an English-speaking driver.
This is a mesmerizing journey through Uganda's captivating terrains. As you make your way toward Kibale Forest, be prepared to encounter its resident chimpanzees and diverse wildlife. The drive takes around 5 hours, providing you with ample opportunity to witness the natural beauty of the region.
Check into your chosen accommodation, and in our case, it is Isunga Lodge.
Isunga Lodge is a budget-friendly accommodation providing excellent value in the heart of Kibale Forest. Chosen for our safaris due to its consistent positive feedback, the lodge ensures a memorable stay. Overlooking the forest, it offers six tranquil cottages, each with an ensuite bathroom and a private veranda for serene forest views during sunrise and sunset. The lodge prioritizes every detail; the cuisine is delightful, and the staff is attentive, upholding its stellar reputation. While other lodges in Uganda might be similarly priced, Isunga Lodge uniquely delivers superior value, often outshining more expensive counterparts. Experience the serenity and hospitality of Isunga Lodge and immerse in the beauty of Kibale Forest.
Other options in the area: Moderately priced Turaco Treetops Lodge, Upscale Papaya Lake Lodge
Discover Bigodi Wetland Sanctuary
Dive into the wonders of the Bigodi Wetlands Sanctuary during a mesmerizing afternoon guided walk at 3 p.m. This three-hour journey lets you traverse wooden walkways, offering an elevated view of the captivating jungle swamp.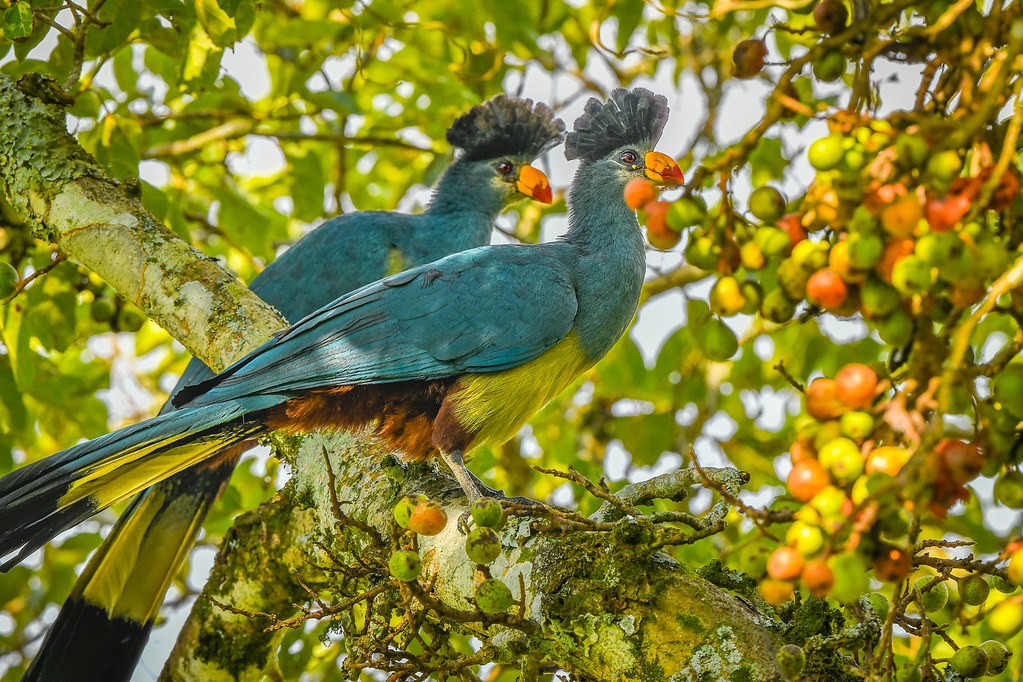 Suitable footwear is recommended, though rubber boots are available for rent. The sanctuary is a haven for primate enthusiasts, boasting species such as Red Colobus Monkeys, Vervet Monkeys, Baboons, and even the occasional Chimpanzee. Additionally, the wetlands are home to various mammals like the rare Sitatunga Antelopes, Bush Pigs, and Mongooses. Bird lovers will be in paradise, with over 138 bird species present, including the majestic Great Blue Turaco, Hornbills, Kingfishers, and Papyrus Gonoleks. Experience the unique magic of Bigodi Wetlands, where nature's melodies come alive amidst vibrant birdlife and playful primates.
After a long day, head back to the lodge to enjoy a delicious dinner and a well-deserved rest for the night.
Day 2: Chimpanzee Tracking in Kibale Forest,
Start your day with a hearty breakfast before diving into your Chimpanzee Trek. Wear long trousers, ideally jeans, and a long-sleeved shirt. Wear light hiking boots for comfortable support and a daypack with at least a liter of water. Use a wide-brimmed hat for sun protection, and carry a light rain jacket for any unexpected showers.
Kibale Forest, the top spot in East Africa for chimpanzee tracking, beautifully blends the landscapes of West African jungles with those of East Africa. As you navigate this verdant terrain, you can encounter up to 13 different primate species.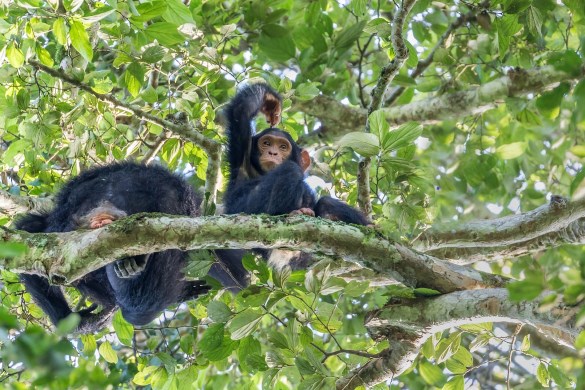 Tall trees, vibrant flowers, melodious bird calls, and the delicate flutter of butterflies fill the atmosphere of Kibale, creating an enchanting backdrop for your adventure. Spend an engaging hour with the chimpanzees, who have learned to accept human presence over time. Observing them offers profound insights into their behavior.
Dive deep into the wonders of Kibale Forest, from its diverse inhabitants to its stunning landscapes. Optionally, join the 6-hour Chimpanzee Habituation Experience to spend a full day with the primates, accompanied by dedicated researchers, trackers, and guides.
Day 3: Conclude your Chimpanzee Exploration Expedition and Return to Kampala.
After breakfast, commence your journey back to Kampala. Stop for lunch en route and expect to arrive in the city by late afternoon, marking the end of your thrilling 3-day Chimpanzee Trekking Safari.
---
Our 3-Day Private Chimpanzee Trekking Safari Safari includes:
Kibale Park Chimpanzee Tracking Permit @ 200 USD
Private Transportation in a 4×4 Vehicle and Driver/guide
Full Lodging, including Meals
All park entrance fees, including Vehicle
Lunch back to Kampala
Bottled Water for the journey
---
Submit the form below to ask about our 3-Day Chimpanzee Safari in Kibale Forest, Uganda! Reach out for details, prices, or other info. Call or email us; we're eager to chat!
---