Entebbe Airport Guide: Smooth Adventure in Uganda

Entebbe Airport Guide: Comprehensive Arrival and Departure Information
Entebbe International Airport, Uganda Airport Code EBB
---
Welcome to Uganda, the Pearl of Africa! This page aims to equip you with all the information you'll need when arriving or departing from Entebbe International Airport, your gateway to this beautiful country.

Essential Information for Tourists
Prepare for a Smooth Journey: What to Know Before You Go
Before you touch down at Entebbe International Airport, here are essential pointers to make your journey smooth:
Before you fly into Entebbe Airport, the gateway to Uganda's stunning landscapes and vibrant culture, make sure you have your passport and travel itinerary handy. This will help expedite immigration and customs procedures.
Respecting Uganda's rich heritage and traditions will make your visit more enjoyable. Consider learning about local customs and basic greetings to better engage with the community.
On Arrival: Welcome to the Pearl of Africa!
Stepping into Uganda, you immerse yourself in a rich tapestry of cultural heritage and vibrant traditions. As you arrive at Entebbe Airport, the gateway to this enchanting land, it's essential to acquaint yourself with the local customs and etiquette that
define the Ugandan way of life. Greeting someone with a friendly "Oly'otya" or "Gyebale" (hello) can open doors to heartwarming interactions and show respect for the local culture. In Uganda, community and hospitality are deeply ingrained values, and you'll often find locals eager to share stories or guide you through their bustling markets and serene landscapes. While exploring, be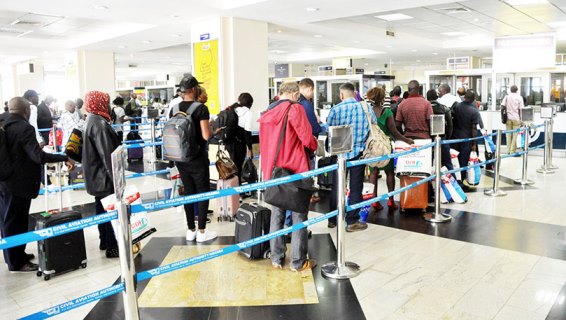 mindful of dress codes, especially in rural and religious areas, to ensure your attire aligns with local norms. Also, engaging in sustainable tourism practices helps preserve the unique environments and cultures you'll encounter. This respectful and curious approach to your Ugandan adventure will not only enrich your experience but also foster meaningful connections with the people and places you visit, truly capturing the spirit of the Pearl of Africa.
Entebbe Airport is your gateway to Uganda. You'll notice recent upgrades aimed at enhancing your travel experience. Do note:
Safety Measures: The airport has no direct drop-off or pick-up points at the entrance. Walking to or from the parking lot is advised for both arrivals and departures.
Infrastructure: The airport is continuously upgrading, and a second international airport is under construction in the Hoima area.
Staff and immigration officers are committed to facilitating a smooth entry or exit, although passport control can be time-consuming during peak hours.
Luggage Claim: Baggage carousels are clearly marked.
Customs: Declare any valuable items, currencies, or restricted goods.
Travel Connectivity: Fly in from Anywhere!
Numerous airlines service Entebbe, offering vast connectivity. In 2019, Uganda Airlines resumed operations, expanding domestic and regional connectivity.
Essential Tips for Arrival
Getting Ugandan Currency
ATMs are available for Ugandan Shillings (UGX). Alternatively, our tour guides can help you get better exchange rates away from the airport. If you have scheduled a safari with us, you will mainly require shillings for simple purchases such as drinks, tipping, souvenirs, and other expenses not covered in the tour itinerary/contract. Find out more about currency exchange and banking in Uganda.
SIM Cards and Connectivity:
You will need to present your passport for SIM card registration.
Providers: MTN and Airtel kiosks are in the arrivals hall and outside the exit.
Data Plans: Various data and call packages are available.
Where to Meet Us
Upon arrival, our driver will be waiting for you outside the designated arrival area, holding a sign with either Lifetime Experience Safaris or your name. For your convenience, most accommodations located near the Entebbe airport offer a complimentary airport transfer. If you're spending a night in the area, it may be worth checking with your lodge if they offer such a service. Please note that we're based in Kampala, which is approximately an hour away from the airport.
Ground transportation options at the terminal include taxis waiting outside, pre-bookable hotel and private shuttles, as well as several car rental desks situated in the arrivals hall.
Where do we go from here?
There are numerous hotels in Entebbe, ranging from budget to up-market, that you can choose from. We recommend that our clients spend at least a night in Entebbe of Kampala before embarking on their safari with us. Some clients choose to extend their stay for a few more days in the greater Kampala area to take a city tour, visit Jinja – the Adventure Capital of East Africa, and explore other nearby attractions.

In Entebbe, there are hotels, guesthouses, and budget accommodations available for travelers to stay, and here are some of them:
Entebbe vicinity, we can stay at the;
In Kampala, we can stay at the;
---
Heading Back Home via Entebbe Airport: What to Know Before Departure
Arrive 3 hours early for overseas flights.
Most souvenirs face no custom issues; however, all outgoing luggage will be scanned.
Duty-free shops and lounges are available for your comfort.
The People Behind the Scenes: What to Expect from Airport Staff
While Uganda is famed for its friendliness, you may find that airport staff can be more task-oriented. A warm greeting or a smile can go a long way.
Embrace the Ugandan Warmth
Your time in Uganda promises to be a heartwarming journey. With friendly locals and breathtaking landscapes, this country is a hidden gem that will exceed all your expectations.
---
Find essential tips for your journey through Uganda's main hub. From customs to connectivity, we've got you covered in our Entebbe Airport Guide. We trust this guide will smooth your passage through Entebbe International Airport and set the stage for a memorable Ugandan adventure. Welcome to the Pearl of Africa, and enjoy your exploration with Lifetime Experience Safaris.
---
Here are some useful links that you may find helpful to check out: