Description
Discover the Wild: 6-Day Ultimate Moderately Priced Gorilla Trek and Wildlife Adventure in Uganda.
Kick off a Gorillas and Wildlife Uganda Safari through Uganda's most captivating natural wonders. From gorilla trekking in the ancient Bwindi Forest to wildlife spotting in Queen Elizabeth Park and Lake Mburo, this adventure-packed itinerary offers the ultimate Ugandan safari experience. Get up close and personal with rare species, breathtaking landscapes, and local culture.
---
Here are key highlights from our 6-Day Premier Gorilla Expedition and Wildlife Odyssey in Uganda.
Gorilla Trekking: An intimate encounter with the world's remaining mountain gorillas in the Bwindi Impenetrable Forest, a UNESCO World Heritage site.

Tree-Climbing Lions: Observe unique tree-climbing lions in Queen Elizabeth Park.
Kazinga Channel Boat Safari: A scenic boat ride where you can see hippos, crocodiles, elephants, water buffalo, and hundreds of bird species.
Crater Drive: Journey through captivating landscapes and craters.
Lake Mburo Wildlife: Encounter rare species in Lake Mburo National Park.
Equator Visit: Stand on the equator for a one-of-a-kind experience.
Local Cultural Interaction: Immerse in the rich local traditions and dances.
Expert Driver/Guide: A friendly local driver/guide who offers deep insights, enhancing your safari experience through private 4×4 transport and regional expertise.
---
Entebbe International Airport Arrival information
Upon arriving at Entebbe International Airport, your friendly team will be ready to receive you warmly. After completing immigration and customs, step into the arrivals area, where our driver or the hotel's representative will be waiting to greet you. Your entry into Uganda is hassle-free, with officials known for their assistance. The airport process typically takes around 45 minutes to an hour. Most lodges and guesthouses in the Entebbe area often offer complimentary airport transfers, while we can transport you to your chosen lodging if needed. Remember to have your Uganda Tourist Visa and Yellow Fever Certificate handy. Your first night will be spent in a comfortable Entebbe hotel. We're based in Kampala, an hour away, and can arrange your arrival and last night upon request.
---
Day 1: Journey to Bwindi Impenetrable Forest
Kick off your 6-day adventure with a morning departure from Entebbe or Kampala. We'll set out at 7:00 a.m. for Bwindi Impenetrable Forest, a UNESCO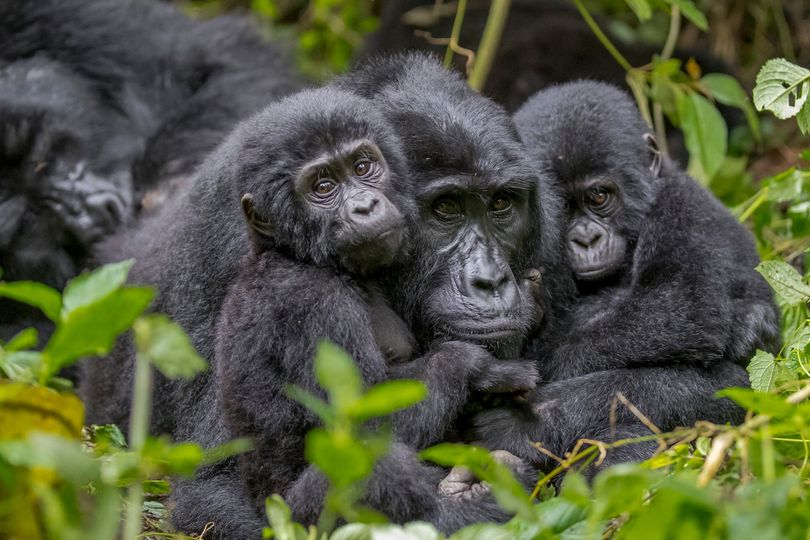 World Heritage site famed for gorilla trekking. The drive to the Buhoma or Ruhija regions of Bwindi will take about 9 hours, including rest stops. If you're wrapping up your safari in Entebbe, note that Lake Mburo Park is only a 4-hour drive away for your convenience.
For those looking to save on travel time, consider flying into Kigali, Rwanda. This gateway to Southwest Uganda shaves hours off your journey, taking only 4½ hours to reach the Ruhija region of Bwindi.
En route, we'll pause for lunch at the Lake View Hotel in Mbarara before continuing through Uganda's scenic landscapes to the ancient Bwindi Forest. This is where you'll meet the world's remaining mountain gorillas, a critically endangered species.
By late afternoon, we'll reach the Buhoma area of Bwindi Forest, where you'll check into Bakiga Lodge or your lodging of choice. If coming from Kigali, you can expect to check in around lunchtime.
Lodging: Bakiga Lodge – all meals
Other options: Moderately priced Haven Lodge – Buhoma, Upscale and Luxury: Mahogany Springs, Buhoma Lodge, Bwindi Lodge, and Gorilla Forest Camp.
Day 2: Meet the Gorillas of Bwindi Impenetrable Forest
Start your day with an early breakfast before heading to the Ruhija park station by 8:00 a.m. Here, you'll get oriented by park guides and sign-in. You'll also run through important safety guidelines before the gorilla trek begins. The hike could be as short as a walk or as long as 7 hours, depending on the gorillas' location.
You'll be part of a small group—no more than eight people—exploring the forest. Essential items for your trek include a packed lunch, 2 liters of water, breathable long trousers, thick socks, a long-sleeved shirt, a hat, and gardening gloves. You can also borrow a walking stick. Hiring a local porter is an option, too.
The trek's duration varies, as gorillas build new nests each day and are always on the move. But the thrill of coming face-to-face with these magnificent creatures is unforgettable.
After the trek, you can opt for a village walk if time and energy allow. Discover local traditions, from beer brewing to forest remedies. Enjoy local dances and gain insight into the community's way of life.
Wrap up your day with a delicious dinner back at your lodge, excited for what's ahead.
Lodging: Bakiga Lodge – All meals
Day 3: Discover Queen Elizabeth Park's Ishasha Region & Crater Drive
The Gorillas and Wildlife Safari continues. After breakfast, we embark on a 3-hour drive to Ishasha, located within Queen Elizabeth Park. We'll explore the area on a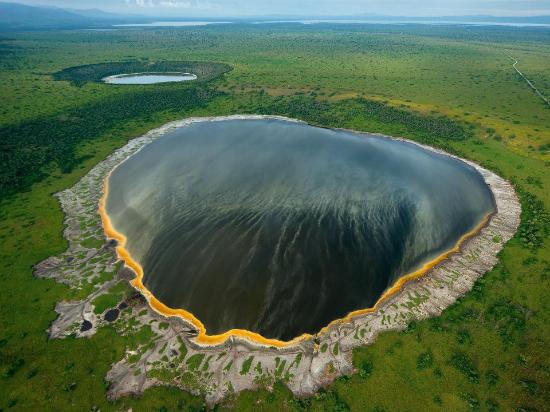 game drive, focusing on spotting the region's renowned tree-climbing lions. Ishasha is a wildlife haven featuring not just lions but also elephants, buffaloes, and various antelopes like the Topi.
Spend the morning and afternoon marveling at lions lazing in Fig Trees, after their night hunts. We'll pause for lunch at the Savannah Resort before driving another 2 hours to the Mweya region of the park. Here, we'll experience a late-afternoon 27-kilometer Explosion Crater Drive, a journey through some of Uganda's most awe-inspiring landscapes. You'll see a variety of craters and enjoy panoramic views of the Rwenzori Mountains, Lake George, and Lake Edward.
We'll check into the lodge you have chosen. The tented lodgings offer indoor toilets and open-air showers, blending the comfort of amenities with a true wilderness experience. Guards patrol the area at night, as wild animals often wander into the campgrounds.
You'll dine and breakfast at the lodge, enjoying the sounds of the surrounding wilderness as day turns into night.
Lodging: Enganzi Game Lodge – All meals.
Other options: Budget Bush Lodge, Upscale Kasenyi Safari Camp, Mweya Safari Lodge, and luxury Kyambura Gorge Lodge.
Day 4: Choose Your Adventure in Queen Elizabeth Park—Game Drive or Special Tracking, Plus Kazinga Channel Safari
Rise early for a 6:30 a.m. game drive, the perfect time to spot active predators, thanks to the large Uganda Kob population. You have the option to bring along a Uganda Wildlife Authority Ranger for a more informative experience.
Alternatively, consider one of these special experiences (each at an additional cost):
Option 1: For an extra $55 per person, explore the Kyambura Gorge or Karinzu Forest for chimpanzee tracking.
Option 2: For $50 per person, join researchers on a lion-tracking drive to find electronically collared lions.
Opting for either special experience means we'll skip the morning game drive.
We'll break for lunch at the lodge before embarking on a 2 p.m. boat safari along the Kazinga Channel. This natural channel connecting Lake George to Lake Edward is a highlight of your Queen Elizabeth Park visit. The 2.5- to 3-hour slow-paced boat safari is like a live National Geographic episode. Expect to see a plethora of animals along the shoreline—hippos, crocodiles, elephants, water buffalo, and hundreds of birds, including pelicans. For the best viewing, grab a seat on the top deck on the left side.
We'll wrap up the day with dinner and a second night at the cozy Enganzi Game Lodge – All meals.
Day 5: Journey to Lake Mburo National Park: Wildlife Encounters and Relaxation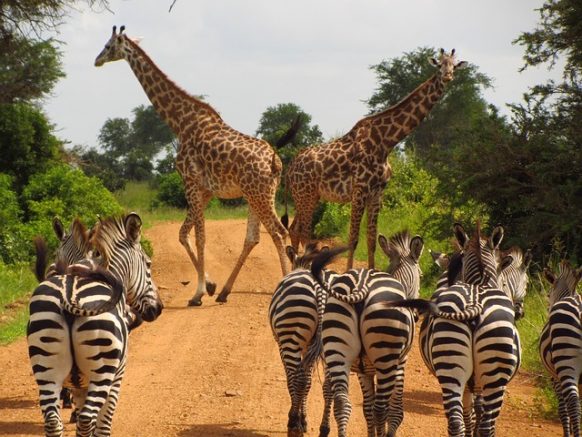 After breakfast, we'll head to Lake Mburo National Park, a charming Ugandan gem that's perfect for a peaceful break. While the park may not boast the large predators seen in other African reserves, it still offers unique game and boat safaris, as well as a tranquil atmosphere.
We'll break for lunch in Mbarara town before continuing to Eagle's Nest Camp. Conveniently located just outside the park's entrance, this camp saves you the daily park fee. Each tent features a private balcony with seating, allowing for quality time amid stunning views. The self-contained tents also offer spacious bathrooms with hot water.
Afternoon Wildlife Safari – While large predators are absent due to nearby cattle farming, Lake Mburo offers its own unique wildlife, such as Burchell Zebras and Rothschild Giraffes—the tallest in Africa. You'll also find Elands, Leopards, and Impalas, which are unique to this region in Uganda. The blend of lake systems, woodlands, and grasslands make for an enjoyable safari experience, complete with excellent bird-watching opportunities.
We'll conclude the day with dinner and an overnight stay at the lodge.
Lodging:  Moderately priced Rwakobo Rock Lodge – All meals
Other options: Budget Eagles Nest Lodge or upscale Mihingo Lodge and Kigambira Safari Lodge.
Day 6: Walking safari, Stop by the Equator, and head back to Entebbe as the 6-day Gorillas and Wildlife Uganda Safari comes to an end.
Waking up on the last day of our Gorillas and Wildlife adventure, the serenity of Lake Mburo National Park surrounds us. This safari has offered unforgettable moments, and today, we'll add a few more to our collection.
After relishing breakfast at the lodge, lace up your boots for a different kind of safari – a walking safari. Unlike our previous game drives, today's safari on foot immerses us deeper into the wilderness, feeling the pulse of the wild.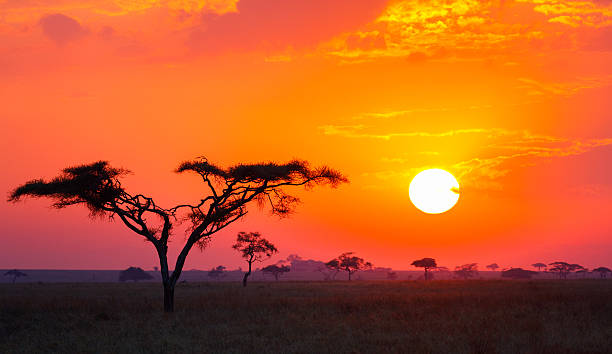 Walking safaris are a distinctive feature of Lake Mburo National Park and offer a different perspective on wildlife. As you quietly stroll, watch for zebras, elands, impalas, buffaloes, and antelopes in their natural habitat. This intimate and immersive experience lets you notice smaller details of the park – footprints, droppings, insects, and diverse plants – that you might miss on a vehicle safari.
The nature walk lasts about 2-3 hours, depending on the pace and interests of the group.
Around late morning, as we start our journey back to Kampala or Entebbe, we'll pass through the equator line. This is a great photo opportunity! There's an informative talk about the equator phenomenon, and you can even witness a simple yet fascinating water demonstration.
We'll stop for lunch, arriving at Entebbe by the late afternoon. This marks the conclusion of your 6-day Uganda expedition. It's been an incredible journey filled with unforgettable memories and new friendships. We hope Uganda's diverse and mesmerizing beauty stays with you forever!
---
What's Included in our Gorillas and Wildlife Uganda Safari:
Bwindi Gorilla Tracking Permit
Ground transportation in a private 4×4 Safari Vehicle with pop-roof and Driver-Guide
Lodging with all Meals, excluding drinks
Park Entrance Fees for Vehicle
Game Drives led by an Expert
Kazinga Channel Boat Safari
Complimentary bottled water on all drives
What's Not Included:
Airfare to and from Uganda, Alcoholic and Fizzy Drinks, Laundry Services, Tips for Lodge Staff
---
For pricing, customizations, or additional details regarding our 6-Day Gorillas and Wildlife Uganda Safari, please complete the form below. Alternatively, you can get in touch with us today by calling +256777201697 or sending an email.