Best Gorilla Trekking Safari Add-on Options in Uganda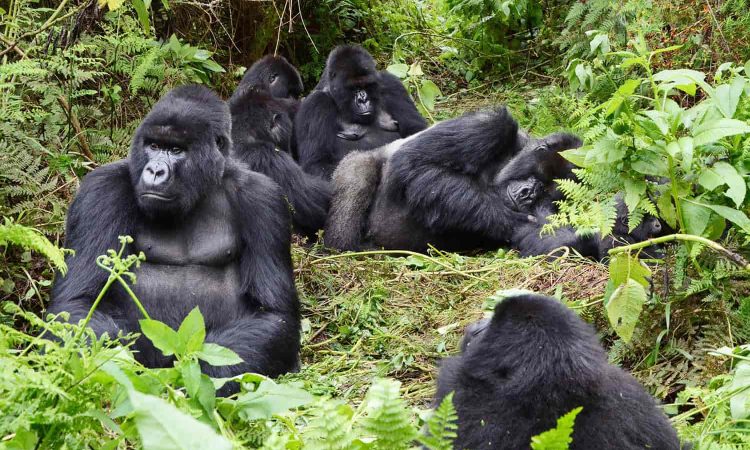 Enhance Your Gorilla Trekking Experience with These Exciting Safari Add-Ons
Discover the Best Complements to Your Ugandan Gorilla Trek
Welcome to the ultimate guide for Gorilla Trekking Safari Add-ons in Uganda. Here, we offer an array of exceptional experiences that perfectly complement your gorilla trekking adventure. From encountering majestic wildlife to immersing in rich cultural experiences, our add-ons are designed to enhance your African journey.
Uganda, a land famed for its diverse wildlife, including the Big 7: lions, leopards, elephants, rhinos, and buffaloes, plus chimpanzees and gorillas, offers more than just gorilla trekking. Captivated by Uganda's allure, Winston Churchill named it the "Pearl of Africa," a title you'll understand once you explore its majestic landscapes.
Chimpanzee Trekking Add-On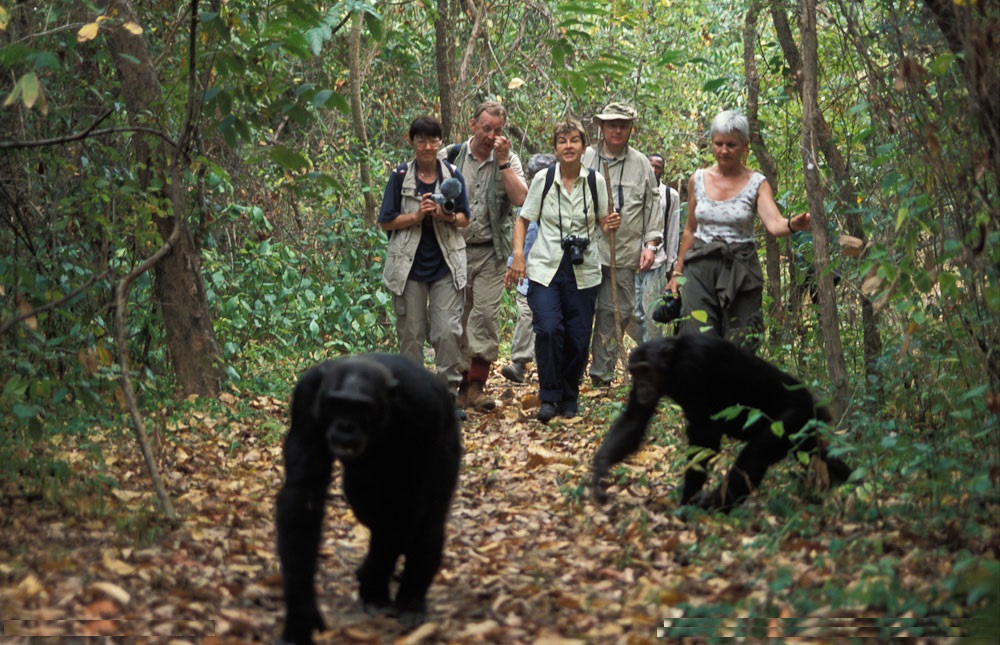 Dive into the heart of Uganda's forests for an unforgettable chimpanzee trekking experience, where over 5,000 of these captivating primates roam free. In Kibale Forest, known as the Primate Capital of Africa, you're almost guaranteed to spot these intelligent creatures, making it a top choice for a gorilla trek safari add-on. With the highest primate density worldwide, including half of the world's mountain gorillas in Bwindi, Uganda is a paradise for primate enthusiasts.
Kibale not only promises exceptional chimpanzee sightings but also offers a unique day-long Chimpanzee Habituation Experience, going beyond the usual hour-long visit. This experience and a night forest walk to discover nocturnal wildlife elevate your safari adventure, making it a must-do for those trekking gorillas in Uganda. With easy access and highly habituated chimpanzee troops, Kibale stands out as the ultimate destination for primate encounters in East Africa.
Golden Monkey Encounters – a Perfect Gorilla Trekking Safari Add-on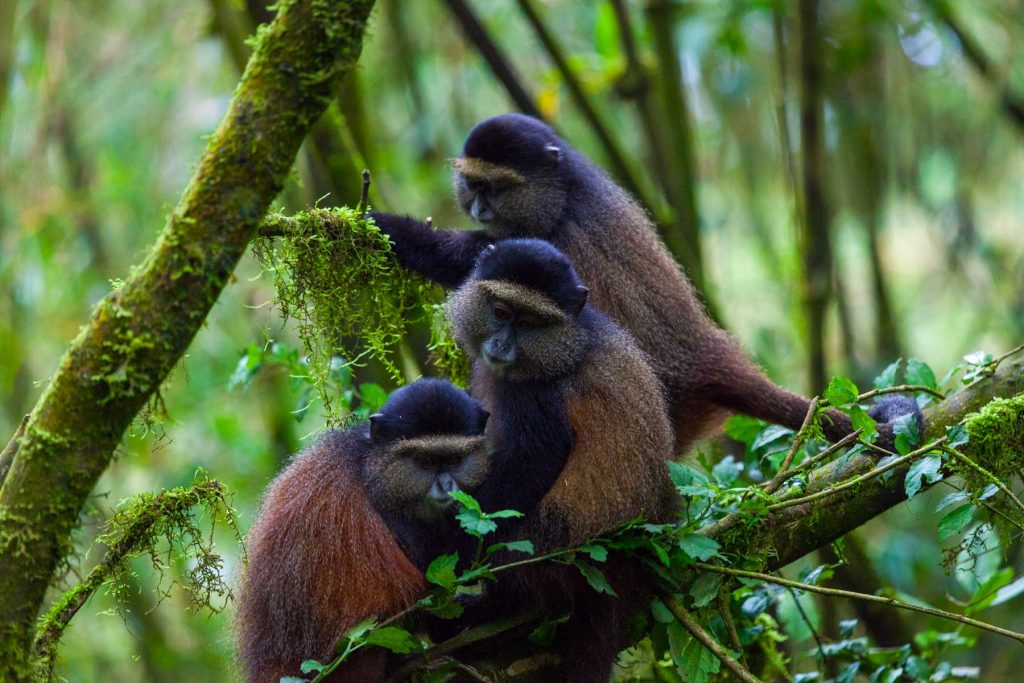 Embark on a captivating golden monkey trek in the bamboo forests of Mgahinga Gorilla Park, where these rare and playful
primates offer an exhilarating experience. Ideal for visitors to Mgahinga or the southern Bwindi region, this adventure stands out as a must-do for nature enthusiasts. The park provides a unique opportunity to track these smaller, tree-dwelling primates, known for their lively antics as they leap between trees and move swiftly on the ground, ensuring a memorable and thrilling primate encounter.
The park offers two types of golden monkey adventures. The standard visit, similar to those in Rwanda, allows an hour with these agile primates. However, Mgahinga's exclusive 'Golden Monkey Habituation Experience' offers a more in-depth encounter unique to the park.
Boasting the best golden monkey viewing in East Africa, Mgahinga's rich flora and diverse landscapes delight every visit. The park ensures almost certain sightings, with a team pre-tracking the monkeys and guiding tourists to their location.
Wildlife Game Drives, Boat Safaris, and Nature Walks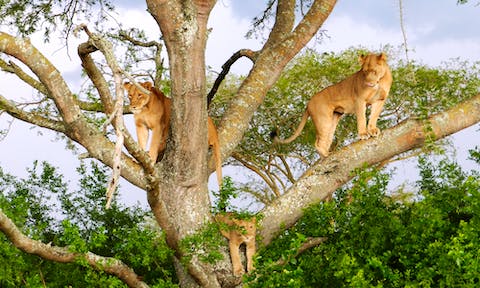 In Uganda, beyond the breathtaking encounters with endangered primates, lies a wildlife haven rivaling its famous neighbors. Queen Elizabeth National Park, known for tree-climbing lions, and the Kazinga Channel's hippo-packed boat safaris, alongside birdwatching, is a must-see. Just a stone's throw from Kampala, Murchison Falls Park showcases the Nile's raw power and is home to Africa's largest Rothschild Giraffe population and the Big Five, thanks to Ziwa Rhino Sanctuary. For those venturing further, Kidepo Valley Park awaits in the north, acclaimed as one of Africa's most spectacular parks by CNN-Travel and the Wanderlust Movement, offering an unforgettable wilderness experience.
Adding these destinations to your gorilla trek itinerary in Uganda also helps to break the long drive between Bwindi and Entebbe International Airport.
 Gorilla Trekking Safari Add-on – Adventures in the Great Outdoors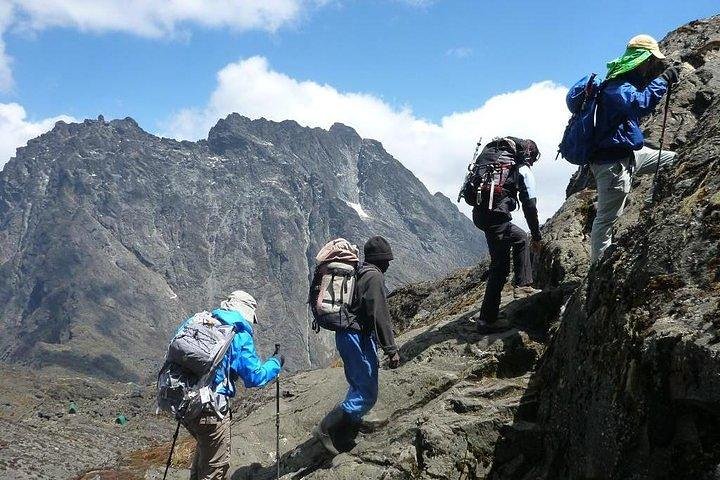 Uganda offers many exciting outdoor activities for enthusiasts, such as climbing volcanoes and hiking the Rwenzori Mountains. The country's temperate climate is perfect for these activities and offers options for avid climbers and those who prefer gentle foothill hikes.
If you have an extra day to spare, volcano climbing is a perfect add-on to your gorilla trekking safari. Mgahinga is an inspiring location and a great base for hikers and walkers. The landscape includes meadows, jungles, pastoral areas, thick bamboo hills, and open volcanic mountain vistas. With changes in elevation and views of the Rwandan Virungas, the place is perfect for adventure lovers.
Whitewater Thrills on the Nile Add-On – Gorilla Trekking Adventure Enhancements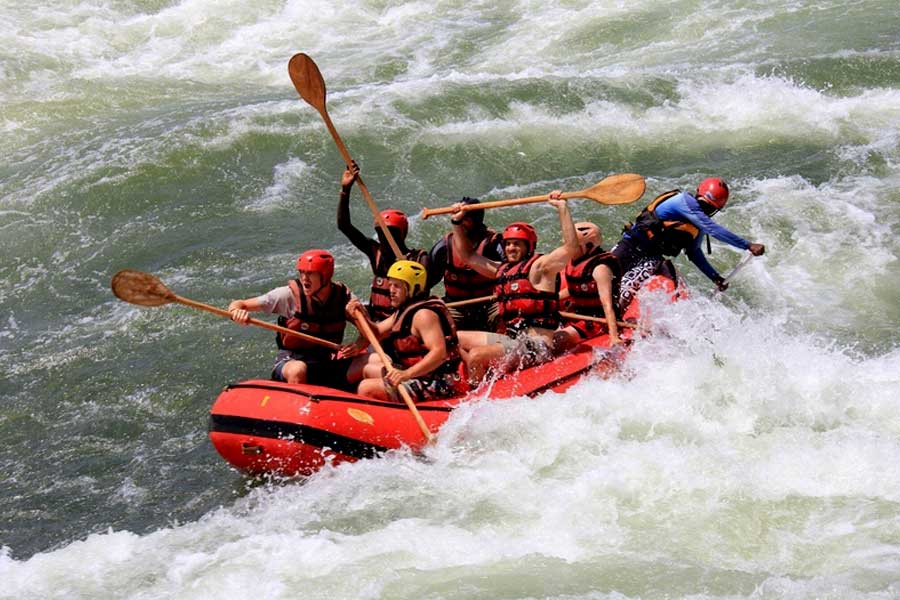 Enhance your Uganda gorilla trekking safari with a thrilling whitewater rafting experience on the Nile River at Jinja, the adventure Capital of East Africa and one of the world's premier rafting destinations. Whether you're a first-timer or an experienced rafter, the rapids of the Nile offer an exhilarating adventure. Start with a comprehensive safety orientation before plunging into the exhilarating Grade 4 and 5 rapids, ensuring an unforgettable experience for every adventurer.
Beyond the adrenaline rush, calmer options like family float trips are also available, perfect for those seeking milder excitement. Easily add a day or two of rafting or kayaking to your safari package, complete with professional guidance and stringent safety measures. This add-on enhances your safari experience and allows you to witness the majestic beauty of the Nile in a unique and thrilling way.
Add-On Relaxation and Scenic Beauty
Unwind in Uganda's serene surroundings after your exciting adventures. The calm waters of Lake Mutanda and the River Nile's hidden islands offer tranquility. Explore sandy Ssese Island beaches or Western Uganda's quiet crater lakes. Take a day at Lake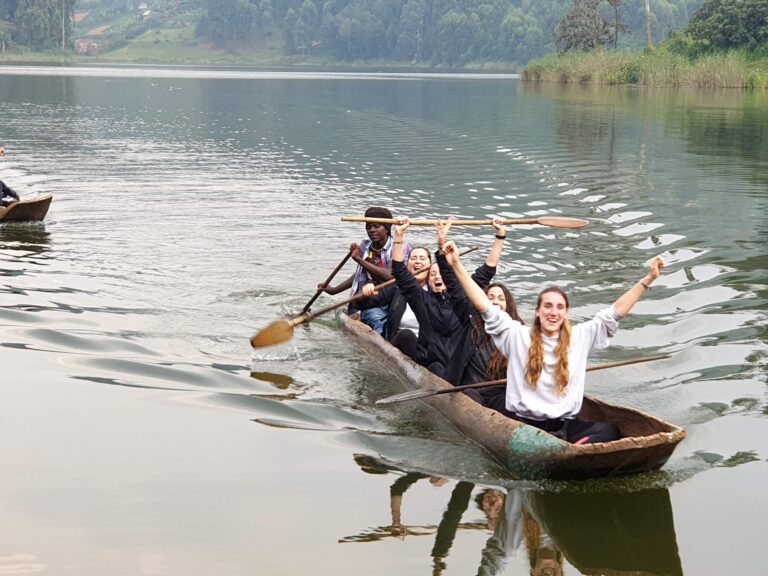 Mutanda or Lake Bunyonyi during your Bwindi safari, glide across the water in a motorized or dugout canoe, and enjoy the peaceful ambiance of the beautiful lakes. Visit the Virgin Islands for a peek into the region's intriguing history, including a former prison island with a dark past. The trip offers a peaceful escape with stunning volcano views and the chance to paddle a traditional dugout canoe, a relaxing yet invigorating exercise.
Lake Bunyonyi, known for its mystical mornings and cool breezes, is perfect for a day or two of relaxation. The lake boasts lush greenery and about 300 bird species. Embark on a leisurely boat ride, enjoy bird watching, or swim in its clear, Bilharzia-free waters. Wildlife enthusiasts can spot impalas on Mutebire's island, adding to the experience. This lake is ideal for unwinding and rejuvenating after gorilla trekking, ensuring you return home refreshed and enriched by Uganda's natural beauty.
Cultural Encounters with the Batwa (Pygmy) Forest People
Enhance your gorilla trek in Uganda with a cultural encounter with the Batwa Pygmy tribe in Bwindi Impenetrable and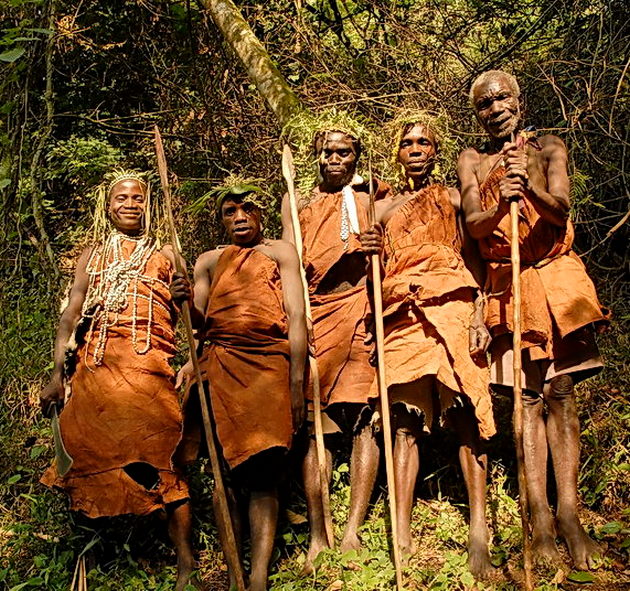 Mgahinga Parks. Visit their communities to learn about their traditional forest lifestyle and support this endangered tribe, once custodians of these forests. Contrary to misconceptions, the Batwa have coexisted peacefully with gorillas and are wrongly stigmatized as poachers.
Explore small Batwa villages on the park's fringes, each offering unique experiences. In Mgahinga, join the Batwa Cultural Trail, a five-hour nature walk led by community guides. They'll teach you forest survival skills, from foraging to crafting tools from nature. The walk concludes with a performance in the Garama Cave, creating a deeply moving and educational experience. This visit enlightens you about Batwa's nomadic life and connects you with a community whose resilience and pride are truly inspiring. This add-on offers a rich, immersive experience complementing your gorilla trekking adventure.
Tailor Your Ultimate Safari Experience
Let us help you create a personalized safari with these incredible add-ons. Contact us to plan your dream Gorilla Trekking Safari with unforgettable experiences in the Pearl of Africa.
---
Here are some useful links that you may find helpful to check out: