Comprehensive Gorilla Habituation Experience Guide in Uganda

Comprehensive Gorilla Habituation Experience Guide, Bwindi – Uganda: Insider Tips and Eco-Friendly Practices
Gorilla Habituation Experience in Bwindi Impenetrable National Park, Information Advice and Tips for the Magical Experiential 4-Encounter
---
Welcome to our comprehensive guide on the Gorilla Habituation Experience in Rushaga, a hidden gem within Uganda's majestic Bwindi Impenetrable Forest. This unparalleled adventure, available exclusively in Uganda since 2017, invites you to an intimate and profound encounter with the mountain gorillas.
Encountering wild mountain gorillas in East Africa's forests is a profoundly moving experience. These gorillas, found in Rwanda, Uganda, and the Democratic Republic of Congo, are the world's most endangered apes, with just around 1,000 remaining.
Unlike the more widely known Gorilla Trek, the Gorilla Habituation Experience offers a deeper connection with these noble creatures. With a daily limit of just four visitors, this remarkable journey unfolds in the serene southern reaches of Bwindi, specifically in Rushaga. Here, you'll embark on a unique and exclusive adventure that goes beyond the ordinary into the heart of gorilla territory.
The Experience
With only four participants per group, the Gorilla Habituation Experience offers a personal and close encounter with these majestic creatures. This exclusive experience in Bwindi's southern region, Rushaga, requires advance booking, often up to two years ahead, due to its high demand and limited availability.
Choosing the Right Tour Operator
Selecting a reputable operator like Lifetime Experience Safaris is crucial for securing permits and realizing your safari dream.
Why Choose This Safari?
The Gorilla Habituation Experience in Uganda's Bwindi Impenetrable National Park is a journey unlike any other. It begins with an early morning start, leading you through a trek in the dense forest. This adventure culminates in up to four hours with a family of wild mountain gorillas, allowing for an immersive and intimate wildlife encounter.
Uganda, home to about half of the world's mountain gorilla population, offers this unique experience. While a typical gorilla trek in the region grants visitors one precious hour with these majestic creatures, the Gorilla Habituation Experience extends this time to four spellbinding hours. Accompanied by expert guides and trackers, you'll be part of a process where rangers and researchers work to gradually introduce gorillas to the presence of humans. This initiative supports conservation efforts and promotes sustainable tourism, making it one of the most remarkable wildlife encounters on the planet."
Advantages of Gorilla Habituation Safari
Extended Time with Gorillas: Up to four hours for a deeper understanding and connection.
Limited Participants: Ensuring a more intimate and personal experience.
Active Participation in Conservation: Contributing to the crucial process of habituating gorillas.
Learning Opportunity: Gain insights about gorilla behavior and the ecosystem.
Planning Your Safari
Obtaining a $1,500 permit is the first step toward this adventure. Collaborate with a member of the Association of Uganda Tour Operators like us for a better chance of securing your spot. Be flexible with travel dates, and consider off-peak months for better availability.
Best Time to Visit
Embark on this safari year-round, with each season offering a unique experience. The rainy seasons bring lush greenery and vibrant life to the forest despite the muddy trails.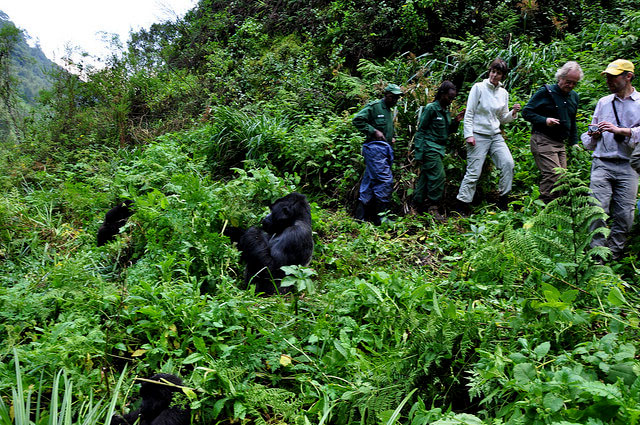 Getting to Bwindi Impenetrable Forest
Options include a fly-in safari from Entebbe, driving from Rwanda's Kigali International Airport, or integrating the trek into a longer safari from Entebbe or Kampala.
Fitness Requirements and Trek Preparation
The trek can be demanding, requiring good physical condition. Prepare by enhancing your fitness level, and rest assured that accommodations, including porter assistance, are available for those with disabilities.
Utilizing Porter Services and a Walking Stick on the Trek
Hiring a porter not only aids your trek but also supports local communities. Porters are experienced in navigating the terrain and contribute significantly to the success of your trek.
A walking stick is vital for navigating challenging terrain, providing stability and safety. We supply walking sticks to our guests, and you can also purchase ornate ones from local artisans as a souvenir. Read more about porters and walking sticks here.
Gorilla Trekking Rules and Etiquette
To ensure your safety and the well-being of the gorillas, it is crucial to familiarize yourself with the rules. These rules are similar to those of standard gorilla trekking, including maintaining a safe distance, avoiding flash photography, and following safety protocols. It is also important to always follow the ranger's instructions.
Lodging Choices for Your Safari
Choosing the right lodge is crucial for convenience, especially since the Habituation Experience starts earlier than regular treks. We assist in selecting the best lodge near the Habituation Trailhead.
Safety of the Experience
Uganda is a secure destination for gorilla trekking. With armed rangers and constant patrolling against poaching, the Uganda Wildlife Authority ensures a safe experience. There have been no incidents involving tourists in over 25 years.
Packing Essentials for Your Gorilla Safari
Ensure you have the following for a comfortable experience:
Daypack: Waterproof for essentials.
Hiking Boots: With ankle support and good grip.
Long Trousers and Long-Sleeved Shirt: Protection against nettles and thorns.
Rain Jacket or Poncho: Prepare for rain.
Gardening Gloves: Protect your hands.
Hat, Sunglasses, Insect Repellent, and Sun Lotion: For overall protection.
Read more about packing for your Gorilla Safari here, and what to wear for your gorilla safari in Uganda.
---
Experience the extraordinary Gorilla Habituation Experience in Uganda's Bwindi Impenetrable National Park with Lifetime Experience Safaris. This unique opportunity brings you closer to the majestic mountain gorillas in a way few ever experience. Don't miss out on this intimate and unforgettable adventure. Contact Lifetime Experience Safaris now to secure your place in this once-in-a-lifetime journey.
---
Here are some useful links that you may find helpful to check out: