Description
Explore the Best of Uganda: 9-Day Birding, Wildlife, and Nature Safari.
The Detailed Itinerary
Arrival Day in Uganda: Your Smooth Welcome to East Africa
As you arrive in Uganda for your 9-Day Uganda Birding and Wildlife Tour, the warmth of the Pearl of Africa immediately greets you. At Entebbe International Airport, our friendly team will be on hand to ensure a smooth and welcoming start to your journey. After a swift process through immigration and customs, you'll meet our driver or a hotel representative in the arrivals area, ready to escort you to your accommodation.
Efficient and friendly, the airport staff will assist you, making your entry into Uganda a hassle-free experience. For your first night, relax in the comfort of a selected Entebbe hotel, with most offering complimentary airport transfers. If required, we are also available to facilitate your transportation. Please have your Uganda Tourist Visa and Yellow Fever Certificate ready for a smooth check-in.
---
Day 1: Mabamba Swamp – Quest for the Shoebill Stork and Travel to the Ziwa Rhino Sanctuary
Your adventure begins with a thrilling start. Rested and ready, we'll collect you from your Entebbe or Kampala hotel before 7 a.m., launching into the first chapter of your 9-Day Uganda Birding and Wildlife Tour. Mabamba Swamp, our initial stop, is a paradise for bird watchers and the prime location to spot the Shoebill Stork. In this birding haven, we'll actively search for the remarkable Shoebill, a unique and ancient-looking bird that tops the list of Africa's most sought-after wildlife encounters, along with a variety of other native bird species.
Situated along Lake Victoria, Mabamba Swamp holds the esteemed designation as a RAMSAR site. We'll navigate its narrow channels in a fishing boat, guided by a birding expert, to seek out the Shoebill Stork. Early mornings are the best time to see the Shoebill in action, standing motionless in the swamp, hunting for lungfish and other prey. With its swift and decisive beak movements, this bird is a captivating sight. You'll often get close enough to capture stunning photos of the Shoebill Storks. Our exploration typically concludes around 10:30 a.m. to 11 a.m., marking an exhilarating start to your safari.
Pack a snack, take some bottled water take along a good pair of Binoculars, a hat, sun protection, insect repellent, a light rain jacket, a long-sleeved shirt, and long trousers – all in your backpack.
Continue to the Ziwa Rhino Sanctuary in a 4-hour drive, arriving at 3:30 p.m.
Check into the Ziwa Rhinos Guesthouse, featuring permanent tented cottages, setting the stage for the next part of your Ugandan wildlife experience. Dinner & Breakfast included.
Amuka Lodge is the moderately priced option in the area, with more comfortable accommodation with a swimming pool and permanent tented cottages.
Day 2: On-foot Rhino Tracking, Transition to Murchison Falls Park for an afternoon safari drive.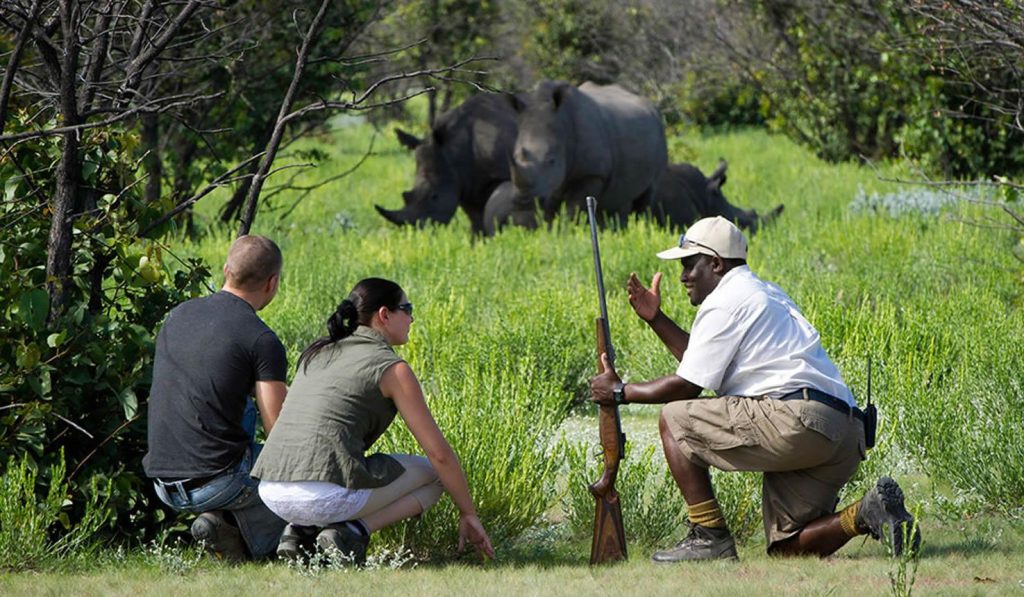 We will meet with the assigned ranger at Ziwa Rhino Sanctuary after breakfast to track Rhinos on foot. The ranger will guide us as we get close to the Rhinos for some great photo opportunities. During the one-hour Rhino Trek, you will get as close as 10 meters to these massive creatures. The rangers will be there to guide you throughout the trek.
The Rhinos are in a Sanctuary for eventual release into wildlife reserves in northern Uganda. Some Rhinos will be released in 2024 and 2025.
We will then continue our journey to Murchison Falls Park, where you can choose to stay at Pakuba Lodge. After settling into your room, you can enjoy a delicious lunch and take a break from the journey. If you stay at a mid-range facility, you can enjoy their pool. After lunch, we will embark on the first game drive, where you will see lions, elephants, giraffes, various types of antelopes, warthogs, and buffaloes. Our expert guide will stop at your beckon and escort you to find elusive lions, elephants, and giraffes and explain the trees and birds. Take your time and explore more of Murchison Falls.
Our itinerary is designed to provide a memorable and enjoyable African experience. We take pride in our attention to detail and customer satisfaction. With our expert guide, you will have the opportunity to see and learn about the flora and fauna of Uganda.
Lodging: Pakuba Lodge – All meals
Day 3: Game Drives and Nile Boat Safari and Top of the Falls Hike
Start your day with a delightful early morning breakfast, and then, get ready for a thrilling game drive. As you traverse the landscape along Lake Albert and through the savannah, you'll be captivated by the abundance of wildlife and birds. Moreover, the sights of the diverse fauna in their natural habitat are so enthralling. Consequently, you may find yourself so immersed in the experience that the idea of returning to your lodge for rest and lunch might just slip your mind.
Post-lunch, we'll introduce you to one of the crowning experiences of Murchison Falls National Park: a motorized boat ride on the Nile. Spanning three hours, this journey offers up-close encounters with crocodiles and hippos lounging on the banks or submerged in the river. Keep your eyes peeled for a myriad of birds, monkeys, buffaloes, and elephants. You'll even get a view of the majestic falls from the river. For a comfortable experience, we recommend donning a hat, applying ample sunscreen, and using insect repellent to ward off Tsetse flies. The day concludes with a delightful dinner back at your lodging, followed by a restful night.
Day 4: Drive to Kibale – Gateway to Chimpanzees
We'll start our day with an early breakfast and then head towards Kibale Forest. As we journey through the picturesque countryside, we'll be treated to stunning views. During the trip, we'll enjoy a delightful lunch and provide drinking water in the vehicle. Furthermore, upon reaching the Fort Portal area, you'll have the option to choose from a range of lodging facilities. Whether you prefer budget-friendly, moderate, or upscale accommodations, there's something for everyone. After check-in, we'll gather for a delicious dinner. Finally, we'll settle in for a restful night, reflecting on the day's travel and anticipating the adventures to come.
Day 5: Chimpanzee Trekking in Kibale Forest afternoon Walk – Bigodi Swamp Wetlands
After a nourishing breakfast at Kibale Forest Camp, your day begins with a journey to the Kibale Forest Headquarters, setting the stage for an extraordinary Chimpanzee Tracking adventure. This guided trek is not just about seeing chimpanzees; it's an immersion into a world where 13 primate species reside, and you're likely to encounter at least five or six different types.
Kibale Forest is a marvel in itself, boasting rugged beauty and a rich tapestry of biodiversity. Here, butterflies flit and exotic birds sing, creating a vibrant backdrop to your tracking experience. Beyond chimpanzees, the forest is a sanctuary for an array of wildlife, birds, plants, and trees, making every step an exploration of nature's wonders.
The chimpanzees you'll meet are habituated and accustomed to human presence, ensuring a respectful and close-up encounter. The trek spans approximately 3½ hours, suitable for participants aged 15 and above. For younger adventurers, alternate activities with Rangers are available.
Option: For a deeper engagement, choose the all-day Chimpanzee Habituation Experience over the standard trek. This option allows you more time with these fascinating primates.
Bigodi Swamp Wetlands
Post-lunch, embark on an afternoon hike in the Bigodi Swamp Wetlands, adjacent to Kibale Forest. Here, you might spot chimpanzees again and will surely encounter a wealth of birdlife, including the striking Large Blue Turaco. Bigodi Wetlands Sanctuary, a community-led project, offers not just an ecological haven but also a chance to contribute to local conservation efforts. Your entrance and guide fees directly support this community initiative.
The Bigodi Swamp itself is a natural masterpiece, a jungle ecosystem free from hippos and crocodiles, yet bursting with life. The sanctuary acts as a bridge where the vast Central African Jungle seamlessly meets the biodiversity of East Africa, providing a unique and enriching experience.
Day 6: Shift to Queen Elizabeth Wildlife Park and Kazinga Channel Boat Safari.
After breakfast, we'll set off on a picturesque two-hour drive to Queen Elizabeth Park. Our first stop is the Katwe Explosion Craters. This 27-kilometer journey is rich in scenic beauty. We'll reach the park's highest point, offering stunning views. You'll see the Rwenzori Mountains, the Western Rift Escarpment, and vast savannahs. Lakes George and Edward shimmer below, connected by the Kazinga Channel. Here, about 12 explosion craters await, a spectacle recently highlighted in National Geographic.
Once we complete this scenic route, we'll proceed to check into Enganzi Game Lodge. Later in the afternoon, an exhilarating game drive awaits us. The savannah, adorned with candelabra euphoria trees, is our backdrop. Our vehicle comes equipped with a pop-up roof, perfect for photography. Get ready to spot lions, leopards, and bush pigs. You might also see giant forest hogs, elephant herds, and buffaloes. The area teems with various antelope species, savannah birds, hyenas, and monitor lizards. Sometimes, you may even spot a rock python.
Day 7: Game Drive and Optional Chimp Tracking in Kyambura Gorge
We offer an early morning game drive at dawn, starting around 6:30 a.m. It's the best time to see predators after a night of hunting. The Savannah Sunrise at this hour is a breathtaking sight. We can also arrange for a Uganda Wildlife Authority Ranger to join us. Their expertise will enrich your game drive experience.
For a different adventure, try the Lion Tracking Research. You'll join researchers to track collared lions. This project is in collaboration with the Uganda Carnivore Project and the Uganda Wildlife Association. It's an exciting and educational experience. You'll learn about lion habits and behaviors. We'll schedule breakfast either before or after your morning activity.
At 3 pm, join us for a Boat Safari on the Kazinga Channel. It's famous for its high hippo population. This safari is a key part of visiting Queen Elizabeth Park. The boat ride lets you peacefully observe various wildlife. Look out for elephants, antelopes, crocodiles, and monitor lizards. In the late afternoon, you might see predators and buffaloes on the shore. Don't miss the chance to photograph an open-mouthed hippo!
Day 8: Lake Mburo National Park – Wildlife and Lake Safari
After breakfast, we'll transition to Lake Mburo National Park, starting with an early breakfast. Lake Mburo is the ideal spot to break up a long journey, offering some of Uganda's most delightful scenery. We'll embark on a 5-hour drive to reach Lake Mburo, aiming to depart at 7 a.m. to make the most of our day.
Arriving around lunchtime, we'll check into Rwakobo Rock Lodge, perched high on a ridge with a stunning view of Lake Mburo Park. The lodge offers delightful cottages and a swimming pool for relaxation and enjoyment.
In the afternoon, prepare for an enchanting Boat Ride on Lake Mburo. This serene lake is home to hippos, crocodiles, otters, a variety of water birds, and mammals that frequent its waters. You'll embark on this tranquil journey in a smaller motorboat, enjoying around 1 1/2 hours of peaceful exploration.
Lodging: Your stay will be at the Rwakobo Rock Lodge, where comfort and natural beauty combine to create a memorable lodging experience.
Day 9: Final Game Drive and Return to Kampala
After breakfast, we'll set out on a morning game drive through the rolling hill savannah of Lake Mburo National Park. This scenic drive offers a chance to spot large Elands, various antelopes, giraffes, Burchell Zebras, and if we're lucky, the occasional leopard.
Following the game drive, we'll begin our journey back to Kampala or Entebbe.
On the way, we'll make a special stop at the Equator for a photo opportunity – a memorable moment to capture.
Our next stop is in Mpambire, at the Royal Drum Makers. Here, you'll witness a centuries-old tradition of drum making, an integral part of Uganda's cultural heritage.
We aim to reach Kampala or Entebbe in the late afternoon, marking the conclusion of our ten-day encounter with the wild beauty of Uganda on this unforgettable Safari Tour.
---
Below is what we offer in this Uganda Birding and Wildlife Tour:
The Safari price includes Lodging and meals, Ground transportation in a 4 Wheel Drive Safari Vehicle, English Speaking Driver, Bottled  Water on all Drives, Mabamba Shoebill Stork tour, Kibale Chimpanzee tracking permits, Park Entrance fees, and a Guide for Tracking, Game Drives, Boat safaris, and a UWA armed expert ranger guide.
Not included in the offer: Air Travel to and from Uganda, Uganda Visa Costs, Laundry, Tips, and Drinks are not included in the Safari price, except for those included in the lodging meal price.
---
Get in touch with us today to book your tour or ask any questions. Our team will be thrilled to provide you with all the information you need to make your journey truly remarkable.