Description
9-Day Rhinos, Gorilla – Chimpanzee and Wildlife Uganda Safari

Embark on a thrilling 9-day Uganda expedition in Uganda, where you will witness the spectacular Rhinos at the Ziwa Sanctuary, explore the breathtaking Murchison Falls Park, encounter the fascinating Kibale Chimpanzee & Primates Park, and witness the abundant wildlife of Queen Elizabeth Park. Don't miss the chance to trek the Bwindi Mountain Gorillas and explore the stunning Lake Mburo National Park. Discover a realm where lions roam, elephants parade, giraffes amble, and a multitude of incredible wildlife play out their daily dramas.
---

Arrival at Entebbe International Airport
Before we delve into the details, let me give you a quick overview of what to expect upon arrival at Entebbe International Airport. Upon landing and Entebbe, your friendly driver will be ready to receive you with a warm greeting. After swiftly completing immigration and customs procedures, head to the arrivals area, where our driver or your hotel's representative will await your arrival. Rest assured, entering Uganda is a smooth process facilitated by helpful officials. Typically, the airport formalities take approximately 45 minutes to an hour.
Most lodges and guesthouses in the Entebbe vicinity offer complimentary airport transfers, or we can arrange transportation to your chosen accommodation if necessary. Ensure you have your Uganda Tourist Visa and Yellow Fever Certificate ready. We are based in Kampala, an hour away. We can arrange your arrival and the final night upon your request. As you arrive in Entebbe, please note that you must purchase a standard Tourist Visa for $50 beforehand, with a Yellow Fever Certificate being a mandatory requirement. Exceptions may apply in specific cases, such as pregnancy. If you plan to venture into Rwanda or Kenya, we recommend the East Africa Tourist Visa.
Day 1: Setting the Tone for Our 9-Day Uganda Safari Adventure with a Journey to Murchison Park, stop off at the Ziwa Rhino Sanctuary 
We begin our journey towards Murchison Park with a memorable stop at the Ziwa Rhino Sanctuary. It's the 9-Day Rhinos, Gorilla – Chimpanzee & Wildlife Uganda Safari, and we're on a scenic 4-hour drive. To avoid the Kampala morning hustle, how about we hit the road by 6.30 a.m.? This sanctuary is a special place, having brought rhinos back after they disappeared during Uganda's turbulent times. Thanks to round-the-clock guards and a snazzy solar-powered fence, these rhinos are safe and sound from any threats.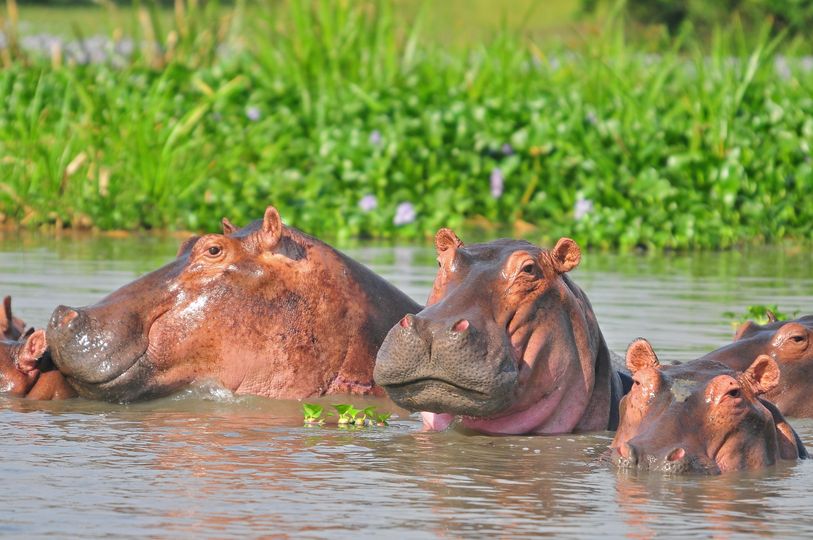 When we arrive, brace yourself for an exhilarating 1½-hour African adventure up close with the majestic wildlife! Next, we'll zoom off to Murchison Falls Park. Expect to touch down by lunch or shortly after, as the journey takes around 3 hours. We'll cross the iconic River Nile and then make a brief drive to Pakuba Lodge. Fun fact: it's one of the rare lodges actually inside the park's wildlife-rich side of the River.
By mid-afternoon, say 3:30 pm, we'll kick off our game drive. And guess what? You'll spot plenty of wildlife right from your lodge! On this 3-hour journey, keep an eye out for Lions, Giraffes, Elephants, Leopards, Buffaloes, Birds, and various antelopes. Remember, the sun sets around 6:45 pm, so by 7 pm, it'll be dark and time to wrap up.
Lodging: Pakuba Lodge – All meals
Other lodging options: Budget Gipir & Labongo Safari Lodge, Upscale Paraa Safari Lodge and luxury  Nile Safari Lodge.
Day 2: Morning Safaris drive, afternoon Nile Boat Safari, and Top of the Falls Hike
Start your day with an early morning game drive in Murchison Falls Park, a premier wildlife destination in Uganda. As you journey, keep an eye out for the park's thriving giraffe population, which is the largest in Africa with over 1,000 individuals. The elephant population here is also on the rise, a testament to the effective conservation and anti-poaching measures in place.
Post lunch, set sail on the iconic boat safari along the River Nile, heading up to the falls. This leisurely journey promises sightings of hippos in their pods, large numbers of crocodiles, grazing elephant herds, buffaloes, antelopes, and even monitor lizards. This boat safari is often regarded as a highlight of Murchison Falls Park, offering unparalleled views of wildlife, birds, and reptiles that you might not spot on a game drive.
Once we reach the bottom of the waterfall, we will disembark and embark on a guided hike to the top of the world's most powerful waterfall. It's truly an exhilarating experience as the ground trembles with the power of the waterfall, and the refreshing mist from the falls rejuvenates you.
Lodging: Pakuba Lodge – All meals
Day 3: Drive to Fort Portal – Kibale Chimpanzee Forest Park
We start our day with an early breakfast before heading towards Kibale Forest. On the way, we will drive through some beautiful countryside which will be a bonus. The journey is about 6½ – 7 hours, and we shall provide drinking water while we travel once we reach the Fort Portal area and stop for lunch.
In the afternoon, we'll visit the Bigodi Wetlands Sanctuary, a jungle swamp filled with all kinds of natural wonders.  Your guide will take you on a 2-3 hour nature walk, with a visit to the local community. Often using boardwalks made of planks to stay above the water. If you are a birding enthusiast, this is a must-visit place for you, as one of the birds you are most likely to see here is the large blue Turaco. In the afternoon, chimpanzees often come to forage from Kibale Forest, and you may also spot other monkeys. Furthermore, you have the chance to see the rare semi-aquatic Sitatunga Antelope here, which has webbed toes to help it move around swamp areas such as Bigodi Wetlands Sanctuary. Your guide is from the local community of Bigodi, who are the swamp caretakers responsible for protecting the sanctuary and the wildlife found there.
Lodging included: Isunga Lodge – All meals.
Other options in the area: Moderately priced Turaco Treetops Lodge, Upscale Papaya Lake Lodge
Day 4: Kibale Forest Chimpanzee Tracking & afternoon drive to Queen Elizabeth Park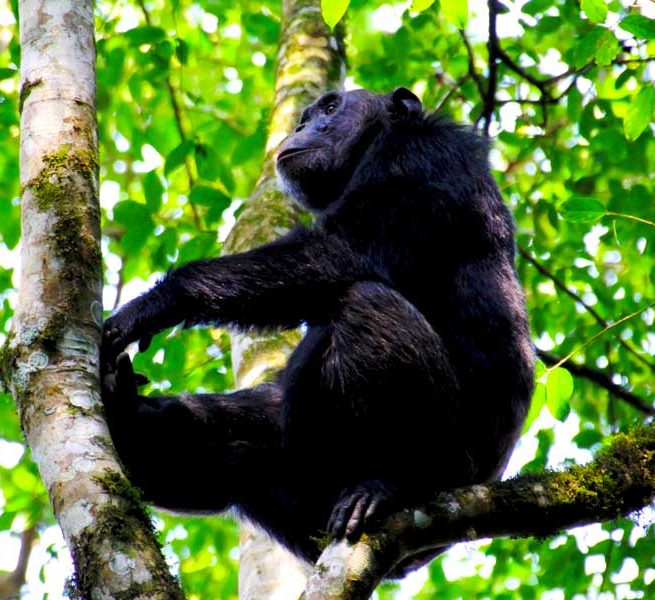 Start your day with a hearty breakfast at your lodge before heading to the Kibale Forest Headquarters to begin your Chimpanzee Tracking adventure. Guided by experts, venture into the park that's home to 13 different primate species, and on a typical trek, you can expect to spot at least 5 or 6 of them.
But it's not just about the primates. The enchanting forest, with its undulating terrains, is also home to a myriad of butterflies and exotic birds. So as you track the chimpanzees, take a moment to absorb the serene beauty around you – from the lush greenery to the diverse wildlife, birds, plants, and trees.
The chimpanzees you'll meet are habituated, which means they're accustomed to human presence. While the Chimpanzee Trek typically lasts about 3 1/2 hours and is open to individuals aged 15 and above, we've got a special activity lined up with Rangers for younger explorers.
Option: If you're keen on a more immersive experience, consider opting for the all-day Chimpanzee Habituation Experience instead of the standard trek. This allows you to spend an entire day observing a group of chimpanzees in their natural habitat.
Refuel with a delicious lunch after your trek.
Drive to Queen Elizabeth Park and Explosion Crater Drive or Game Drive.
After lunch, gear up for a captivating two-hour drive to Queen Elizabeth Park. But before we settle into our lodge, let's dive into the mesmerizing Katwe Explosion Crater drive, a journey that spans twenty-seven kilometers of sheer scenic beauty.
From the park's highest point, drink in the breathtaking vistas of the Rwenzori Mountains of the Moon, the expansive savannah below, the Western Rift Escarpment, and the twin beauties: Lake George and Lake Edwards, connected by the natural Kazinga Channel. And yes, among the 12 explosion craters you'll spot, one of them was recently spotlighted in National Geographic.
After soaking in nature's wonders, we'll check into the serene Enganzi Game Lodge.
Come afternoon, climb aboard for a game drive across the savannah dotted with iconic candelabra euphoria trees. Thanks to our vehicle's pop-up roof, you'll get unobstructed views, perfect for capturing photos. On this journey, look out for lions, leopards, bush pigs, giant forest hogs, herds of elephants,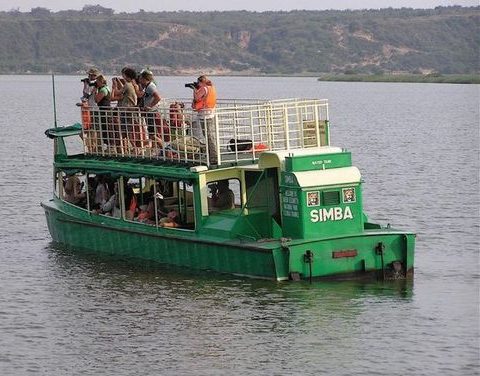 buffaloes, a variety of antelopes, and the region's unique savannah birds.
Lodging: Bush Lodge – All meals.
Other options: Moderately priced Enganzi Game Lodge, Upscale Kasenyi Safari Camp, Mweya Safari Lodge, and luxury Kyambura Gorge Lodge.
Day 5: Queen Elizabeth National Park; Safari/game drive, the Kazinga Channel Boat Cruise, and so much more
How about waking up to the enchanting hues of a Savannah sunrise? At around 6:30 am, just as dawn breaks, we can embark on our first game drive. This early hour is a magical time, often when predators return from their nighttime adventures. If you'd like, this is also the time a Uganda Wildlife Authority Ranger can join us to enhance our experience. And don't worry about breakfast; we can either fuel up before our drive or savor it afterward, whichever suits your preference. Nothing beats the thrill of the African savannah coming to life in the morning!
Option: Ready to delve deeper into the world of Uganda's majestic wildlife? Opt for our Lion Tracking Research experience! Join dedicated researchers on a quest to locate collared lions, an initiative supported by both the Uganda Carnivore Project and the Uganda Wildlife Association. Not only will you get an up-close encounter with these regal beasts, but you'll also gain insights into their behavior and lifestyle.
For those curious about smaller mammals, we offer the Banded Mongoose Research Project. Wander the Mweya Peninsula on foot, accompanied by rangers and experts, and observe the intriguing habits of the banded mongoose. It's a unique opportunity to learn about this fascinating creature in its natural habitat.
At 3 p.m., embark on an exhilarating Boat Safari on the Kazinga Channel, home to one of Africa's densest hippo populations. This experience is truly a must-do when visiting Queen Elizabeth Park. As we glide along the water, keep your camera ready for fantastic shots of elephants, antelopes, crocodiles, and monitor lizards lounging by the shore. And if we're lucky, you might just capture that perfect photo of a hippo with its mouth wide open. It's a serene journey packed with spectacular wildlife sightings!
Lodging: Bush Lodge – All meals.
Day 6: Transition to Bwindi Impenetrable Forest Forest Via Ishasha Region for Tree Climbing Lions Search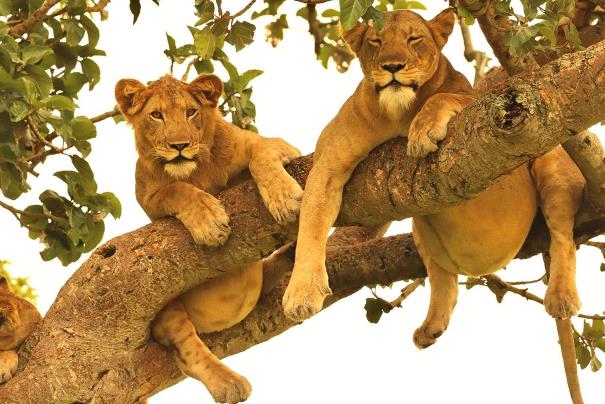 As we approach the middle of our 9-day journey, we transition to Bwindi Impenetrable Forest, a unique gem in Uganda's crown. A 2½-hour drive south takes us to the Ishasha region of Queen Elizabeth Park, a lesser-explored gem. Dive into a game drive in search of the renowned tree-climbing lions of Ishasha, making it the prime location in Africa to witness this unique behavior. Besides these lions, the Ishasha region teems with wildlife, from large elephant herds to topi antelopes, buffalo herds, and elusive leopards.
Post this exciting encounter, enjoy lunch at Savannah Resort. Refueled and reenergized, continue to the Ruhija Area of Bwindi Impenetrable Forest. Settle into your lodge, a comfortable mid-range lodge, perfectly situated to ensure relaxation and preparation for the upcoming Gorilla Trek.
Lodging: Bakiga Lodge – all meals
Other options: Moderately priced Haven Lodge – Buhoma, Upscale and Luxury: Mahogany Springs, Buhoma Lodge, Bwindi Lodge, and Gorilla Forest Camp.
Day 7: Gorilla Trekking – Bwindi Impenetrable Forest Park
Start your day with an early breakfast, then grab a packed lunch from the lodge. For this adventure, arm yourself with a daypack, 2 liters of water, jeans, a long-sleeved shirt, sunglasses, and tough cotton gardening gloves. These gloves assist you in gripping branches and vines. Don't forget a hat for added protection.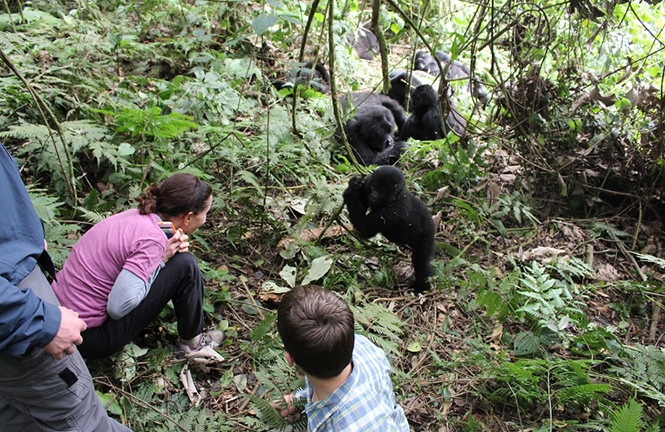 For unpredictable weather changes, pack a light rain jacket. Hiking boots offer the best support and grip for this trek. If you want added support, consider purchasing a walking stick or hiring a porter to carry your gear. These additional services aren't included in the safari price and cost 20 USD.
Remember, the duration of the Gorilla Trek varies; it might take more than five hours, depending on the movement of the gorilla group you're tracking. These gorillas shift locations daily. To aid your trek, pre-trackers head out early to locate the specific gorilla family you'll be visiting, as determined during that morning's Gorilla Trekking Briefing and Orientation.
Lodging: Lake Bunyonyi Eco-Resort – All meals
Other options: BirdNest Resort
Day 8 – After an early breakfast, we will head to Lake Mburo National Park for an afternoon Game drive.
After your exhilarating Gorilla tracking adventure, we set our sights on Lake Mburo. With an early breakfast behind us, we make our way to Lake Mburo National Park. This picturesque location serves as a refreshing stop in our Ugandan journey. With a drive time of about 5 hours, we aim to depart by 7 am to make the most of our day.

By lunchtime, we'll reach our destination, checking into the charming Rwakobo Rock Lodge. Perched on a ridge, this lodge offers panoramic views of Lake Mburo Park and features delightful cottages and a refreshing swimming pool.
Once we've had lunch and a brief respite, we dive into the afternoon's adventure: a game drive across the rolling hill Savannah where you can see the large Eland and other antelopes, Giraffes, Burchell Zebras, and occasional leopards.
Post the game drive, return to the lodge for a hearty brunch, followed by some leisure time. You might choose to indulge in a dip in the pool or simply relax and reminisce about the incredible adventures you've had over the past seven days.
Lodging:  Moderately priced Rwakobo Rock Lodge – All meals
Other options: Budget Eagles Nest Lodge or upscale Mihingo Lodge and Kigambira Safari Lodge.
Day 9 – Walking safari as the 9-day adventure is about to come to an end
Waking up on the last day of our 9-day adventure, the serenity of Lake Mburo National Park surrounds us. This safari has offered unforgettable moments, and today, we'll add a few more to our collection.
After relishing breakfast at the lodge, lace up your boots for a different kind of safari – a walking safari. Unlike our previous game drives, today's safari on foot immerses us deeper into the wilderness, feeling the pulse of the wild.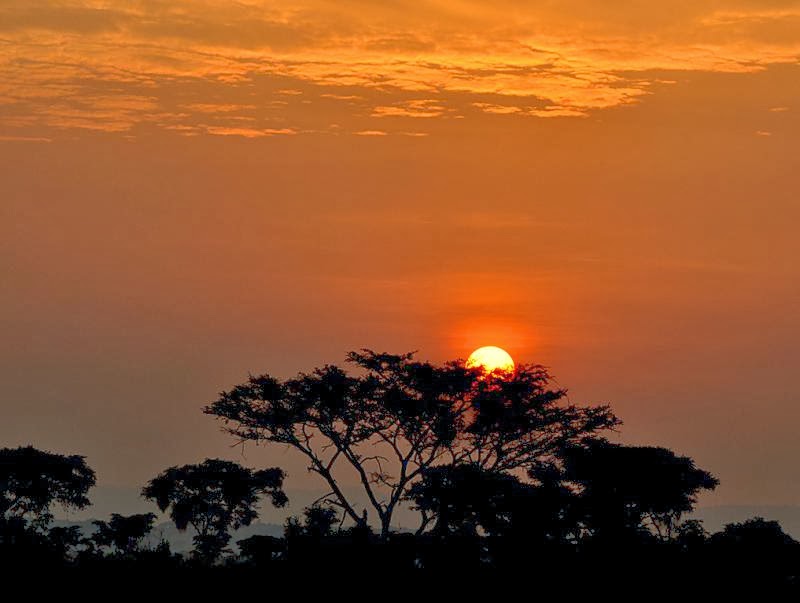 Walking safaris are a distinctive feature of Lake Mburo National Park and offer a different perspective on wildlife. As you quietly stroll, watch for zebras, elands, impalas, buffaloes, and antelopes in their natural habitat. This intimate and immersive experience lets you notice smaller details of the park – footprints, droppings, insects, and diverse plants – that you might miss on a vehicle safari.
The nature walk lasts about 2-3 hours, depending on the pace and interests of the group.
Around late morning, as we start our journey back to Kampala or Entebbe, we'll pass through the equator line. This is a great photo opportunity! There's an informative talk about the equator phenomenon, and you can even witness a simple yet fascinating water demonstration.
We'll stop for lunch, arriving at Entebbe by the late afternoon. This marks the conclusion of your 9-day Uganda expedition. It's been an incredible journey filled with unforgettable memories and new friendships. We hope Uganda's diverse and mesmerizing beauty stays with you forever!
End of Safari
---
Included in the 9-Day Uganda Expedition:
Lodging and Food, 4 Wheel Drive Safari Vehicle, Fuel, English Speaking Driver, Bottled Drinking Water on all Drives, Park Entrance fees, Permits as applicable, Rhino visit, Guide for Tracking and Game Drives, and boat Safaris
Not included in Safari: Air Travel to and from Uganda, Uganda Visa Costs, Laundry, Tips, and Drinks, except those included in the lodging meal price.
---
Submit the form below for more details about this 9-day journey. Our team will ensure a remarkable experience and answer all inquiries. Ready for the adventure of a lifetime? Contact us today at +256777201697 or email us to start planning!