Description
6-Day Gorilla – Chimpanzee Trekking along with Queen Elizabeth Park Wildlife Uganda Safari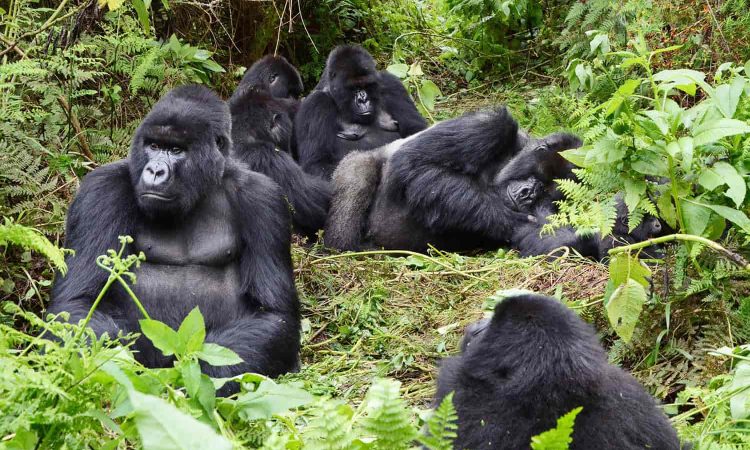 ---
Explore Three Ugandan Parks in Six Days: Encounter Mountain Gorillas in Bwindi Impenetrable Forest, Witness Diverse Wildlife in Queen Elizabeth Park, and Experience Chimpanzee Trekking or Habituation Experience in Kibale Forest—Complete with a Bigodi Wetlands Sanctuary Visit and Crown it with a night at Lake Bunyonyi.'
This ultimate Ugandan safari combines Gorilla and Chimpanzee trekking with a captivating wildlife experience, making it a top choice among the Safari Tours in the Pearl of Africa.
Embark on a one-of-a-kind, six-day adventure through three of Uganda's premier parks, offering exclusive experiences unavailable anywhere else in East Africa. Explore Uganda—the essence of Africa, distilled into one compact nation.
Take advantage of Uganda's more affordable Gorilla trekking permits, especially as Rwanda's rates have recently surged to $ 1,500. It's just another reason why this safari offers unmatched value in the realm of Ugandan adventures.
---
Day 1 – Journey to Kibale Forest & Exploration of Bigodi Wetlands Sanctuary: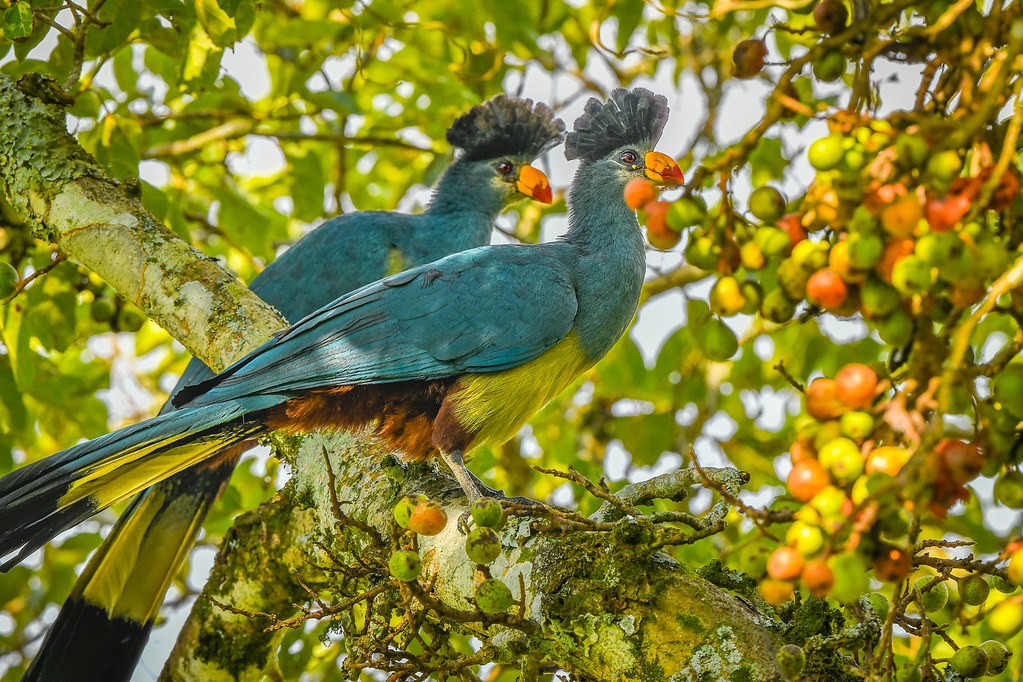 Set out from your hotel in Kampala or Entebbe at 7:15 a.m., embarking on a journey toward Kibale Forest National Park. In this unique region, the West African jungle meets its East African counterpart. The drive from Kampala to Kibale Forest takes roughly five hours; the trip will be shorter if you depart from a hotel in Kampala.
Upon arrival, check into your chosen lodge near Kibale Forest. You'll find both moderate and upmarket lodging options in close proximity to the park, while exclusive luxury lodges are situated about 45 minutes away from the forest.
Lunch Break
At 3 p.m., set off on a guided nature hike through Bigodi Wetlands Sanctuary, a remarkable jungle swamp where elevated boardwalks enable you to traverse the wetlands comfortably. An expert guide accompanies you to highlight the diverse flora and fauna that make this sanctuary so captivating.
Birdwatching enthusiasts will be particularly delighted by Bigodi Wetlands, home to over 200 bird species, including the Great Blue Turaco, Brown Parrots, White-spotted Flufftail, Yellow-spotted Barbet, and many more.
Additionally, Bigodi Wetlands is a sanctuary for various primates, including Chimpanzees that venture here from Kibale Forest in search of food. Other primate species you may encounter include the red colobus monkey, baboons, black and white colobus monkeys, blue monkeys, grey-cheeked mangabeys, vervet monkeys, red-tailed monkeys, and the L'Hoest monkey. The sanctuary is also inhabited by various mammals such as Sitatunga antelopes, mongooses, bush pigs, and otters. You might also spot bushbucks during your exploration.
Lodging included: Isunga Lodge – All meals.
Other options in the area: Moderately priced Turaco Treetops Lodge, Upscale Papaya Lake Lodge
Day 2: Chimpanzee Trekking Kibale Park and Transition to Queen Elizabeth Park
Rise early for breakfast and drive to Kanyanchu Park headquarters. Here, a forest guide will brief you on chimpanzee tracking. Kanyanchu, in central Kibale, serves as the starting point for famous forest walks, including the Primate Walk.
During the three-hour chimp tracking, you have a 98% chance of spotting these endangered relatives. You'll listen for their pant-hooting calls to locate them, then spend an hour observing and photographing them up close. These habituated chimps continue their activities, unperturbed by your presence.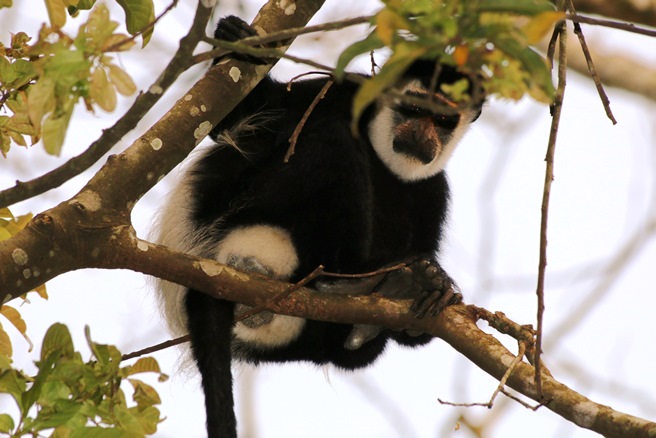 Beyond chimpanzees, you'll likely encounter other primates, such as Black and White Colobus Monkeys, Red-Tailed Monkeys, and Olive Baboons. The forest also boasts an impressive array of birdlife, including the Great Blue Turaco.
For the trek, wear long trousers, preferably jeans, long-sleeved shirts, light hiking boots, and a wide-brimmed hat. In your daypack, include a liter of bottled water and a light rain jacket.
Perched at 3,300 feet, Kibale National Park extends the vast rainforests of central Africa. It houses three large chimp communities, each featuring over 100 individuals with complex social structures. Dominant adult males protect the territory, while females usually roam in small family groups.
After tracking, return to your lodge for lunch and relax in the afternoon before dinner. To deepen your understanding of Uganda's chimps, consider visiting informative websites.
Option
You may consider spending more time with the Chimpanzees and not just the 3-hour chimp trek, of which just one is spent with them. You can do the Chimpanzee Habituation Experience (CHEX) for $250/permit and spend 4 hours watching and following the chimpanzees through the forest. Common Question: Find out more about Chimpanzee Trekking and Chimpanzee Habituation Experience.
Move to QEP and Explosion Crater Drive
After the trek, we'll continue our journey to Queen Elizabeth Park in a 2½ – 3 hour drive. Before we check in at the Lodge, we take the most scenic Katwe Explosion Crater drive—twenty-seven kilometers of scenic wonders.
It is the highest point of Queen Elizabeth Park, with splendid views of the Rwenzori Mountains of the Moon, the Western Rift Escarpment with the vast Savannah below, Lake George, and Lake Edwards connected by the natural Kazinga Channel. There are about 12 explosion craters, made famous recently by a picture in National Geographic.
Lodging: Bush Lodge – All meals.
Other options: Moderately priced Enganzi Game Lodge, Upscale Kasenyi Safari Camp, Mweya Safari Lodge, and luxury Kyambura Gorge Lodge.
Day 3: Queen Elizabeth National Park; Safari  Drive, the Kazinga Channel Boat Cruise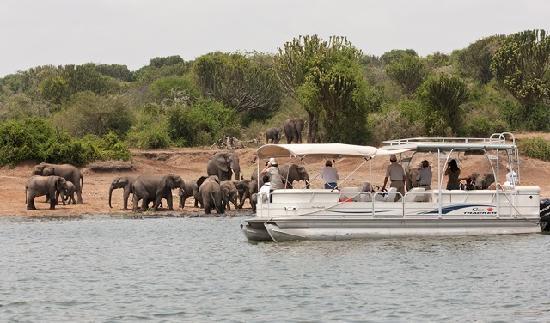 Start your day with an early morning game drive at 6:30 a.m., perfect for catching the predators as they return from their night's hunt and witnessing a breathtaking savanna sunrise. You can also arrange for a Uganda Wildlife Authority Ranger to join us at this time. Choose to have breakfast either before or after the game drive.
Refuel with lunch before setting off on your next adventure.
At 3 p.m., set sail on a boat safari along the Kazinga Channel, home to Africa's highest concentration of hippos. While you're there, keep an eye out for crocodiles, which made a return to these waters in the 1950s after thousands of years of absence. Scan the shore and the sky for countless bird species, and grab your camera for some incredible shots of elephants, antelopes, and buffaloes grazing by the water in the late afternoon.
Optional: You can participate in Lion Tracking Research.
Lodging: Bush Lodge – All meals.
Day 4: Journey to Bwindi Impenetrable Forest Via Ishasha, the Tree Climbing Region of QEP
After breakfast, we set out for Bwindi Impenetrable Forest, making a special stop in the Ishasha region—famous for its tree-climbing lions. Accompanied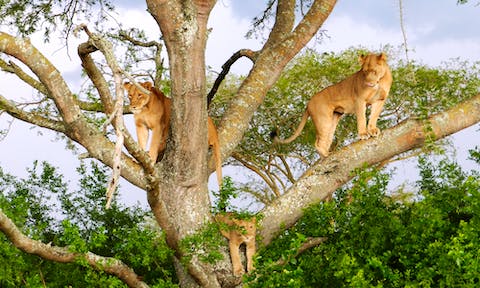 by a Uganda Wildlife Authority Ranger, we embark on a game drive through this area. The journey to Ishasha takes approximately 2½ hours, cutting through the park.
The game drive lasts around 2½ to 3 hours, offering a chance to explore this less-visited section of Queen Elizabeth Park. In addition to the remarkable tree-climbing lions, you can expect to see leopards, large herds of elephants, buffaloes, and various antelopes, including the stunning Topi.
Following our adventurous morning, we'll enjoy lunch at the Savannah Resort before continuing to Ruhija. Upon arrival, you'll check into the Bakiga Lodge, your comfortable abode for the night.
Lodging: Bakiga Lodge – all meals
Other options: Moderately priced Haven Lodge – Buhoma, Upscale and Luxury: Mahogany Springs, Buhoma Lodge, Bwindi Lodge, and Gorilla Forest Camp.
Day 5: Mountain Gorilla Trekking in  Bwindi Impenetrable Forest  and Move to Lake Bunyonyi
Start your day with an early breakfast and make your way to the Bwindi Impenetrable Forest offices. Here, you'll be briefed, meet your guides, and be divided into tracking groups based on which gorilla family you'll observe. Don't forget to pack essentials like light hiking boots, a lightweight rain jacket, a daypack, 2 liters of water, and a packed lunch. Gardening gloves and long trousers are also recommended for navigating vines and branches.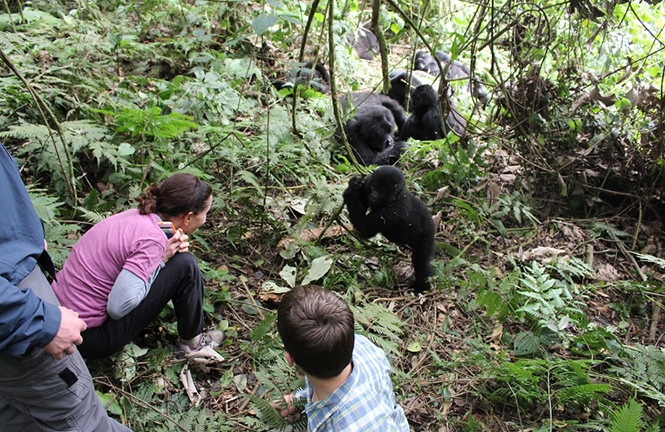 Consider hiring a porter to assist with carrying your gear; this helps support local families and allows you to trek more freely. Walking sticks are also available for purchase. The Gorilla trekking experience can be physically challenging, involving steep climbs and rugged terrains, so be prepared for an intense yet rewarding journey.
The payoff for your efforts is an unforgettable encounter with these incredible Mountain Gorillas. Watch them at a close range as they interact, play, or even nurse their young ones. The successful conservation initiatives at Bwindi have ensured their continued survival, and your visit contributes to these efforts, offering you a rare chance to see these majestic creatures in their natural habitat.
After the trek, proceed to Lake Bunyonyi in a 2½ hour drive
Lodging: Lake Bunyonyi Eco-Resort – All meals
Other options: BirdNest Resort
Day 6: Check-out and Journey to Kampala or Entebbe
After breakfast, we'll drive back to Kampala, journeying through Uganda's lush countryside. We'll pause for lunch and take photos at the Equator. We'll arrive in Kampala by late afternoon. Optional: Extend this safari by a day and visit Lake Mburo National Park. It not only shortens the drive to Kampala or Entebbe but is also the prime spot in Uganda for spotting zebras and large Eland antelopes. You can also enjoy biking in the park.
Option:
Start your adventure in Kigali, Rwanda, and then experience the safari as detailed above, concluding in Entebbe, Uganda. Alternatively, begin in Entebbe, Uganda, follow the safari itinerary, and finish your journey in Kigali, Rwanda. Both options are designed to reduce travel time on the road for you.
---
Included in this 6-Day Primate Panorama Safari:
All permits and associated activities.
Ground transportation for the tour
All listed activities (except those marked as optional).
Full-board accommodations
Park Entrance fees
We shall provide complimentary bottled water on all drives
Not included in Safari price: Air Travel to and from Uganda, Uganda Visa Costs, Laundry, Tips, and Drinks, except those included in the lodging meal price.
---
Fill out the form below to tailor your Gorilla and Chimpanzee Trekking Uganda Safari experience even further. We're eager to address any inquiries you might have. Contact us at +256777201697 via call or WhatsApp, or send us an email today. We're excited to connect with you!