Description
4-Day Murchison Falls Park, Ziwa Rhinos & Chimpanzee Trekking Safari – Uganda

Murchison Falls National Park, the centerpiece of the Murchison-Falls Wildlife and Chimpanzee-Trekking Safari in Uganda, is not just a wildlife sanctuary but also a testament to conservation efforts. Situated between the Albert and Victoria Nile rivers, the park showcases a rich diversity of flora and fauna, including mammals, birds, and aquatic life. While Uganda is celebrated for gorilla and chimpanzee trekking, Murchison Falls National Park offers a unique experience distinct from the usual. The falls themselves are a major highlight, presenting a breathtaking spectacle of nature's water power that never fails to leave visitors in awe. Although tourists often choose a 3-day itinerary, the majesty of the falls alone makes the trip worthwhile, even at the expense of other notable activities such as visiting the Ziwa Rhino Sanctuary or chimpanzee tracking in Budongo Forest.
---
Key Highlights of our 4-Day Murchison Falls Chimpanzee and Wildlife Expedition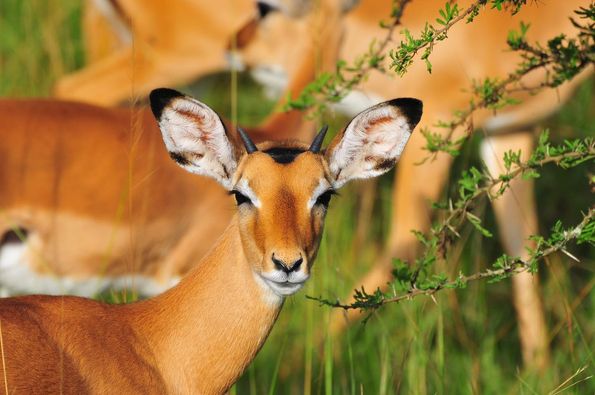 Ziwa Rhino Sanctuary: Rhino viewing in their natural habitat.
Murchison Falls Game Drives: Spot the Big Five in Uganda's largest national park.
Nile River Boat Safari: Cruise with views of hippos, crocodiles, and birds.
Murchison Falls: Marvel at the world's most powerful waterfall.
Chimpanzee Trekking: Encounter chimpanzees in Budongo Forest.
Bird Watching: Enjoy diverse birdlife in Murchison Falls and Budongo.
Cultural Insights: Experience the local communities and heritage.
Comfortable Lodging: AC rooms are provided by Pakuba Safari Lodge at the center of the Park.
Local Safari Guide/Driver: Guidance from an experienced, professional driver for an authentic experience
---
The Big-5 along with Chimpanzees Trekking Murchison Park Safari Itinerary
Day One: Drive to the Ziwa Rhino Sanctuary
Our 4-day Murchison Falls Park safari starts at 6:30 a.m. with a pick-up from your preferred lodging either in Kampala or Entebbe. We recommend having breakfast before the pick-up. Our destination is Uganda's largest game park and reserve. We will drive through Kampala, and our first stop will be the Ziwa Rhino Sanctuary in Nakasongola, which is three hours away.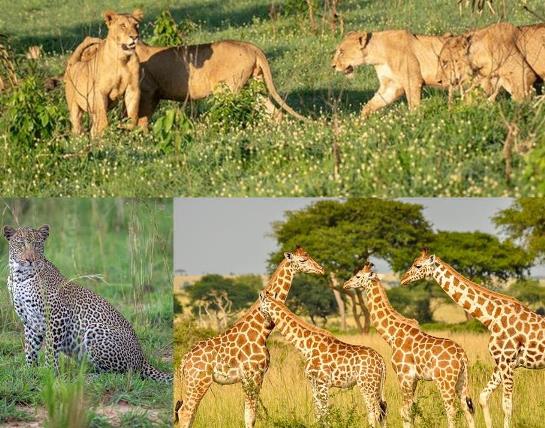 Upon arrival at the sanctuary visitor center, we will check in then take a short drive into the bush. From there, we will trek to observe the rhinos in their natural habitat.
Join expert rangers on a 1-1½ hours trek to see magnificent and endangered rhinos up close, within 10 meters. Observe a "crash" of rhinos and learn about their breeding and reintroduction into the wild. Rhinos need 24/7 protection due to poaching and are best tracked early in the day when they are active. Staff provides helpful information for the trip and exploring Africa. The camp has a great atmosphere and friendly staff. You may even spot monkeys, birds, and other wildlife.
Before embarking on this adventure, there are a few important things to note. Firstly, it is recommended to wear long trousers and tuck them into your socks. This will help to protect you from the potential threat of huge biting ants, such as fire ants, which can be encountered on some days. Additionally, it is important to keep your feet moving and watch your step.
Overall, the experience is truly remarkable, and you can leave with the satisfaction of knowing that you've contributed to the conservation of these amazing animals.
Murchison Park and afternoon Game Drive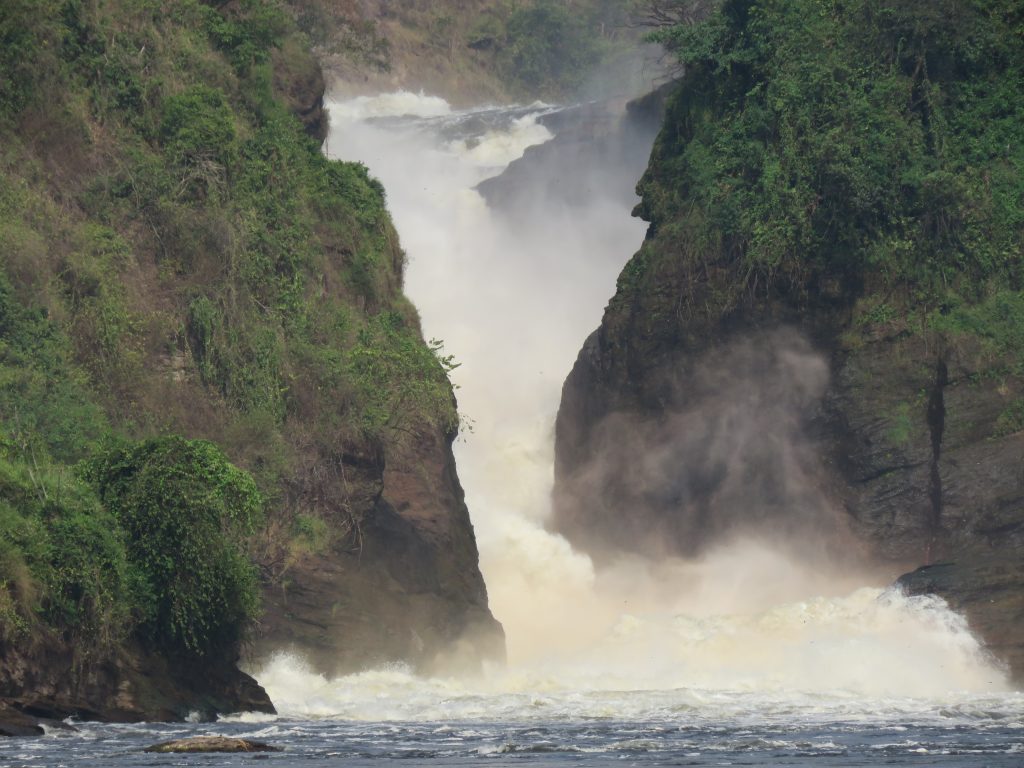 Our plan for the day is first to visit the rhinos, then have lunch at Kabalega Diners or Masindi, which is approximately an hour's drive away. If we finish the rhino visit early, before 11:00 a.m., we may proceed with the journey and have lunch inside the park. However, if we're staying at Paraa, we'll have a late lunch. After lunch, we will check into Murchison Park and head towards the Paraa Bridge. If we're staying at any of the other lodges and haven't had lunch after the rhino visit, we'll have lunch at the Red Chili Camp. Our plan is to cross the Nile River at 4 PM for the evening game drive until dusk. Expect to see a wide variety of wildlife, including lions, large herds of elephants, giraffes, antelopes, warthogs, buffaloes, and more.
Your private safari vehicle has a pop-up roof, providing the best possible vantage point for game viewing. Additionally, a Uganda Wildlife Ranger will be on board to offer expert insights and ensure your safety.
Lodging: Midrange and strategic Pakuba Lodge – All meals
Other lodging options: Budget Gipir & Labongo Safari Lodge, Upscale Paraa Safari Lodge, and luxury  Nile Safari Lodge.
Day Two: Game Drive and Nile Boat Safari
Start your day with a tough decision: have breakfast or go for a sunrise game drive in the African wilderness of Murchison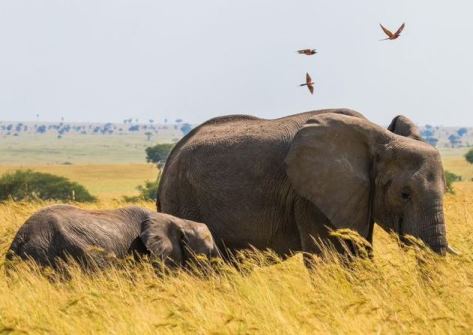 Falls Park. Either way, you're in for an awesome experience. The game drives start at dawn, around 6:30 am, and you'll witness the sunrise over the Borassus Palm Tree-dotted savannah while spotting various wildlife, such as predators returning from their hunt.
The game drive takes you across the savannah and along Lake Albert Delta, where you'll see abundant wildlife as you move slowly with the rising sun. Welcome to Africa! There's no place else in the world where you'll experience what you're sensing and feeling and seeing around you. This is Murchison Falls, with its birds, lions, leopards, elephants, hippos, buffaloes, warthogs, giraffes, and humorous-looking warthogs.
Each game drive is a unique experience, and we don't hurry you along. Since it's a private safari, you're in control of the vehicle and the pace of the game drive. The standard length of the game drive is about 3 hours, but it may take a bit more time.
After the game drive, return to your lodging for lunch and a short break. You'll have another opportunity to view animals before arriving at your lodging. If you're staying at Paraa Safari Lodge or Pakuba Lodge, relax by the pool, sit on your balcony or veranda with a good book like Abyssinian Chronicles, and enjoy the rest of your day.
Lunch at the Lodge Restaurant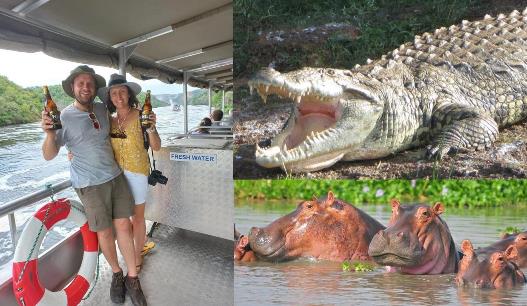 At 2 p.m., you will experience one of the highlights of your Murchison Falls National Park Safari: the boat launch trip up the Nile River. As you slowly move along the riverbank, you will view crocodiles, an abundance of hippos, elephants, buffaloes, antelopes, and many birds, including the fish eagle and storks. The boat gently moves up the river and stays on
the left-hand side so that you can see most of the animals that come to the river. You will spot herds of elephants cooling off, hippos frolicking, and crocodiles dozing in the African sun.
Close by, you will see a riverbank filled with Nile crocodiles basking in the afternoon sun. Just down from there, you can see a group of hippos frolicking in the water of the Nile. There are literally thousands of hippos to be found here, and the area is abundant with birds.
The journey down the river slowly begins, giving you more opportunity to view animals before returning to your lodging for dinner and an evening of rest and relaxation. You won't want to miss spotting some storks, eagles, egrets, and many other birds. You will also find a variety of primates on the shores. Enjoy the Nile.
Afterward, return to the Lodge for dinner and another night in the wilds of Africa, where you will hear peculiar night sounds that are quite different from those of Berlin, London, or New York.
Lodging: Midrange Pakuba Lodge – All meals
Day Three: Breakfast and check out of the lodge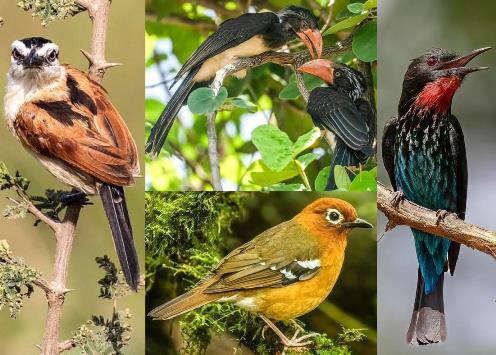 We will cross the Nile again and take a trip to the top of Murchison Falls, renowned as the World's Most Powerful Waterfall due to its incredible display of the power of nature. The falls are 43 meters high, and the river is 50 meters above the falls. It moves down through a 6-meter gorge, and the sound is deafening. The sight of the falls makes one realize how forceful nature can be. The water at the bottom of the falls is churning, and any vegetation is literally mulched by the force of the water, resulting in large sheets of foam, not from pollution but from the power of the river.
You may consider a Hot Air Balloon safari, which is available only in Murchison Falls Park. You can take an early morning Hot Air Balloon Ride over the Savannah and see the wildlife at sunrise from above. If you would like to add this experience, you have to do so at the time of booking this trip.
We will move to Budongo Forest, which is another highlight of our trip. We will have lunch at Budongo Eco Lodge, and then have a choice of activities in the afternoon, including forest walks and birding. The highlight of birding in Budongo forest is the Royal Mile, located in the Busingiro sector of the forest. You can also take a walk to the Catholic Church, which was built during World War II and is still functioning today. There is also a Polish cemetery here.
Budongo Forest is a lovely forest with Mahogany Trees, countless butterflies, birds, and 9 different primates. You will find it a most refreshing experience in the quietness of Budongo Forest.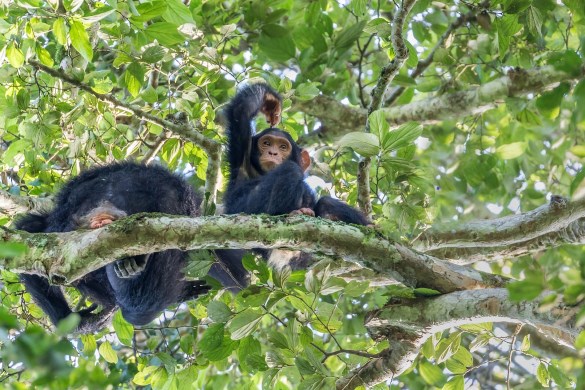 Lodging: Budongo Eco-Lodge – All Meals
Day Four – Chimpanzee and return to Kampala
Enjoy a delightful breakfast followed by a thrilling 3-hour experience in Budongo Forest, where you'll spend an hour with the chimpanzees. After that, head back to the lodge for check-out, and then take a 1 – 1½ hour drive to Masindi, where you can enjoy a delicious lunch.
In the early evening hours, return to your lodging in Kampala. If you need advice on a hotel in Kampala, ask us. This marks the end of the Murchison Falls Park 4-day Big 5 Wildlife Safari, where you had the opportunity to see the most powerful waterfall on earth, the River Nile, abundant wildlife, and tracked Chimpanzees in Budongo Forest and Rhinos in Ziwa Rhino Sanctuary, with the added plus of chimpanzee trekking all on a budget or moderately priced safari.
---
Below are things we offer in this 4-Day Private Murchison-Falls Wildlife and Chimpanzee-Trekking Safari:
Transportation in a 4×4 safari vehicle with a dedicated English-speaking driver/guide
Three nights lodging at the lodges of your choice, including all meals
Entrance to Park, including the vehicle
Budongo Forest Chimpanzee tracking passes
2 Safari drives with a Wildlife Expert
Nile River boat safari
Rhino trekking at Ziwa Rhino Sanctuary
A trip to the top of the falls
Complimentary drinking Water on all drives
Not included drinks such as alcohol, laundry, phone calls, tips to lodge staff.
---
Interested in a 4-day Murchison Falls Wildlife and Chimpanzee Trekking Safari? Submit the form below for a custom itinerary, pricing, and more. We're just an email or phone call away.