Description
3-Day Mountain Gorilla Trekking Safari – Bwindi Impenetrable Forest, Uganda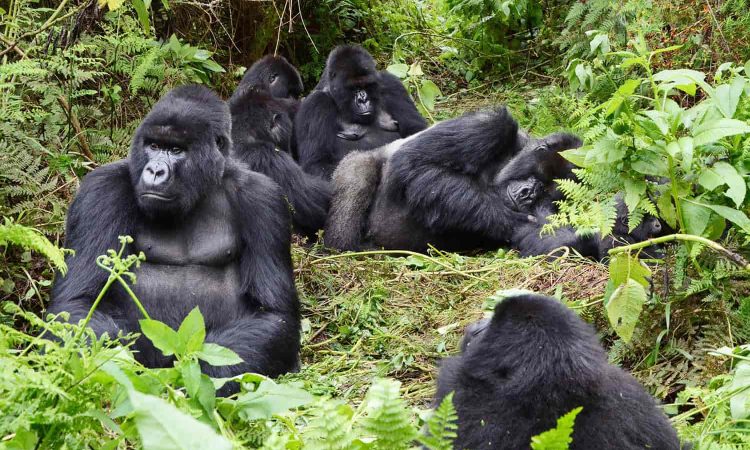 Exploring Bwindi: A UNESCO World Heritage Site
Explore the splendour of Uganda's Bwindi Impenetrable Forest, a UNESCO World Heritage Site, and experience the magic of its rich and unique ecosystem. This Uganda Gorilla Expedition will take you on a foot journey through montane and lowland forests spanning 331 km² (128 mi²), allowing you to witness over 400 of the world's critically endangered mountain gorilla population, protected since 1964. With over 25 habituated mountain gorilla families/groups open for tourism, our Bwindi Gorilla Tracking Tour offers an unparalleled opportunity to get up close and personal with these majestic creatures. Prepare yourself for an experience unlike any other in Uganda, the Pearl of Africa.
---
3-Day Uganda Mountain Gorilla Trekking Safari – Bwindi Impenetrable Forest
Day one: Journey to the Heart of Uganda's Rainforest
Eager for a Mountain Gorilla Journey in Uganda? Join us for a Bwindi Impenetrable Forest Mountain Gorilla Tracking journey that you'll never forget! We'll start early from Kampala and take a scenic drive through Uganda's breathtaking countryside. After a delicious lunch at the charming Lake View Hotel in Mbarara, we'll take you to meet the world's critically endangered mountain gorillas of Uganda. Witness these majestic creatures in their natural habitat and get ready for an experience of a lifetime. You'll spend the night near the gorilla family you'll visit the following day, getting ready for an incredible Gorilla Tracking experience. You'll get to sleep in an African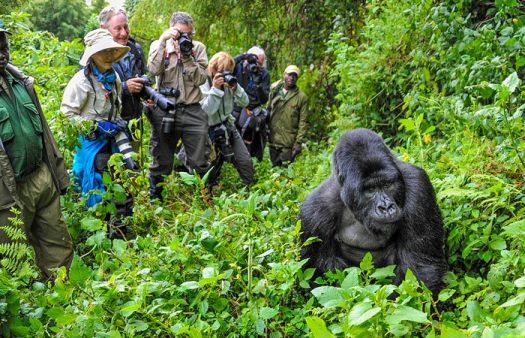 Rainforest that is home to half of the world's Mountain Gorillas. So what are you waiting for? Book your trip today, and let's embark on this amazing journey together!
Lodging: Bakiga Lodge, Ruhija. A cozy haven that preludes our gorilla adventure!
Other options: Moderately priced Haven Lodge – Buhoma, Upscale and Luxury: Mahogany Springs, Buhoma Lodge, Bwindi Lodge, and Gorilla Forest Camp.
Day Two: A Day of Adventure and Wonder in Bwindi Impenetrable Forest – Gorilla Trekking
Meeting the Majestic Mountain Gorillas. Awaken to the sounds of the forest, and get ready for your Bwindi Forest Gorilla Encounter. After a hearty breakfast, head to the park offices for orientation and to meet the guides and other trackers. Today's trek is a journey through mists and verdant landscapes, surrounded by nature's best offerings, such as stunning flora and fauna, other primates, mammals, birds, and butterflies. As you make your way through the forest, the anticipation builds up for that magical moment when you come face to face with the mountain gorillas, witnessing their daily routines in their natural habitat.
Essentials for a Successful Gorilla Trek
Ensure you have all the Gorilla Gear – a daypack, 3 liters of water, long trousers, a long-sleeved shirt, gardening gloves, waterproof boots, a hat, and a rain jacket.
Thinking of making your trek a tad more comfortable? Consider purchasing a walking stick or hiring a porter to carry your gear – though these come with an extra cost of 20 USD and aren't included in your safari price.
Your gorilla trekking adventure varies in length, potentially spanning over five hours, depending on the movement of the gorilla family you're tracking. Keep in mind these magnificent creatures are constantly on the move. Even before your journey begins, pre-trackers set out early to pinpoint the location of your assigned gorilla family, ensuring a smoother trekking experience for you.
As you embark on the Mountain Gorilla Trekking adventure, you will be filled with excitement and anticipation. The trek may be rigorous, but the reward is unparalleled. You will come face to face with the powerful Mountain Gorillas, observing them from just a few meters away, watching the group, mothers with a baby, and the gorillas doing their
daily routine. This is an experience that cannot be found in any zoo, but only in this small section of Africa where the surviving mountain gorillas are found.
Fortunately, due to much conservation work, these gorillas thrive and survive in the Bwindi Impenetrable Forest. After the trek, you can return to the park offices and, depending on your energy levels and time, go for a village walk.
Experience Traditional Ugandan Village
Life3Here, you will see traditional ways of brewing beer to remedies made from the forest. You can also observe the ways of the local people and enjoy some dancing and entertainment. This journey will leave you feeling inspired and connected to the natural world around you.
After an exhilarating day with the gorillas, return and indulge in a sumptuous dinner.
Lodging: Lake Bunyonyi Eco-Resort – All meals
Other options: BirdNest Resort
Day three: Return to Kampala/Entebbe
We start the day with a delicious breakfast and check out of our lodging, ready to embark on another adventure. As we make our way back to Kampala, we will stop at Mbarara for a refreshing lunch break and take a moment to appreciate the beauty of our surroundings at the Equator, capturing memories with some stunning photographs. Let's soak up every moment of this incredible experience as we travel back to Entebbe/Kampala.
---
The 3 Day Private Gorilla Trekking Safari includes:
Gorilla Tracking Permit
Transportation in a 4×4 Vehicle with a driver/guide
Lodging with all meals
Lunch on the way up & return to Kampala
Stop off at the Equator
Bottled Water for the journey
It does not include alcoholic beverages and drinks, laundry, or any other purchases you might make.
---
Submit the form below to enquire about this 3-day Gorilla Trekking Safari in Uganda today! We're here to answer your questions regarding itineraries, customisation, pricing, and other services.