Description
12-Day Pearl of Africa – Uganda Safari: Gorillas – Chimpanzee Trekking, Wildlife and Lake Bunyonyi Exploration & Relaxation.

---
The highlights of our 12-Day Uganda Gorilla-Chimpanzee and Wildlife Safari include:
Mountain Gorilla Trekking in Bwindi Impenetrable Forest
Rhino Tracking on Foot:
Word's Most Powerful Falls Hike
Chimpanzee Trekking in Kibale Forest
Game Drives in Murchison Falls and  Queen Elizabeth Parks
Boat Safaris: the Kazinga Channel and Murchison Falls Park 
Search for Tree-Climbing Lions
Relaxation and Exploration at Lake Bunyonyi
Game Drive in Lake Mburo National Park
Walking Safari at Lake Mburo
Cultural Immersion
Expert Driver/Guide
---
The Detailed Itinerary
Arrival Day in Uganda: Your Smooth Welcome to East Africa
Upon arriving at Entebbe International Airport, your friendly team will be ready to receive you warmly. After completing immigration and customs, step into the arrivals area, where our driver or the hotel's representative will be waiting to greet you. Your entry into Uganda is hassle-free, with officials known for their assistance. The airport process typically takes around 45 minutes to an hour. Most lodges and guesthouses in the Entebbe area often offer complimentary airport transfers, while we can transport you to your chosen lodging if needed. Remember to have your Uganda Tourist Visa and Yellow Fever Certificate handy. Your first night will be spent in a comfortable Entebbe hotel. We're based in Kampala, an hour away, and can arrange your arrival and last night upon request.
Day 1: Depart Entebbe or Kampala – Mabamba Swamp & Shoebill Stork Search and Drive to the Ziwa Rhino Sanctuary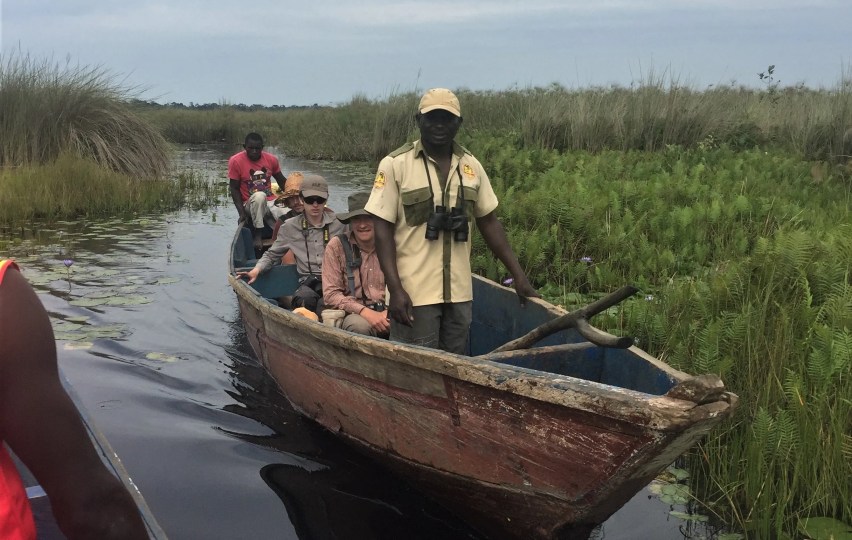 Our 12-day Pearl of Africa safari begins as we pick you up at your Entebbe or Kampala hotel and head for the Ziwa Rhino Sanctuary, a 4-hour drive from Entebbe. Our first stop is Mabamba Swamp, the best spot for Shoebill Stork and other water-bird swamp specialist sightings in Uganda. Mambamba Swamp is located along Lake Victoria and is a RAMSAR site. A fishing boat with an expert birding guide will take you into the swamp along narrow channels in order to spot the Shoebill Stork. The Shoebill Stork – Africa's most sought-after bird can be spotted in the early mornings as he stands still in the swamp looking for lungfish and other prey, his beak swooping down and devouring the fish. You often get close and can get some great photos of the Shoebill Storks. We're usually done by 10:30 a.m. – 11 a.m.
Pack a snack: take some bottled water, a good pair of Binoculars, a hat, sun protection, insect repellent, a light rain jacket, a long-sleeved shirt, and long trousers – all in your backpack.
Continue to the Ziwa Rhino Sanctuary in a 4-hour drive, arriving at 3:30 p.m.
Check into the Ziwa Rhinos Guesthouse, featuring permanent tented cottages, setting the stage for the next part of your Ugandan wildlife experience. Dinner & Breakfast included.
Amuka Lodge is the moderately priced option in the area, with more comfortable accommodation with a swimming pool and permanent tented cottages.
Day 2: Ziwa Rhino Sanctuary Rhino Tracking, Top of the Falls Excursion and Late Afternoon Safari Drive
On-Foot Rhino Tracking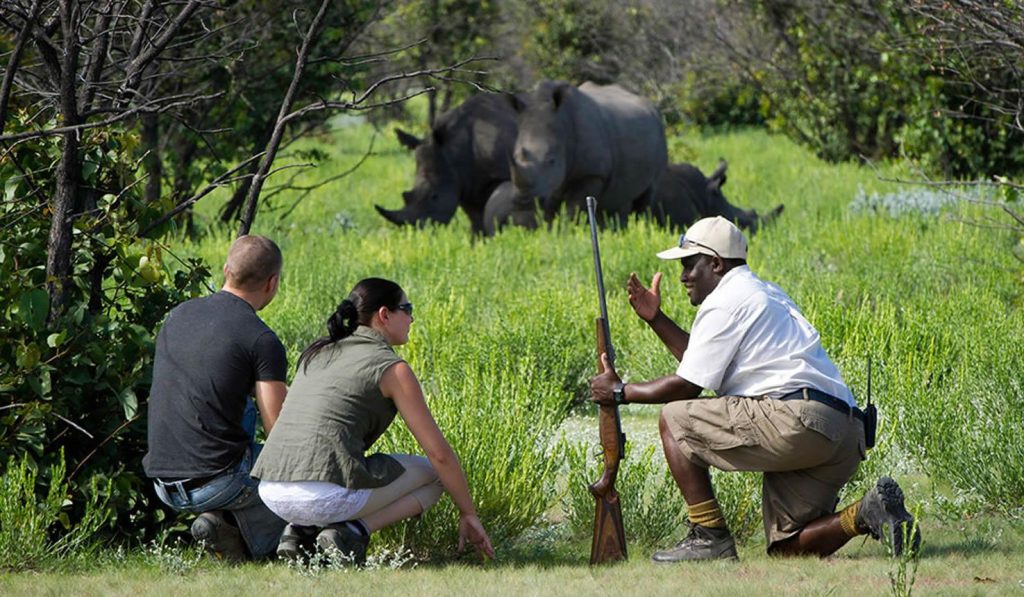 We will meet with the assigned ranger at Ziwa Rhino Sanctuary after breakfast to track Rhinos on foot. The ranger will guide us as we get close to the Rhinos for some great photo opportunities. During the one-hour Rhino Trek, you will get as close as 10 meters to these massive creatures. The rangers will be there to guide you throughout the trek.
The Rhinos are in a Sanctuary for eventual release into wildlife reserves in northern Uganda. Some Rhinos will be released in 2024 and 2025.
We will then continue our journey to Murchison Falls Park, where you can choose to stay at Pakuba Lodge. After settling into your room, you can enjoy a delicious lunch and take a break from the journey. If you stay at a mid-range facility, you can enjoy their pool. After lunch, we will embark on the first game drive, where you will see lions, elephants, giraffes, various types of antelopes, warthogs, and buffaloes. Our expert guide will stop at your beckon and escort you to find elusive lions, elephants, and giraffes and explain the trees and birds. Take your time and explore more of Murchison Falls.
Our itinerary is designed to provide a memorable and enjoyable African experience. We take pride in our attention to detail and customer satisfaction. With our expert guide, you will have the opportunity to see and learn about the flora and fauna of Uganda.
Lodging: Pakuba Lodge – All meals
Other lodging options: Budget Gipir & Labongo Safari Lodge, Upscale Paraa Safari Lodge, and luxury  Nile Safari Lodge.
Day 3: Morning Safaris Drive & Nile River Boat Safari
Start your day with a delicious breakfast and head out for a morning game drive. As you travel along Lake Albert and through the savannah, you will spot a variety of animals and birds that you may not have seen before. You'll be amazed by the wildlife here and reluctant to return to your lodging facility for rest and lunch.
After lunch, experience one of the significant highlights of Murchison Falls National Park with a motorized boat ride on the Nile. You'll see crocodiles and hippos along the bank and in the river, birds, monkeys, buffaloes, elephants, and much more, including the bottom of the falls. Wear a hat and lots of lotion, and use insect repellent to avoid being bitten by Tsetse flies during the three-hour trip.
Next up is Murchison Falls, the most powerful waterfall in the world. At the falls' base, get off the boat for a hike up next to the falls, where the cool spray will help keep you cool. At the top, your driver will meet you. After that, you'll cross the Nile and head back to your lodge for dinner and some rest.
Conclude the day with dinner at your lodging and rest for the night.
Lodging: Pakuba Lodge – All meals
Day 4: Drive to Fort Portal – Kibale Chimpanzee Forest Park
We will start our day with breakfast before heading to Kibale Forest. Along the way, we will drive through some beautiful countryside, which is a bonus. We will stop for lunch and provide drinking water while you're in the vehicle. This drive will be the longest (about 7 hours) on your African adventure, so we recommend leaving no later than 8 am in the morning.
Once we arrive at Fort Portal, you can stay at a budget, moderate, or upscale lodging facility as you have selected. After checking in, we will have dinner before resting for the night after a long day of travel.
Lodging included: Isunga Lodge – All meals.
Other options in the area: Moderately priced Turaco Treetops Lodge, Upscale Papaya Lake Lodge
Day 5: Chimpanzee Tracking in Kibale Forest & afternoon Bigodi Wetland Sanctuary Walk
Start your day with an early breakfast and head to Kanyankyu River camp at 8:00 a.m. You'll receive a pre-tracking briefing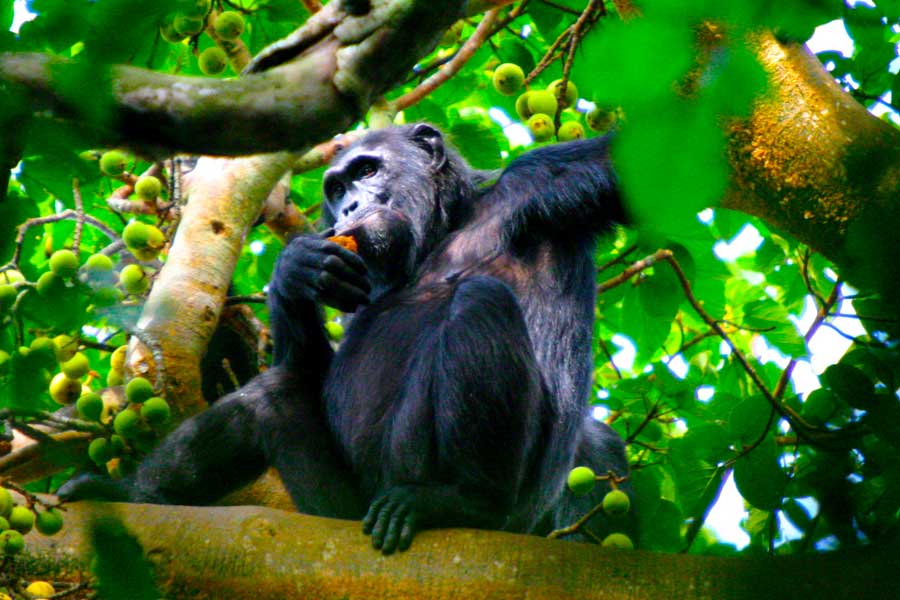 before you embark on the exciting activity of chimpanzee tracking, which is the most popular activity in this park. Chimpanzees are our closest relatives, but unfortunately, they are one of the most threatened primate species. During your walk, you'll also have the opportunity to see other primates like black and white Columbus monkeys, L'Hoest monkeys, gray-cheeked mangabey, red-tailed monkeys, bush babies, pottos, and a variety of bird species such as the yellow-spotted nicator, rumped tinker bird, Little green bul, green-breasted pitta, the crowned eagle, black bee-eater, as well as mammals like elephants.
Please note that the chimpanzees you'll encounter during your walk are habituated, which means they're accustomed to human beings. However, it's important to know that not all chimpanzees in the park are habituated, and the habituation process takes up to two years.
After the tracking, return to your lodge for lunch.
You may want to consider spending more time with the chimpanzees in Kibale Forest beyond the 3-hour chimp trek. The Chimpanzee Habituation Experience (CHEX) allows you to spend 4 hours watching and following the chimpanzees through the forest. If you're wondering about the difference between regular chimpanzee trekking and CHEX, the latter offers a more immersive experience.
The Bigodi Wetlands Sanctuary guided Nature Walk.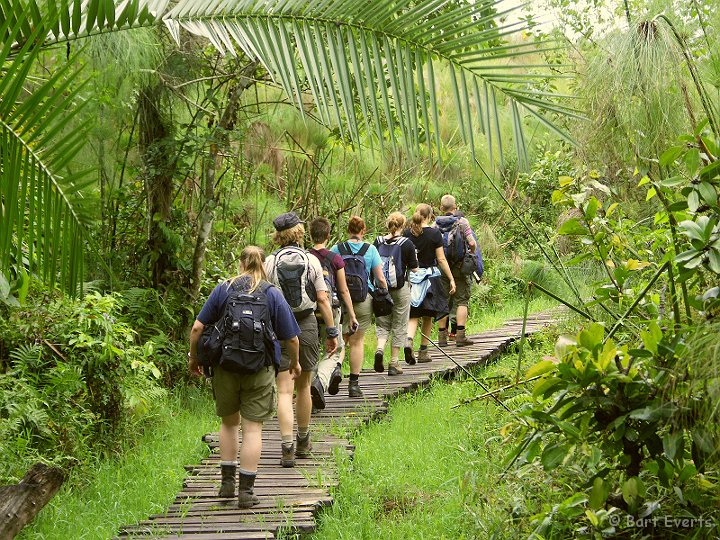 In the afternoon, we'll explore Bigodi Wetlands Sanctuary, adjacent to Kibale Forest, a haven for biodiversity. Guided by an expert, our nature walk on elevated planks offers the chance to see various birds like the Great Blue Turaco, the Shoebill Stork, and primates, including chimpanzees and various monkeys. Look out for unique mammals like Sitatunga antelopes and bush pigs, too. Kibale is rich in wildlife, housing Forest Elephants and buffaloes distinct from their savannah relatives. The forest is part of a larger migration corridor extending to the Democratic Republic of Congo. Bigodi is not only a sanctuary for wildlife but also a community project, with entrance and guide fees supporting locals. The wetlands are a must-visit for birdwatchers, home to over 200 species, and offer a glimpse into the rich ecosystems of Uganda.
Lodging: Isunga Lodge – All meals
Day 6: Transition to Queen Elizabeth Wildlife Park and Scenic Explosion Crater Drive
We'll fuel up with breakfast before embarking on a scenic 2½-3 hour drive to Queen Elizabeth Park. This park is a haven for wildlife including Uganda Kob, topi, elephants, lions, giant forest hogs, and Cape buffalo. Depending on the season, you might also spot flamingos at the soda lakes in old volcanic calderas.
Upon arrival,  we won't immediately check into our lodge; instead, we'll dive straight into the park's beauty with a late morning Explosion Crater drive.  This renowned drive, stretching over 27 kilometers, showcases a network of 12 craters interspersed with tranquil lakes and affords panoramic views from the park's summit.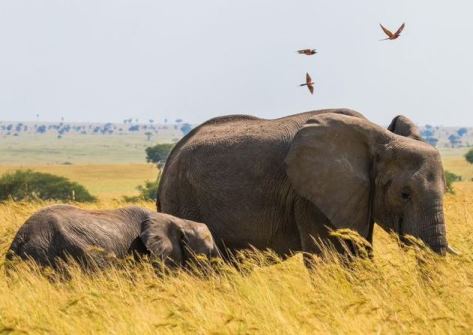 Expect to see a variety of animals as we explore, before checking into our lodge for some relaxation. Post-lunch, we'll enjoy a serene game drive in the savannah, peppered with unique candelabra euphoria trees. You'll have the chance to stand in the pop-up roof vehicle for better photography, pausing whenever you wish for the perfect shot.
The park is nestled by the 16,000ft Rwenzori Mountains to the north and is flanked by Lakes George and Edward, with its western boundary adjoining Zaire's Parc Du Virunga.
Our day concludes with a return to the lodge for dinner and sleep. Stay at the Bush Lodge, offering fantastic views of the Kazinga Channel linking Lake Edward and Lake George, with all meals provided.
Finally, we will return to the lodge for a delicious dinner and a good night's rest.
Lodging: Bush Lodge – All meals.
The Bush Lodge offers a fantastic view of the famous Kazinga Channel, which connects Lake Edward and Lake George.
Other options: Moderately priced Enganzi Game Lodge, Upscale Kasenyi Safari Camp, Mweya Safari Lodge, and luxury Kyambura Gorge Lodge.
Day 7: Morning Safari drive and afternoon Kazinga Channel Launch Cruise
Waking up to the smell of breakfast while on a safari is truly an unforgettable experience. Going on a morning game drive and spotting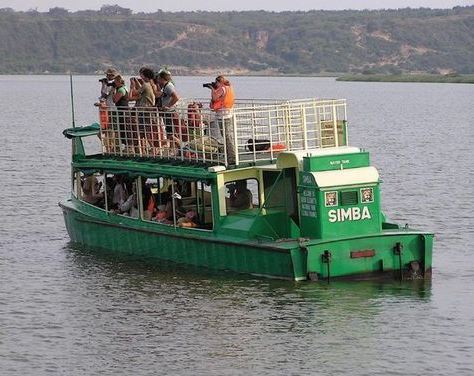 nocturnal animals as they retire for the day is exhilarating. You might come across a herd of majestic elephants crossing the track ahead of you or see a couple of lions in the distant savanna grass. Buffaloes grazing in the early hours, and birds flying overhead. You might even spot a rock python lurking somewhere. The game track ride typically lasts about 2½ to 3 hours, but time flies by so quickly that you wouldn't even realize it.
After returning to your accommodations at Queen Elizabeth, you can enjoy some unscheduled time before lunch. After lunch, you can take a boat ride along the Kazinga Channel, known for having one of the highest concentrations of hippos in Africa. You might be lucky enough to capture a picture of an open-mouthed hippo! At one point, there were too many hippos in the area, which resulted in their grazing, denuding the surrounding grasslands. Before independence, they were culled by the wildlife authorities, and locals ate the meat. After Idi Amin came to power, poachers and soldiers killed many hippos. Even at the fall of Idi Amin, locals, rebels, and soldiers shot many hippos.
On the boat ride, you can spot hundreds of birds, some crocodiles, elephants, and buffaloes. It is undoubtedly a fantastic experience and usually one of the highlights of a safari to Queen Elizabeth National Park. After a delicious dinner, you can sit outside quietly under the African star-filled sky, taking it all in.
Lodging: Bush Lodge – All meals.
Day 8: Journey to Bwindi Impenetrable Forest with a Stopover at Ishasha  – to search for the Tree Climbing Lions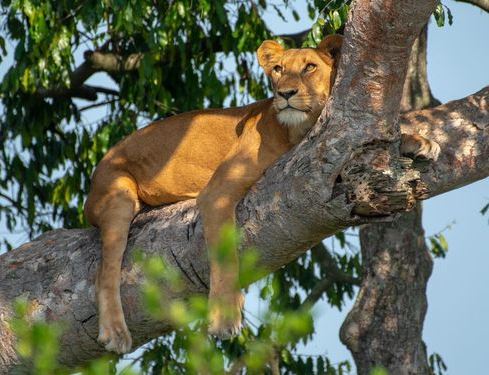 After breakfast, we set out for Bwindi Impenetrable Forest, taking a scenic route through the unvisited southern part of Queen Elizabeth Park – Ishasha region. Known for its tree-climbing lions, we shall go on a game drive here lasting up to three hours. Accompanied by an expert from the Uganda Wildlife Authority (UWA), the drive provides ample opportunity to observe not just lions but also leopards, elephants, buffaloes, and various antelopes, including the striking Topi.
Lunch at the Savannah Resort and proceed to the Ruhija area of Bwindi – stay at the Bakiga Lodge.
Although a game drive is part of the standard safari package, its feasibility is often dependent on the condition of the road. Even with the best 4×4 vehicle, there may be instances where the route is blocked due to mudslides and other adverse conditions caused by heavy rainfall. If circumstance can't allow, we'll proceed directly to Bwindi through a more cultivated landscape, forgoing the game drive. The UWA, however, puts in tremendous effort to maintain the road's functionality at all times.
Lodging: Bakiga Lodge – all meals
Other options: Moderately priced Haven Lodge – Buhoma, Upscale and Luxury: Mahogany Springs, Buhoma Lodge, Bwindi Lodge, and Gorilla Forest Camp.
Day 9: Mountain Gorilla Trekking – Bwindi Impenetrable Forest Park and Move to Lake Bunyonyi
Ready for an adventure of a lifetime? The big day is here! Start your day bright and early with a hearty breakfast.
Remember to grab your packed lunch from the Lodge.
Your daypack essentials: Preferably a waterproof daypack, you can use it as a carry-on flying to Uganda. Pack all essentials inside of the daypack. A yummy lunch, 2 litres of water, a rain Jacket, or a Poncho: Pack into your daypack.
What to Wear for Gorilla Trekking in Uganda
Choosing the right attire for Gorilla Trekking is crucial. Unfortunately, many trekkers come unprepared, leading
to discomfort that distracts from the awe-inspiring experience. Dressing appropriately isn't just about comfort; it's about ensuring your safety and protection. Here's what you should consider wearing: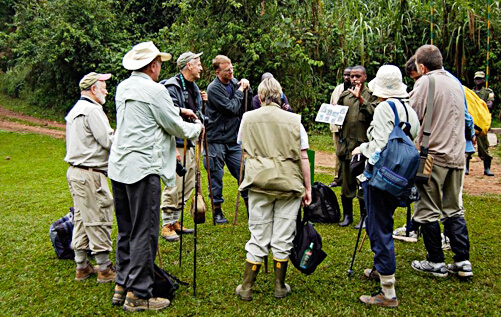 Long-Sleeved Shirts: Protects against scratches, insect bites, and the sun. Neutral colors are recommended.
Breathable Trousers: Opt for long pants that are durable and can protect your legs from thorns and nettles. Tuck them into your socks for added protection from ants.
Sturdy, Waterproof Hiking Boots: Essential for the often muddy and uneven terrain. Ensure they are broken in to avoid blisters.
Garden Gloves: These are helpful when holding onto branches or moving through dense vegetation.
A Hat: Protects your head from the sun and keeps it dry in case of rain.
Waterproof Jacket or Poncho: Even if the weather seems clear, rain can be unpredictable in the forests. You are in an Afro-montane Rainforest.
Thick Socks: These can be tucked into trousers to prevent insect bites.
Other items
Sunnies
Camera equipment: Pack extra batteries and storage devices in Ziploc bags. Binoculars are only necessary for birders.
Insect Repellant: We recommend using effective Australian RID Insect Repellent, as well as sunscreen and sunglasses.
You will need a Porter and Walking Stick: The services of a porter free you on the often-difficult trail, and a local walking stick helps you and steadies you on the often-challenging path. We supply our clients with both.
Optional walking sticks and porters for $20 can help lighten the load, but they're not included in the package price. Check out our list of what to wear on safari.
Remember, it's all about ensuring a comfortable and memorable experience with the Gorillas while staying protected.
The Gorilla trekking Orientation:
We'll match you with a Gorilla Family based on your fitness, age, and health. The ranger makes this decision.
You'll get guidance on how to behave while trekking and when you're near the Gentle Giants. Check out the full rules and guidelines here.
The Gorilla Trek and Experience
After orientation, you are off on your Gorilla Trek up the volcanoes. You are trekking at an elevation above 2,000 meters, which is not problematic for most. Though the Trek is upward, it is not grueling and poses no problems for those with a moderate fitness level. The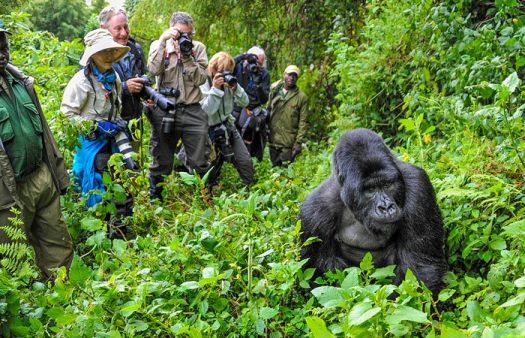 length of the Trek is between three to five hours, including one hour with the Gorilla Family, which is, for most, a once-in-a-lifetime experience. Usually, you are back at the Lodge by about 1:00 p.m.
Looking for even more quality time with our furry friends? Opt for the all-day Gorilla Habituation Experience for an unforgettable four hours with the mountain gorillas. This special experience costs an additional USD 1,500. So, are you excited yet?
We may stay here another night or, about a 2½-hour drive to Lake Bunyonyi, for exploration and relaxation. The activities here (at Lake Bunyonyi) are optional and not included in the offer.
Lodging: Lake Bunyonyi Eco-Resort – All meals
Other options: BirdNest Resort
Day 10:  Lake Bunyonyi: Exploration and Relaxation
After breakfast, you can take a guided nature walk in Bwindi and proceed to Lake Bunyonyi. However, deciding to take the village trail or
one of the five trails should depend on your preferences. After a lunch break, we will leave for Lake Bunyonyi, which is a significant tourist attraction that is truly amazing. This area, also known as "Little Switzerland," is a great place to unwind and relax. Many overland campers also share this opinion. The lake and hills in the area are pretty scenic, and the water is swimmable if you avoid the reedy parts.
Lake Bunyonyi offers a truly unique experience that is different from wildlife destinations. Although you may see otters and various bird species, it is primarily an R&R (Rest and Recreation) stopover. Many guests and travel agents find it a great place to take a break from long drives.
Lake Bunyonyi is the second deepest lake in Africa, and it is home to a lot of tasty crayfish, so prepare yourself for a culinary delight. "Bunyonyi" is a local word that means "many small birds" in direct translation. It is a must-visit spot for avid birders, and the lake's serpentine shape and 29 islands are some of the highlights you can look forward to. You can check in at your preferred lodging at Lake Bunyonyi, where there are plenty of activities to do. You can go on a canoe ride, visit islands like Bwama Island (which is
excellent for birders), or take a nature walk along the shore on one of the islands to appreciate a variety of small birds, or you can simply relax. After a day of gorilla tracking, dinner at your lodging will be well-deserved.
Lake Bunyonyi Eco-Resort
Day 11: Proceed to Lake Mburo & an afternoon Game Drive
Breakfast, and head to Lake Mburo Park, another beautiful Park. Check out the lovely Kigezi highlands, the scenery is simply soothing to the eye in the evergreen state of Africa. You can stay at one of the classy up-market tented camps that are eco-friendly and simply one of the most excellent places you have ever stayed.
Arrive for lunch at your choice of lodging at Lake Mburo.
After enjoying your lunch, you can go for an exciting afternoon game drive in Uganda, where you will get to see a variety of wildlife in addition to the famous mountain gorillas in Bwindi. Some animals you can spot include zebras, warthogs, buffaloes, klipspringers, elands, orbits, and waterbucks. Lake Mburo National Park is especially renowned for its impalas, which are small antelopes that graze on herbs. Interestingly, the capital city of Kampala derives its name from the impala. If you are feeling adventurous, you can also opt for a horseback safari or an ATV quad safari. The choice is entirely yours.
Lodging: Eagles Nest Lodge – All meals
Other options: Moderately priced Rwakobo Rock and upscale Mihingo Lodge and Kigambira Safari Lodge.
Day 12 Walking Safari & Return to Entebbe/Kampala
Breakfast and checkout. We pick up a UWA-armed guide for a 1½ nature walk before embarking on our journey to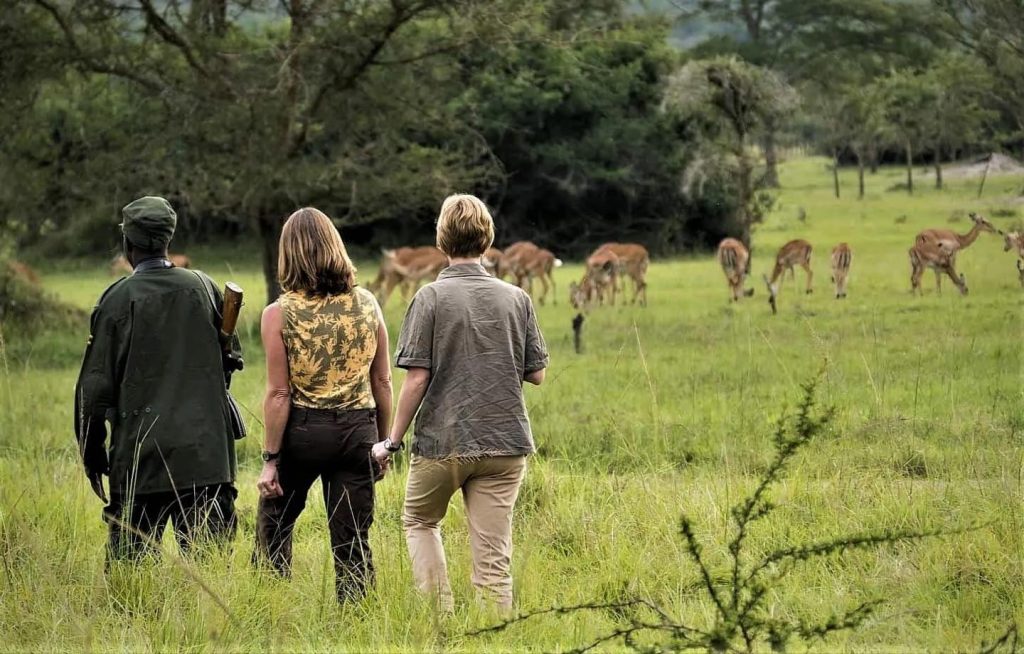 Entebbe/Kampala.
We used to arrange an afternoon boat safari at this location. However, in most cases, we are required to meet the minimum number
of participants or make the whole payment required to run a one-hour boat trip. Since we have already been on more exciting boat safaris earlier this trip, we believe replacing it with a walking safari would be more thrilling and enjoyable.
As we continue our journey, we will stop at Masaka for lunch. Afterward, we will make our way back towards Kampala and take a break at Nabusanke Trading Center. Here, you will have the chance to stand on the equator, snap photos, and purchase souvenirs and crafts. We'll continue with our journey reaching Entebbe in the late afternoon, thus concluding our 12-day Pearl of Africa Safari, exploring Uganda's top wildlife and game parks, as well as gorilla and chimpanzee trekking.
Here is what we offer in this 12-Day Pearl of Africa Private Safari:
Bwindi Gorilla Trekking Permit
Chimpanzee Tracking Permits
11 nights of lodging, including all meals at and outside the our accommodation, except for drinks
Ground transportation in a 4×4 safari with a pop-up roof for better game viewing and photography
On-foot Rhinos Tracking
Entrance to Parks, including Vehicle
Nile River, Kazinga Channel Boat Safaris
Walking safari/nature walk at Lake Mburo Park
Complimentary bottled water for the journey
Not included; Fizzy and alcoholic drinks, laundry, phone calls, tips to lodge staff.
---
Ready for an adventure of a lifetime? Let's get started; submit the form below for more details about this 12-Day Pearl of Africa Private Safari. With our competitive pricing and top-notch services, we're confident you'll have an experience you'll never forget – let us help you make the most of it!