Description
2-Day Lake Mburo Park Uganda Wildlife Safari
With a 2-Day Lake Mburo Safari, you will find Leopards, Zebras, Jackals, Hyenas, Buffaloes, Antelopes, Hippos, Crocodiles, and over 300 kinds of birds. Discover the Pearl of Africa with Lifetime Experience Safaris – When it comes to Safari Travel, we know you have a lot of choices.
A one-day Safari is a possibility, a two-day Safari gives you the best of Uganda – Uganda Mini-Safari Style.
---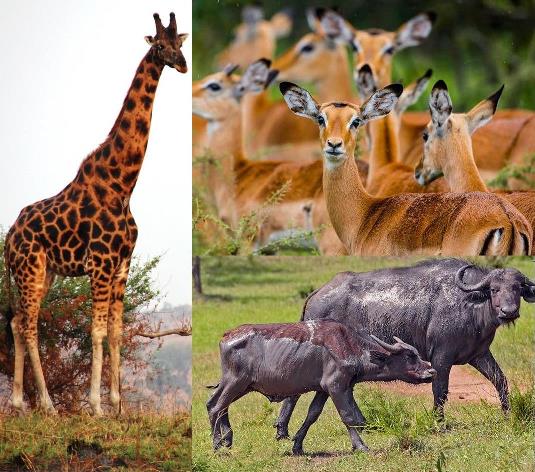 Lake Mburo National Park is a haven for wildlife enthusiasts and birdwatchers alike. Situated just 4-5 hours from Kampala, this diverse park is home to 68 species of mammals, including leopards and jackals, and offers a unique array of birds not found anywhere else in Uganda. The park's wetlands and lakes are a magnet for a wide range of bird species as well as aquatic life like hippos and crocodiles. Anglers can enjoy fishing for five different types of fish, including tilapia.
Immerse yourself in the sounds of nature during your stay, exploring the park's five lakes and swamps—perfect spots for birdwatching. Acacia trees in the park provide refuge for various bird species.
The park is nestled between Lake Victoria and the Rwenzori Mountains, with a distinct climate. It sees two main rainy seasons and has an average annual rainfall of 800mm. Temperatures vary daily, ranging from 21.5°C to 34.0°C, with July and August being the warmest months.
For an up-close experience, consider booking a specialized safari or birding tour.
---
The Ultimate 2-Day Lake Mburo Safari
A mini-safari in Uganda to whet your appetite for more. Spot zebras, buffaloes, antelopes, bush pigs, leopards, crocodiles, hippos, and a variety of birds on the best safaris at the lowest prices with Lifetime Experience Safaris.
---
Itinerary

Day One: From Kampala to the Natural Beauty of Lake Mburo
Departure: We set off from Kampala at 6 a.m., journeying through the lush Ugandan countryside. Refreshments and bottled water provided en-route.
Arrival and Check-In: On reaching Lake Mburo, opt for either budget or midrange tented accommodations.
Lunch and Leisure: Enjoy a sumptuous lunch before relaxing by the pool or exploring the surroundings.
Boat Safari: Set sail on Lake Mburo in the afternoon, keeping an eye out for hippos, crocodiles, and a variety of bird species.
Game Drive: As the sun starts to lower, take a game drive across the savanna to spot zebras, antelopes, and buffaloes.
Evening Retreat: Wind down with a delicious dinner, and spend the evening wildlife-watching at nearby salt licks.
Lodging: Eagles Nest Lodge
Alternative lodging: Moderately priced Rwakobo Rock Lodge
Day Two: A Wildlife-Filled Morning and Return to Kampala
Sunrise Safari: After early breakfast, explore the area around the park's five lakes. Camera-ready moments are abundant.
Departure: After the morning's excitement, we check out and prepare for our drive back to Kampala.
Culinary and Cultural Stops: Lunch in Masaka, visit the equator, and get a glimpse of the traditional Baganda drum-making process.
Arrival: Reach your lodging in Kampala by late afternoon to conclude this unforgettable safari.
Lake Mburo is also the perfect stop-over for anyone visiting Bwindi Impenetrable Forest, Queen Elizabeth National Park, and Mgahinga Gorilla Park.
---
2 Day Lake Mburo Safari Pricing per person

Number of Participants

Budget

Moderate

Up-Market

1

470

630

840

2

320

410

551

3

280

355

520

4

230

310

455

5

210

300

449

6

195

286

425
What's Included in our Two-Day Lake Mburo Adventure
Private Safari Vehicle and Driver/guide
Full-board lodging
All entrance and activity fees
Bottled water for the journey
Please Note:
For more details or to book this 2-Day Lake Mburo Nature Journey experience, submit the form below. We are at your service for any inquiries.