Description
16 Days of Ugandan Wonders: Gorilla & Chimpanzee Trekking in Six Premier National Parks, Featuring the Hidden Gem of Kidepo Valley and Tranquil Retreats at Lake Bunyonyi.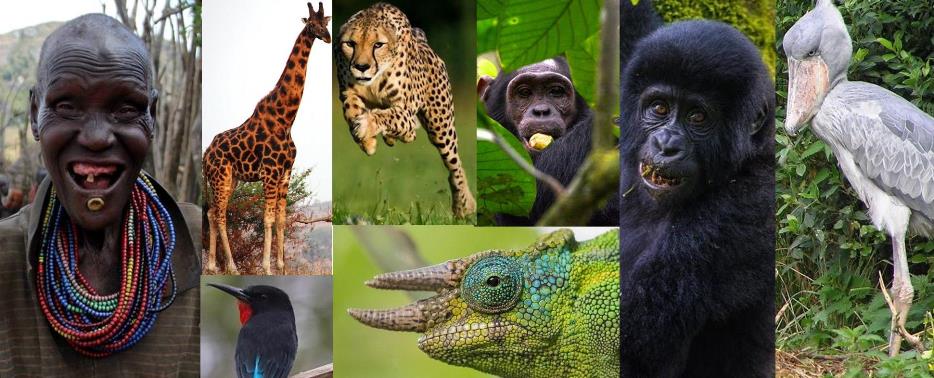 ---
Arrival Day in Uganda – A Warm Welcome to East Africa and the Pearl of Africa!
Before we begin the 16 Days of Ugandan Wonders Safari, let's quickly run you through the Entebbe airport nitty-gritty.  Upon landing at Entebbe International Airport, your friendly driver will be ready to receive you with a warm greeting. After swiftly completing immigration and customs procedures, head to the arrivals area, where either our driver or your hotel's representative will be awaiting your arrival. Rest assured, entering Uganda is a smooth process facilitated by helpful officials. Typically, the airport formalities take approximately 45 minutes to an hour.
Most lodges and guesthouses in the Entebbe vicinity offer complimentary airport transfers, or we can arrange transportation to your chosen accommodation if necessary. Ensure you have your Uganda Tourist Visa and Yellow Fever Certificate ready. We are based in Kampala, an hour away. We can arrange your arrival and the final night upon your request. As you arrive in Entebbe, please note that you will need to purchase a standard Tourist Visa for $50 beforehand, with a Yellow Fever Certificate being a mandatory requirement. Exceptions may apply in specific cases, such as pregnancy.
---
Day 1: Arrival in Entebbe or Kampala – Birdwatching at Mabamba Swamp
Our 16 Days of Ugandan Wonders Safari kicks off with a pick-up from your hotel in Entebbe or Kampala. We head straight for Mabamba Swamp, the premier location for spotting the elusive Shoebill Stork and other specialized swamp water-birds. Situated along Lake Victoria and designated as a RAMSAR site, Mabamba Swamp offers an extraordinary birding experience. With an expert guide and fishing boat, you'll navigate narrow channels to spot the highly sought-after Shoebill Stork, often seen hunting for lungfish in the early mornings. Your chances for up-close photographs are excellent, and we typically wrap up this leg of the adventure by 10:30 a.m. to 11 a.m.
From there, it's a 4-hour journey to the Ziwa Rhino Sanctuary, where we arrive around 3:30 p.m. Check into the Ziwa Rhinos Guesthouse, featuring permanent tented cottages, setting the stage for the next part of your Ugandan wildlife experience. Amuka Lodge is the moderately priced option in the area with more comfortable accommodations.
Meal plan at the lodge: Dinner and Breakfast
Day 2: Kampala to Ziwa Rhino Sanctuary – Continuing to Gulu Town
At the Ziwa Rhinoceros Sanctuary, you'll have the rare opportunity to track southern white rhinos on foot. Guided by well-trained and experienced Uganda Wildlife Rangers, you'll venture into the rhinos' natural habitat that spans 7,000 hectares of land. As you seek out these endangered, majestic creatures, you may also spot other native wildlife like Uganda Kobs, oribis, bushbucks, waterbucks, and a myriad of bird species. This close encounter is a once-in-a-lifetime experience that's not to be missed.
Your safety is a top priority during this adventure, so pay close attention to the safety briefing provided by your guide. The on-foot trek lasts approximately 1½ hours, depending on the rhinos' location. Proper attire is essential: wear sturdy shoes or hiking boots with woolen socks, long trousers, a long-sleeved shirt, and a hat. Additionally, applying an effective insect repellent is highly recommended.
Lodging: Churchill Courts Hotel – All meals
Day 3: Journey from Gulu to Kidepo Valley National Park
After an early breakfast, we'll set off for the rarely visited Kidepo Valley Park, located in North Eastern Uganda near the Kenya and Sudan borders. Along the way, you'll experience the unique culture of the Karamajong people, traditional cattle herders. Depending on your previous night's location, lunch will be en route or at your Kidepo lodge.
Arrive at the exceptional Kidepo Savannah Lodge in the late afternoon, enjoy a refreshing beverage, and prepare for a wonderful dinner amidst the African wilderness.
Lodging: Kidepo Savannah Lodge – All meals
Alternative Lodging: Apoka Safari Lodge
Day 4: Wildlife Safari in Kidepo & Karamojong Cultural Tour
Wake up to a splendid breakfast and begin an early morning game drive through Narus Valley. Expect to encounter buffalos, elephants, lions, leopards, cheetahs, and even zebras and giraffes close to your accommodation. Return to your lodge for lunch, and if you're at Apoka, take advantage of the pool.
In the afternoon, a guided walking safari awaits, followed by a cultural tour of a Karamojong village. Experience the ways of this tribe that has resisted many external influences. Learn about their unique culture, their dances, culinary practices, and their deep-rooted love for cattle.
Retire to your lodge for a relaxing dinner and an evening surrounded by the serene sounds of the African night in Kidepo Park.
Lodging: Kidepo Savannah Lodge – All meals
Day 5: Game Safari & Drive to Gulu
After a hearty breakfast, prepare for a morning game drive as we head back to Gulu. Each game drive offers a unique experience; no two are the same, even if you take the same route twice—Marvel at the diverse wildlife, including exotic birds and animals. Don't forget to keep your camera close at hand for those picture-perfect moments. Along the journey back to Gulu, observe traditional villages and fields of sorghum that paint the landscape.
Lodging: Churchill Courts Hotel – All meals
Day 6: Gulu to Murchison Falls & Game Safari
You will have an early morning breakfast before driving to Murchison Falls National Park. Along the way, you will witness the locals' lifestyle and work, the historic Nile River, and various animals. Instead of the typical entrance from Kampala, you will enter Murchison Falls Park from the back. Upon arrival at the lodge, you'll check in and have lunch while enjoying the stunning view of the River Nile from your room.
In the afternoon, an exciting game drive awaits. With the help of an expert guide, you will explore the wildlife at your leisure. The vehicle will stop wherever you wish, and the guide will help you locate elephants, giraffes, birds, and even leopards getting ready for their nightly hunt.
At sunset, you will return to your lodge. You can have dinner while enjoying the sounds of Africa from a distance and sometimes even nearby. The experience will be unforgettable.
Lodging: Gipir & Labongo Safari Lodge – All meals
Moderately priced options include the strategically located Pakuba Safari Lodge – preferred for a more convenient stay and Murchison River Lodge.
Upscale: Paraa Safari Lodge and luxury  Nile Safari Lodge.
Day 7: Game Drive and Afternoon Nile Boat Safari
You'll have an early morning breakfast and leave for the morning game drive, where you will see more animals and birds as you travel along Lake Albert and through the savannah. You will be simply glad that you came here and hate to return to the lodging facility for rest and lunch.
After lunch, you'll be off to one of the significant highlights of Murchison Falls National Park, a motorized boat ride on the Nile to view the crocodiles, the many hippos along the bank and in the river, the birds, monkeys, buffaloes, elephants and so much more and of course the bottom of the falls. This is a three-hour trip, and it is best to wear a hat and lots of lotion. Use some insect repellent to avoid being bitten by Tsetse flies.
At the bottom of the most powerful waterfall in the world, you will disembark and hike up the side of the falls to the top, where the driver-guide will meet you. You will return to the lodge you have chosen for dinner and an overnight stay.
Lodging: Gipir & Labongo Safari Lodge – All meals
Day 8: Transition to Kibale Forest Park
Our 16 Days of Ugandan Wonders Safari continues, and we're mid-way. After an early breakfast, we will drive to Kibale Forest. This journey offers you scenic views of the beautiful countryside. Upon arrival in the Fort Portal area, you'll have a selection of lodging options, ranging from budget to upscale. A recommendation for a unique experience is staying at the Chimps' Nest Tree House.
Lodging included: Isunga Lodge – All meals
Other options in the area: Moderately priced Turaco Treetops Lodge, Upscale Papaya Lake Lodge
Day 9: Kibale Forest Chimpanzee Tracking and afternoon Bigodi Wetlands Sanctuary Walk
Early in the morning after breakfast, leave your lodging for the chimpanzee tracking experience. Kibale Forest is not just home to chimpanzees but also to red-tailed monkeys, L'Hoest's Monkeys, and baboons, among others.
Afternoon Plan: At 3 p.m., embark on a guided three-hour walk through Bigodi Wetlands Sanctuary, led by a local community member. Navigate the jungle swamp via boardwalks elevated above the wetlands. The sanctuary teems with diverse wildlife, including black and white colobus, gray-cheeked mangabeys, and red-tailed monkeys. You may even catch a glimpse of chimpanzees or the great Blue Turaco.
The sanctuary offers more than just wildlife; it's also a haven for birdwatchers with species like brown parrots making frequent appearances. The lush, tropical vegetation captivates visitors, adding to the experience. Unique to Bigodi is the semi-aquatic sitatunga antelope, easily identified by its webbed toes. This sanctuary is a must-visit for nature lovers.
Option: For those interested, you can choose the Chimpanzee Habituation Experience (CHEX), a four-hour immersive experience with the chimpanzees, as opposed to the regular one-hour tracking session.
Lodging: Isunga Lodge – All meals
Day 10: Transition to Queen Elizabeth Wildlife Park & Game Drive
After an early morning breakfast, embark on a 2½ – 3-hour drive to Queen Elizabeth Park. The drive will take you through Fort Portal town, entering the park during a game drive. The 767-square-mile park is framed by the snow-capped 16,000-foot Rwenzori Mountains, also known as the "Mountains of the Moon," bordered by Lake George and Lake Edward. Upon arrival, check into your lodging, have lunch, and relax.
Afternoon Plan: Later, go for your first game drive. Keep an eye out for Uganda Kob, topi, elephants, lions, giant forest hogs, and Cape buffalo. You may also see flamingos around ancient volcanic soda lakes.
Lodging included: Bush Lodge – All meals
Other options: Moderately priced Enganzi Game Lodge, Upscale Kasenyi Safari Camp, Mweya Safari Lodge, and luxury Kyambura Gorge Lodge.
Day 11: Queen Elizabeth Park; Safari, Kazinga Channel Boat Safari
After breakfast, proceed to a morning game drive on the Kasenyi Track. This is your best chance to see lions, elephants, and solitary buffaloes.
Afternoon Plan: Enjoy a boat cruise along the Kazinga Channel, where you'll come close to hippos, buffaloes, and various birds. An evening game drive follows.
Lodging: Bush Lodge – All meals
Day 12: Ishasha Tree Climbing Lions – Bwindi Impenetrable Forest – Ruhija
After an early breakfast, we'll proceed on our safari to Ishasha, the best location in Africa, to witness the unique phenomenon of tree-climbing lions. Often overlooked, this remote sector of Queen Elizabeth Park boasts a wealth of wildlife, including vast buffalo herds, elephants, and various antelope species like the topi. Bird enthusiasts will also be captivated by the diversity of avian life, including the rare shoebill stork found near the lake swamps.
We'll break for lunch at the Savannah Resort.
From here, we take the 2½ hour drive to the Ruhija region of Bwindi Impenetrable Forest.
Lodging: Bakiga Lodge – All meals
Other options: Moderately priced Haven Lodge – Buhoma, Upscale and Luxury: Mahogany Springs, Buhoma Lodge, Bwindi Lodge, and Gorilla Forest Camp.
Day 13: Mountain Gorilla Tracking in Bwindi Impenetrable Forest
Ready for an adventure of a lifetime? After a hearty breakfast, let's head over to the briefing area to kick off our amazing gorilla trekking journey! Today could be a 3-to-6-hour trek, but don't worry—the moment you lock eyes with a majestic silverback, you'll know it's all been worth it. We get a whole hour to marvel at these incredible creatures, but remember, kids under 15 will have to sit this one out for conservation reasons. What is likely to happen on your gorilla tracking day? Click here.
Your daypack essentials: a yummy lunch, water, comfy jeans, a long-sleeved shirt, sunnies, and a hat. Those cotton gardening gloves aren't just for the garden—they'll help you grip branches and vines along the way. And just in case the heavens decide to open, a light rain jacket and some sturdy hiking boots will serve you well. Optional walking sticks and porters can help lighten the load, but they're not included in the package price. Check out our list of what to wear on safari.
Looking for even more quality time with our furry friends? Opt for the all-day Gorilla Habituation Experience for an unforgettable four hours with the mountain gorillas. This special experience costs an additional USD 1,500. So, are you excited yet?
We may stay here another night or, about a 2½-hour drive to Lake Bunyonyi, for exploration and relaxation. The activities here (at Lake Bunyonyi) are optional and not included in the offer.
Lodging: Lake Bunyonyi Eco-Resort – All meals
Other options: BirdNest Resort
Day 14: Don't miss Scenic Lake Bunyonyi's countless Things to Do and See – a Magical Lake in Uganda.
As we move toward the end of your safari, take some time to unwind and relax at Safari Lake Bunyonyi,  This hidden gem is located in the Gorilla Highlands and is often overlooked by visitors to Uganda. It's worth adding to your list of must-see places. Please note that the activities available here are not included in the tour cost. You can swim, paddle a dugout canoe, ride in a motorboat, or explore any of the 29 islands. Additionally, hiking, biking, and birdwatching are popular options for those seeking a more active experience. After trekking gorillas in Bwindi Impenetrable Forest or Mgahinga Gorilla Park, you can enjoy nature walks, village visits, and interactive cultural experiences. Moreover, Lake Bunyonyi stands apart from other lakes in East Africa due to its lack of bilharzia, crocodiles, and hippos. This means you can swim in its crystal-clear waters without any worries.
Lodging: Lake Bunyonyi Eco Resort – All meals
Day 15: Lake Mburo & Afternoon Game Drive
Start your day with an early breakfast before embarking on a scenic 5-hour drive to Lake Mburo Park, one of Uganda's most enchanting destinations. To make the most of our time, we'll depart at 7 a.m.
Arriving around lunchtime, we'll check into the lodge you have chosen, offering private cottages with self-contained baths. Family cottages are also available for those traveling with loved ones.
Go on a boat safari on Lake Mburo to see hippos, crocodiles, and birds like the Abyssinian ground hornbill and the crested crane. Optionally, you can go for a guided nature walk.
Lodging: Eagles Nest Lodge – All meals
Other options: Moderately priced Rwakobo Rock and upscale/luxury Mihingo Lodge and Kigambira Safari Lodge.
Day 16: Morning Game Drive & Return to Kampala
After breakfast, proceed for a morning game drive. Lake Mburo is especially known for its impalas. You may also see zebra, warthog, buffalo, eland, oribi, and waterbuck. Optionally, you can opt for a horseback safari or an ATV quad safari.
Check out and begin your return journey to Kampala. Stop for lunch in Masaka and visit the equator at Nabusanke Trading Center and the Buganda Royal Drum Makers at Mpambire. Arrive in Kampala or Entebbe area late in the afternoon, marking the end of your 16 Days of Ugandan Wonders Safari.
---
Here are the things included in this 16 Days of Ugandan Wonders Safari
Lodging and Food, Gorilla Trekking permits, Chimpanzee tracking permits, 4 Wheel Drive Safari Vehicle, Fuel, English Speaking Driver, Bottled Drinking Water on all Drives, Mabamba Shoebill Stork tour, Park Entrance fees and cultural site entrance fees, visit to the Mabamba wetland swamp for shoebill Stork, Visit to Ziwa Rhino Sanctuary & Guide for Tracking, Game Drives, UWA armed expert Ranger guide.
Not included in Safari price: Air Travel to and from Uganda, Uganda Visa Costs, Laundry, Tips, Drinks, except those included in the lodging meal price
---
Experience the ultimate adventure in Uganda with our 16 Days of Ugandan Wonders Safari tour! Fill out the form below and inquire about this tour. Our team is here to assist you with any questions you may have about safari itineraries, pricing, and our services. We are thrilled to help make your dream safari a reality!