Chimpanzees Trekking in Budongo Forest, Murchison Falls Park
Experience the Wonders of Chimpanzee Trekking in Budongo Forest, Murchison Falls Park – Uganda.
Nestled just beyond Masindi in northern Uganda, Budongo Forest beckons as an unspoiled haven for nature enthusiasts. Ideal for a three or four-day journey, this adventure combines the thrill of Chimpanzee Trekking in Murchison Falls Park with a deep dive into Uganda's vibrant wilderness.
Budongo isn't just your ordinary forest. It's home to East Africa's largest Mahogany Forest, offering a unique backdrop for chimpanzee trekking. While the forest teems with diverse birdlife and rich hiking trails, its star attraction is the chimpanzees. As you trek through this lush terrain, you're not just walking; you're stepping into the world of these fascinating primates in their natural habitat.

The forest's conservation story is as compelling as its wildlife. Once threatened by farming and grazing, Budongo now stands as a testament to successful ecological preservation. Tourism has fueled this turnaround, which continues to support local communities and conservation efforts.
Budongo's allure extends beyond its wildlife. It holds historical significance, having provided refuge during World War II. This rich past adds another layer to your trekking experience, connecting you to stories that transcend time.
Prepare to be captivated by the sights and sounds of the forest and the unforgettable experience of coming face-to-face with chimpanzees in the wild. Budongo Forest offers more than just a safari; it offers a journey into the heart of nature.
---
Chimpanzee Tracking in Budongo Forest: A Highlight of Your Safari

Chimpanzee Trekking – A Perfect Add-on to Your  Murchison Falls Park Safari
Join a Captivating Primate Trek in Budongo Forest
Step into the lush Budongo Forest, a stone's throw from Murchison Falls Park, renowned for its remarkable chimpanzee sightings. As you embark on a guided primate walk, you're entering a world where the chances of encountering our closest relatives in the animal kingdom are exceptionally high. Budongo offers an unparalleled opportunity to observe these captivating primates in their natural surroundings, boasting sightings often on par with the famous Kibale Forest.
During your journey through this tropical haven, your expert guide will introduce you to the rich variety of animals and plants along the path. Look out for the majestic Black-and-White Colobus Monkeys, playful Red-tailed Monkeys, a diverse range of birds, and other wildlife that call this forest home.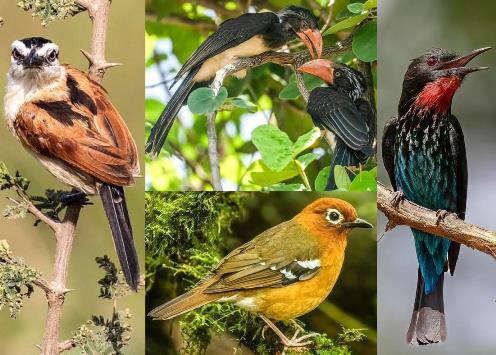 Chimpanzee tracking here is an adventure not to be missed. Available twice daily, these treks span 2 to 4 hours, depending on the chimps' movements. Once you find them, spend an unforgettable hour watching these amazing creatures as they feed, rest, and play.
Interesting Fact!
Families with children under 15 can also share this incredible experience. With parental consent, children can join the trek, making it a memorable expedition for the whole family.
Timing Your Chimpanzee Tracking Adventure
For your convenience, there are both morning and afternoon chimpanzee tracking sessions. This flexibility allows you to easily incorporate a visit to Budongo Forest into your itinerary, either on your way to or from Murchison Falls National Park. It's a perfect addition to your safari, enriching your wildlife experience.
Best Place to Stay
Staying overnight at Budongo Forest is a great way to fully enjoy your visit. It means you can take a peaceful walk in the forest and have a relaxed experience tracking the chimpanzees. An overnight stay lets you connect more with nature in this quiet, beautiful setting.

Budongo Eco Lodge provides a calm place to stay right in the middle of the forest. It has eco-friendly cabins with private verandas and cozy dorm rooms. More than just a place to rest, the lodge is your starting point for adventures like watching chimps and birds in the amazing, unspoiled wild.
Combining with Ziwa Rhino and Wildlife Ranch
Enhance your safari experience by adding a visit to Ziwa Rhino Sanctuary on your return trip to Kampala. Here, you can track rhinos on foot, an exhilarating adventure that complements your chimpanzee tracking and forest walk in Budongo. This combination of activities offers a well-rounded and unforgettable wildlife experience in Uganda.
In summary, chimpanzee tracking in Budongo Forest is not just an activity; it's an experience that brings you closer to the wonders of the natural world. By staying overnight and combining your visit with a trip to Ziwa Rhino Sanctuary, your safari in Uganda becomes a journey filled with diverse and memorable wildlife encounters.
---
Enhance your Safari to Murchison Falls National Park by adding on Chimpanzee Tracking at Budongo Forest. You can have a 3-hour Chimpanzee Tracking Experience or an all-day adventure with the chimpanzees of Budongo Forest. Additionally, you can combine this with Bird Watching at the Golden Mile in the Forest. Spend the night here, as it is one of the most enjoyable places in Uganda.
---
Below are some links that you may find useful to explore:
---